It's been a fierce battle, but now, we're down to two. The NCAA College Football Playoff Final will take place on Monday, January 13th, 2020 at the Mercedes-Benz Superdome in New Orleans, Louisiana. Clemson will face LSU to determine who will be crowned champion of the 2020 CFP National Championship. Are you looking for a way to stream National Championship Game? Well then, this guide is just what you need.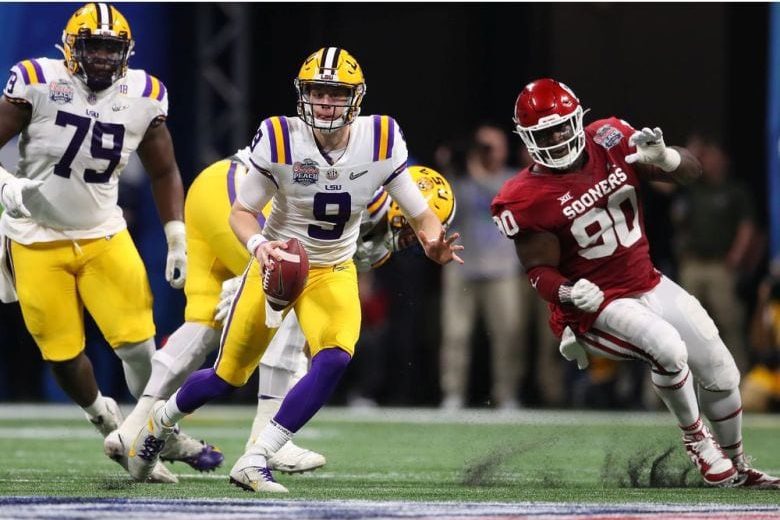 National Championship Playoff Final 2020 – Streaming Channels
A huge event like this one has to be broadcasted on TV, otherwise, a lot of fans will miss it. Well, that's not that case when it comes to the National Championship Playoff Final.
You have two channels acting as the official broadcasters of the game. However, these streaming services are restricted to their respective countries.
You see, an online channel applies geo-blocks on its content. Geo-blocking is a mechanism performed to limit content access to a specific location. If you're within this area of coverage, you're good to go. But if you're not, you're getting blocked on the spot.
Streaming channels can determine your location by examining your IP address. If it's not valid in the country where the channel is based, a geo-error message will pop up. But that's a problem I'll be solving later on in the guide.
For now, here are the streaming services broadcasting Clemson vs LSU live online:
As I mentioned, these channels will block your access if you reside outside the US or Canada respectively. Now, in the next part, you'll get your geo-blocking solution and watch the 2020 CFP Final live anywhere.
CFP Final – Stream Live Anywhere
ESPN is the main "streaming channel" that broadcasts College Football in the USA. Unfortunately, it is geo-blocked abroad. That means that American expats currently living abroad won't be able to watch the NCAA College Football Final even if they have a valid subscription.
As stated above, the service can pinpoint your physical whereabouts by checking your IP address. If your traffic is not coming from within the US (non-American IP address), you're not getting in.
That's where a Virtual Private Network comes in. A VPN is a cybersecurity software created to enhance an internet user's security and anonymity while browsing the web.
When you connect to a VPN server, it encrypts your data, hides your IP address, and assigns you a new one in the country where the server is located. As a result, you'll be able to access any streaming service valid in that country.
For example, if the server is in the US, you'll receive an American IP address. Consequently, you can now stream the likes of ESPN, Disney+, US Netflix, and anything US-based wherever you might be.
CFP Final 2020 Live Anywhere – The Steps
Setting up a VPN connection on iPhone, iPad, Android, PC, and Mac is pretty straight-forward. You don't need to have technical knowledge. All you have to do is follow the steps below and you'll be watching the College Football Playoff Final live in no time.
First, sign up with a VPN provider. It's recommended you choose a service with fast US servers such as ExpressVPN.
Download and install their VPN application on the device you're operating.
Activate the app, log in with your credentials, and head over to the server list.
Pick a server according to the channel you wish to watch the game on:

US server for ESPN.
Canadian server for TSN.

Launch the channel's website or its dedicated application.
Watch the CFP Final live anywhere.
ExpressVPN is one of the best VPN providers on the market now. It offers blazing fast servers across 94 countries, including 25 in the United States. Also, for security-minded users, the service provides military-grade encryption, a kill switch, split tunneling, and one strict no-log policy.
Finally, you can test ExpressVPN's capabilities risk-free courtesy of their 30-day refund policy. If it doesn't turn out to be what you're looking for, you can check other top VPN providers in the table below.
How to Stream College Football Playoff Final with Smart DNS Proxies
Smart DNS is the second method you could use to bypass geographic restrictions. When compared to VPN, Smart DNS does have its pros and cons. For one, your IP address does not change. A second point to consider is the fact you can only unblock certain streaming channels using Smart DNS.
Smart DNS is compatible with all streaming devices. You can watch College Football on Apple TV, Roku, Amazon Fire TV, PC, Mac, Xbox, PS4, Android, iOS, regardless of where you currently reside.
Unlike a VPN, your Internet traffic is not encrypted with Smart DNS.
In some cases, an Internet Service Provider (ISP), might use DNS hijacking or transparent proxies. Smart DNS does not work well if these methods are used.
Unlocator is a Smart DNS proxy service that supports unblocking ESPN, Sling TV, and many other American sports channels outside the US.
You can sign up for their free 7-day trial to test their service. To configure Smart DNS on your streaming device, take a look at these videos, screenshots and setup guides.
National Championship Game 2020 When, Where, How
Two tigers are facing off on January 13th, 2020. LSU Tigers defeated Oklahoma in the CFP semifinal Peach Bowl on December 28, which was LSU's first CFP semifinal appearance.
On the other hand, Clemson defeated Ohio State in the CFP semifinal Fiesta Bowl to make it to the final come January 13th, 2020. The Final is going to be as exciting as ever. So, I recommend you mark your calendars now and make sure you don't miss it.
For further details about the CFP final, check below:
National Championship Game 2020: LSU Tigers vs. Clemson Tigers
When: Monday, January 13th, 2020
Where: Mercedes-Benz Superdome in New Orleans, Louisiana
How to Watch: ESPN.
How to Watch National Championship Game 2020 – Wrap Up
The two winners of the college football playoffs, LSU Tigers and Clemson Tigers will face off in the College Football championship game. It will certainly be one of the biggest sports events of 2020.
Now that you can watch it online thanks to VPNs, which team do you think will come out on top? Share your predictions below.