The world's biggest snooker tournament starts on 15 April to 1 May 2023 at the Crucible Theatre in Sheffield, England. Such a prestigious tournament demands a die-hard audience, and thanks to its global broadcasting rights, it has that. However, each channel broadcasting the event is restricted to a certain location, depriving those abroad of tuning in.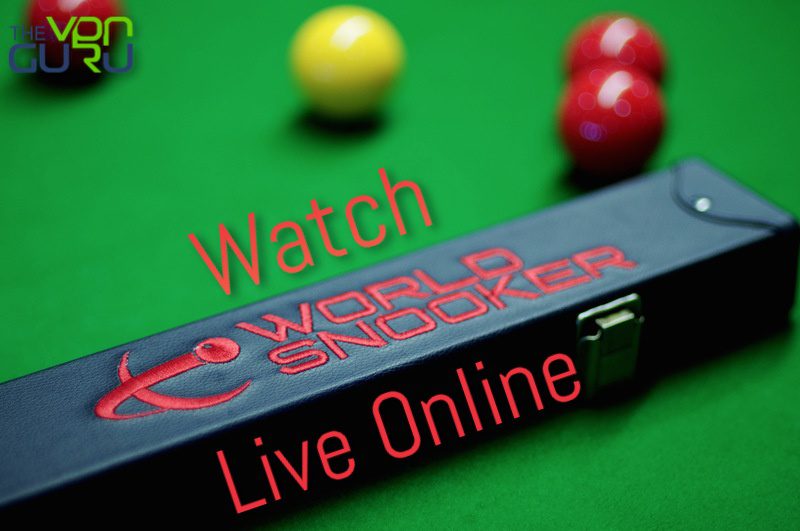 The 2023 World Snooker Championship promises top-level pool action, with dozens of professionals battling it out on the table for the grand prize. It's definitely a shame if you miss that due to geo-restrictions.
Well, that won't be the case for long, as we're here to help. Here's how you can watch the 2023 Cazoo World Snooker Championship live anywhere.
Watch Cazoo Championship 2023 – Quick Guide
Time needed: 4 minutes
To watch the 2023 Cazoo Championship live, the following steps are required:
Sign up with a VPN service.

For efficiency and guaranteed streaming, ExpressVPN is recommended.

Download and install the VPN app on your device.

Clients on major operating systems are available. That includes PC, Mac, Android, and iOS.

Activate the app and sign in with your credentials.

Use the username and password you submitted when you subscribed.

Connect to a VPN server.

Choose a server in the country where your chosen channel is available.

Launch the channel's app or website.

In some cases, you need to sign in with an account to have access.

Stream the 2023 Cazoo Snooker Championship live.

Enjoy the biggest snooker competition wherever you are.
Cazoo Snooker Championship Live – The Full Walkthrough
Unblocking the channel is easy, but for a better understanding of the situation, we conducted this fully comprehensive guide. Check it out:
What You Need
To stream the epic Snooker event, you'll need the following:
A VPN.
An account with any of the channels (If needed).
A streaming device.
The Streaming Channels
As mentioned, the tournament is one of the most popular events to occur on a yearly basis. In fact, 2020's Betfred achieved record viewing figures.
The showdown between Ronnie O'Sullivan and Mark Selby in the semi-finals was broadcast on BBC Four and peaked at 2.27 million viewers.
In the 2022 edition's final, Ronnie O'Sullivan's 2022 Betfred World Championship final against Judd Trump saw 4.5 million streamers on BBC.
That's a very big number to get on a single channel with a single match. We'll be stating more information about the tournament and the issues you might face later on. As for now, here's where you can watch the 2023 Cazoo World Championship:
Your IP address is the main factor that helps channels pinpoint your whereabouts. If you get to alter that, you'll be able to stream any of the aforementioned channels no matter where you reside. But how can you do that? Scroll a bit further and find out.
The Geo-blocking Predicament
Imagine the statistics if we combine all of the official broadcasters' viewer rates. So, what's the problem here?
One word, geo-blocking. This is applied by streaming channels and websites to protect their copyrights. The channel examines the users' IP addresses to determine their location.
If they're not within the area where the channels have coverage rights, they'll be blocked almost instantly. In other words, your location dictates what you get to access online.
Take BBC iPlayer, for example. The channel requires you to be in the UK, i.e., holding a British IP address. Without that, you'll only end up with the following error messages:
"BBC iPlayer only works in the UK. Sorry, it's due to rights issues."
"This content is not available in your location."
If you are in any country outside the UK, we have the solution. All you need to do is follow the steps above to get BBC iPlayer or any channel on the list where you are.
What a VPN Can Do!
A VPN reroutes your traffic through a server of your choosing. Once connected, the software encrypts your data and shields it against any snoopers trying to get a hold of it.
Moreover, your IP address will be cloaked and then replaced with a temporary one based on the country where the server is based. With that, you can surf the internet anonymously and unblock streaming services all over the world.
If you connect to a UK server, for instance, you'll be tricking BBC's content providers into believing that you are in the UK (when you are really not).
As a result, you'll get to access BBC iPlayer anywhere easily. Follow the instructions below to watch the 2023 World Snooker Championship live online.
Since most channels can now block VPNs, we recommend using ExpressVPN. With this service, you get to watch the World Snooker Championship live online.
Having a VPN like this by your side can do wonders for your online experience. The company employs a strong 256-bit AES encryption that ensures your online privacy and security when unblocking content.
As far as bypassing geo-restrictions go, this provider's vast network of fast servers contributes to its unblocking success.
You can try out ExpressVPN for 30 days and unsubscribe if you don't like it. If that's the case, you might want to check the VPN services below.
Smart DNS as an Alternative
Now, if you live in the United Kingdom, you can stream the 2023 World Snooker Championship for free on BBC iPlayer's BBC Two. Unfortunately, snooker fans cannot access BBC iPlayer outside the UK due to geo-blocks, which a Smart DNS can help unblock. 
The other unblocking tool we're going to discuss is the Smart DNS Proxy. It's not the same as a VPN in terms of security, but it does deliver the same unblocking results.
Snooker fans can make use of a Smart DNS to unblock BBC iPlayer outside the UK. Smart DNS users will notice faster speeds, and that's due to the lack of encryption. Here's everything you need to know about a Smart DNS.
A Smart DNS is

highly compatible

with most streaming devices

.
You can watch BBC iPlayer on iPhone, Mac, Apple TV, Roku, Chromecast, PS3/PS4, Amazon Fire TV, and Xbox.
The Smart DNS does not put your data through encryption processes, meaning you're not protected online.
With a Smart DNS, your IP address remains visible to the public eye and ISPs.
In case your ISP resorts to transparent proxies or DNS hijacking, then the Smart DNS will not function properly.
The reason why I suggest Unlocator is that whenever I reached out for help, I got a timely response. This is a quality product that offers excellent services.
It's fast, efficient, and can unblock over 200 channels abroad. So, if you want to watch the 2023 Cazoo Championship Snooker live online, you better sign up with Unlocator. The 7-day free trial should be reassuring.
The 2023 World Snooker Championship – FAQ
Do you have more questions? We made sure we leave nothing unanswered in the following section:
When Will the 2023 World Snooker Championship Commence?
The 2023 Cazoo snooker tournament will take place from 15 April to 1 May 2023.
Where Will the Tournament Be Held?
The 2023 edition of the legendary tournament will be held at the Crucible Theatre in Sheffield, England.
Who's the Defending Champion?
Following his win in the 2023 final against Judd Trump 18–13, Ronnie O'Sullivan will be entering the tournament as the defending champion.
Can I Watch the 2023 World Snooker Championship for Free?
Yes. BBC iPlayer is broadcasting the tournament, which means that you can stream it for free.
Can I Watch the Tournament on Kodi?
Of course, you can. If you're a Kodi user, you can easily download the BBC iPlayer add-on and stream the championship for free.
2023 Cazoo Snooker Championship – Conclusion
There is no doubt that the World Snooker Championship is an unmissable sports event. Still, if you are in the UK, finding ways to stream snooker live online can be a bit difficult.
Now, you get to bypass regional restrictions and watch Cazoo Championship 2023 anywhere in the world. That being said, let us know if we can help you with anything else in the comments below.