"Your device's Internet connection is using an HTTP proxy which prevents playing your video." That's the Amazon Prime HTTP Proxy error many users have reported receiving recently. The error has been popping up on PC, Mac, Android, FireStick, PS4, Xbox, and Roku when Amazon Prime Video subscribers have a VPN service or a Smart DNS proxy installed on these devices. Is there a workaround that allows these users to watch American Amazon Prime outside the USA? Or should they simply give up and confine to their local Amazon Prime region instead?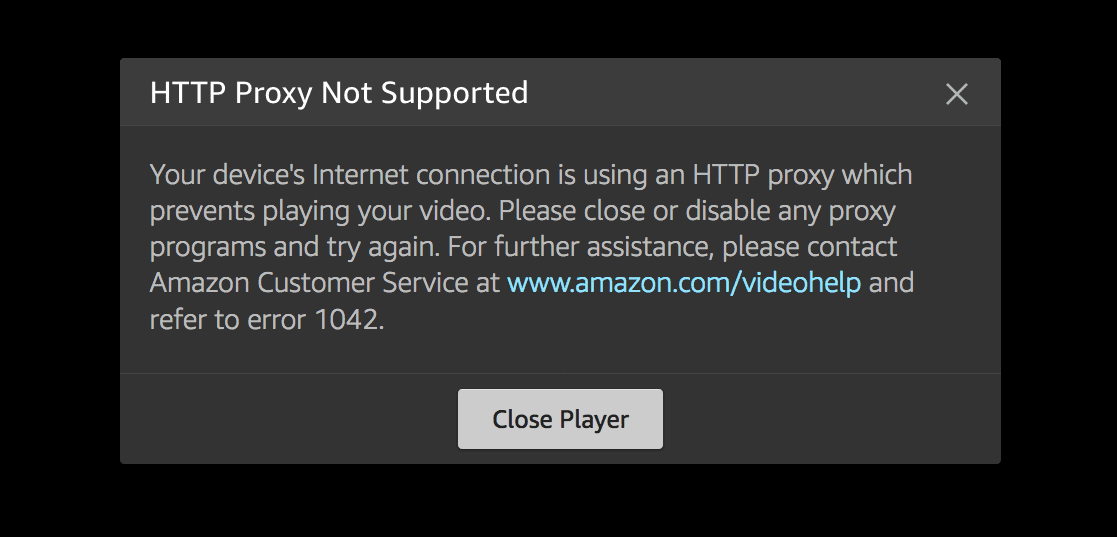 The Amazon Prime HTTP Proxy Error – What Does It Mean?
"Your device's Internet connection is using an HTTP proxy which prevents playing your video. Please close or disable any proxy programs and try again. For further assistance, please contact Amazon Customer Service at "www.amazon.com/videohelp" and refer to error 1042."
That's the error "HTTP Proxy Not Supported" message that has been showing up. Similarly to Netflix, Amazon has begun blacklisting the IP address of various VPN servers that would normally allow users to switch their Amazon Prime region. In case you get the Amazon Prime HTTP Proxy error, try connecting to a different American VPN server via your VPN app. If that doesn't help, it's time to subscribe to a VPN service that still works with Amazon Instant Video.
Bypass Amazon Prime HTTP Proxy Error – Use A VPN That Still Works
You can try contacting your VPN service's support team and see if there's a fix for the Amazon HTTP Proxy error. In case they aren't able to help, it's time to invest in a new VPN that still works with Amazon Prime.
ExpressVPN, one of the many VPN providers I tested out with Amazon Prime, stood out from the rest. I was immediately able to watch Amazon Prime USA, even though I was outside the country. All had to do was connect to an American server and eureka! No more proxy error.
The main reason behind signing up with ExpressVPN was due to the fact that they offered a 30-day money-back guarantee. Therefore, I knew I'd get a full refund in case the service couldn't get me access to what I wanted. But thankfully, I didn't need to demand my money back because it worked perfectly. In fact, I benefited from a host of other features, including:
Access to Netflix USA and every other American-restricted channel like HBO, Hulu, and AMC. 
Excellent customer support service that's available 24/7 via live chat.
Apps for every major platform and operating system, including, Android, iOS, Windows, Mac, and Linux.
Dedicated app for Amazon Fire TV and FireStick.
Up to five device connections at the same time per account.
ExpressVPN reroutes and encrypts your traffic and changes your IP address to guarantee online anonymity and internet freedom.
ExpressVPN also offers its users Smart DNS proxies that can be configured on devices that do not support VPN. This includes PS4, Xbox One, Roku, and Smart TVs.
How to Install ExpressVPN on your device
Now that you've seen what ExpressVPN can do, here's how you can install on your device and avoid the Amazon Prime HTTP Proxy error:
Head over to the ExpressVPN website to register or create an account.
Next, download and install the app directly from the website or from your device's app store.
Once the installation is complete, launch the service and log in to your account.
Now, connect to a server that's located in your target region. For example, if you want to watch American Amazon Prime Video, connect to a server from the US.
When the connection is established, ExpressVPN will replace your original IP address with an American one to make it appear as if you were there.
This allows you to unblock Amazon Prime USA and every other restricted website from that region.
Best ExpressVPN Alternatives
The other VPNs I tested out weren't too bad. They're still a good pick, but they quite don't measure up to ExpressVPN as the best Amazon Prime Video VPN. You're free to check the others out; here's the list.
Fix Amazon Prime HTTP Proxy Error with Smart DNS Proxy
Not a fan of the VPN method? Then maybe you should give Smart DNS proxies a try. These tools can bypass geo-restrictions just like VPNs, but the difference is they only reroute part of your connection. That part revolves around your location.
But there are a few things you should remember before you set up a Smart DNS proxy on your device:
Smart DNS proxies don't hide or replace your IP address. They also don't encrypt your online activity.
You can install a Smart DNS service on almost any device, including Android smartphones, iPhone, iPad, Smart TVs, Xbox, PS3/PS4, Mac, PC, Amazon Fire TV, Apple TV, Roku, and Chromecast. 
They don't function properly if your ISP uses DNS hijacking or Transparent Proxies.
They don't affect or slow your connection speed down.
If you want a good Smart DNS proxy service, take my advice and for Unlocator. You'll be able to unblock over 200 channels like Amazon Prime Video, Hulu, HBO Go, Showtime, BBC iPlayer, ITV, and much more.
And their 7-day free trial period is the icing on the cake as it gives you the chance to test out the service before making any purchases.
How to Fix Amazon Prime HTTP Proxy Error – Wrap Up
Have you tried any of the solutions we have suggested above to get around the Amazon Prime HTTP Proxy Error? How did it go? Are you currently using a VPN that still works with Amazon Prime? Let us know so we can add it to the list above.