TikTok has dominated the social media industry, harnessing over 1.6 billion downloads within its 4 years of existence. Users get to create spontaneous short-form videos for a large set of followers and enjoy a huge library of music. However, the app faces many challenges by several countries like India where the app has been banned for privacy concerns and several other reasons. Not to mention that the US might be on the way to banning TikTok as well. Despite this, user talent and sense of humor will prevail. Even if TikTok is banned, we're here to find everyone a substitute. So, without further ado, here are the best TikTok alternatives in 2020.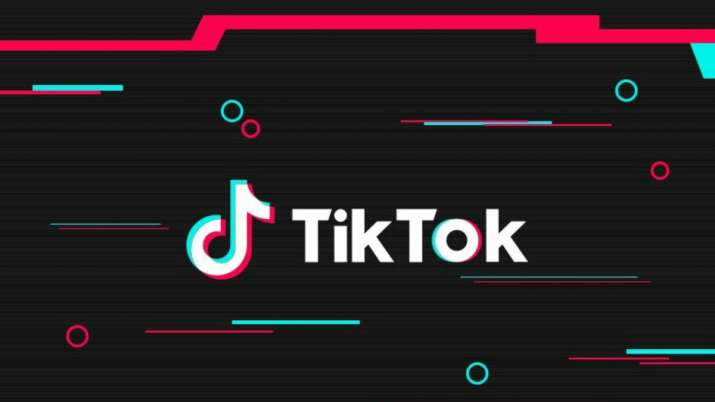 Best TikTok Alternatives – Content Index
TikTok is facing a lot of allegations and users, whether in the US, India or anywhere else, are searching for an alternative in case it gets banned. India already banned it for several violations and reports state that the US is going to do so come the end of July.
In case you don't know what apps offer the same service or a better one, we highly suggest you go through this "Best TikTok Alternatives" review.
TikTok Alternatives – The Main Reason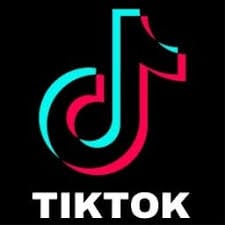 TikTok is indeed the most downloaded app on both Google Play and iOS App Store; there's no denial. It harnessed more downloads than Instagram and Facebook did in the last 12 months.
Moreover, the application saw a spike in its usage when the unfortunate pandemic occurred.
It gave a bit of hope and fun for those who are quarantined at home. But all good things must come to an end eventually, especially when they pose a security threat to some countries.
For example, India has recently banned 59 Chinese apps, including the famous video-sharing app TikTok. There are also reports that the US is banning the social media giant come end of July.
Whether the banning is potential or official, the thought of it forced its users to look for alternatives. In fact, many top TikTok users urged their followers to join them on other social media apps, including Instagram and YouTube.
But there's more. The banning gave a chance for competitors to shine as they hope to grow their dominance in the region and expand their user base by attracting as many TikTokers as they can to their platforms.
Gaining new users is beneficial and the banning came as a positive opportunity for these apps. However, TikTok users are losing one of their favorite platforms. So, what can they do? Is there anything similar? Oh, similar is a small word – we prefer clones based on the resemblance we saw.
This review is for all the users in India and other countries that might block TikTok later on in the future due to being reported as a Chinese spy tool. Let's go.
Best TikTok Alternatives in 2020
The TikTok topped the charts with its popularity, its supremacy is not unchallenged. There are old and new apps that can easily act as alternatives to TikTok and they're listed below.
1. DubSmash

Believe it or not, TikTok isn't the first application that invented lipsyncing and taking selfie videos. In fact, Dubsmash was "The Hit" back in the day and TikTok happened to take its crown when it launched.
Dubsmash debuted back in 2014 thanks to founders Jonas Drüppel, Roland Grenke, and Daniel Taschik. Being one of the first apps of this genre, it got really popular. The social media platform garnered over 50 million downloads in 192 countries, including celebrities.
The app is fun, and much like TikTok, it allows users to create short videos using songs, audio clips, and several other customs sounds. Users can also browse videos created by other people, be it ones they follow or not, it doesn't matter. It allows users to react to one's video, by liking it, commenting on it, and even sending a direct message to the user himself.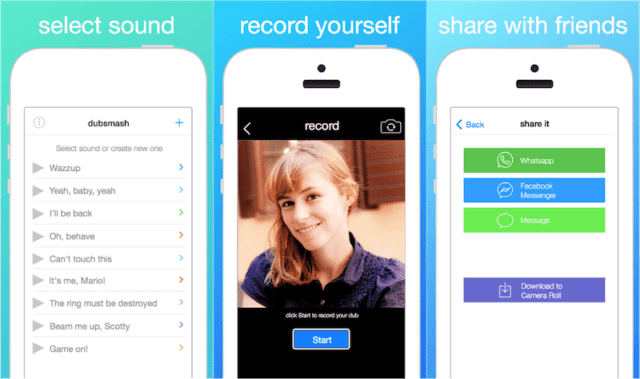 Dubsmash has a user-friendly interface as it lists "favorites," "trending," "hot," etc. Once users launch the apps, they'll see videos from the people they follow. However, one thing Dubsmash failed in is that it doesn't allow private accounts.
When users publish a video, it's for the public to see. As we mentioned, Dubsmash is perhaps the app the started it all, and apparently, it's taking back the audience TikTok attracted. This is the top alternative we have in this review, but it's not the only one.
2. Instagram Reel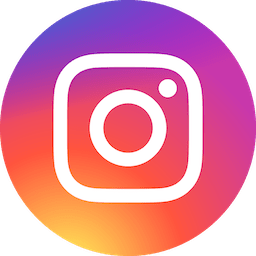 It's pretty obvious that Instagram won't stand still watching TikTok steal all of its users. It had to come up with an application that rivals the video-making sensation, and it did.
Facebook created what is known now as Instagram Reel – a new way to record 15-second clips set to music on Instagram. Yes, it's similar to TikTok and it came at the right time.
The app has already been tested in Brazil, and now, it rolled out in Germany and France. The application has plans to spread on a global scale, but we all know which market it's actually targeting now.
Yes, users in India reported getting early access to Instagram Reels. This comes at no surprise following the ban of TikTok along with 58 other Chinese apps in the country. With TikTok out of the way, it's quite obvious how popular Instagram Reel is going to be there.
The screenshots above show how practical Instagram Reel is and how it might resemble TikTok in some ways. However, if we take a closer look at the one in the middle, we can see that it has a dash of the original Instagram application.
Instagram Reel allows users to access a huge library of music, borrow audio from another video, or record their own original soundtracks. So, whoever was using TikTok won't miss a thing with this one.
The app is still being rolled out, so expect it anytime soon in your country. As for Indians, you already have it now, so we guess you won't be feeling TikTok's absence at all.
3. Mitron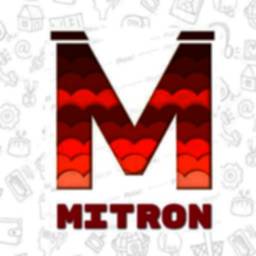 Mitron has received a lot of mixed reviews from users, especially those in India. The app launched back in April 2020 and gained sudden popularity in India.
It has been recently in the news due to the spike in its app's downloads, which reached over 5 million. Indian residents viewed the app as the country's answer to TikTok's banning.
However, what the residents think is an Indian-based app is in reality Pakistani designed and developed by an Indian Student. Apparently, TikTok clones are all over the world. Mitron has been rebranded from an app called TicTic – an app created by a Pakistan-based company QBoxus.
When we checked the app out, we noticed that it's an exact replica of TikTok. That wasn't a great way to kick off the review. However, we have to keep in mind that TikTok users are looking for an alternative, and a clone could be exactly what the desire.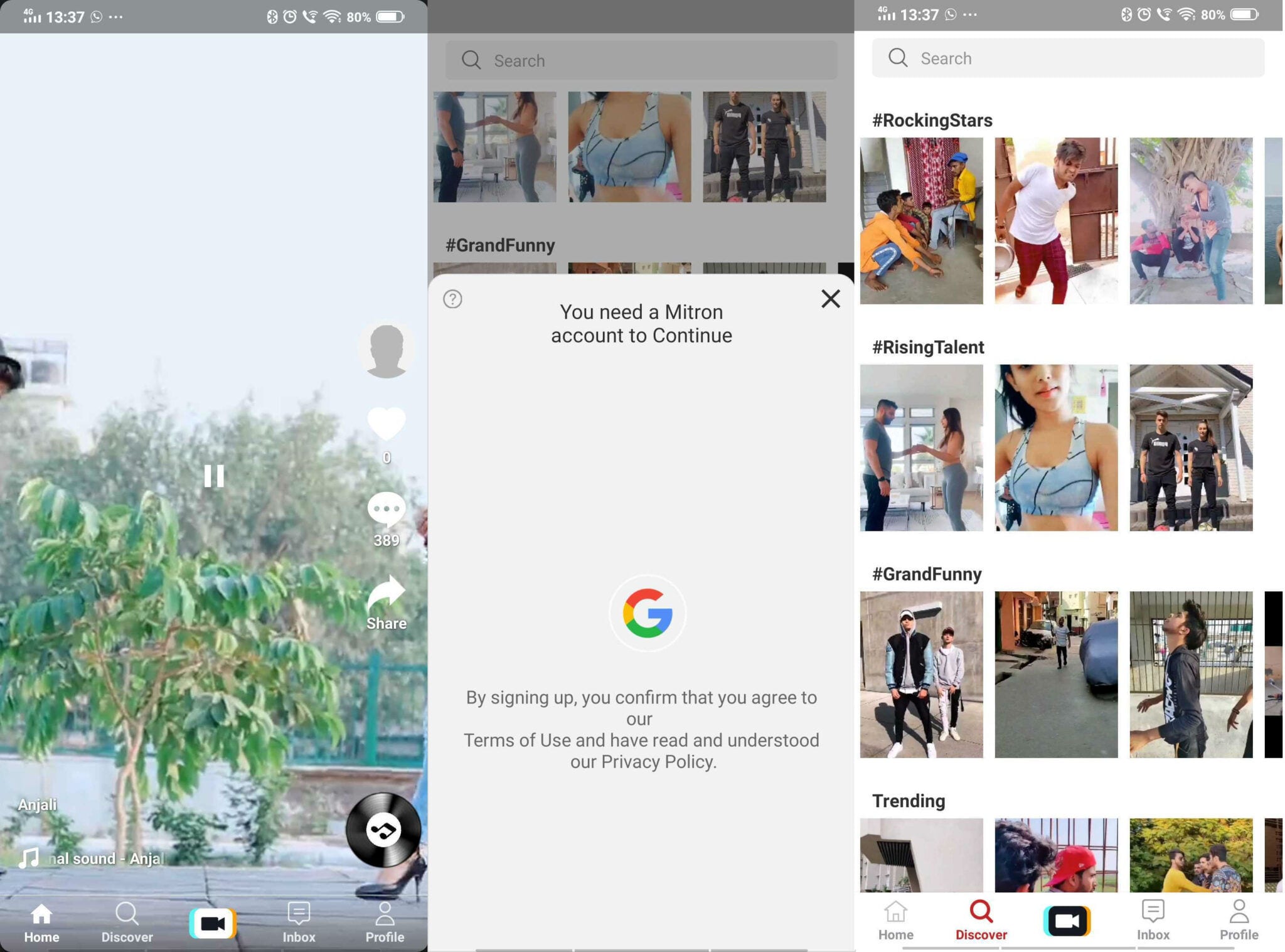 Seriously, the app is basically TikTok with a different name. When we launched the app, the home screen looks exactly like the one on TikTok with the profile, like, comment, and share on the right side of the screen.
Even the upload button looks the same and the options to choose from at the bottom of the home page. To be honest, that's a TikTok rip-off, but it sure does make a very good alternative, especially to those used to TikTok's interface and functionality.
4. Roposo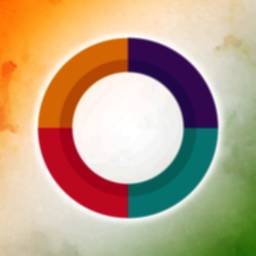 Roposo, which launched back in 2014, is among a profusion of startup apps that has yet to benefit from TikTok's banning in India. As we know, TikTok stopped working for almost 200 million users in India, resulting in an avalanche of new sign-ups to Roposo's services.
As good as this may seem, Roposo was definitely not ready for such a shift in the audience. In fact, these new sign-ups pushed one of its servers to breaking point.
When India broke the news about TikTok's banning, Roposo started receiving thousands of sign-up requests, reaching 500,000 an hour. Reports estimate that Roposo would have over 100 million subscribers by the end of the month.
The application approaches all kinds of users as its available in multiple languages including Hindi, Odia, Malayalam, Punjabi, English, and other regional languages.
The app is pretty simple, and much like TikTok, it instantly starts playing the content the moment users launch it. We can call it a zero-button interface, as nothing is required is except sitting back and watching as the content stream on its own. As soon as the content finishes (Specific duration), the video skips to the next piece automatically.
However, we ran into some problems while testing out the app. Apparently, it needs a mobile number to operate. When we added ours, it did not work. Instead, it gave us an error message, urging us to try again.
We're not based in India, so that may indicate that the Indian app might only work within the Indian region. When we checked their Terms and Services section, we did find what we're looking for. According to their website: "You may use the ROPOSO Platform and the Content only in India."
There we have it. So, basically, Roposo is a great alternative to those who have been deprived of TikTok in India only. Since there's no official banning elsewhere, Roposo seems like a great choice for Indian residents for now.
5. Byte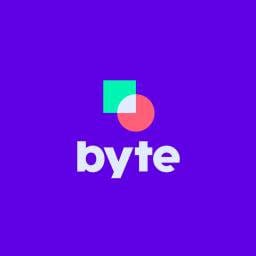 Back in 2017, internet users were shocked when they learned that Twitter was shutting down Vine. The platform was considered a hub for over-the-top talent, creating potential stars all over the world.
If users remember Vine, they definitely know of Bytes. It is the latest mobile app that replicated a lot of features that made Vine rise so quickly. It even got Vine stars to sign up and share their content on the new platform.
Byte made its official launch back in January 2020, and apparently it's not just "All Bark, No Byte," pun intended. It is proving to be a worthy competitor to TikTok as it was downloaded 1.3 million times in its first week.
Unlike TikTok, the platform only allows users to shoot six-second videos. They can either edit footage recorded outside the app, or use its built-in camera to shoot their videos. It's pretty simple to use and anyone who knows his/her way on TikTok can navigate this one.
Byte aids users in finding the content they need. There's a dedicated section for videos published by people they follow and another page to find new content. Signing up is not hard at all.
In fact, users don't have to create an account from scratch. They can use their Facebook, Google, Twitter, Instagram, phone number, or email address to do so. Bytes is a great way to continue sharing fun videos on social media if TikTok was ever banned in the region you live in. As for users in India, give it a try, it's worth it.
6. Triller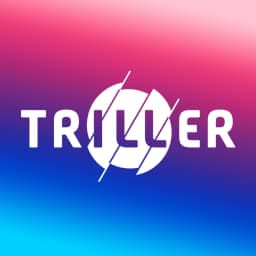 Back in 2015, David Leiberman and Sammy Rubin introduced us to one of that year's top media applications. It was that kind of software that allows users to create and edit videos as they will.
Later on, Triller allowed its users to add friends, send messages, and share videos, which made it more like a social media application rather than just a video-editing platform.
Now users may ask: What makes Triller a worthy competitor and a substitute for TikTok? Well, numbers don't lie and Triller has a lot of those.
The platform sees over 33 million music videos and 1 million music videos created in a single day, which, indeed, deems it as a cultural phenomenon.
We noticed a lot of similarities to TikTok, which is still considered the most popular in the category. Here's a quick look at the interface: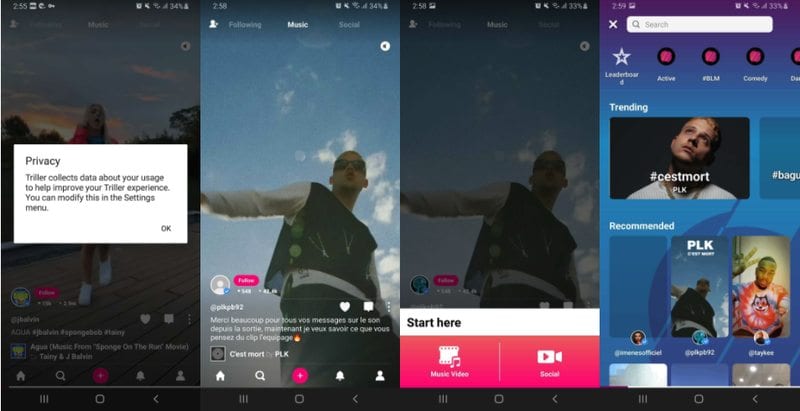 A video directly started when we launched the app. Actually, scratch that. As seen in the images above, we got a message stating that Triller collects user data. What it does with it is still unknown, but the fact that it does harvest data is quite alarming.
In general, all the video social media apps collect user data. If they sell it or disclose it to authorities, that's when users should uninstall them immediately.
As for the overall experience, navigating through the app was very easy. It does resemble TikTok in a lot of ways, so using the app won't be hard at all for previous TikTok-ers.
7. Chingari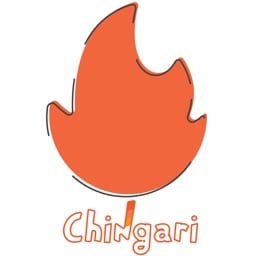 Now, since TikTok is officially banned in India, we thought that trying out another Indian-based short-video app would be very beneficial. Chingari was officially released back in 2018 and became an overnight sensation with 11 million downloads within just eight days of its launch.
Then and only then, it overtook TikTok's popularity in terms of sheer volume of downloads. Now, TikTok, of course, has the top spot.
Well, not anymore as it's banned in India, so Chingari makes an ultimate alternative. Before we review the app, we want to show our readers how Chingari, as a competitor, is thrilled to have TikTok banned.
According to Sumit Ghosh, Co-Founder and Chief Product Officer, Chingari
"This is a very good step taken by the Government of India and the IT Ministry of India. For a very long time, TikTok has been spying on users and sending back the data to China."
Apparently, TikTok's loss might be Chingari's gain, and we can't doubt that. The app is very easy and includes a lot of options that even TikTok lacks. It allows users to create videos in a single snap.
Not to mention that users can also use GIF and stickers from their WhatsApp on the Chingari messaging platform. The app has a simple yet attractive user interface and supports various regional languages including Punjabi, Marathi, Hindi, Gujarati, Bangla, and more.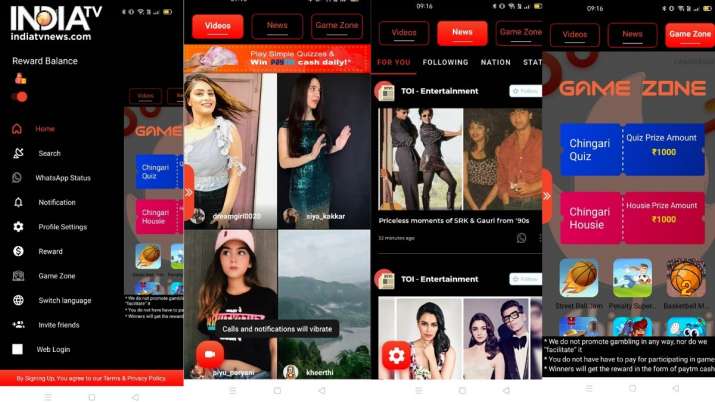 In the images above, we can clearly see how diverse the app is. We were able to find a separate game zone, where we can play quizzes to win prize money.
As for video creation, Chingari has dozens of filters to use and it allows users to add background music to videos. It looks like Chingari is yet another top competitor to take TikTok's place in India.
8. Funimate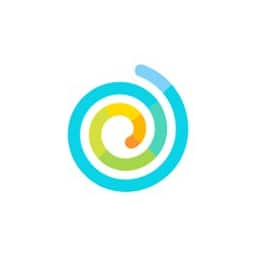 Funimate is another alternative worth checking out. It has been around since 2014, harnessing over 40 million users across the globe.
The app is an easy and fun way to create videos in any way users want. There's one advantage that this application has over TikTok.
It allows people to make any kind of music video using several options. They can create slow-motion videos, video loops, and even compile several video clips altogether.
Moreover, lipsyncing has become a trend on TikTik, and Funimate won't deprive its users of that. With a huge music library, users can tap into countless popular songs and sound effects to lip-sync on. This is what the app looks like: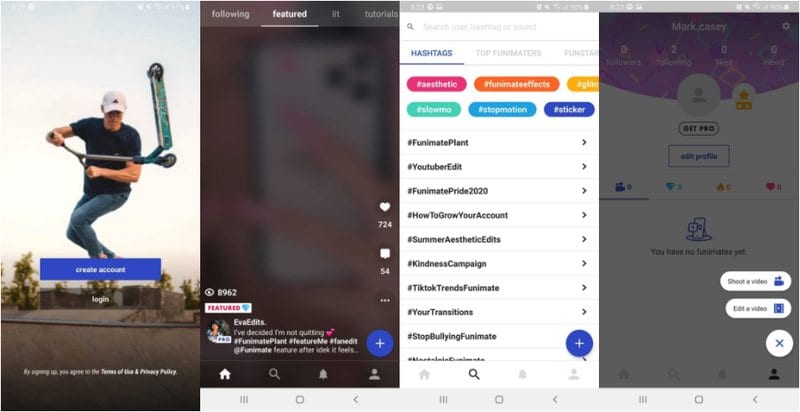 As seen in the images above, the app is pretty simple to use and the interface resembles TikTok in every way. That means whoever was using TikTok will be able to navigate it with ease.
Creating a video is very easy. We only had to click on the Plus icon and the options presented themselves. We noticed that we're able to add as much text or stickers to a video as well as create collab videos with your friends.
Aside from that, Funimate is a free-to-use app. However, for extra features and functionalities, users can go pro for a small monthly or yearly fee. From what we've seen, the free version is more than enough to give back the TikTok experience in case it's been banned in the region.
Best TikTok Alternatives – Final Words
Let's face it. TikTok is a great application, but it's definitely not for everyone. Whether it's about the security concerns about the app, or the fact that some just don't like it and never will, users have to find an alternative.
We've reviewed 8 of the top substitutes for the over-the-top video-sharing sensation in hopes of giving our readers what they're looking for in their region. TikTok is facing a lot of allegations, so it might be banned in some countries in the near future.
Check out the best TikTok alternative in this review, skim through what they have to offer, and let us know what your final pick as in the comment section below.