Best VPN for D-Link Routers
|
In 2018, most users access the internet from the comforts of their own homes. Routers are a piece of hardware that is incredibly common…almost everywhere. You can tap into the potential of your routers by installing a VPN client on them. This way, you'll be able to secure and protect all of your connected devices without having to configure each one individually. Here are the best VPNs you can use for D-Link Routers.
Why You Need a VPN
VPNs, also known as virtual private networks, are cybersecurity tools you can use after subscribing to a provider. What a VPN will do is encrypt your data and re-route your traffic through one of their own servers. You will then get a secure and private connection. In other words, a VPN offers protection from possible theft or attacks and from third-party monitoring.
By re-routing your traffic, a VPN also changes your Public IP. Since your traffic is no longer being sent through your ISP's server, it won't reflect your actual geographic location anymore. It will start matching the location of the VPN server you're connected to. This makes VPNs a great tool to unblock regionally restricted websites (and to bypass any ISP imposed website bans).
Last Updated Today


30-Day Money-back Guarantee
Unlimited Bandwidth
Apps For All Your Devices
24/7 Live Support
Visit ExpressVPN
Why Install a VPN on D-Link Routers
As a rule of thumb, most credible VPN providers limit the number of devices your account can cover at the same time. Usually, this isn't a big problem. It's just inconvenient sometimes. When you install a VPN on a router you get the ability to cover all of your devices without running through your limits. A router only counts as one device.
A VPN on your router also lets you extend the VPN's functionalities to any connected device. All of your devices will then be able to:
Bypass internet censorship.
Limit Google's tracking ability.
Stream geoblocked content and access regionally restricted sites.
Avoid third-party monitoring and surveillance.
As you can see, installing a VPN on your D-Link router can vastly improve your internet connection.
The Best VPN for D-Link Routers
Before you start looking for a VPN that works with D-Link routers, there are a few things you should take into consideration:
What are the protocols that the VPN supports? You need a VPN that supports OpenVPN and PPTP & L2TP/IPSec protocols.
How much does the VPN slow your internet down? VPNs, in general, take up some of your internet speed because they re-route your traffic. Some VPNs will slow down your internet to an unmanageable rate, while others will barely cause that much of a difference.
Where are the VPN servers located? It's not about the number of servers, although that's always a perk. You need a VPN with servers located on all inhabited continents.
How transparent is the VPN's Privacy Policy? You should only consider VPNs care about their user's privacy. Pay special attention to their logging policy, you should only consider subscribing to VPNs that keep zero logs.
Our VPN experts have run their own tests to find the best VPNs for D-Link routers. Here are their top 3 choices:
1. ExpressVPN
ExpressVPN is known to be the best VPN service provider currently on the market. It's not that the service they offer includes features that no other VPN has. To put it simply, ExpressVPN consistently provides an excellent service. Here are some of the features this VPN provider offers:
2000+ servers in 94+ countries.
A free Smart DNS feature.
The ability to unblock American Netflix and the BBC.
A strict zero-log policy.
A Kill Switch.
Servers optimized for speed.
5-Star 24/7 live chat support.
A 30-day refund policy, no questions asked.
And much, much more.
2. BulletVPN
Our experts' second choice is BulletVPN. This VPN provider built up a reputation around its blazing fast internet speeds. BulletVPN is a cheaper option than ExpressVPN, but still a solid choice for your router. Here are some of the features this VPN provider offers:
40+ servers in 29+ countries.
A Kill Switch.
Military-grade encryptions and 5 different VPN protocols.
A free Smart DNS feature.
Strict zero-log policy.
24/7 live chat support.
Servers optimized for speed and P2P file sharing.
30-day refund policy, no questions asked.
and then some.
3. NordVPN
According to our reader JB, NordVPN currently does not support D-Link routers.
NordVPN is a provider that takes security to a whole different level. This VPN has a list of features that add even more levels of security than other VPNs. Here are some of the features this VPN provider offers:
Double VPN.
Split Tunneling.
A Kill Switch.
2048-bit SSL encryptions.
4000+ servers in 60+ countries.
24/7 live chat support.
30-day refund policy, no questions asked.
and so much more.
Best VPN for D-Link Routers – Final Thoughts
It's getting increasingly more important to be safe and secure while online. With almost global access to the internet comes a higher rate of attackers, third-party surveillance, and general internet badies. A VPN is an easy tool you can use to protect yourself while you use the internet. Installing a VPN on your router is the best way you can make sure all of your devices are covered and that you're secure in your internet connection.
Best VPN for D-Link Routers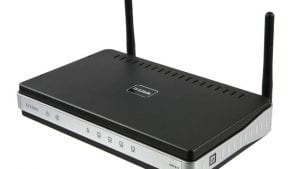 Name: ExpressVPN
Description: The best VPN for security, safety, and access to geoblocked channels.
Speed

Support

Server Location

Security & Privacy

Refund Policy