Even with the many conversations going on about the legality of file sharing and the copyright policies that it infringes upon, millions of people all over the world still continue to torrent their favorite movies, TV series, and documentaries from the thousands of files that get uploaded every day. This seems to be among the easiest ways for most people to get their hands on the kind of content that they want, and with most of it being provided for free, it's very hard to see why they wouldn't.
Disclaimer: Neither the owner of this site nor the editor of this article nor any of the linked VPN service providers condone downloading, sharing, seeding, or peering copyright material. International laws prohibit such activities which are illegal. This guide serves educational purposes only.
What Is FrostWire?
For those that aren't quite familiar with file-sharing or torrenting, let's start with the very basics. A torrent can be described as a special link that points the torrent software to the source where a specific file or group of files is being shared so that you're able to get it downloaded. Think of it as a way to initiate communication between your computer and the source, which is then followed by the transfer of the file(s) that you'd like to get.
FrostWire is one of the many BitTorrent clients that rely on both the BitTorrent network as well as cloud sources to search for & download files onto your device. When you conduct a search in FrostWire, the app talks to a whole range of different sites and engines to bring you sources that are most relevant to the kind of information that you could be looking for.
Once you find whatever you could be looking for, it gets downloaded onto your device from various other users that have the exact file you're looking for. This is done in small chunks, with your sources either labeled as "peers" or "seeders". Peers are users who only have part of the file and seeders who have the whole file. The higher the number of users you're connected to, the faster your download will happen.
Why You Need a VPN with FrostWire
As mentioned earlier, torrenting provides access to such a wide array of content, and in some cases, some of it might actually be illegally distributed. This presents a challenge to most users since a large majority of people aren't even aware of the laws that they're breaking when they torrent copyrighted files.
In some countries, torrenting is even prohibited and could lead to an actual court case for anyone found flouting the restriction. If you travel to such a country and you're already used to torrenting content whenever you need something, you might find yourself in a bit of a dilemma. You can either opt not to torrent, or to look for a solution that'll prevent their ISPs from tracking down and blocking your activities.
If you look around, you'll probably find out that not many services are as capable of securing your connection and hiding your traffic as a VPN is. Abbreviated for Virtual Private Network, a VPN service helps ensure that you're able to surf the Internet without any worries as to whether someone might be spying on your activity.
Your connection gets encrypted and your IP address is hidden, thereby making it hard for anyone to determine where exactly you could be browsing from. With such measures in place, you should be able to torrent without any obstacles in your way, or any barriers affecting what you can or cannot torrent.
Best VPNs for FrostWire
Also, as you choose which VPN provider to go with, you need to ensure that your chosen service has complete support for torrenting since there are a number of numerous providers that can't really work with the service. To ensure that your comparison is made between providers that actually provide full support for the service, here's our list of VPN services that we'd recommend as the best VPNs for FrostWire.
1. ExpressVPN
ExpressVPN kicks off our list as one of the few providers that's credible enough to protect your browsing, and also ensure you remain anonymous as you torrent. The service is based in the British Virgin Islands and has about 2000 servers under its scope. It's 256 bit AES military-grade encryption is enough to ensure that your traffic remains completely untraceable even by your ISP, and this helps you avoid any forms of throttling that may be applied against your connection.
ExpressVPN offers its users the choice to have up to 5 simultaneous connections and insists that their users rely on OpenVPN as the protocol of choice. If you're more familiar with what you want from your connection, then there are PPTP, SSTP, and L2TP/IPSec for you to choose from.
ExpressVPN also has a range of stealth servers that you can connect to if the country that you're in does not support VPN use, as well as support for split tunneling where you'll get to choose exactly what to encrypt, and what not to.
An ExpressVPN subscription also grants you access to their zero-knowledge encrypted DNS servers, so you shouldn't worry about keeping your location hidden. If all this sounds interesting, you can learn a lot more about the service by going through our ExpressVPN Review.
2. BulletVPN
As a provider that's been in the industry since 2017, BulletVPN has definitely built up a strong list of features that make it among the best choices to consider when looking for online protection.
The service is in full support of torrenting, and this is made very clear on their website. BulletVPN also happens to be among the few services that allow UltraHD streaming no matter how far the server is from your location.
The service allows for up to 6 simultaneous connections, and this places them firmly on top of all its other competitors. The service provides a completely secure and watertight service thanks to its 256-bit AES industry-standard encryption, and also offers a kill switch, and their own, Bullet Shield.
For more information on IPVanish, have a look at our well-laid-out BulletVPN Review.
3. NordVPN
NordVPN is a favorite among those looking for a variety of tools to encrypt their connection. The service provides customers with such a wide array of content and ensures their connection remains protected through 256 bit AES encryption.
The service is based in Panama, and as a result, they're able to offer a reliable zero-logging policy. Users have the opportunity to connect up to 6 devices simultaneously and choose from OpenVPN, PPTP, SSTP, and L2TP/IPSec as potential VPN protocols.
With up to 4000 servers within its network, a NordVPN subscriber is sure of having access to a wide range of sites in different countries all over the world regardless of wherever they could be based.
NordVPN also supports Onion over VPN, and this helps users to stay completely anonymous whenever online. Subscribers will also get to enjoy their Cybersec software which keeps away any ads or malware from them. There's also a SmartPlay feature that helps ensure that users can hide their IP address to work around geo-restrictions. To see how else NordVPN can benefit you, take some time to go through our NordVPN Review.
Conclusion on The Best VPN for FrostWire
If you're going to be downloading torrents through FrostWire, then Express VPN, IPVanish, and NordVPN are among your best bets for a VPN service that supports torrenting and is guaranteed to keep you both protected and anonymous.
ExpressVPN Review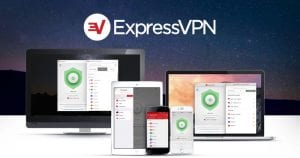 Name: ExpressVPN
Description: ExpressVPN is a VPN service that allows you to browse the web anonymously and unblock geo-restricted sites.
Price: 12.95
Currency: $
Operating System: Windows, OSX, Android, iOS
Application Category: Multimedia
Refund Policy

Speed

Support

VPN Apps