Spain is a great country to visit or live in. It's ranked 15 on "the top places to visit in 2020" list.  If you're not wandering around Palma Old Town or visit Parc de la Mar, you're probably browsing the web back at home. The internet in Spain is almost party free. However, having no obvious censorship doesn't mean there is nothing to worry about. There are always threats and a VPN can protect you against them. But what are the best VPNs for Spain? Find out in this review.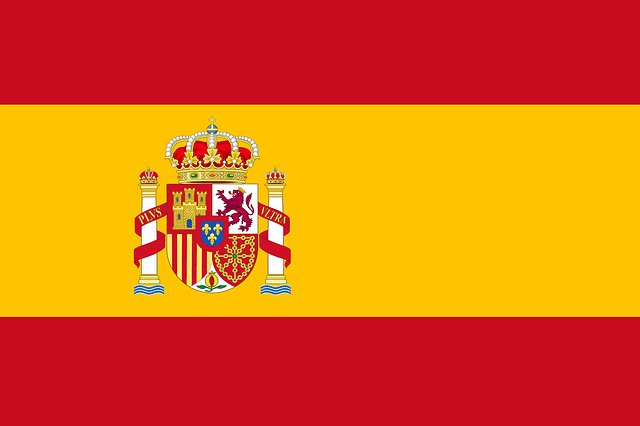 Best VPN Spain – Content Index
Spain has a lot of hidden secrets when we speak of its so-called free internet. Whoever's connecting, they should keep in mind that the internet is not a safe place to roam without proper precautions.
That's why a VPN should always be present on your device whenever you're browsing the web. What VPN to use in Spain, you might ask? Here's the full review.:
Why Use a VPN In Spain?
When we speak of online browsing today, we can say that there are a lot of threats users may face on the World Wide Web. No matter how safe we think or what it to be, it's simply isn't.
That's why a Virtual Private Network is needed whenever we go online. A VPN is a cybersecurity tool that enhances online security and helps maintain ultimate privacy.
It applies military-grade encryption on the user's traffic, making it next to impossible for anyone to get a hold of what's sent or received. On the other hand, a VPN cloaks users' IP addresses, allowing them to surf the web anonymously.
Online users will face challenges, including censorship by the government, malicious entities (Hackers, cybercriminals), monitoring, and more. The question is: How many of these are included when we mention Spain? Is a VPN in Spain really that necessary? Let's find out.
The Internet in Spain
When it comes to the internet, Spain provides is one of the countries that have freedom of speech and press, and the government generally respects these rights. However, some reports state otherwise.
Spain is known for censoring the internet. In fact, blocking some websites has become a habit in the country. Spain bans websites that contain unwanted political views.
This was probably in response to the activist groups who promoted the Catalan independence referendum. Back on October 10, 2017, a pro-Catalan WhatsApp independence group was blocked by the Spanish Civil Guard.
So, we're not just talking about censoring, we're also referring to some monitoring by the government. On the other hand, the Spanish government apparently doesn't tolerate memes on social media, banning a lot of them as the claim that it's "spreading of images that infringe on the honor of a person."
Aside from censorship, we also mentioned that Spain might monitor its residents. The country claims that they don't participate in government surveillance. However, a couple of incidents show otherwise.
Back in 2014, Spain's top criminal court, the Audiencia Nacional, found 21-year-old Cassandra Vera guilty of glorifying terrorism and humiliating victims.
The student in the city of Murcia made some jokes on Twitter that "glorified terrorism". In response to such actions, the government sentenced her to an entire year of prison.
Torrenting
Finally, the Spanish government also practices some strict anti-piracy policies. Downloading and sharing copyrighted material is illegal in Spain. In fact, back in 2011, the government adopted strict anti-piracy laws in an attempt to block websites that offer them.
Moreover, the government ordered ISPs to block PirateBay in 2015, which solidifies its state as one of the toughest countries that fight pirated content.
Freedom of speech and free internet access are both important, and with a VPN, they're easily achieved. This internet software hides the user's IP address and maintains their privacy. They can browse the web without being monitored and express their opinion freely (With boundaries of course).
Bypassing Regional Restrictions
Despite having great television in the country, Spanish residents can explore the world of streaming with a VPN. You see, streaming services apply geo-blocks, which means that they're not accessible outside their country of origin.
Channels like Netflix, Hulu, Amazon Prime, and BBC iPlayer apply geo-blocks. They restrict user access to certain locations and block those who are outside the area of coverage.
The IP address is what exposes your location and a VPN can change that. This doesn't only help Spanish residents access such channels, but it also aids Spanish ex-pats in getting back the likes of MovieStar Plus outside the Spanish region.
Best VPN for Spain Revealed
When choosing a VPN you should keep in mind many things, including the country it's based in, speed, server network, security, unblocking capabilities, and more.
We've reviewed dozens of VPN providers so far, and according to our evaluation process, four made it to the list as the top VPNs for Spain. Here's the full review:
1. ExpressVPN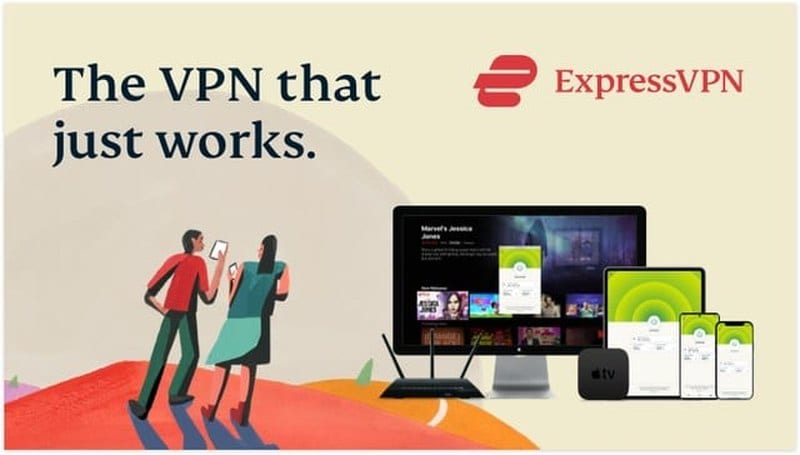 ExpressVPN's headquarters are based in the British Virgin Islands. This speaks a lot about the provider's privacy as the region is nowhere near the reach of the Five Eyes Alliance.
ExpressVPN launched back in 2009, and ever since, it adopts a strict no-logging policy. However, privacy isn't what makes ExpressVPN the service it is today. According to our tests, the provider excels in the following departments as well:
Speed: ExpressVPN provides excellent speeds no matter what server we connected to. Usually, distant servers slow down connections a lot, but with ExpressVPN, none of that occurred. We only saw a 7% drop in speed, which is perfect for HD streaming.
Server Network: With over 2000 servers across 94 countries, ExpressVPN providers hundreds of options for its users, especially when it comes to unblocking geo-restricted content.
Security: ExpressVPN shields user data using military-grade encryption. To be exact, it uses the 256-bit AES encryption and several security protocols, including OpenVPN.
Access Geo-restricted Content: Based on the tests we conducted, ExpressVPN managed to unblock all major streaming channels, including Netflix, Hulu, Amazon Prime, Disney+, and BBC iPlayer
With a single account, ExpressVPN allows up to five simultaneous connections. Now, let's talk about getting an account. The service is quite expensive compared to the other VPNs on our list.
However, from what we've seen, users will be getting what they pay for with this one. Also, it provides a 30-day refund policy, so if it is not up to your expectations, you can get a full refund without any problem.
Pros
Servers in 94 countries.
Five concurrent connections.
256-bit AES encryption.
Unblocks US Netflix.
Torrenting/P2P allowed.
User-friendly interface.
30-day refund policy.
Split-tunneling.
Browser extensions.
Cons
Expensive subscriptions.
No free trial.
2. BulletVPN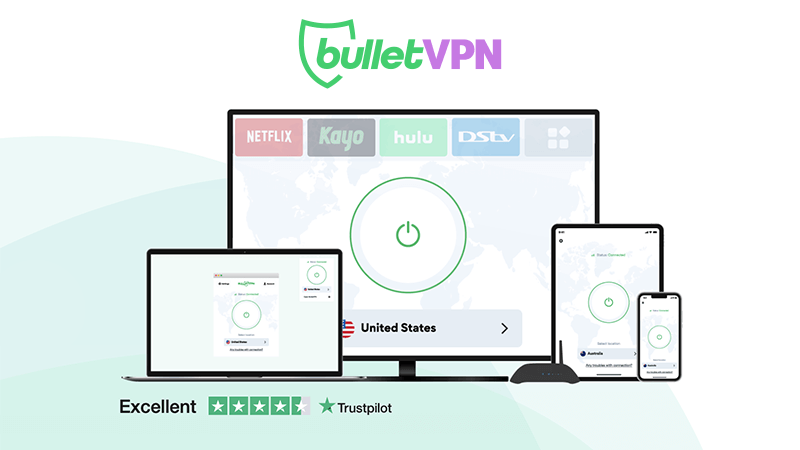 BulletVPN is also based in a country where no data retention laws apply – Estonia. The provider does not collect any logs nor store them for future use.
The first thing that caught our attention was speed, but as we went deeper into the evaluation, BulletVPN proved to be a lot more than just a speedy VPN:
Speed: The speed tests were all positive. Any video we viewed was streamed in full HD and UHD without suffering a quality drop or buffering issues. BulletVPN also has dedicated servers called (UltraHD Support). These servers maintain perfect speeds for UHD streaming.
Server Network: BulletVPN started off small, but now, it has more than 100 servers in 51 countries, including one in Madrid, Spain.
Security: The service applies 256-AES bit encryption and uses five security protocols, along with a kill switch. BulletVPN also has Bullet Shield – a technology that forbids internet access without a VPN connection already-present.
Unblocking Restricted Content: This provider proved efficient when we tried it with major streaming services. Using on UltraHD US server, we were able to watch Disney+, Netflix, Hulu, and more.
BulletVPN offers decent subscription costs, including $10.98/month. Whatever plan you choose, they're all covered by a 30-day moneyback guarantee.
Also, BulletVPN offers a 1-day free trial if you're signing up through Android. Other users can contact customer support to benefit from the trial.
Pros
100+ servers in 55 countries.
Six simultaneous connections.
Military-grade encryption.
Unblocks major streaming services.
Kill Switch.
P2P friendly.
Smart DNS proxy.
Easy-to-use apps.
30-day refund policy.
Bullet Shield.
Cons
No browser extensions.
No split tunneling.
3. Surfshark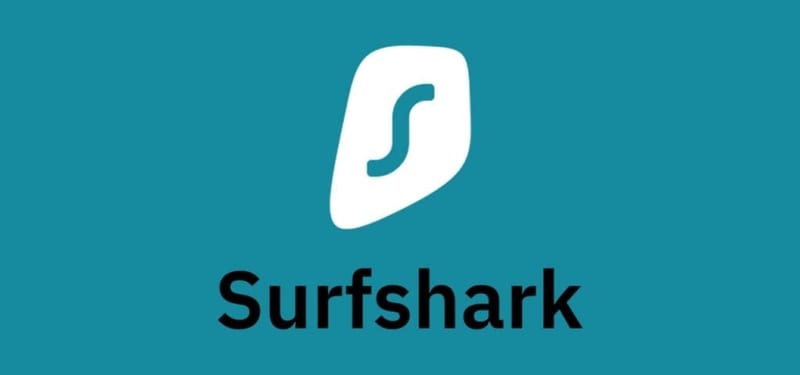 The third on our list is none other than Surfshark. This provider is not that old in the industry, but it sure made an impact the moment it launched.
The service has servers all around the world. To be exact, its server network covers around 65 countries, including Spain. If you're a Spanish ex-pat, you get to enjoy your local services back home by connecting to servers in Barcelona, Madrid, as well as Valencia.
All the servers come with obfuscation technology and they're all RAM-based. In other words, you're completely anonymous and your data is guaranteed not to be saved. Add a strict no-logging policy to that and you get ultimate privacy. But wait, there's more:
Speed: With a 1.8% drop in speed, our tests showed that Surfshark optimizes its servers to make any encryption impact barely noticeable.
Servers: Surfshark made sure to cover key locations across the globe. This is clearly shown as its servers are available in more than 65 countries.
Security: Boasting features like an Adblocker, Double VPN, a kill switch, and one robust encryption, Surfshark definitely excels in the security department.
Access to Restricted Channels: Surfshark has both Smart DNS and VPN services. It can easily help you bypass regional restrictions and access top channels around the world.
Surfshark costs $12.95/month, which is pretty expensive. However, the features it offers are kind of worth it, but it's up to you to decide. You can benefit from their 30-day refund policy if you need more time to make up your mind.
Pros
Unlimited concurrent connections.
Military-grade encryption.
Supports top streaming services.
Kill Switch.
P2P support.
Smart DNS.
30-day refund policy.
Multi-hop.
Adblocker (CleanWeb).
4. Unlocator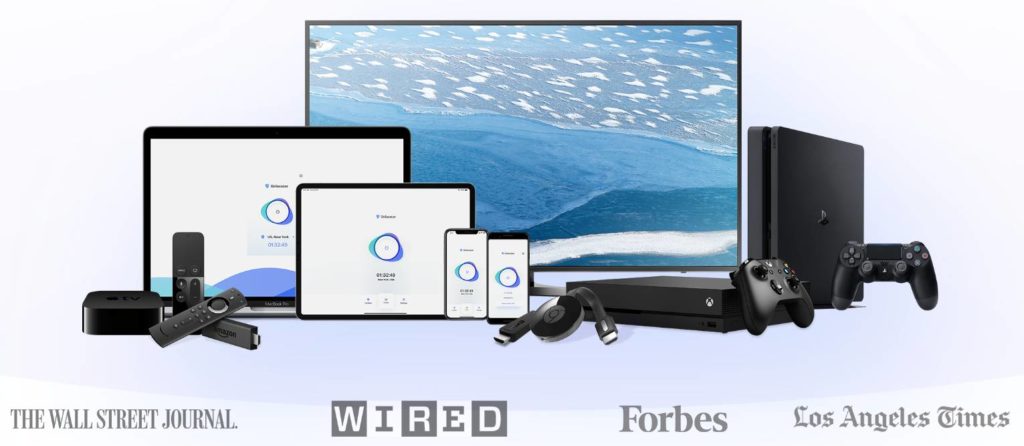 Having their headquarters in Denmark isn't a good thing, which had us question Unlocator's services at first. However, when we tested the service out, we saw that there's nothing to worry about in terms of privacy.
Unlocator adopts a strict no-logging policy and packs up some really cool privacy and security features. And for an original Smart DNS service, we had no problem accessing blocked content overseas. Here's what we got from our Unlocator evaluation:
Speed: We got mixed results in the speed department. Some of the Unlocator's servers were very fast, yet others caused a huge drop in our connection – 55%.
Servers: The service is still new. It launched back in 2019, which explains its relatively small network. Unlocator has 43 servers across 37 countries. Despite looking small compared to the others, Unlocator still manages to cover key locations across the globe.
Security: Unlocator offers military-grade AES-256 encryption. On top of that, there's a kill switch and Unlocator Shield – a technology that doesn't allow users to access the internet. They have to be connected to Unlocator first.
Access to Restricted Channels: Whether it's their Smart DNS or VPN service, Unlocator was able to bypass regional restrictions and access top channels around the world.
For $9.99/month, you can use Unlocator on 5 different devices at the same time. The service offers a 30-day refund policy, but before we get to that, we can use their 7-day free trial first.
Pros
Five simultaneous connections.
Top-level encryption.
Unblocks major streaming services.
Kill Switch.
P2P support.
Smart DNS proxy.
Easy interface
30-day refund policy.
7-day free trial.
Unlocator Shield.
Cons
Small server list.
Some slow servers.
No split tunneling.
No browser extensions.
5. NordVPN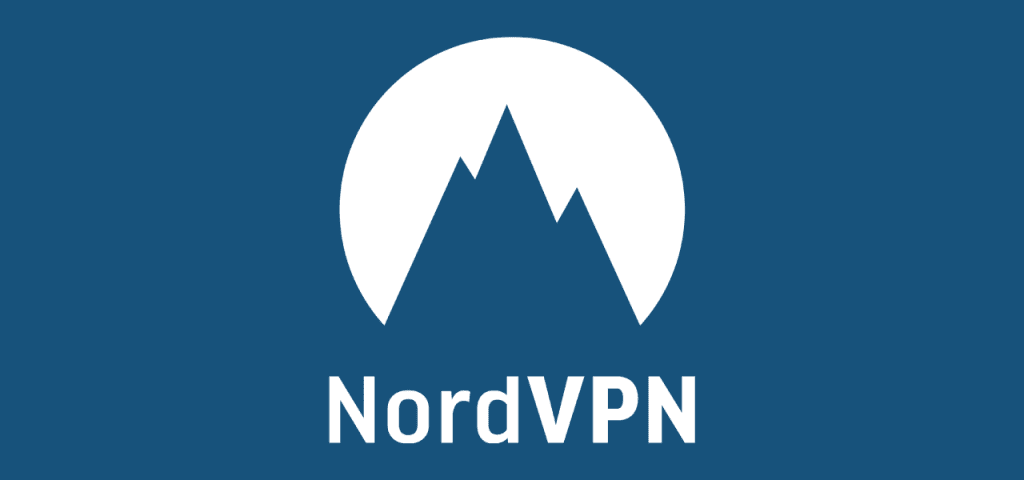 Last but not least, we have NordVPN, which became one of the biggest names in the VPN industry over the years. The provider is based in Panama, a region where no laws force providers to hand over user data.
We tested NordVPN's service and found out that it has a lot to offer. Here's what we found:
Speed: While some servers were very fast, especially the close ones, some weren't speedy at all. We did see a 9% drop while using some, but the others were very slow. That goes specifically to the time we used Double VPN.
Server Network: A big server network is a great customer attraction, and NordVPN has one of the biggest in the industry. NordVPN offers 5000 servers in 62 locations.
Security: NordVPN offers military-grade encryption, CyberSec to fend off malicious attacks, and Double VPN to add extra encryption to the already existing one by connecting to an extra server.
Unblocking Capability: NordVPN can unblock Netflix, Hulu, BBC iPlayer, and CTV without a hitch.
NordVPN costs $11.95/month, which allows six simultaneous connections. As for a free trial, NordVPN used to offer one but doesn't anymore. Apparently, users started signing up and took advantage of the trial, damaging the provider's server network in the process.
Now, NordVPN only offers a 30-day refund policy, which is more than enough to try the service out.
Pros
Six concurrent connections.
Military-grade encryption.
Supports major streaming services.
Kill Switch.
P2P friendly.
Smart DNS proxy.
Easy interface
30-day refund policy.
CyberSec.
Double VPN.
Browser extensions.
Cons
Incosistant speed rates.
No split tunneling.
No free trial
How to Connect to a VPN in Spain
After you've chosen a suitable VPN, you'll want to know how to use it. Follow these steps:
Sign up with the VPN provider of your choice.
After creating your account, you need to download, install, and launch the VPN application on your device.
Open the app and connect to the VPN server you want.
You're now safe and anonymous.
The process is easy and grants you access and protection while online.
Best VPN for Spain – Parting Words
Getting a VPN in Spain is fairly easy. The process doesn't take much time. You can directly enjoy streaming online live channels. You'll also benefit from the added security and privacy. It's important to choose the VPN that suits your own needs. Just make sure that it is reliable, has a decent refund policy, and enjoy it! Let us know which VPN you ended up with in the comments below.
ExpressVPN Review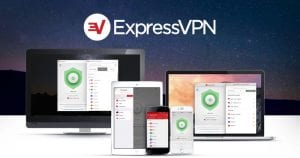 Name: ExpressVPN
Description: ExpressVPN is a VPN service that allows you to browse the web anonymously and unblock geo-restricted sites.
Price: 12.95
Currency: $
Operating System: Windows, OSX, Android, iOS
Application Category: Multimedia
Refund Policy

Speed

Support

VPN Apps