Best VPN for Nvidia Shield TV
|
Nvidia Shield is known to be one of the best platforms for 4K streaming, as it offers hundreds of streaming channels from all over the world. Moreover, the Android TV-powered set-top device packs a two in one bargain as it's also applicable to gaming. However, as grand as Nvidia Shield seems to be, we have to admit that even the best of everything comes with some flaws. In Nvidia's case, limitations. The platform offers HD and 4K streaming content from most popular providers, which are subject to geographical restrictions. The best way to bypass that and take full control of NVidia Shield is to use a VPN. But the question is: What is the best VPN for Nvidia Shield TV? Let's find out in this review.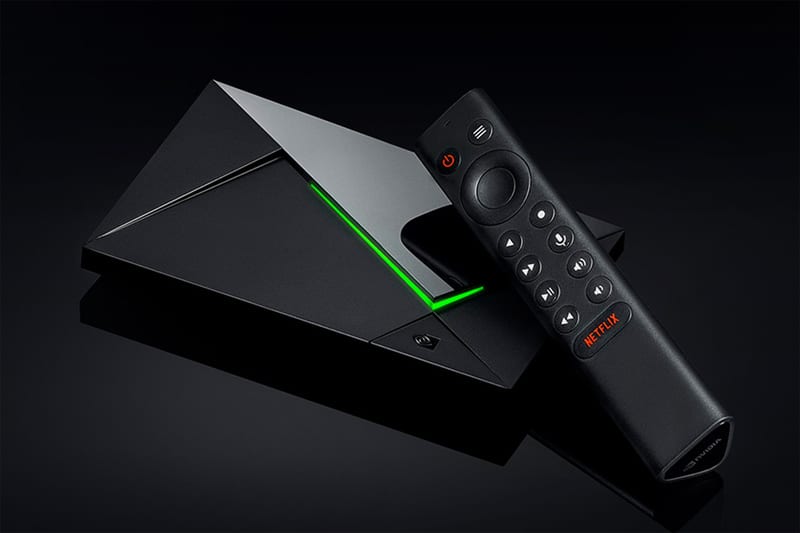 Best VPN for Nvidia Shield – Content Index
Having an Nvidia Shield device sure does make life easier and much more fun. However, the device on its own is not enough. Users cannot experience this amazing platform's full potential unless they have a tool to bypass the restrictions that come with it. Location and speed are the two most impactful things in this equation, and using a VPN guarantees the best of both worlds. Which VPN you should choose for NVidia? Give this review a quick read.
A VPN for Nvidia Shield – The Why and How
In simple terms, a Virtual Private Network is a service that makes it possible for users to conceal their location, and completely hide their data while online. The private servers that users connect to after subscribing to a VPN service take care of all the security needs and encryption.
After your Nvidia Shield TV box establishes a connection to the Internet through VPN, all your data and records such as the sites you visit, or the channels you stream become private only to you.
The more the number of servers a provider has, the more the number of options a user has to select from as points to establish a connection.
Someone living in Detroit, for example, has the option to connect to a server-based anywhere in the UK, and the sites he's visiting will be 'tricked' into thinking he's based somewhere within the UK. This guarantees access to all the geo-restricted UK sites that he might want to visit. Now, let's shed more light on the matter:
The Why?
Nvidia Shield is a very popular device used mostly for streaming, but the device itself does cramp down to geo-restrictions or regional-blocks that do hamper the overall experience.
Geo-blocking is a mechanism/technology used by streaming services to restrict user access based on his/her location. It's mainly due to copyright reasons. In other words, despite having a dedicated app on Nvidia Shield, not everyone can benefit in return.
The first problem users might face is the fact that some apps are nowhere to be found inside the Play Store. Whatever they do, they won't be able to install it unless they change their Google Play Store's region.
Even if they managed to get their desired app by sideloading it or any other method, it won't work if geo-blocking is applied. For example, Nvidia Shield does provide an app for Hulu, but the channel itself cannot be accessed outside the United States. It requires the Nvidia users to be residing within the US, i.e, operating with an American IP address.
If not, which only means that they're overseas, a geo-error message will appear:
"Video not available in this location."
With a VPN, Nvidia Shield users can easily change their location, alter their IP address, and access any channel available on the platform. All they have to do is connect to a server in the country where the service restricts its access to and they're done.
Not All VPNs Have What It Takes
Despite being an ultimate tool for bypassing regional restrictions, users should know which VPNs to choose for the task. Let's face it, most of Nvidia users will be tempted to alter Netflix's library or watch Hulu online.
What they might know is that not all VPNs can do that. Sure, they can change their IP address to an American one, for example, but that doesn't mean that they have a free passage now.
Another Problem??
Nvidia Shield isn't just a platform for streaming, it's also used as a gaming console. A lot of users download big-sized games to enjoy yet another exciting online experience.
However, as good as that may sound, gaming is also susceptible to problems, especially in the speed department. Internet ISPs can throttle users' connections at will, especially when the customers reach a present monthly data cap.
Once the ISP applies that, the connection instantly slows down, resulting in low-quality videos, and yes, game lags. It's fairly common for ISPs to throttle bandwidth, which seems to be an international problem.
In fact, even in the UK, where the internet is pretty fast, almost 44% of the country's online multiplayer gamers still complain about witnessing lags.
The Main Reason
Lags occur in hopes of saving the system from crashing or to avoid server overloading. However, some ISPs take that as an opportunity to give users an incentive to use more expensive tiered pricing schemes, promising a throttle free bandwidth in the process.
Users don't have to pay extra to get better internet, a VPN will do just fine. With a Virtual Private Network, a user's IP address gets cloaked, allowing him/her to surf the internet without being detected or monitored.
As a result, the ISP would not know who the user really is, making it next to impossible to detect who the user is in order to throttle the connection.
The How – Installing VPN on Nvidia Shield TV
The installation process is admittedly easy, provided the instructions below are followed to the letter. We've tried to make it as straightforward as possible.
We have to note that the steps below and their corresponding screenshots are just an example. Any of the VPNs in our review today can be installed on Nvidia, we just used ExpressVPN to ease the steps up and give you a comprehensive process.
Here's what you need to do:
Open Google Play Store on your Nvidia Shield TV.

Type in ExpressVPN in the search box.

The provider's client will show up almost instantly. Once it does, click on Install.
It'll now show up on your App section. The moment you launch the application, it'll ask for permission. Hit Accept.

Now use your Nvidia Shield remote to click on Sign In.

Type in your username and password, then press enter.

A list of servers will appear.

Identify the one you want to connect to, s

elect by clicking it, and you'll have launched the connection.
After that, the connect button will turn green, indicating that a connection has been established.

You'll now be able to stream your videos through the connection.
The images above show a connection to a Japanese server, but you can choose whichever server you're searching for out of all the 94 countries ExpressVPN covers.
Depending on the channel you wish to unblock, you must connect to a server in its respective country. For example, if Hulu and the US version of Netflix are what you wish to stream, then a US server is what you need to connect to.
Is a Connection Established?
You might encounter some problems while using your Nvidia Shield Service, or even risk being exposed if your VPN connection isn't working as it should. Here's what you need to do to confirm everything is OK:
Through your Nvidia Shield VPN, start up your browser and use our IP Detection Tool.

Make a note of the IP address you'll see.

Launch your VPN client's app & connect to one of their servers.

As soon as the connection is complete, go back to the

 IP Identifier

and check the IP address it now reads.

If you see a new address, then everything's OK.
With this simple IP check process, you'd be able to know whether you've established a connection or not as your IP changes to that of the country where the server you've chosen is located. With that said, let's head over to the best Nvidia Shield VPN review.
The Best VPN for Nvidia Shield
Now that our readers know what obstacles they might face on their Nvidia Shield and how a VPN works to overcome them, we should start reviewing the best VPNs for this popular platform.
However, before we do that, we must note that none of the providers on our list are free. That's because we don't recommend any of them, despite their availability on the Google Play Store.
Such services aren't reliable as they don't have the means to provide credible service. Their servers are slow, they only allow connections to select servers, and most of them restrict their customers' usage with daily or monthly data caps. This will definitely ruin the whole experience, especially when we speak of streaming.
Moreover, these free services adopt shady practices as they take their users' credentials and private information then sell them to third- parties. How else do you think such services generate revenues? The user becomes the actual merchandise.
Not to mention that they'll also bombard them with unwanted ads and tracking cookies, which definitely raises some questions in the privacy department.
We conducted thorough research and evaluated dozens of VPNs to come up with this review. After a strict examination process, we rounded up four of the best VPN services to use on Nvidia Shield. Here's what we got:
1. ExpressVPN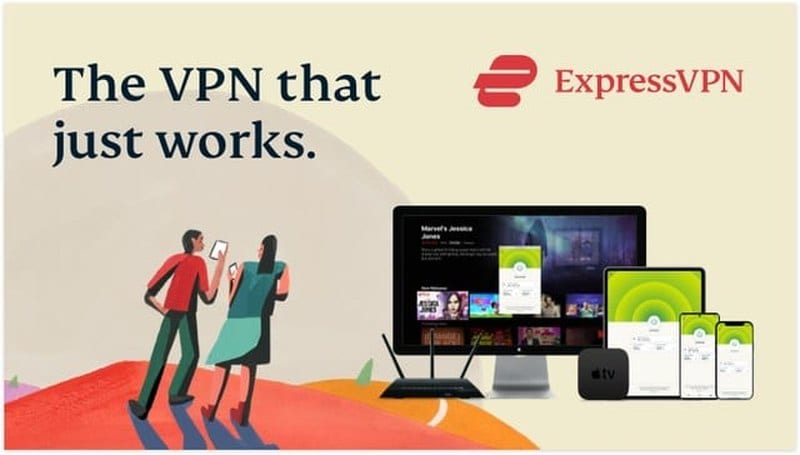 ExpressVPN is one of the few VPN providers that we found fit to use on Nvidia Shield. We performed several tests to see how well can this VPN perform, and the results were outstanding.
The provider has more than 2000 servers across 94 countries, which is more than enough to get around geo-restrictions and access whatever streaming service Nvidia shield supports, especially the likes of Netflix and Hulu.
ExpressVPN excels in unblocking geo-restricted content as it's one of the few ones that can access Netflix's US library, as well as other services capable of blocking VPNs such as Hulu, Amazon Prime, and BBC iPlayer.
Moreover, we all know what a VPN encryption can do to speed. Therefore, ExpressVPN presents MediaStreamer, a Smart DNS service that allows users to bypass restrictions with minimal speed loss as it doesn't encrypt the user's data nor does it change his/her IP address.
Security-wise, the service applies 256-AES encryption, which is the toughest in the industry. Not to mention that it also provides a kill switch –  a technology that blocks internet access if a sudden drop in the VPN connection occurs.
ExpressVPN is an expensive option, but in the end, users get what they pay for. With the provider's features, everyone gets the best Nvidia Shield experience, especially when they offer a 30-day refund policy as a way out.
Pros
2000+ servers in 94+ countries.

Strict no-logs policy

P2P Support

Military-grade encryption

Supports Netflix, Amazon Prime Video, BBC iPlayer, and Hulu

Kill Switch

DNS leak protection

Smart DNS

30-day money-back guarantee

Split tunneling
Cons
No free trial
A bit expensive
2. BulletVPN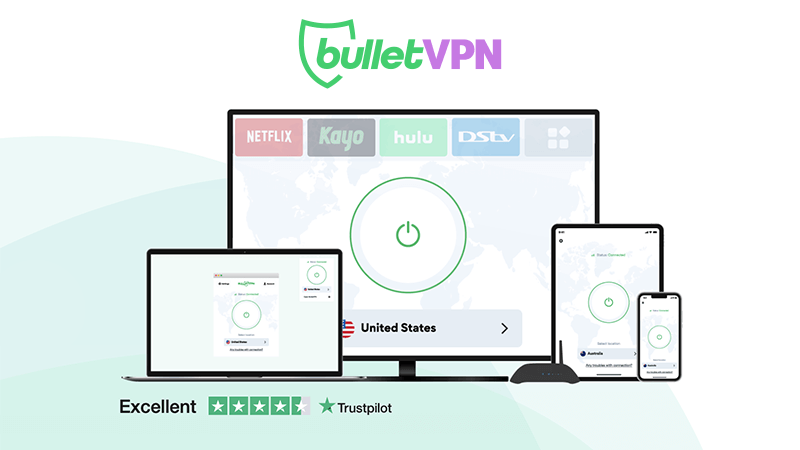 BulletVPN is another top contender on our list due to several factors. First, a dedicated application can be found on Google Play Store on Nvidia Shield. Second, the "Bullet" part in the name actually represents the provider's performance in the speed category. We'll talk about that in a bit.
BulletVPN has more than 150 server locations in 54+ countries. Such a server network allows users to access hundreds of streaming channels in any region with a push of a button.
As mentioned, Nvidia Shield hosts a wide variation of streaming services, including Netflix, Hulu, Showmax, and DStv. However, not all VPNs can unblock Showmax and DStv, and BulletVPN is one of the few that can.
We gave the service a try, and unlike, ExpressVPN for example, it did unblock Showmax outside South Africa. Moreover, it did so with blazing fast speeds. We didn't even notice the connection drop, despite the strong encryption.
Not to mention that with a single subscription, users get to use BulletVPN's Smart DNS feature for free. As for gaming, our experience was seamless and smooth.
No lags and latency issues were witnessed during the evaluation process, especially while connected to BulletVPN's UltraHD servers.
BulletVPN also has a kill switch, alongside a feature that doesn't allow internet connection unless the user is connected to one of the servers. It's called Bullet Shield.
Finally, BulletVPN offers 3 different subscriptions that come with a 30-day refund policy. However, if new customers sign up using Android or contact customer support, they can also benefit from a 1-day free trial.
Pros
150+ server locations in 53+ countries

Zero logging policy

Torrenting supported

Military-grade encryption

Access to top streaming services

Kill Switch

DNS leak protection
Smart DNS

30-day money-back guarantee

Bullet Shield
3. Surfshark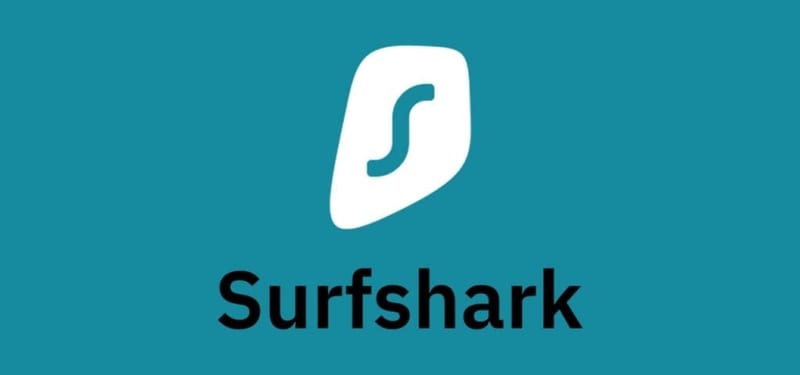 Surfshark is one. of the best VPNs to use on Nvidia shield for a lot of reasons. First, it gives you access to servers in more than 60 countries, which allows you to unblock various streaming services on the device.
Second, it elevates your security and privacy using top-level features such as a kill switch, an adblocker, as well as Double VPN technology.
If buffer-less streaming is what you're looking for, we have to note that during our tests, Surfshark showed excellent results. The speed drop was minimal, despite the VPN applying the toughest encryption in the industry.
Aside from that, Surfshark has Smart DNS. You can configure it directly on Nvidia Shield to unblock geo-restricted channels wherever you may be.
Finally, all these features can be put to test courtesy of the VPN's 30-day refund policy. You don't have to worry about subscribing. You can ask for your money back if it doesn't suit your needs.
Pros
No logs policy
Huge server network

P2P support

Military-grade encryption

Excellent channel unblocker

Kill Switch

Smart DNS
Generous refund policy
Adblocker
Double VPN
4. Unlocator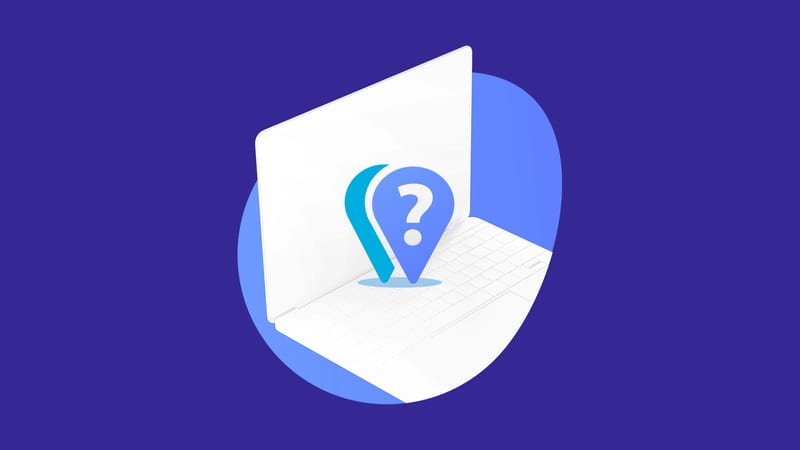 Unlocator started off as a Smart DNS service that aids users in bypassing regional restrictions on Nvidia Shield and a dozen other devices. However, in 2019, it shifted its services to include both VPN and Smart DNS, making it a complete hybrid internet tool.
Unlocator doesn't have the biggest network, but it sure does cover key locations that most internet users look for. The provider has servers in around 39 countries, which can be found useful, especially for unblocking top streaming services.
As for speed, Unlocator didn't record what we expected it to. In fact, we witnessed some weak connections on some servers, but it did manage to maintain good ones on others.
We tried their Smart DNS service as well on our Nvidia Shield. It's well known to give a streaming experience with minimal speed loss, and it did. Configuring it was very simple, especially with the setup guides presented on their website.
Unlocator's security is excellent, offering military-grade encryption, a no-logs policy, as well as a kill switch and Unlocator Shield. The last one doesn't allow users to establish an internet connection without activating Unlocator VPN.
Finally, among all the VPNs we have on our list, Unlocator is the only one that offers a 7-day free trial. Not to mention a 30-day refund policy after that.
Pros
Servers in 39+ countries

Keeps no logs

P2P friendly

Top-level encryption

Access to top streaming services

Kill Switch

DNS leak protection
Smart DNS

30-day money-back guarantee

Unlocator Shield
7-day free trial
Cons
Some slow servers
No split tunneling
5. NordVPN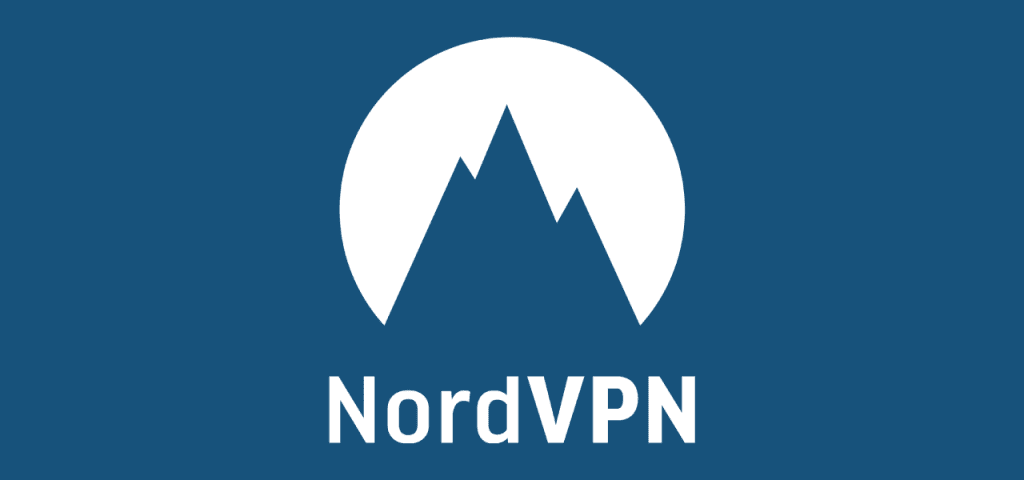 Finally, we conclude our list with the VPN with probably the largest network in the industry, NordVPN. The service has been around for quite some time, offering servers across 59 countries – more than 5000 servers to be exact.
Getting NordVPN on Nvidia Shield was seamless. All we had to do is get from the Google Play Store, launch it, sign in, and connect. Using a US server allowed us to stream Netflix and Hulu without a hitch. It didn't unblock Showmax though.
Speed-wise, we weren't that thrilled with what NordVPN recorded as more than one server did throttle our connection. Not to mention the ones with their Double VPN feature. With those, we witnessed a near 90% drop, which is very bad for streaming and gaming.
In essence, NordVPN has its own SmartPlay feature – a Smart DNS service that unblocks major streaming services without having to witness any buffering issue, game lags, or even low video qualities.
However, not all the servers affected us negatively, there are dozens where we maintained a stable connection, especially in the US. As for security, NordVPN has a kill switch and a zero-logging policy.
To enhance it, even more, there's Double VPN – a technology where traffic gets rerouted twice through two servers. Moreover, there's also CyberSec, which fends off any malware, virus, or malicious software that might target the Nvidia Shield platform or any other device with NordVPN.
NordVPN used to have a free trial, but not anymore due to the fact that users started to abuse it. The service only offers a 30-day refund policy now, which is more than enough to test it out.
Pros
Servers in 59+ countries

Strict no-logs policy

P2P support

High-level encryption

Access to top streaming services

Kill Switch

DNS leak protection
Smart DNS (SmartPlay)

30-day money-back guarantee

CyberSec
Double VPN
Split tunneling
Cons
Inconsistent speeds
No free trial
Best Nvidia Shield TV VPN in 2020 – Bottom Line
One of the few tools that you can rely on to guarantee your security online is a VPN service. Kodi fans will also be happy to hear that such a service allows them to use a wide range of Kodi addons, without having to worry about their ISP or any copyright infringement policies.
As you go through the various VPN services in the market in search of the one that fits your preferences, avoid paying for a service you haven't yet tested out.
Consider those that have a free trial period, or a money-back guarantee within a specified period of use, like ExpressVPN does. If you find what you're looking for based on the advice we've given out in this review, we'd love to hear from you. Leave us a comment in the section below and we'll be sure to respond.
ExpressVPN Review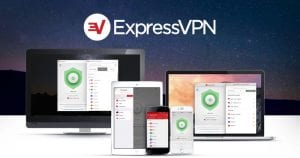 Name: ExpressVPN
Description: ExpressVPN is a VPN service that allows you to browse the web anonymously and unblock geo-restricted sites.
Price: 12.95
Currency: $
Operating System: Windows, OSX, Android, iOS
Application Category: Multimedia
Refund Policy

Speed

Support

VPN Apps