The Only Way to Bypass Transparent Proxies
|
If you're reading this article, then you've probably heard of transparent proxies before. ISPs all over the world are known to use transparent proxies on the 'down-low" to monitor your internet connection. Transparent proxies are hard to detect (for the average internet user), and they're even harder to avoid, unless you use a VPN. Read on to learn why you should worry about a transparent proxy and how a VPN can help bypass it.
What Are Transparent Proxies?
Transparent proxies are servers that redirect, filter, and cache your traffic without you knowing about it. Transparent proxies aren't bad by nature. In fact, many businesses use transparent proxies as a form of protection against possible attacks (specifically DDoS attacks).
However, if your ISP is using a transparent proxy… then you have a problem.
See, not only will your ISP not tell you about the proxy, but it can also use it to monitor your traffic, log your data, and even look into where you were and what you were doing online. In other words, a transparent proxy gives you internet service provider access to whatever it is that you do online.

We are all pretty used to the idea of our respective governments monitoring our communication, but very few people think about checking up on their ISP. The terrifying truth is that, while transparent proxies are more common in the Middle East and Asia, ISPs in the US, Canada, and the EU use them way more often than people think.
How to Detect Them
It's not always easy to find out if your ISP is using a transparent proxy. However, you can use a proxy checker like whatismyip.network's handy tool to let you know if you're behind a proxy or not.
There are more tech-savvy approached to detecting transparent proxies, but I won't be going into them because they require a lot of IT knowledge. In general, if you use the tool I mentioned, you'll get one of 3 answers: No there is no proxy, yes this is a proxy, and there probably is a proxy.
To be on the safe side, assume that the "probably" answer is a "yes" and act accordingly.
The Only Way to Bypass Transparent Proxies
Now that you know what transparent proxies are, let's talk about how you can bypass them.
Based on their mode of action, transparent proxies initially rely on being able to get to your traffic so that they can redirect it. Logically speaking, you need something that blocks your ISP and their transparent proxy from getting at your traffic in the first place.
Here is where a VPN comes in.
A VPN has two basic functionalities (and one really fun bonus):
A VPN will encrypt all of your data.
It will also re-route all of your traffic through one of its own secure servers.
The data encryption protects you from data theft, but the traffic re-routing is a whole different playing field.
Simply put, when you use a VPN you connect to a server offered by that VPN. That means that you're now using that server to move your traffic around, not the ones your ISP provides. In other words, a VPN won't give your traffic the chance of reaching your ISP's servers for the transparent proxy to take effect.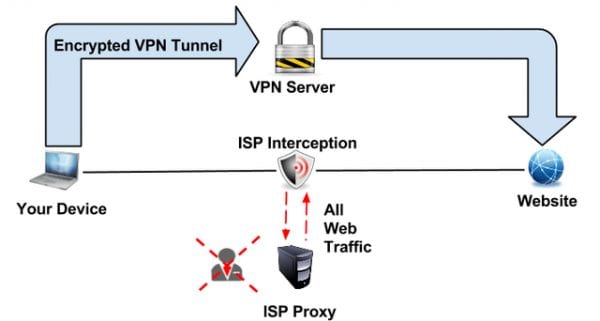 Obviously, your ISP can see that you've used a VPN since they now can't monitor your traffic. However, they'll have no idea what you're doing or where you're going online.
Seeing as you use a server not provided by your ISP, a VPN will also spoof (change/mask) your IP address. Instead of showing your actual IP (which is provided by your ISP), you'll end up with an IP address that matches the location of the server you connected to.
How to Use a VPN to Bypass Transparent Proxies
So we've all come to the agreement that a VPN is your only real option to bypass transparent proxies. Great!
Here's how you can get a VPN and start using it:
Sign up with a VPN provider. Make sure that you stay as far away as possible from Free VPNs. We'll give you our VPN recommendations below.
Download and install the VPN app on your device. Most VPNs will have apps for MacOS, iOS, Android, and Windows devices.
Launch the app and sign in with your account.
Pick a VPN server and connect to it. Wait for the connection to establish.
Once the connection has established, check here to see if your IP has changed.
That's all it takes to bypass a transparent proxy! Remember to turn on your VPN any time you connect to the internet for continuous protection.
Best VPN for Bypassing Transparent Proxies
To help you out even more, our VPN experts have come up with a list of VPNs that work best at bypassing transparent proxies. Not all VPNs are created equal, so if you want a provider that knows how to offer a great service, we highly recommend you stick to top-tier providers.
Our experts suggest using ExpressVPN as your go-to service provider for its impeccable service and all-around user experience. I personally use this VPN every time I use the internet, and it has never once failed me. Don't take my word for it, check out this detailed review to understand what you'll get with this provider.
Here's our VPN expert's list of preferred providers in case you don't find ExpressVPN to be your cup of tea:
Other Benefits of Using a VPN
Since we're already talking about VPNs and how they're incredibly helpful, I thought I'd list out some of the other benefits a VPN can offer you:
You can also check out this article to get the full scope of benefits offered up by VPNs.
The Only Way to Bypass Transparent Proxies – Final Thoughts
There you have it, how a VPN can help you bypass transparent proxies.
Honestly, the reason this article is important because we as people deserve some form of privacy online. An ISP that uses a transparent proxy does not offer its customers that privacy. It doesn't even offer them the chance to know that their privacy is compromised! For that reason, I highly suggest that you get yourself a VPN and actively work towards protecting your data, your traffic, and your privacy online.