How to watch CBC outside Canada? CBC is a Canadian TV and Radio broadcaster that has developed a number of dedicated streaming apps, including CBC Gem for online viewing. However, due to licensing issues, CBC is not allowed to stream its services outside Canada.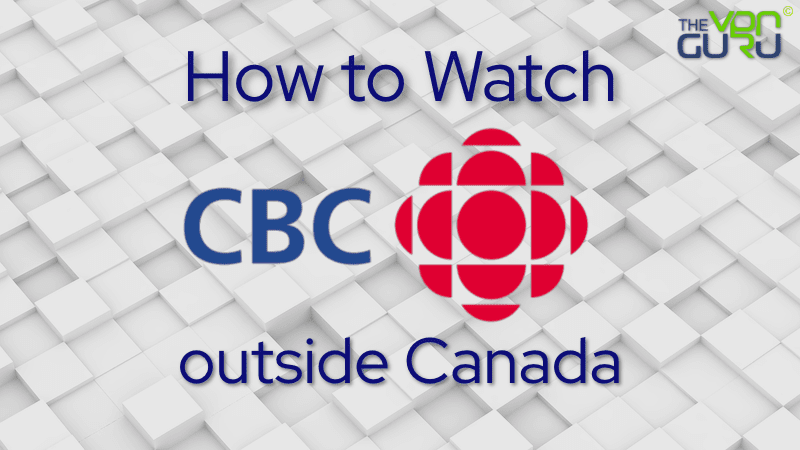 In other words, Canadian ex-pats living, studying, or working abroad in the USA, UK, Australia, or anywhere else cannot watch CBC. Well, that's about to change. Just follow this comprehensive guide and learn how to unblock CBC anywhere.
CBC Unblocked – Quick Steps
Time needed: 4 minutes
Let's keep it simple. To unblock CBC outside Canada, follow the steps below:
First, sign up with a VPN service that has Canadian servers.

Our top recommendation goes to ExpressVPN.

Get the VPN app and install it on your device.

You can download it from the provider's official website or through your native App Store.

Activate the VPN client and sign in with your credentials.

You might be asked to confirm your login by following a link in your email.

Connect to a Canadian server.

The moment you establish a connection, you'll receive a Canadian IP address.

Now, launch CBC's website or application (CBC Gem).

We'll show you how you can get the channel on any device below.

Log in with your CBC account (If you have one).

While you can stream most of CBC's content without registering, we'll teach how to create one in a step-by-step walkthrough.

Watch CBC Gem wherever you may be.

Enjoy live and on-demand content wherever you are.
Unblock CBC Anywhere – The Full Guide
Let's dig deeper into the matter, shall we? Here's everything you need to know about CBC/CBC Gem and how to access it anywhere in the world:
What You'll Need
To get CBC in your region, make sure you have all of the following:
A Virtual Private Network (Premium).
CBC Gem account (Free or Premium for more features).
CBC-compatible device.
Is CBC Available in My Country?
It actually depends on which country you're in. If it's not Canada, then the answer is NO. Whether it's CBC's website or CBC Gem, only those residing in Canada can stream what the channel has within its library.
CBC uses geo-blocking techniques such as examining your IP address to determine your current whereabouts. If the IP you're approaching with is not in Canada, you'll be instantly blocked.
In fact, once you try to access the channel overseas, one of these error messages will show up:
"Oops… We're sorry, this content is not available in your location. If you believe you have received this message in error please contact us. Error 21."
"There was an error loading content. Please try again."
"Playback Error. This video is temporarily unavailable. Please try again later."
"Sorry, this content is not available outside of Canada. If you believe you have received this message in error, please contact us."
Geo-blocking can be frustrating, especially for the avid streamers out there. With a VPN, you can bypass these regional restrictions and access CBC wherever you may be. Just follow the steps above and you'll be just fine.
VPN Benefits
VPN, short for Virtual Private Network, will allow you to change your local IP address and obtain a Canadian IP address. Thereby, you will be able to access CBC and its apps even though you live outside Canada. VPN has more benefits:
VPN encrypts your traffic and gives you government level security.
It also enables you to surf the web anonymously and avoid being tracked.
VPN increases your online security and prevents hackers from eavesdropping on your online activity.
When you use VPN you are immune against ISP policies such as DNS hijacking and Transparent proxies.
VPN bypasses online censorship, giving you access to blocked websites and services such as Netflix, Vudu, Crackle, WWE Network, Hulu Plus, and Pandora.
A good VPN provider, like ExpressVPN, has dedicated apps for a range of devices such as PC, Mac, iPhone, iPad, and Android devices. Additionally, ExpressVPN boasts a list of around 300 servers around the world ensuring fast internet speeds.
Unblock CBC outside Canada using VPN providers below.
A VPN Alternative – Smart DNS proxies
Smart DNS proxies, unlike VPN, will only re-channel relevant bits of your internet traffic ensuring no internet speed loss in the process. Additionally, Smart DNS allows you to bypass geographic restrictions and grants you access to CBC outside Canada. Smart DNS has even more to offer:
Using Smart DNS, your local IP address will not change. If you're a Canadian expat living in the US, you can still watch the US Netflix version using your US IP address while enjoying CBC at the same time.
Smart DNS will allow you to block streaming sites from different countries simultaneously which means you get to watch BBC iPlayer, American Netflix and Crackle without having to change your setup.
Your internet speed is kept unaffected once you set up Smart DNS. Consequently, you can stream your favorite movies and series without worrying that your connection will let you down.
Smart DNS does not need any extra software to work.
Smart DNS works on a wide list of devices including Android, iPhone, iPad, Playstation, Xbox, Smart TVs, PC, and Mac.
The only disadvantage is that Smart DNS does not work if your ISP uses Transparent proxies or DNS hijacking.
Proper Smart DNS providers such as all of the VPNs in the table above can unblock CBC Gem abroad. The service is included with all of their subscription plans.
Not to mention that they all have a 30-day refund policy, in case you want to test their service out before you opt for a subscription.
Whether you are a Canadian ex-pat living in the USA, UK, Mexico, France, Panama, Belize, Dubai, Ecuador, Australia, Barbados, or the Dominican Republic, VPN, and Smart DNS proxies will enable you to stream CBC no matter where you are.
How to Create a CBC Gem Account Outside Canada
With a VPN subscription, you can now fake lake your location and appear in Canada. As a result, you'll be able to create a CBC account. Here's what you need to do (Free & Premium):
Free
A free account doesn't require much to create:
Launch your VPN and connect to a Canadian server.
Head over to https://gem.cbc.ca/
Click on Create an Account.
Submit the information required.
Click on Create an Account.
Open your email and verify your account.
You now have a free CBC Gem account.
Premium
Getting a Premium account requires a free one first. With that out of the way, continue with these steps:
Once signed in, click on Try Premium.
Enter a billing address valid in Canada, along with a Zip Code that corresponds to the area.
Now submit your payment details and select Confirm Purchase.
Start watching CBC as a Premium user anywhere.
How to Install CBC Gem on Any Device Outside Canada
To unblock CBC Gem, you must follow the steps above. To get it, however, requires a different process, which is presented below:
Android
If you happen to own an Android mobile or TV such as Nvidia Shield, follow these steps to get CBC:
First, download the VPN app on your device.
Sign in and connect to a Canadian server.
Download the CBC Gem app.
Launch the channel, sign in, and start watching.
iOS
To get CBC on iOS, here's what you need to do:
Get the VPN app on your iPhone or iPad.
Switch your App Store region to Canada and get CBC.
Activate your VPN and connect to a Canadian server.
Launch CBC Gem and start streaming.
Apple TV
Accessing CBC Gem on Apple TV requires the following steps:
Install the VPN on your router and connect to a US server. You can also set up Smart DNS on Apple TV.
Change your Apple TV Store's region to Canada and get CBC Gem.
Launch the channel and sign in if you have an account.
Watch your favorite TV shows and channels live and on-demand.
Desktop
On your PC or Mac, this is what you need to do:
Download the VPN app and connect to a Canadian server.
Head over to https://gem.cbc.ca
Sign in if you have an account.
Watch anything wherever you are.
FireStick
Getting CBC on FireStick is easy. Just follow the steps below:
Download the VPN app on your FIre TV.
Sign in and connect to a Canadian server.
Change your Amazon Account region to Canada and get CBC Gem.
You can also sideload the channel's client to your Fire device.
Launch CBC Gem and start streaming.
CBC Outside Canada – FAQ
Do you have more questions? Don't fret. We've got the right answers to your queries.
Yes. Everything on CBC Gem is available for free. However, CBC News' live stream requires a premium subscription that costs $4.99 a month.
What Do I Get with CBC Gem Premium?
With a premium account, you'll be able to watch live streams of CBC News Network, ad-free video-on-demand content, and early access to CBC Gem's exclusive content.
Do I Need an Account to Watch CBC Gem for Free?
Technically, no. But with a free membership account, you can access all 14 local channels from across the country. Unregistered users can't.
Also, with a free account, you get to resume your video anytime, watch ad-free children programming, and stream current and past seasons of TV shows.
What Devices Can I Stream CBC Gem on?
You can stream CBC Gem for free on iOS, Android, Apple TV, Android TV, PC, Mac, and Amazon Fire Stick.
What Can I Watch on CBC Gem?
With or without an account, you can watch shows such as Normal People, PEN15, Les Miśerables, Schitt's Creek, Upright, The Skin We're In, Heartland, Family Feud Canada, Das Boot, Funny Boy, Portlandia, Line of Duty, The Tunnel, and more for free.
How Can I Delete My CBC Account?
Unfortunately, you can't. The channel does not provide the option to delete your online account.
The actual channel is not available. However, you can watch on-demand content using the CBC News add-on and live content using the CBC Olympics.
CBC Canada in US/UK/Australia Unblocked – The Sum-up
CBC is an actual Gem in the streaming industry. Now, you can stream it anywhere in the world if you follow the guide carefully.
In case, you still have more questions, please add a comment below so that we can assist you further.