How to Watch Bellator 256 and 257 Live Online
|
The Bellator Light Heavyweight World Grand Prix Tournament is at its peak, in the upcoming weeks, things are going to get even hotter. On April 9th, 2021, Ryan Bader will face Lyoto Machida in a rematch 9 years in the making. Current Bellator Light Heavyweight World Champion Vadim Nemkov will be making his first title defense against Phil Davis on April 16th, 2021. It's a rematch we've all been waiting for, after Vadim's win back in November 2018. Now, with a lot of matches on the card, fans all over the world (You guys) must be wondering where and how you can stream Bellator 256 and 257 live. Well, we have everything you need. Let's begin.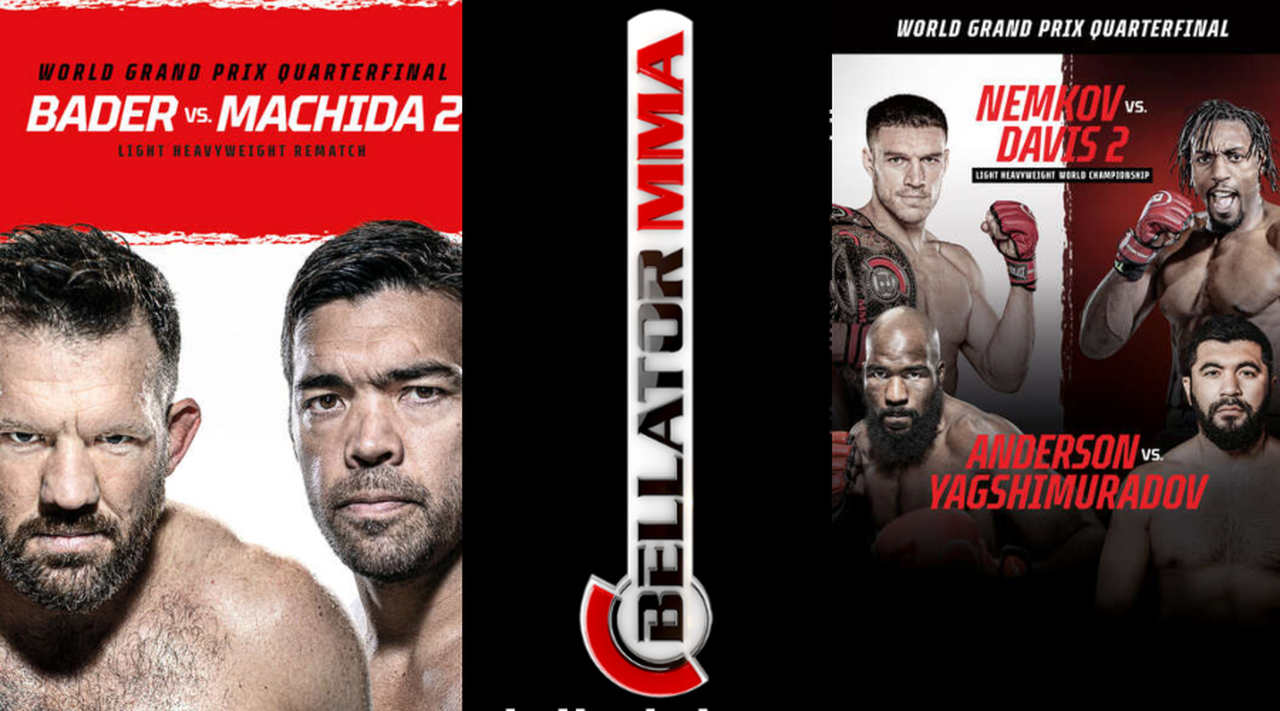 Bellator 256/257 – The Streaming Channels
Ever since its launch back in 2014, Bellator has made it clear that it's going to take over the Combat Sports industry, and that's exactly what it did. For seven years now, the promotion has been adding more and more broadcasting rights to earn the global status it now has.
Some broadcasters come, some go, but in the end, Bellator can easily be streamed anywhere. Most of the rights change in the United States, which might have frustrated some fans, especially those who are used to stream Bellator events on DAZN.
Once the deal ended with the global Netflix of Sports channel, Bellator's main events moved to CBS Sports Network in September. Let's not forget that those events were staged at a casino in Uncasville, Connecticut, since its return in July 2020 amid the coronavirus pandemic.
Now, another change in rights occurred, but the channel didn't fall far from the parent company. Bellator's main events will be televised exclusively on the premium cable network, Showtime, under terms of a new agreement as both Bellator and Showtime are owned by ViacomCBS.
Showtime won't be offering Bellator as PPV as it does with its boxing events. However, the channel can only be accessed if you have a subscription to a major cable provider.
For those who have cut the cord, Showtime also offers you the chance to stream its content for just $10.99/month, including live Bellator main events.
The Channels
Hold on a second! You don't live in the US? Well then, here are the official broadcasters around the world:
The channels above are the official broadcasters for every Bellator event. However, they're not the only ones out there. If your country is not mentioned in the list, check Bellator's official website.
Geo-Restrictions Apply – What a Knockout!
The aforementioned channels are the best ways to watch Bellator fights all over the world. For example, in Australia, fans have been desperate for a Bellator Platform, and now, they have Network Ten.
The channel will be broadcasting Bellator live and free in the region, but it stops there. The same goes for every channel as they all restrict their access to their respective regions.
This is what we call geo-blocking, which is a technology used by websites and channels to restrict the users' access based on their location. It all lies in the users' IP addresses, as they're the main factor that aids the channel to determine their whereabouts.
If they don't reside within the channel's coverage area, it instantly blocks them. For example, if you want to watch Bellator on Showtime, you must have a US IP address.
Without that, the only knockout you'll get is in the form of this error message:
"Showtime Anytime is accessible for viewing solely in the United States and its territories and possessions."
Bellator does have a global reach, but it doesn't cover all the countries around the world. Also, the promotion might be available on networks where a cable subscription is required, making it hard for cord-cutters to tune in.
So, the problem lies in your IP address, and with a simple altercation to that, your problems are solved. That's where VPNs come in to save the day.
Bellator 256/257 Live Anywhere – A Geo-Restrictions KO Strike
Virtual Private Networks existed to enhance a user's privacy and security. The cybersecurity tools provide applications for major operating systems. The app allows you to connect to a server of your choosing in a country where the VPN has implemented its servers.
Once you establish a connection, your traffic won't flow through your ISP's servers. Instead, they'll be rerouted through the VPN's, encrypting it in the process. With military-grade encryption, no hacker or spy can read your sent/received data.
Moreover, the VPN conceals your original IP address and replaces it with one valid in the country where the server you connected to is based. This grants you total access to whatever service/website restricted to that region.
For example, if you connect to an American server, you'll obtain a US IP address. As a result, you'll be able to watch Showtime and other US-based channels no matter where you reside.
Watch Bellator Live – The Steps
Using a VPN couldn't be any easier – most providers made sure of that by creating user-friendly applications. It's a couple-of-clicks process and it goes like this:
First, subscribe to a VPN service. Make sure that it's reputable enough to provide high-level security and good speeds. We recommend ExpressVPN for the job.
Next, get the VPN application and install it on your device. If you're using an unsupported platform, install the VPN on your router.
Now, activate the VPN software and connect to a server based on the channel you wish to watch the upcoming fight on:

US server for Showtime.
UK server for BBC iPlayer.
Australian server for TenPlay, etc…

Launch the channel's app or website.
Stream both Bellator 256 and 257 live wherever you are.
Streaming requires speed, and that is very affected by a VPN's encryption. That's why you should pick a VPN that optimizes its servers for Ultra HD streaming such as ExpressVPN and BulletVPN.
There are a lot of providers on the market, but your best bet lies in premium ones. Never opt for free services as they are not safe to use. They provide low-quality services and manage to harvest your data to sell it to third parties.
Also, premium services like ExpressVPN offer Smart DNS technology, which allows you to bypass regional restrictions on devices that don't support VPN clients. We're referring to Apple TV, PlayStation, Xbox, Chromecast, and the likes.
Give it a try – they do offer a 30-day refund policy to ensure a user's satisfaction. If ExpressVPN does not live up to your expectations, try one of these top providers:
Bellator 256/257 – The Cards
Bellator 256 and 257 are both going to occur at the  Mohegan Sun Arena in Uncasville, Connecticut. However, while they're happening in the same place, there's a one-week wait between them.
You'll get to see Bellator 256 on April 9th, 2021, and Bellator 257 on April 16th, 2021. In other words, you have your month full of MMA action, so get ready.
Bellator 256 will feature one Quarterfinal of the Bellator Light Heavyweight World Grand Prix Tournament while 257 will host two, including a championship match between Vadim Nemkov and Phil Davis.
The fight between Nemkov and Davis will be the champion's first title defense after winning the title from Bader a while ago. However, it will also mark a rematch between the two, following Vadim's win via a split decision.
That's not all. You get a lot of matches on these two epic MMA nights. You can fight the fight cards below:
Bellator 256
Ryan Bader vs. lyoto Machida
Liz Carmouche vs. Vanessa Porto
Jeremey Kennedy vs. Adam Borics
Cat Zingano vs. Oliva Parker
Dan Moret vs. Goiti Yamauchi

Dalton Rosta vs. Tony Johnson
Talita Nogueira vs. Jessica Borga
Cass Bell vs. Jornel Lugo
Cody Law vs. Nathan Ghareeb
Jaylon Bates vs. Jeffrey Glossner
Nainoa Dung vs. Izzy William
Diana Avsaragova vs. Tara Graff
John Douma vs. Will Smith
Bellator 257
Vadim Nemkov vs. Phil Davis
Corey Anderson vs. Dovletdzghan Yagshimuradov
Veta Arteaga vs. Desiree Yanez
Paul Daley vs. Sabah Homasi
Julia Budd vs. Dayan Silva

Jay Jay Wilson vs. Pedro Carvalho
Julius Anglickas vs. Gregory Milliard
Karl Alberktsson vs. Viktor Nemkov
Steve Mowry vs. Shaun Asher
John De Jesus vs. Alfred Khashakyan
Grachik Bozinyan vs. Demarques Jackson
Marcus Surin vs. Lance Gibson Jr.
Watch Bellator 256/257 Anywhere – Final Words
There you have it. You now know how you can watch the upcoming Bellator quarter-finals live on April 9th and April 16th, 2021. Remember, wherever you may be, a VPN can alter your location and help you appear wherever you want.
With a simple click, your streaming world will become a small region, where everything is accessible without limitations. Now tell us, which of the main events are you most excited to see? Leave us a word or two in the comments below.