Are you ready for some historic golf action? Then tune in on the 16th of July, 2023, and watch as Cameron Smith defends his coveted Claret Jug at the 2023 Open Championship. A host of streaming services are broadcasting the event live from the Royal Liverpool, but due to copyright agreements, they're all geo-restricted.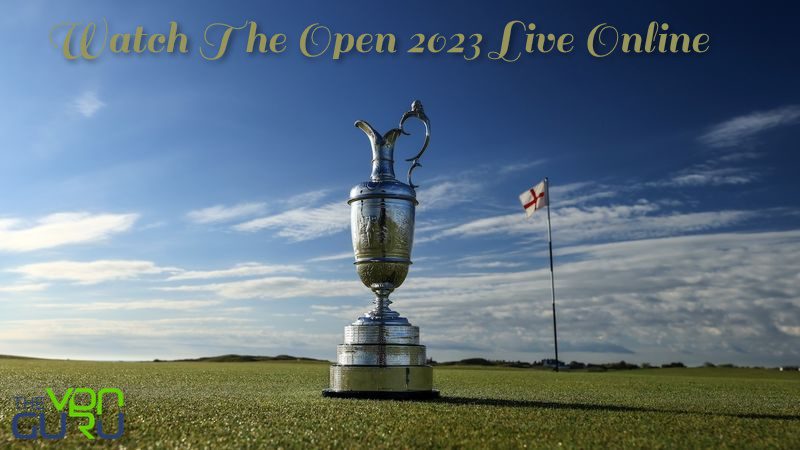 Your location dictates what you get to access online. In other words, if you don't live in the channel's coverage area, you won't be able to access its content.
That's a problem we'll be fixing in this comprehensive guide. So, without further ado, here's how you can stream The Open Championship 2023 live anywhere.
The Open Championship Live – Quick Guide
Time needed: 4 minutes
It definitely couldn't get any easier than this. To watch The Open Championship 2023, the following steps are required:
Subscribe to a VPN service.

Make sure it has speedy servers. For guaranteed results, we recommend ExpressVPN.

Download the VPN application.

Get the client on your Android, iOS, PC, or Mac.

Activate the VPN client.

Sign in with your newly created username and password.

Connect to a VPN server.

Choose a server where your preferred channel has broadcasting rights.

Launch your channel's website or app.

All the channels require some sort of subscription. Sign in with your account once you get one.

Watch The Open Championship 2023 live.

Enjoy seven days of non-stop golf action wherever you are.
Stream The Open 2023 Live – Full Walkthrough
We have a lot to talk about, so we recommend you scroll a bit further and see what we have covered in the following comprehensive article:
The Requirements
To stream the Open Championship anywhere, make sure you have everything on the following list:
A VPN subscription.
Cable or channel subscription.
A compatible streaming device.
The Open 2023 Streaming Channels
As I mentioned above, the channels broadcasting the 151st edition of the tournament are geo-restricted to their own countries. In other words, if you live outside those regions, you won't be able to access any of the services' content, including the Open 2023's live stream.
You see, streaming services can and will determine your actual location by examining your IP address once you approach their website or app.
When the channel figures out that you're not within its area of coverage, it'll block your access at once. Well, that doesn't have to be the case.
The Open Championship will be broadcasted on both Sky Sports and NBC Sports in the UK and the US, respectively. If you're not within these countries, trying to stream the tournament will result in nothing but the following error messages:
Sky Sports: "Unsupported location. The video you are trying to watch cannot be viewed from your current country or location."

NBC Sports: "Geographic Restriction. This content is not available in your location."

Getting these error messages can be really frustrating, especially when you're one minute away from watching your favorite content.
With the steps above, you'll be able to unblock any of these channels. Just follow them carefully, and you'll be watching The Open Championship in no time.
A VPN's Benefits
Bypassing regional restrictions doesn't get any easier when you're operating with a VPN. You'll get access to Sky Go and NBC Sports as well as all the channels around the world where the VPN has servers.
A Virtual Private Network hides your public IP address and replaces it with a temporary one depending on the server you connect to. Once a connection is established, you'll be viewed as a user accessing the internet from that region. As a result, you gain full access to that territory's exclusive online content.
Take NBC Sports, for example; it's based in the US and allows viewing for those residing in the country. If you're abroad, just connect to a US server, obtain an American IP address, and the channel is at your disposal.
Aside from circumventing geo-restrictions, VPNs were, are, and will always be security tools. They come with military-grade encryptions to ensure your online safety all the time when online.
Furthermore, when you connect, you cloak your IP address, right? Well, that's not only to access restricted channels; you also get to surf the internet undetected and avoid your ISP's monitoring habits.
We've tested dozens of VPNs throughout the years, and none of them came close to ExpressVPN. We recommended this VPN due to it offering blazing-fast speeds and several robust security features.
Try them out; they do have a 30-day refund guarantee. If ExpressVPN isn't your cup of tea, check out other top providers below.
How to Stream The Open Championship with Smart DNS Proxies
Can't seem to get around the speed drop a VPN encryption causes? Don't worry, guys; you do have an alternative; enter Smart DNS Proxy. This service is a completely different method, but it leads to the same results in the end.
Smart DNS works by rechanneling chunks of your traffic that reflect where you truly are. The rest remains untampered with. As a result, you get to access any channel around the world if the Smart DNS provider supports it.
Just like any service, there's the good, and there's the bad. That's also the case with Smart DNS Proxy. Check them out below:
First, Smart DNS can be set up on a wide range of devices. That's a one over VPNs. You literally get to unblock content using the likes of PlayStation, Roku, Android, iOS, Mac, Windows, Apple TV, Amazon Fire Stick, Xbox, and more.
The service doesn't encrypt your data, which means no added security would be present. You'll be surfing the internet unprotected and fully compromised. However, your connection remains at full speed.
Smart DNS doesn't change your IP address. That's good if you consider that you can access your local TV services and geo-restricted ones at the same time. On the other hand, your location is exposed.
All of the VPNs on the list above offer Smart DNS for free. However, with Unlocator, you can benefit from a standalone subscription.
Aside from that, Unlocator allows you to try the service out for seven days, completely free of charge. Not to mention a 30-day refund policy after that.
The British Open 2023 – FAQ
We have more information to provide, including the venues, other broadcasting ways, and more. Make sure to check this section out:
When Will the Open Championship Take Place?
The tournament is set to be played between July 16 and July 23, 2023.
What Channels Are Broadcasting the Tournament?
The official Open Championship Broadcasters are the following:
Sky Sports (UK)
NBC Sports (USA)
Where will the Open Championship 2023 be Played?
The 151st edition of the tournament will be played at Royal Liverpool.
Can I Watch the Tournament for Free?
Unfortunately, all the channels broadcasting the event require a subscription, be it cable or standalone.
How to Watch the Open Championship at Royal Liverpool Live Online?
There are a lot of favorites to win the coveted Claret Jug at Old Course at St Andrews, Scotland, this year. Which golf player do you think will walk away victorious at the 2023 British Open?
Did you use VPN or Smart DNS to get your desired channel? Share your thoughts and predictions below.