How to Watch Cheltenham Festival 2023 Live Online
|
Sport doesn't get any better with the Cheltenham Festival. The race will kick off on March 14th, 2023, and ITV will bring all the action to your small screens. However, streaming might get a bit daunting since ITV is geo-blocked outside the UK.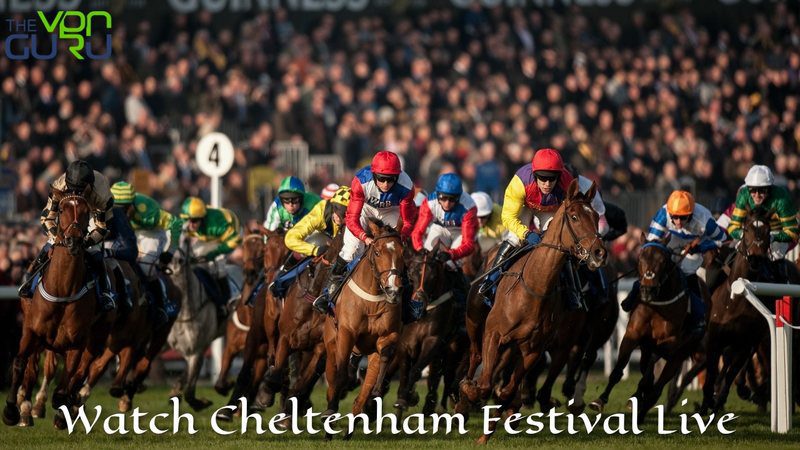 Yes, if you live abroad, ITV will be inaccessible to you. In other words, you won't be able to watch the 2023 Cheltenham Festival in your region.
Not anymore. Now, we're here to help you out if you're facing this daunting issue. Wherever you may be, clear your calendars from March 14 till March 17. This is how you can stream the 2023 Cheltenham Festival live anywhere.
Cheltenham Festival 2023 – Quick Steps
Time needed: 5 minutes
To watch the 2023 Cheltenham Festival on ITVX, here's what you need to do:
Subscribe to a VPN provider.

There are dozens of services, but we recommend ExpressVPN for the task.

Download the VPN app.

install the VPN client on your Android, iOS, PC, or Mac.

Sign in with your VPN account.

Submit your newly created username and password.

Connect to a UK server.

This will grant you a British IP address.

Launch ITVX's website or application.

Sign in with your account.

Watch Cheltenham Festival live.

Enjoy four days of horse racing wherever you may be.
Cheltenham Festival 2023 on ITV
More than thousands of racegoers are watching the event live at the Cheltenham Racecourse. Those who are not attending can stream the event live on ITV.
However, even though the channel is free, you can't access its content if you're located outside the UK. Even if you're a UK citizen, the fact that you are abroad is what counts.
Once you leave the country and connect to the internet, your IP address will change to become a local one. IP addresses are what streaming channels use to determine your location.
If you're not in its area of coverage, you'll receive a geo-error message on the spot. Here's what's popping up on your screen when you stream ITV abroad:
"Outside the UK? Due to our broadcast and content licences, you can only watch ITVX in the UK."

I got encouraged by the first one actually. I really thought I could watch something else while overseas. Yeah, you can imagine the disappointment when I figured out that wasn't true.
However, that won't stop you. If you follow the steps above, unblocking ITVX outside the UK would be an easy task. Once that is out of the way, you can watch the Cheltenham Festival wherever you may be.
Stream Cheltenham Festival Live Online using VPN.
A Virtual Private Network is a cybersecurity tool used to anonymize and protect your data while surfing the web.
It channels your traffic through secure servers and encrypts your data as long as you have a connection present. Once you connect, you'll appear to be browsing from the region where the server is located.
If it's in the UK, you get a British IP address instead of your currently-cloaked one. As a result, you gain access to UK-based services like Channel 5, BBC iPlayer, and of course, ITV.
ExpressVPN is one of the top VPNs to unblock ITV Hub outside the UK. They consider their customers' privacy with a strict no-log policy.
As for their services, they provide a 30-day refund guarantee in case you weren't impressed. You can also use other VPN services to watch the 2023 Cheltenham Festival live online.
An Alternative – Smart DNS
A VPN isn't doing it for you? You're losing too much speed when you're connecting to a server? Then Smart DNS is what you're looking for. Smart DNS proxy bypasses regional restrictions as well as a VPN does. However, what differs here is the added security.
Smart DNS exists strictly to circumvent geo-blocks. It doesn't add an extra layer of protection, nor does it hide your identity while online. If you're an avid streamer that's just looking to binge-watch, this is what you need.
Another benefit of Smart DNS is that it can be configured on all sorts of devices. You're not limited to what a VPN is compatible with. That said, let's take a look at how to unblock ITV with Smart DNS:
You do need a credible provider to get this service. That's why I recommend using Unlocator.
Once you subscribe to their 7-day free trial, follow their setup guides based on the platform you're streaming the festival on.
Once done, go back to ITV's website or its ITV app.
Sign in with your ITV account and stream the 2023 Cheltenham free live wherever you are.
Unlocator has been around for quite some time now. Ever since its debut back in 2013, it has reached the top of the industry. It offers a 7-day free trial and over 230 channels to be unblocked with its service. You can literally say that it is one of the best Smart DNS services out there.
Please note that all the VPNs in the table above offer a Smart DNS service. BulletVPN and Unlocator are the only ones among them to offer a free trial. While BulletVPN provides a 24-hour free trial, Unlocator has a 7-day trial. Check them out; they can help unblock dozens of channels wherever you may be.
Cheltenham Festival – FAQ
For more information, make sure you give this "Frequently Asked Questions" a quick read:
When Will the Cheltenham Festival Begin?
The Cheltenham Festival will take place from March 14 to March 17, 2023.
Can I Watch the Race for Free?
Yes, ITVX is completely free, which means you'll stream the Cheltenham Festival without paying anything.
Do I Need an Account to watch the Race?
While free, you still need an account to stream ITVX's content. Make sure to check this guide for additional tips.
What Devices Can I Watch ITVX on?
You can stream the 2023 Cheltenham Festival live on the following streaming devices:
Amazon Fire TV
Android TV
iOS devices
Apple TV
Chromecast
Android Mobile
Roku devices
Samsung TVs (running Tizen OS 2.4 and later)
How to Watch 2023 Cheltenham Festival Free Live Anywhere in the World?
Many of the horses will compete this year at the Cheltenham Racecourse. Which horse are you excited to see? Which method did you choose to unblock ITV? Was it VPN with ExpressVPN or Smart DNS? Feel free to give us a shout-out in the comment section.