Cycling fans, get ready! The Giro d'Italia bicycle race starts on the 6th of May, 2023, in Ortona and ends on the 28th in Rome. It's one of the most prestigious cycling events, along with the Tour de France and Vuelta a España. That's why official streaming channels from all over the world will broadcast the race live online. Unfortunately, these channels are geo-restricted to specific locations.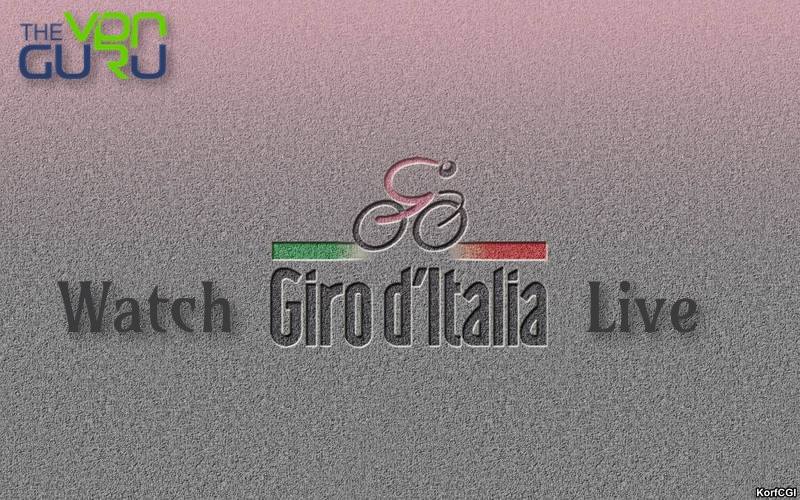 The 106th edition of the race consists of 21 stages with an exact distance of 3,448 km. This implies how exciting this will be for cycling fans all over the world.
In this article, you can find a list of all the biggest premium and free Giro d'Italia channels. That's not all. We will also show you how to unblock these platforms and stream this year's Giro D'Italia wherever you may be. Let's go.
The 2023 Giro d'Italia Live – Quick Guide
Time needed: 4 minutes
Let's cut right to the chase. Here's everything you need to do in order to watch the 2023 Giro d'Italia:
Subscribe to a VPN service.

Make sure it has a wide variety of server locations. Our top pick is ExpressVPN.

Download and install the VPN app on your device.

Clients are available for download in your native App Store or directly through their website.

Sign in with your VPN account.

Make sure you enter the username and password you used to create your account.

Connect to a VPN server.

Choose a server in the country where your chosen channel has coverage rights.

Launch your channel's app or website.

Some of the channels require some kind of subscription, while others do not.

Watch the 2023 Giro d'Italia live.

Enjoy the historic race live wherever you may be.
An In-Depth Walkthrough
It doesn't end with the steps above. We've included everything you need to know in this comprehensive guide:
The Requirements
Here's what you need to stream the race live anywhere:
A reputable VPN.
An account or subscription based on the chosen channel.
A streaming device.
Giro d'Italia Streaming Channels
The Giro d'Italia has always been a very popular race, but it's been living in the shadows of the "Tour de France." Well, we can't say that now, as the race keeps getting more hype as time passes by.
In fact, Giro d'Italia seems to be growing in stature year after year, as it now boasts a global audience of 800 million. Such a number is due to major broadcasters all over the world, including the global channel itself, GCN+.
However, despite having such coverage, we have to note that every channel is restricted to specific regions. We'll shed more light on that later on. As for now, here are the official 2023 Giro d'Italia broadcasters:
A couple of years ago, the list was a lot longer. But this year, the list was shortened as GCN+ took over the role of many past broadcasters in a lot of countries.
Moreover, SBS wasn't around back in 2019. Now, it got the rights to the Giro up until 2025. Talk about a major deal.
The Geo-Blocking Issue
As we mentioned, all of the channels listed above apply what we call geo-blocking. This defense mechanism is mainly used for copyright reasons.
The channels can pinpoint your real whereabouts by examining your IP address. If you're outside their coverage area, you're not getting in.
You might get in, but your access would be either limited or terminated on the spot. For example, Rai Play is an Italian channel that only operates in Italy.
In other words, it requires an Italian IP address. If you're abroad, you definitely don't have that, which will result in the following error message:
"We apologize. The content is not available due to copyright restrictions."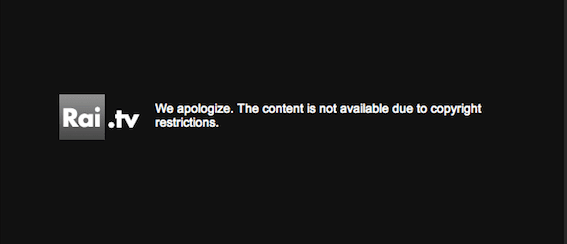 Bypassing geo-restrictions is practically what we do best. If you want to watch the 2023 Giro d'Italia live in your region, the steps presented above are more than enough.
What a VPN Can Do!
A Virtual Private Network is a cybersecurity tool created to enhance your online security and privacy. Reputable VPN providers use military-grade encryption that allows you to send and receive data without having to worry about third parties intercepting it.
To increase your anonymity while browsing the web, the VPN cloaks your IP address and replaces it with a temporary one in a country of your choosing.
Once the process is complete, not only do you get extra privacy, but you'll also have the ability to access restricted content available in the selected region where the server is.
For example, if you connect to an Italian server, you'll receive an Italian IP address. As a result, you'll be able to watch the likes of Rai Play, Sky Italia, and more, regardless of where you physically reside.
Keep in mind that using a VPN does not eliminate the need for a subscription to the channels you wish to unblock. If the channel is free, like Rai Play, you don't have to worry about that part.
Based on a strict evaluation process, we determined that a few VPNs can get the job done seamlessly. Our top pick goes to ExpressVPN due to its vast server network, excellent speeds, and satisfying unblocking capabilities.
However, it's not the only VPN we recommend. Other VPN providers showed excellent results, and we've rounded them up in the table below.
No VPN? Try Smart DNS
Smart DNS is an alternative method you can use to unblock geo-blocked channels such as Rai TV or Fubo TV. Unlike when you use a VPN, your Internet traffic only gets partially redirected.
We can sum up Smart DNS with the following:
Smart DNS is compatible with any streaming device. You can watch Giro d'Italia on iOS, Mac, Apple TV, Roku, Chromecast, PS3/PS4, Amazon Fire TV, and Xbox.
Smart DNS does not change your IP address nor encrypt your traffic as VPN does.
If your ISP uses transparent proxies or DNS hijacking, then Smart DNS will probably not work for you.
Smart DNS also doesn't guarantee any anonymity since your IP address is still visible.
All the VPNs in the table above offer a free Smart DNS service as part of their subscriptions. However, if you want to try the feature, Unlocator offers a 7-day free trial.
Moreover, this provider has Smart DNS as a stand-alone subscription. You can unblock geo-restricted channels with it only if you're in no need of the VPN's extra security.
Giro d'Italia 2023 – FAQ
Do you have more questions? Here's all you need to know about the 2023 Giro d'Italia:
When is the 2023 Giro d'Italia?
The race is set to begin on the 6th of May, 2023 in Ortona and end on the 28th in Rome.
Can I Watch Giro d'Italia for Free?
Yes, you can. To stream the race for free, you should use the Australia channel SBS. If you're outside Australia, connect to an Australian VPN server and start watching.
How many Stages Does the Race Include?
The 106th edition of the race consists of 21 stages with an exact distance of 3,448 km.
What are the 21 Stages of the Giro d'Italia 2023?
Here are all of the race's stages and dates:
Fossacesia to Ortona (May 6)
Teramo to San Salvo (May 7)
Vasto to Melfi (May 8)
Venosa to Lago Laceno (May 9)
Atripalda to Salerno (May 10)
Naples to Naples (May 11)
Capua to Gran Sasso (May 12)
Terni to Fossombrone (May 13)
Savignano sul Rubicone to Cesena(May 14)
Rest Day (May 15)
Scandiano to Viareggio (May 16)
Camaiore to Tortona (May 17)
Bra to Rivoli (May 18)
Borgofranco d'Ivrea to Crans-Montana (May 19)
Sierre to Cassano Magnago (May 20)
Seregno to Bergamo (May 21)
Rest Day (May 22)
Sabbio Chiese to Monte Bondone (May 23)
Pergine Valsugana to Caorle (May 24)
Oderzo to Zoldo Alto (May 25)
Longarone to Tre Cime di Lavaredo (May 26)
Tarvisio to Monte Lussari (May 27)
Rome to Rome (May 28)
Can I Watch Giro d'Italia 2023 on Kodi?
Not only can you watch the race on Kodi, but you can also do so for free. All you have to do is install the Rai Play add-on and enjoy.
Watch Giro d'Italia 2023 – Conclusion
This year will be the 106th edition of the Giro d'Italia. The race will begin on May 6, and it's going to be an epic one.
You have everything you need to stream it. If you need any more help with the unblocking process, don't hesitate to contact us in the comment section below.