It's just about the love for the game, and NBA fans sure have lots of that to give around. The 2022/23 NBA season kicks off on October 18th, 2022 and the fans are ready to stream the best swishes and alley-oops of the year.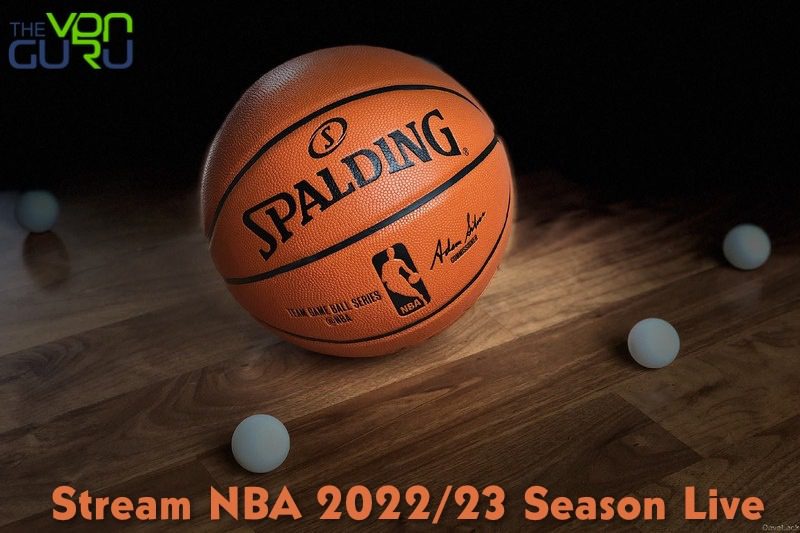 Now, the question is HOW? Well, live TV services have become very popular in recent years. However, the NBA is available on several streaming channels(all restricted to their country of origin). So, in case you don't know your way around, here's how you can watch NBA 2022/23 live anywhere.
Watch NBA 2022/23 Live – Quick Guide
Time needed: 6 minutes
We know you're excited to see what this NBA season has in store for you. Therefore, here's how you can watch the 77th season of the NBA anywhere:
Sign up with a reputable VPN service provider.

To watch NBA seamlessly, we highly recommend ExpressVPN.

Download and install the VPN app on your device.

Clients are available on major operating systems such as Android, iOS, macOS, and Windows.

Activate the VPN client and sign in.

Submit your newly created username and password.

Connect to a server based on the channel you wish to watch NBA on. (Full list below)

– A US server in an American region where the game is not being televised (ABC, ESPN, TNT, NBA TV).
– UK server for Sky Sports.
– Australian server for Kayo Sports.
– Any server outside the US for International League Pass.

Launch the channel's website or application.

Either a subscription or an account is needed.

Enjoy NBA 2022/23 live anywhere.

Stream the 82-game regular season wherever you may be.
NBA 2022/23 – The Full Walkthrough
To shed more light on what you'll have to expect when it comes to streaming NBA 2022/23, we've created this in-depth comprehensive guide:
The Requirements
To watch NBA 2022 anywhere, make sure you have all of the following:
A VPN account.
An NBA-channel subscription or account.
A compatible streaming device.
Streaming NBA – The Channels
Basketball is one of the most popular sports in the world. In fact, in 2021, it ranked third with over 2 billion fans worldwide.
That's not quite shocking, considering that dozens of channels have taken the broadcasting role of the NBA on a global scale. Check the upcoming section, it'll give you a better idea:
The United States
Various broadcasting channels in the US show all the matches online. If you are within the US, you can stream them easily. Keep in mind that some of these channels are subject to blackouts, and some of them might require a cable subscription.
There are many channels you can watch the NBA games live on, and we're going to list some of them below. However, to access these channels abroad, you should take a look at what I have to say later on in this article. As for the time being, let's take a look at some of the NBA hosting channels.
NBA League Pass
For die-hard sports fans, the NBA League Pass is a worthy investment. Aside from being ad-free and on-demand, the NBA produces hours upon hours of content that is exclusive only to League Pass Subscribers.
Although the league doesn't provide subscriber numbers, we know for sure that more than 1.2 billion minutes of in-game action is viewed every season.
The NBA LP app allows basketball fanatics to watch every NBA game live online. However, that only depends on your subscription.
You see, NBA League Pass has around 4 subscriptions to give users a wide variety of choices, you can even subscribe to an audio-only access plan. The most popular ones are the following:
League Pass Premium: $249.99
League Pass: $199.99
Team Pass: $119.99
NBA TV: $59.99

If you already have a cable subscription and you don't want to add extra fees to your already existing ones, just sign in with your cable provider. Here are some notable ones:
AT&T U-verse
Dish Network
Adams Cable
Altice
Comcast (Xfinity)
Cox Communications
Frontier
RCN
Verizon FiOS
Do note that in the United States, League Pass is subject to blackouts due to having major cable channels broadcasting the season.
We're referring to giants such as ABC, ESPN, TNT, as well as NBA TV. In other words, you'd have to mask your location in order to get around NBA blackouts and watch your favorite basketball team live online.
Fubo TV
Fubo TV was primarily launched as a streaming service for soccer, before moving to a more traditional live TV streaming service. Not only does fuboTV have the NBA, NFL, and MLB, but you can also watch the NHL, NASCAR, golf, boxing, MMA, and more.
Having so much sports content made Fubo TV the streaming giant it is today. Fubo users watch over three billion minutes of programming. We're talking about those 250,000 paid subscribers.
You'll be looking for Fubo Starter, which includes ESPN, and ABC. The package gets you 114 channels, 250 hours of cloud DVR, and 3 simultaneous connections. For only $64.99, you get to watch the 2022/23 NBA season with so much more content.

Please note that you can also get NBA TV as an add-on, so you'll get the NBA Triple Threat live on your television. Unfortunately, TNT is not included, which means that you'll miss some of the games.
Now, once you create an account, you can stream live NBA games on Apple TV, Chromecast, PC, Android, Mac, Roku, iOS, Samsung Smart TV, Android TV, and Fire Stick.
Hulu Live TV
Hulu has it all: Live TV and one of the largest streaming libraries. The channel has a live TV streaming package that includes ESPN, ESPN2, ABC, and TNT for $64.99 per month.
Subscribers to Hulu with Live TV can visit the NBA Basketball series page so that they can see what games are coming soon. Additionally, this package includes access to on-demand TV shows and films.
However, you should know that Hulu is ad-supported. So, you will come across a few ads here and there while watching your matches. In case you want to get rid of those, you can opt for its Hulu Premium service (ad-free), which is around $6 more.
Hulu is one of the biggest streaming channels in the United States. That's why it was made available on most operating systems and devices. You can stream live NBA matchups on Android, iOS, Roku, Xbox, Amazon Fire TV, and Chromecast.
The League Goes International
NBA League Pass is trying to reach a wider audience outside US soil, which brings us to its international version. The service is available in a handful of countries.
You also can subscribe to the service directly with the available plans or log in with your respective country's cable provider. Here's where the NBA League pass is available. (I've stated their respective cable providers in case.
Brazil:
Canada:

Bell TV
Shaw Direct
Cogeco Cable
EastLink Cable
Rogers Cable
Mexico and Central America:
Philippines:

Cablelink, Globe, Sky Cable, and PLDT/Smart

United Kingdom:
If you don't like long-term cable deals, you'll also be able to purchase League Pass as a stand-alone subscription. Your package's price will change depending on where your internet traffic is coming from (IP Address).
Once you get a subscription, you can stream the 2022/23 NBA season live on:
Smart TVs
Apple TV
Xbox 360
Roku
Amazon Kindle Fire
PlayStation 4
NBA 2022/23 Season – The Full Channel List
We've given you a brief idea about the major broadcasters in the United States and the International League Pass. However, when it comes to NBA, its popularity alone demands more.
That's why the League made sure that almost everyone on this planet can tune in and watch all the swishing action. So, with that said, here are the official NBA broadcasters all over the world:
| Channel | Country |
| --- | --- |
| ESPN/ABC/TNT/NBA TV | USA |
| TSN/RDS/Sportsnet/NBA TV | Canada |
| DAZN | Austria/Germany/Switzerland |
| TV2 Play | Denmark |
| beIN Sports | France/MENA |
| Sky Italia | Italy |
| ESPN | Netherlands |
| Movistar+ | Spain |
| Sky Go | The United Kingdom |
| ESPN | South Africa |
| ESPN/Kayo Sports | Australia |
| Ruutu+ | Finland |
| NBA League Pass | Global |
A VPN's Benefits
Cutting the cord has become a trend these days thanks to the many streaming services available on our demand. However, most of these services are restricted to the country it is based in much like the NBA streaming channels. These services require a VPN to become accessible outside the US.
A VPN hides your online identity and allows you to access geo-blocked content from anywhere around the world. it connects your device to one of its servers located in a gateway city of your choice.
As a result, you gain the IP address of that country and get to access the content of that country from any place. Aside from that, a VPN has the following benefits:
Applies military-grade encryption.
Avoids sports blackouts.
Bypass geo-restrictions.
Circumvents ISP throttling.
Allows you to get different International NBA League Pass prices by changing your location.
With a VPN like ExpressVPN, you can watch your favorite teams battle it out on the court live and online. This provider ensures the smoothest unblocking experience.
ExpressVPN lives up to its reputation as it never fails to deliver quality services and carry out solid performances. Furthermore, you get excellent customer service and a 30-day money-back guarantee. For other top VPNs for NBA, check the table below.
NBA 2022/23 – The Teams
Here are the 30 teams participating in this year's NBA season:
Atlanta Hawks
Boston Celtics
Brooklyn Nets
Charlotte Hornets
Chicago Bulls
Cleveland Cavaliers
Dallas Mavericks
Denver Nuggets
Detroit Pistons
Golden State Warriors
Houston Rockets
Indiana Pacers
Los Angeles Clippers
Los Angeles Lakers
Memphis Grizzlies
Miami Heat
Milwaukee Bucks
Minnesota Timberwolves
New Orleans Pelicans
New York Knicks
Oklahoma City Thunder
Orlando Magic
Philadelphia 76ers
Phoenix Suns
Portland Trail Blazers
Sacramento Kings
San Antonio Spurs
Toronto Raptors
Utah Jazz
Washington Wizards
NBA 2022/23 Live – FAQ
We know you have more questions. Let's hope we've answered them in the following section:
Are NBA Games Blacked Out in the United States?
If you're watching your games on NBA League Pass, blackout restrictions apply. This is due to the fact that ESPN, ABC, TNT, and NBA TV are televising the matches in the US.
Can I Watch NBA League Pass without Blackouts?
If you subscribe to the International League Pass, you can stream all of your games blackout-free.
Is NBA Streaming Available for Free?
Unfortunately, no. All the channels either require a basic subscription or a cable TV deal.
When Will the 2022/23 NBA Season Begin?
The 77th NBA season kicks off on October 18, 2022, and is scheduled to end on April 9, 2023.
Can I Watch This NBA Season on Kodi?
Unfortunately, that's not an option. There are no official NBA add-ons within Kodi's repository at the moment.
Watch NBA 2022/23 Live Online
You can watch the NBA season 2022/23 online on your smartphone, tablet, PC, or even on your Smart TV. All you need is a couple of drinks, some snacks, and to follow the steps above.
Hopefully, you found this article informative and useful. Let us know in the comment section below which streaming service you would choose to watch the NBA games live and online.