How to Watch UEFA Futsal Championship 2022 Live Online
|
2022 is going big on soccer, and what better way to prove that than with the 12th edition of the UEFA Futsal Championship. The tournament will take place between 19 January and 6 February 2022, with dozens of channels available for online streaming. However, due to geo-restrictions, not everyone can access them.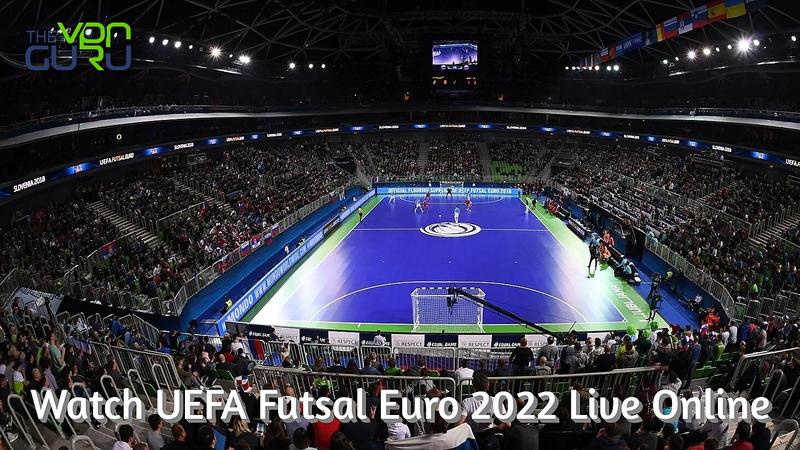 The historic championship occurs every 4 years, which is why you shouldn't miss this edition's action. Geo-restrictions can be an issue, but we're here to help you bypass them. With that said, here's how you can stream the UEFA Futsal Euro 2022 live wherever you are.
UEFA Futsal Championship Live – Quick Guide
Time needed: 4 minutes
The excitement is everywhere and we're not going to take too much of your time. So, in order to watch this year's Futsal tournament, the following steps should be taken:
Subscribe to a VPN service.

For guaranteed speedy streaming, we recommend ExpressVPN.

Get the VPN app on your device.

Download and install the client on Android, iOS, PC, or Mac.

Sign in with your VPN account.

Use the username and password you chose to sign up with.

Connect to a VPN service.

Choose a server where your chosen channel has coverage rights.

Launch the channel's website or application.

Sign in with your account if required.

Watch the 2022 UEFA Futsal Championship anywhere.

Enjoy the historic tournament live wherever you are.
Watch Futsal 2022 Live –
The Streaming Channels
Back in 2018, the final between Portugal and Spain harnessed more than 6,110,890 watch-time minutes and 303,984 views alone. These are great numbers that solidify how popular the tournament is.
This year, it's guaranteed to yield even more as dozens of broadcasters are the world are airing the matches live. No matter who you cheer for, you'll be able to tune in on the action.
Now, we have to note that each channel is geo-restricted to its respective country. We'll shed more light on the matter later on in the article. As for now, here are the top UEFA Futsal Championship 2022 broadcasters:
As seen above, there's no shortage of streaming channels to watch the 2022 Futsal Championship. However, we already acknowledged the fact that their geo-blocked. To learn more about this, scroll a bit further to the next part.
A Global yet Restricted Reach
As mentioned, all of the channels above don't operate outside their country of origin. They use what we call geo-blocking, which is a mechanism that restricts user access based on their location.
To identify where you are, they examine your IP address the moment you access their website or app. If you're not within their area of coverage, you'll be blocked almost instantly.
For example, BBC iPlayer only allows users in the UK to access its content. In other words, it requires a British IP address to operate. If you're abroad, you lack this option, which only results in the following error message:
"BBC iPlayer only works in the UK. Sorry, it's due to rights issues."

The steps above are more than enough to watch the entire championship. However, you should know what VPN to choose.
We've recommended ExpressVPN for a reason. Aside from enhanced security and anonymity, the provider excels in unblocking streaming channels at blazing fast speeds.
It's one of the few VPNs that bypassed BBC iPlayer's VPN ban. Not to mention that it also offers a 30-day refund policy, which helps you test the service out before opting for any long-term subscription.
As mentioned, ExpressVPN is only one of the services that were up for the task. To check the rest, take a look at the table below.
Final Draw & Schedule
Are you ready for the tournament on January 19th, 2022? If so, the group stage schedule is presented below, along with the participating teams:
Group A
Group A in the tournament consists of The Netherlands, Serbia, Ukraine, and Portugal. Their matches schedule is as such:
Serbia vs. Portugal (January 19)
Netherlands vs. Ukraine (January 19)
Serbia vs. Ukraine (January 23)
Portugal vs. Netherlands (January 23)
Netherlands vs. Serbia (January 28)
Ukraine vs. Portugal (January 28)
Group B
Group B consists of Kazakhstan, Italy, Slovenia, and Finland. Here's the group's full schedule:
Italy vs. Finland (January 20)
Kazakhstan vs. Slovenia (January 20)
Italy vs. Slovenia (January 24)
Finland vs. Kazakhstan (January 24)
Kazakhstan vs. Italy (January 28)
Slovenia vs. Finland (January 28)
Group C
Group C consists of Russia, Poland, Slovakia, and Croatia. There matches' schedule is below:
Poland vs. Croatia (January 21)
Russia vs. Slovakia (January 21)
Poland vs. Slovakia (January 25)
Croatia vs. Russia (January 25)
Russia vs. Poland (January 29)
Slovakia vs. Croatia (January 29)
Group D
The last group (Group D) includes Georgia, Spain, Azerbaijan, and Bosnia and Herzegovina. The schedule is as such:
Spain vs. Bosnia and Herzegovina (January 22)
Georgia vs. Azerbaijan (January 22)
Spain vs. Azerbaijan (January 26)
Bosnia and Herzegovina vs. Georgia (January 26)
Georgia vs. Spain (January 29)
Azerbaijan vs. Bosnia and Herzegovina (January 29)
The 2022 Futsal Championship – FAQ
Do you want to learn more about the Futsal Championship? Then make sure to check the following section:
When Will the UEFA Futsal Championship Start?
The 2022 Futsal Championship will take place between 19 January and 6 February 2022.
What Are the Futsal Championship Hosting Cities?
The upcoming edition of the tournament is hosted in the Netherlands, particularly in Amsterdam and Groningen.
Who are the Teams Participating in the 2022 Futsal Championship?
This year's tournament consists of 16 teams. Check them out in the list below:
The Netherlands
Serbia
Ukraine
Portugal
Kazakhstan
Italy
Slovenia
Finland
Russia
Poland
Slovakia
Croatia
Georgia
Spain
Azerbaijan
Bosnia and Herzegovina
Can I Watch the Tournament for Free?
Yes, of course. There are several channels broadcasting the event for free, including BBC iPlayer, TRT, ORF, and more included in the list.
Can Any VPN Unblock the Channels in the List?
No. Most of the channels broadcasting the tournament can block VPN traffic. However, you can use any of the recommended VPN mentioned above.
Watch Futsal 2022 Live – Final Words
The men's national teams of Europe will compete in an epic tournament to determine one Futsal champion. In other words, the action is at its best and you should not miss anything.
We hope our guide gave you everything you need. If you come across any issue, make sure to contact us in the comment section below.