How to watch RTP Play outside Portugal? RTP is practically Portugal's main TV network and the home of sports, news, radio, and TV shows. However, despite its content diversity, RTP Play is only available in Portugal.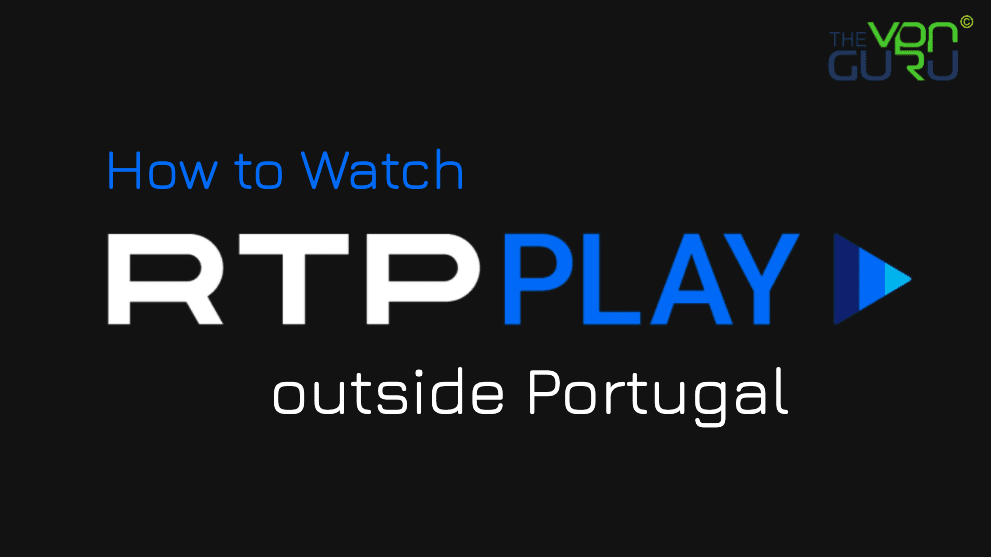 Due to copyright agreements, RTP Play does not operate overseas, but we're here to change that. If you want to watch RTP anywhere outside Portugal, follow this comprehensive guide.
Unblock RTP Anywhere – Quick Guide
Time needed: 4 minutes
Accessing RTP Play in your region is a simple task. All you need to do is go through the following steps:
Sign up with a credible VPN provider.

While free VPN might be tempting and functional (sometimes), they're not safe to use. Subscribe to a premium service such as ExpressVPN.

Download and install the VPN application on your device.

Clients are available on Android, PC, Mac, iOS, as well as FireStick.

Sign in with your VPN account.

Launch the VPN app and use your newly created credentials.

Connect to a Portuguese server.

This process grants you an IP address in Portugal.

Launch RTP Play's website or app.

We'll give you all the information you need on how to get the channel on your device.

Enjoy RTP wherever you are.

Stream RTP Play anywhere outside Portugal.
Unblock RTP Play – Full Guide
There's more. To find out everything about RTP Play, its geo-blocking technique, and how to get it anywhere, check this full walkthrough:
What You Need
To unblock RTP Play overseas, you need the following:
A VPN subscription.
An RTP Play compatible device.
Decent internet connection.
RTP Abroad?
RTP integrates rich and diverse television that reflects Portuguese culture. Its primary mission is to present the public with relevant and high-quality content on all platforms.
It's a channel worth watching abroad, and one that Portuguese ex-pats would appreciate having access to while they're in Canada, Australia, the US, UK, and Germany.
For those of you who don't know, RTP Play is geo-blocked outside Portugal, which means it only allows access to its content inside the Portuguese region.
Well, that's not always the case. RTP Play offers select titles for international viewing, including live streaming. However, most of its popular titles are only available in the country.
If you attempt to watch any of those overseas, an error message pops up. Check it out below:
"SEM DIREITOS DE TRANSMISSÃO ONLINE."




So, how does RTP Play pinpoint your whereabouts? That's easy – using your IP address. By examining your IP, RTP Play can determine the exact location of your device.
If it's not within its coverage area, you're not allowed access, and the only thing you'll get is the error presented above. To bypass this, all you have to do is follow the steps in this guide.
VPN Advantages
As mentioned, when a channel or service is geo-restricted, only the IP address showing the same location as the country where the channel is based can access it.
A VPN in this situation replaces your IP address with one that complies with where the channel was founded thus enabling you to access it.
Although a VPN is used for such cases, that's not the only thing they provide their users. A VPN can be very useful when it comes to overcoming geo-restrictions of that kind, however, there are many other advantages to subscribing to a VPN, some of which are:
Online anonymity: A different IP address means a different identity. You can surf the web as you please without anyone knowing who you actually are.
Better performance: Using a VPN increases both bandwidth and network efficiency.
Enhanced security: Your data is safe and secured when you're online.
Blocks requests and interferences: A VPN prevents hacking attempts, malicious attacks, and surveillance activities.
Share files: You can use a VPN when sharing large files over a long period of time.
Remote control: A VPN user can access information from home or from any other place. One of the many ways a VPN can increase productivity.
With its blazing fast VPN speeds, no restrictions can stand in ExpressVPN's way. The security this service provider offers is unmatched and ensures that its users' identity is kept private when torrenting, bypassing limitations, and downloading content.
It doesn't stop here. ExpressVPN is one of the VPNs we tested and it's definitely not the only one suitable for the task. You can check the other VPNs we see fit for unblocking RTP Play overseas in the table below.
Stream RTP Plat Outside Portugal on Any Device
When it comes to RTP streaming, all you need is a Portuguese IP address and a compatible device. No account is needed as the service is completely free.
Now, to get the channel on the platform you prefer, the following steps should be taken:
iOS
To watch RTP Play on iPhone and iPad, follow the steps below:
Install the VPN app on your device and connect to a Portuguese server.
Change your iOS region to Portugal and get the RTP Play app.
Launch the RTP client and start watching.
Android
If you happen to have an Android device, be it mobile, tablet, or TV, the following is all you need:
Install the VPN on your Android and connect to a server in Portugal.
Switch your Google Play Store region to Portugal and get RTP Play.
Launch the channel's client and enjoy.
Smart TV
Apple TV
Apple TVs don't support VPN clients, which is why you this should be done:
Switch your Apple TV's country to Portugal and download the RTP Play app.
Enjoy live and on-demand streaming anywhere.
Desktop
When it comes to PC or Mac, getting RTP Play is a very easy task:
Install the VPN on your desktop device and connect to a Portuguese server.
Open your preferred browser and head over to RTP Play's official website.
Pick your title and start watching.
RTP Play Anywhere – FAQ
We have more. In the following section, we answered some of our reader's inquiries – make sure you go through them as well:
With RTP Play, there's no need to subscribe to the channel – it's completely free.
Do I Need an Account to Stream RTP?
No. You don't have to create an account. Just launch RTP Play and start streaming right away.
What Devices Can I Watch RTP on?
You can stream RTP live and on-demand using Android, iOS, PC, Mac, Android TV, Apple TV, as well as Smart TVs.
Why Features Does the RTP Play App Give Me?
Once you have the app installed on your device, you can use it to add titles as favorites, continue the movie/series from where you left off, receive notifications, and stream on your TV via Chromecast or AirPlay.
Why Can't I Watch Find My Show on RTP Play Anymore?
Due to broadcasting rights, some programs are made available for a limited period of time. This case especially targets international series as their episodes are not made available unless the season ends.
Can I Watch RTP Play on Kodi?
If you're a Kodi user, RTP Play is easily accessible on the platform. All you have to do is download the add-on from Kodi's official repository, and start streaming.
Watch RTP Play outside Portugal
RTP Play is a must-have channel. Despite being free, the channel offers premium content. Now you have all you need to watch your favorite shows on your computer, tablet, smartphone, or smart TV abroad.
If you run into any issue while trying to unblock RTP in your region, just drop us a line in the comment section below. We're here to help.