How to Watch Miami Open 2023 Live Online
|
March is definitely the month for tennis die-hard fans. Aside from the legendary Indian Wells, we get to see Carlos Alcaraz and Iga Świątek defend their "champion" status at the 2023 Miami Open.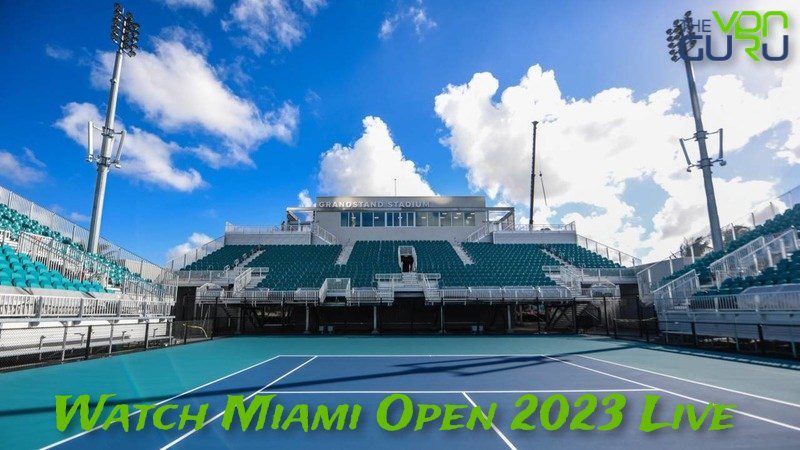 The tournament starts on March 20th and ends on April 2nd, 2023. Several streaming services are broadcasting the event live, but all of them are geo-restricted to specific locations.
This year's Miami Open is definitely a must-see, and we're here to help. Geo-blocked or not, here's how you can stream the 2023 Miami Open live online.
Watch Miami Open Live – Quick Guide
Time needed: 4 minutes
It's just a simple task, so we won't be taking too much of your time. Here's what you need to do in order to stream the 2023 Miami Open live:
Sign up with a VPN service.

Based on our tests, our top pick is ExpressVPN.

Get the VPN app on your device.

Download and install the client on your Android, iOS, PC, or Mac.

Activate the VPN application.

Sign in with your username and password.

Choose a server in the chosen channel's country.

Connect to a server in the service's coverage area. For example:
– US server for Tennis Channel.
– UK server for Amazon Prime Video.
– Canadian server for TSN, etc…

Launch the channel's app or website.

Sign in with your account to your chosen channel.

Stream the 2023 Miami Open live.

Enjoy the legendary tennis tournament anywhere.
Stream Miami Open 2023 – The Full Walkthrough
The Miami Open is a huge event and one of the most popular tennis tournaments in the world. That's why we have a lot to cover. Here's everything you need to know:
The Requirements
To stream the 2023 Miami Open live, you'll need everything on the list below:
A VPN subscription.
An account (Subscription) with one of the official channels.
A compatible streaming device.
The Broadcasting Channels
Tennis has become one of the leading sports in the world today. In fact, fans all over the world seem to have marked their calendars every time a tennis event was on.
The Sunshine Double is on the way. We've already covered how to watch Indian Wells. Now, we'll shed more light on the second event this month – the Miami Open.
Dozens of channels are broadcasting the tournament. However, as we mentioned, they're all geo-blocked outside specific locations.
Geo-restrictions can be a hassle, but we're going to talk about it later on in the article. For now, here are the official Miami Open 2023 broadcasters:
The table above is but a small part of the channels broadcasting the event. If you want to see the full list, head over to ATP Tour's official page.
The Restrictions at Hand
As previously stated, the channels broadcasting the 2023 Miami Open don't operate outside their coverage areas. They apply what we call geo-blocking to restrict your access according to your location.
This defense mechanism mainly exists for copyright reasons. When you visit the channel, it'll examine your IP address first. This process allows it to determine your physical location, which in the end, helps it determine whether to allow or block your access.
If you live abroad, you won't be holding the required IP address, which will result in an instant block. For example, Tennis Channel is only available for those residing in the United States. In other words, users with a US IP address.
If you live overseas, that's exactly what you lack, resulting in the following error message:
"This stream is not available in your area."

As you can see, this is what you get when you try to stream a video on Tennis Channel from outside the US. However, this problem can easily be circumvented by following the steps presented above.
What a VPN Does!
A Virtual Private Network is first and foremost a security tool used to enhance your online experience in every way possible.
When you establish a connection, the VPN applies military-grade encryption that shields your data (sent or received) from any third-party interception.
Moreover, it hides your IP address and replaces it with a temporary one in the country where the chosen server is located. Not only does this increase your anonymity, but also allows you to access restricted content in that region.
For example, if you connect to an American server, you'll receive a US IP address. As a result, you'll be able to watch Tennis Channel as well as other US-only channels wherever you may be residing.
Please note that not every VPN is there to help you with your tasks, especially when they offer their services for free.
We tested several VPNs while trying to stream the Miami Open and came out with a select few worth investing in. Our top pick is ExpressVPN as it has servers in around 94 countries.
This ensures that whatever channel you choose, you get to unblock. Not only that, but the speeds were excellent. Our video didn't lose quality and no buffering issues were witnessed.
According to our evaluation, ExpressVPN tops the charts. However, it's not the only one. Other reputable VPNs managed to get the job done and we've presented them in the following table.
The Miami Open 2023 – FAQ
Aside from the comprehensive guide above, we have more to share about the 2023 Miami Open. Make sure to check this section for more information:
When Will the Miami Open 2023 Start?
The tournament will begin on March 20th, 2023 with the Women's & Men's Singles Qualifying rounds (48 Draw).
Where Will the Miami Open be Held?
As usual, the Miami Open will take place at Hard Rock Stadium in Miami Gardens, Florida.
Can I Watch the Miami Open 2023 for Free?
Unfortunately, all the channels broadcasting the 2023 Miami Open requires some kind of subscription – be it standalone or via a cable provider.
Who Are the Defending Champions?
The current champions are Carlos Alcaraz and Iga Świątek.
Stream the 2023 Miami Open – Final Thoughts
The Miami Open tournament is probably the biggest event outside the four Grand Slams. Now, you have everything you need to stream it live online.
If you have any more questions, make sure to drop them in the comments below. We'll certainly help you out as soon as possible.