How to get the RTE Player outside Ireland? If you're an Irish ex-pat currently working abroad, you're probably aware that some Irish streaming sites are geoblocked overseas. This certainly applies to RTE Player.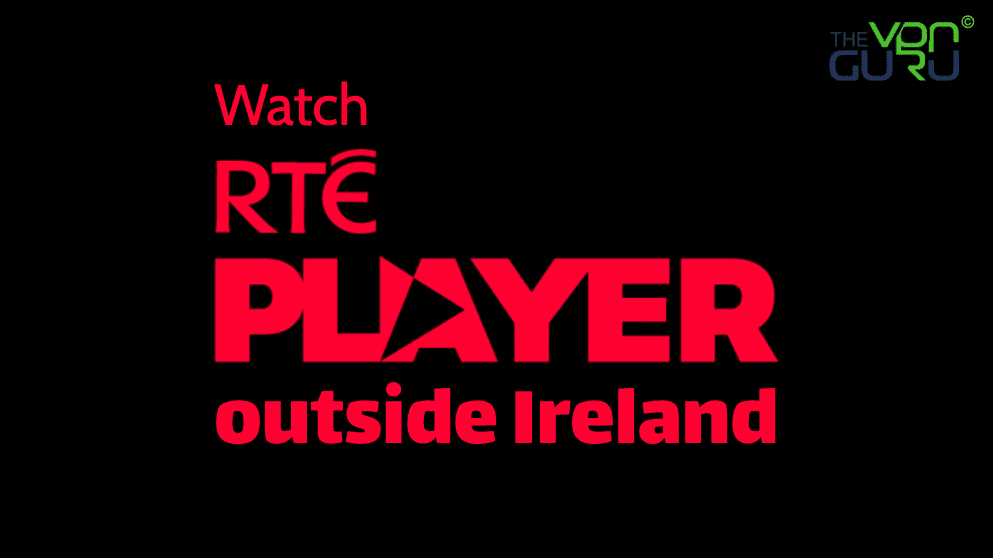 The popular streaming channel can only be accessed within Irish territories. Luckily, there is a workaround that allows you to bypass regional restrictions and watch RTE Player outside Ireland. This guide has everything you need.
Stream RTE Player Anywhere – Quick Walkthrough
Time needed: 4 minutes
Let's keep it simple and quick. Here are the steps required to unblock RTE Player anywhere in the world outside Ireland:
Subscribe to a VPN service.

Make sure the VPN has servers in Ireland. We recommend ExpressVPN.

Download and install the VPN app on your device.

There are clients on Android, PC, Mac, iOS, as well as Fire Stick.

Next, sign in with your VPN account and connect to an Irish server.

This will grant you an Irish IP address.

Launch RTE Player's website or application.

A step-by-step guide is provided below showcasing how you can get the RTE Player app on any device.

Watch RTE Player anywhere.

Enjoy top Irish series, movies, and sports wherever you are.
RTE Playere Anywhere – Full Guide
We still have a lot to talk about, especially when it comes to RTE Player's geo-blocking and the devices it supports. You can find everything you need in this in-depth walkthrough:
What You Need
If you want to unblock RTE Player outside Ireland, you'll need all of the following:
A VPN subscription.
RTE Player account (Extra features).
RTE Player-compatible streaming device.
Can I Watch RTE Player outside Ireland?
RTE has been around for quite some time now, offering the best of shows, movies, programs, and sports in the Republic of Ireland.
The channel boasts thousands of viewers on a daily basis, which makes it very popular in the region. In fact, during Denmark vs England Euros semi-final, RTE harnessed more than 1 million Irish viewers.
Unfortunately, the large viewership only represents those residing in Ireland. You see, most streaming channels are geo-restricted.
That means you can only watch live and on-demand content through these channels if you currently reside within a region where they are available.
It doesn't even matter if you have purchased a subscription to that channel or not. The same concept applies to RTE Player.
As soon as you leave the Republic of Ireland, you will no longer be able to watch your favorite Irish programs online. The following error messages are all you'll be getting:
"Uh oh. Looks you're lost… Seems like the page you were looking for doesn't exist."
"Something went wrong. A playback error has occurred, please try again."
"This programme cannot be streamed due to the rights restrictions."
Unless you can get an Irish IP address abroad, your attempt will always be blocked. In order to change your IP address and get an Irish IP in the UK, for instance, you have to use a virtual private network and follow the steps above.
What a VPN Can Do!
A VPN is a tool used to protect your personal data and browsing activities. It conceals your IP address so that you can browse the web anonymously.
Once the connection is established, the VPN grants you a temporary IP address based on the server's location. As a result, websites/channels will be tricked into thinking that you reside in that area, granting you full access in the process.
For example, if you connect to an Irish server, you'll receive an Irish IP address. Then and only then, you'll be able to access RTE Player anywhere.
Given that ExpressVPN offers a 30-day money-back guarantee, there is no risk involved in signing up with them. However, if you do wish to use a different VPN service, make sure they actually offer their users VPN servers in Ireland.
We've done our research and 4 VPNs stood out due to their efficiency, speed, security measures, and refund policy. Check them out in the table below.
How to Watch RTE Player on Any Device Outside Ireland
With a VPN subscription, you can now unblock RTE Player anywhere you may be. However, before you get to watch anything, you'll have to get the channel on your device. Here's how:
Android
On Android, getting the RTE Player app requires the steps below:
Download and install the VPN app on your device.
Connect to a server in Ireland.
Switch your Google Play Store region to Ireland and get the RTE Player app.
Launch the channel and start watching.
iOS
Getting RTE on iOS is easy. Here's what you need to do:
Activate the VPN app and connect to an Irish server.
Change your Apple Store's region to Ireland and get the app.
Launch RTE Player.
Watch your favorite shows anywhere.
Desktop
On your Windows or Mac, this is what you need to watch RTE Player:
Get the VPN app and connect to an Irish server.
Head over to https://www.rte.ie/player/.
There you have it, enjoy.
Smart TV
If you have a Samsung Smart TV, you need to do this in order to get RTE Player:
RTE Player Anywhere – FAQ
We've added a Frequently Asked Questions section below in hopes of answering more of your inquiries:
Yes. Everything you get to access on RTE Player is free. No subscription is needed.
Do I Need an Account to Watch RTE Player?
You can stream anything on RTE Player without having to create an account. However, if you do have one, you can enjoy extra features such as video continuation and adding titles as favorites.
What Devices Can I Watch RTE Player on?
You can watch RTE Player on the following streaming platforms:
PC
Mac
Android
iPhone
iPad
Samsung Smart TV
What Channels Can I Watch Live on RTE Player?
You can stream live content from the following channels:
RTÉ One
RTÉ2
RTÉjr
RTÉ News
RTÉ Radio 1
What Programs Can I Watch on RTÉ Player?
The list below showcases some of the popular titles you get to stream on RTE Player:
After School Hub
Back from the Brink
Birthday Girl
Creative Kids
Cúpla Focal
Fair City
Grill Seeker
Into the Mystic
Late Afternoon
Scannal
The Appointment
Can I Rewind Live Videos?
Most of the live videos you get to watch allow a rewind option. However, some don't have this feature due to copyright restrictions.
Can I Download RTE Programs?
At the moment, downloading shows and movies on RTE Player is not available.
How to Get RTE Player in UK outside Ireland – Wrap Up
That's basically all you need to know about how to watch RTE Player outside Ireland. Regardless of whether you currently live in the UK, USA, Canada, or Australia, all you need is the guide above in order to stream your favorite Irish programs anywhere in the world. Got more questions? Contact us in the comment section below.