On December 15th, 2023, the Alexandra Palace will host the biggest Christmas party of the year as Michael Smith defends his PDC title against the best players in the world.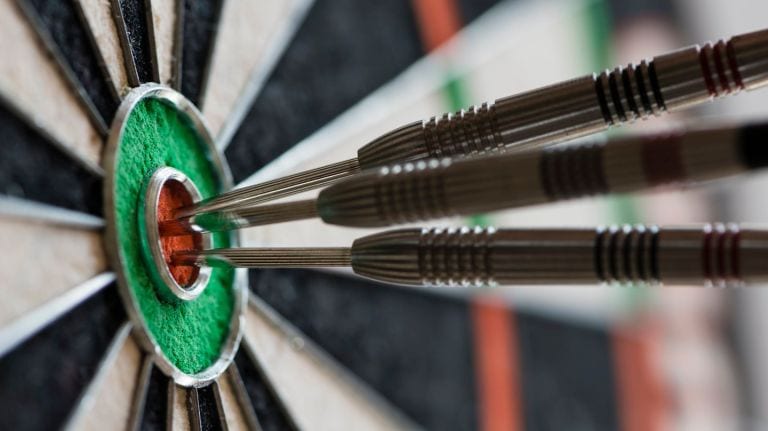 The 2023 PDC World Championship is on its way, and several streaming channels are broadcasting it from the beginning until a winner is announced on January 3rd, 2024.
One problem, though – the official streaming channels are geo-restricted to specific regions, mainly their respective countries.
But that won't be a problem once you're done with this guide. So, without further ado, here's how you can watch the 31st Paddy Power World Darts Championship live online.
Stream PDC World Championship 23/24 Live – Quick Steps
Time needed: 4 minutes
It doesn't matter if your region does not have an official broadcaster for the upcoming PDC Championship. You'll be able to stream the event "live" wherever you may be by following the steps below:
Sign up with a VPN service provider.

For a vast server network and excellent streaming speeds, we recommend ExpressVPN.

Get the VPN app and install it on your device.

There are dedicated clients on Android, iOS, PC, and Mac.

Launch the VPN app and sign in with your account.

You might be prompted to submit a verification code. Get that from within your account.

Connect to a VPN server.

Make sure to use a server in your selected channel's country.

Launch the channel's website or application.

Sign in with an account if needed.

Stream the 2023/24 PDC World Championship live.

Enjoy the 2024 Paddy Power World Darts Championship anywhere.
PDC World Championship – The Full Walkthrough
Yeah! There's a lot more to know about the tournament and how to watch live online. For more information, check this comprehensive guide:
What You Need
Here's everything you need to stream the PDC Tournament in your region:
An account with a VPN service.
A valid subscription to any of the channels on the list.
A compatible streaming device.
The 2024 Paddy Power World Championship – Live Streaming
In the past, the tournament had a long list of official broadcasters. However, this time around, some changes were made. You now have fewer ways to stream the PDC World Championship locally and internationally.
Darts is a popular sport around the world, and the PDC World Championship is globally watched by thousands, if not millions, of fans.
In fact, the previous tournament reached an average of one million viewers for the final on Sky Sports alone. Not to mention that DAZN streamed over 7 million hours in Germany alone, which shows how loved the event is.
The Channels
Before we dive a bit deeper, here are the 2023-24 World Darts Championship's official broadcasters:
But you need to know whether it's local or global; restrictions do apply based on your geographical location.
The question is, how can a streaming service determine where you actually are? Easy, by examining your IP address.
That's not all it can figure out; a website/service can know what browser you're using, what device you're operating, and your Internet Service Provider.
Geo-restrictions can pose an issue for frequent streamers and online users. Let us explain with an example in the form of DAZN.
The channel is available everywhere, but the content varies from region to region. If you try to watch the PDC Championship in an unsupported country, a geo-error message appears:
"Due to legal restrictions, the video you have selected is not available to watch in your specific location. Thank you for understanding. Error code: 65_-13-403."
This won't be an issue if you follow the steps presented above. Once done, you'll be watching the 2023-24 PDC Championship live wherever you are.
PDC TV

PDC TV is a new streaming service dedicated to everything the Professional Darts Corporation has to offer in terms of competitions and world championships.
The best thing about this channel is that it is global, and it has a free option where you get to see highlights and some featured videos from the archives. However, if you have a free account, you won't be able to access live streaming.
When I say that it's global, I should exclude the likes of the UK as the channel is blacked out due to the fact that Sky Sports has distribution rights there.
If you encounter this error message, it means that your territory is not supported by the channel:
"We're sorry, this content is only available in certain countries."
PDC TV is an excellent way to stream your content as it's very cheap and easy to operate. You have 2 ways to subscribe to the channel. You either create a free account or subscribe by shelling out a monthly/yearly fee.
However, each subscription comes with specific content you can tap into. As I mentioned, if you create a free account, you won't be able to use its live-streaming feature.
PDC World Championship 2023/24 – Easy Global Coverage
As I mentioned, streaming services rely on your IP address to determine your location. So, the best way to access a blocked channel is to trick it into thinking that you're within its area of coverage.
Luckily, an internet tool with that capability exists, and it comes in the form of a Virtual Private Network. Short for VPN, this cybersecurity software was designed to protect your data and hide your identity as you browse the web.
Once you connect to a server, the VPN encrypts all your traffic, cloaks your IP address, and assigns you a new one based on the server's location. If the server is in the United Kingdom, for example, you'll obtain a UK IP address.
As a result, you'll appear to be browsing the web from the UK and have direct access to whatever is online-restricted in the territory, including the likes of Sky Sports.
A VPN has a lot more to offer. To sum it up, check out the VPN's benefits below:
Unblocks major streaming services overseas.
Enhance security and anonymity online.
Bypass ISP throttling to maintain good streaming speeds.
Utilizing a Virtual Private Network while browsing the web has become essential, especially with cybercrime increasing day by day.
When you use this cybersecurity tool, you'll definitely have a whole different internet experience in terms of enhanced security and limitless access.
What VPN to Use
You're probably wondering why we suggested ExpressVPN above. According to our tests, this VPN is perfect for HD streaming. You don't want any glitches or buffering issues occurring while watching the tournament, do you?
Aside from that, ExpressVPN boasts more than 3000 servers in 94 countries, which is more than enough to get whatever streaming service you set your eyes on.
Finally, the provider has a 30-day refund policy, which means you can get your money back within 30 days of purchase if it doesn't live up to your expectations.
In case ExpressVPN is not what you're looking for, there are several other top providers out there that can do that task just as well. Check them out in the table below.
Paddy Power World Darts Championship 2024 – FAQ
Got more questions? We made sure to answer as many of our readers inquiries as we can in the following section:
When Does the PDC Championship Begin?
The 30th William Hill World Darts Championship begins on December 15, 2023.
Who is the Current Champion?
Michael Smith is the defending champion after defeating Michael Smith in the previous tournament.
Can I Watch The Championship for free?
Unfortunately, none of the channels broadcasting the event is offering free live streaming.
Where will the PDC Championship be Played?
The event will take place at the Alexandra Palace in London.
What Devices Can I Watch the Tournament on?
Every channel has specific compatible devices. However, with channels like DAZN, you get to stream the tournament on almost every platform, such as Android, iOS, PC, Mac, PlayStation, Xbox, Chromecast, Android TV, and Smart TV, as well as Roku and Apple TV.
How Much is the Prize Money?
This year's total prize is pretty good, actually. Let us show you how the £2,500,000 is distributed among the participants in the 2023/24 PDC World Championship:
Winner: £500,000
Runner-up: £200,000
Semi-finalists: £100,000
Quarter-finalists: £50,000
Fourth-Round Losers: £35,000
Third Round Losers: £25,000
Second-Round Losers: £15,000
First Round Losers: £7,500
Stream Paddy Power World Championship Anywhere – Final Words
Streaming can be pretty daunting with the presence of geographical restrictions. If you live in a country where no broadcaster is available, watching your favorite player hit the bullseye is the least of your concerns.
However, that's the main reason we came up with this guide: to help you out with your issue. Just use a VPN and your problem is solved.
By the way, tell us who you're cheering for and what you expect in the tournament in the comments below.
And now, since you know how to watch the PDC World Championship live wherever you are, we're dying to say this, so excuse us. Ladies and gentlemen: Ready, Set, Dart!!!