How to Watch Salto Outside France
|
When it comes to streaming live and on-demand content, French residents get to access some of the best channels out there. We're talking about the likes of TF1, M6, and France TV. But what if there's a place where you get all three? Well, if you have a Salto account, you can. However, due to geo-restrictions, that's only possible in France.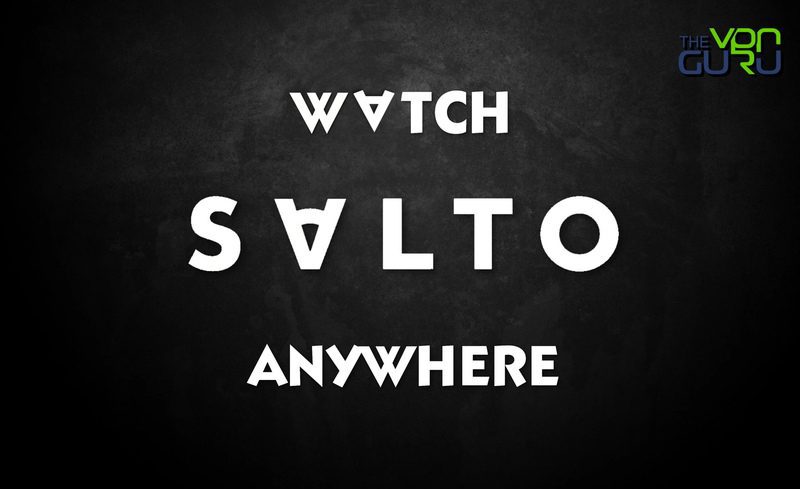 Salto is one of many streaming services that apply geo-blocking. It only allows access to residents in France, which means anyone abroad won't be able to watch its content.
This is a fixable problem and we're here to help. With that said, here's how you can watch Salto anywhere in the world.
Unblock Salto Anywhere – Quick Guide
Time needed: 4 minutes
Bypassing geo-restrictions is not a hard task provided you know what to do. Fret not, following these steps will get you Salto wherever you may be:
Subscribe to a VPN service.

Make sure the VPN has speedy servers in France. For guaranteed results, we recommend ExpressVPN.

Download and install the VPN application.

You can get the client on Android, iOS, PC, or Mac.

Sign in and connect.

Connect to a French server.

Launch Salto's website or app.

Log in with your Salto credentials.

Watch Salto anywhere.

Enjoy live and on-demand content wherever you may be.
Get Salto Outside France – Full Guide
There's more to unblocking the channel abroad than the steps above. For additional information, make sure you give this full walkthrough a quick read:
What You Need
To watch Salto outside France, you'll need everything on the list below:
A Salto account.
A VPN subscription.
Any Salto-compatible streaming device.
Salto – A French Treat for French Residents Only.
Salto has proven itself to be a top competitor in the SVOD industry within the French borders. According to the president of public broadcaster France Télévisions, the channel has harnessed over 700,000 subscribers in the region.
This shows how popular the service has become and that's mainly due to it offering premium content from several French channels. However, despite its regional popularity, Salto's broadcasting rights did not go global.
It applies geo-blocking, which restricts anyone's access if their traffic is coming from outside France. To determine your location, the service examines your IP address.
If you're abroad, a French IP address is exactly what you lack, resulting in this error message once you visit the channel's website or launch its application:
"Malheureusement, SALTO n'est pas disponible dans votre pays."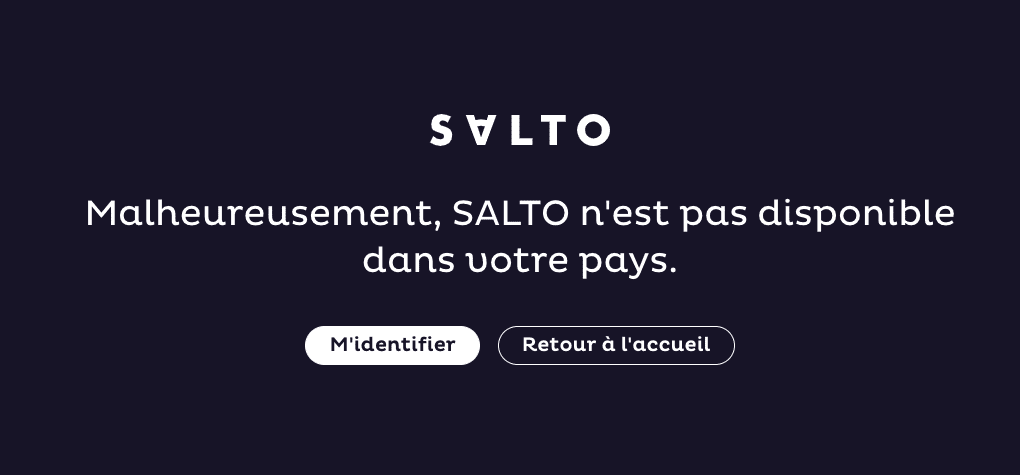 Not a French speaker? This error translates to: "Unfortunately, SALTO is not available in your country." A typical geo-blocking mechanism that can easily be circumvented by following the steps above.
The Ultimate Unblocking Tool – A VPN
Unblocking geo-restrictions is a simple task if you're operating with a Virtual Private Network. Also known as a VPN, this cybersecurity tool was created to enhance your security and privacy while browsing the web.
A credible VPN protects your data using military-grade encryption and anonymizes your browsing activities by hiding your IP address.
Once it cloaks your IP, it replaces it with one based on the connected server's location, granting you full access to whatever service or website deemed exclusive to that region.
For example, if you connect to a French server, you'll receive a French IP address. As a result, you'll be able to stream the likes of TF1, Canal+, and of course, Salto wherever you may be.
It's worth noting that not all VPNs are credible enough to fulfill this task. We've tested dozens of VPNs and only a handful of them managed to unblock Salto.
Our top recommendation goes to ExpressVPN as it boasts a huge server network, along with blazing fast speeds suitable for UltraHD streaming. However, we also recommend the VPNs in the table below if you're looking for diversity.
Get Salto on Any Device Anywhere
By now, you should have gotten yourself a Salto account. Now, you can get the Salto application on your device by following the guides based on the platform you're operating:
Android
The Salto app can be easily downloaded on Android devices, including mobile and Android TV. To get the client, you must first connect to a French server and change your Google Play Store's region to France.
Next, download Salto and sign in with your account. Finally, enjoy your favorite shows and movies wherever you are.
iOS
On your iPhone or iPad, getting the Salto app requires a connection to a French VPN server and an App Store region change to France.
Once that is done, download the Salto app, sign in, and start streaming.
Chromecast
If you want to watch Salto on Chromecast, you should install the VPN on your router as a first step. Next, download the app on your mobile device or visit the channel's website.
Sign in with your account, play your video, and hit the cast button on your screen. Now, you can watch your content on your TV via Chromecast.
Desktop
With PC and Mac, no Salto application is needed. All you have to do is establish a French VPN connection and head over to Salto's official website.
Enter your username and password to sign in and you can start streaming right away.
Apple TV
Salto Anywhere – FAQ
We have more information considering what the channel has to offer. Make sure you give the section below a quick read:
Where is Salto Available?
Salto is a streaming service that's only made available for French residents.
Can I Watch Salto for Free?
The service itself is not free. However, if you're a new customer, you can benefit from a 1-month free trial.
Does Salto Need My Credit Card info for a Free Trial?
Unfortunately, that's the downside of the channel's free trial. You need to submit your credit card information in the process.
What Devices Can I Watch Salto on?
The channel can be streamed on several devices. These include:
Windows PC
Mac
Android
iOS
Apple TV
Google TV
Chromecast (Casting)
What Content Can I Stream on Salto?
Once you get yourself an account, you'll get to watch shows and movies from all sorts of production companies:
Fargo
Bull
Yellowstone
Grand Hotel
Superman and Lois
Looking for Alaska
The Cry
Flesh and Blood
C'est comme ça que je t'aime
And Just Like That
A Million Little things
Katy Keene
Les Chroniques de Sherlock
Manifest
Pretty Little Liars: The Perfectionists
The Hunting
Intelligence
Nancy Drew
Cry Wolf
Salto Unblocked Overseas – Final Words
Salto is a must-have channel, especially for those who seek premium TV shows to binge on. The channel has everything a streamer could ask for and it can be available outside France if you follow this guide carefully.
Now, we've given you everything you need to unblock the channel in your region. If you need further assistance, don't hesitate to drop us a line or two in the comment section below.