When it comes to VPNs, internet users always like to protect their online data more but pay way less. As is the case every year, many VPN service providers have launched some intriguing Black Friday Deals.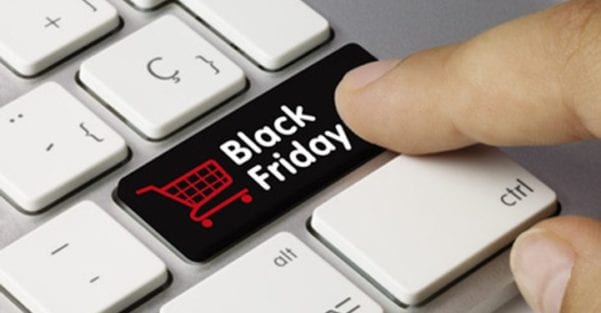 While some of these discounts might seem extremely cheap, they might not be the best in terms of value for your buck. As Black Friday is drawing ever closer, we take a look at some great VPN deals for 2023.
Best and Cheapest VPN Black Friday Deals of 2023 – Content Index
Thanksgiving is just upon us and we're counting down the day to Black Friday and Cyber Monday. These occasions are probably the most waited for among internet users as most software programs and the likes get a huge price slice.
This includes VPNs, which offer different deals every year and compete with what they're offering. Now, we've rounded up all the VPNs joining the Black Friday/Cyber Monday deal race and created the following review.
The Best and Cheapest VPN Black Friday Deals of 2023
Pricing is a crucial thing to consider before purchasing any merchandise. That includes Virtual Private Networks. Most internet users get tempted to sign up for free VPNs just because, well, they're free.
But what they don't know is that these services aren't really free. If you're saving up on some pennies, rest assured you're paying in other ways, your private information.
Every year, premium VPNs (most of them highly reviewed on TrustPilot) come up with the best deals during the Black Friday season. This year is no different, and we've compiled a list of the best VPN deals you'll see come 2023 Black Friday.
ExpressVPN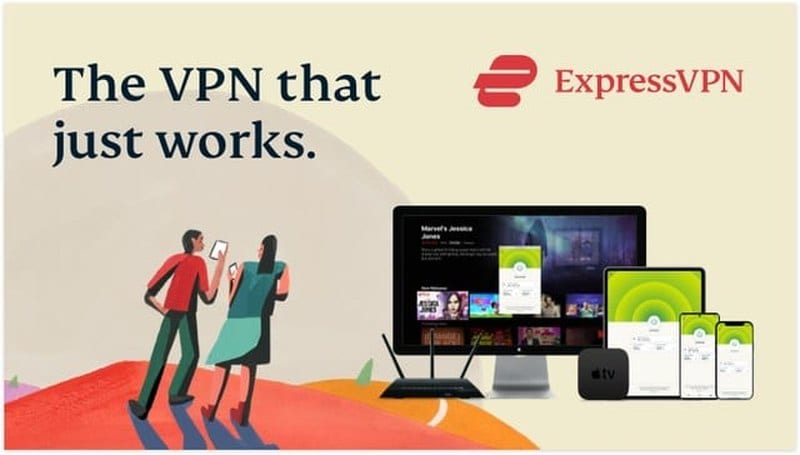 ExpressVPN is one of the top VPNs in the industry today. It has more than 3000+ servers across 94 countries. It offers top security features such as a kill switch, military-grade encryption, split tunneling, and a zero-logging policy.
Expressvpn is one of the best VPNs to stream geo-blocked content from all over the world. We tested their unblocking capabilities with streaming services such as Netflix, BBC iPlayer, Amazon Prime Video, and Hulu.
Everything single result we got was positive – no proxy errors showed up during our examination. In addition to that, the provider delivered blazing-fast speeds, allowing us to stream our content in full HD and Ultra HD when possible.
With this kind of service, you'll expect such a VPN to be a bit expensive. Well, technically, it is. However, at the end of the day, you'll be getting what you pay for.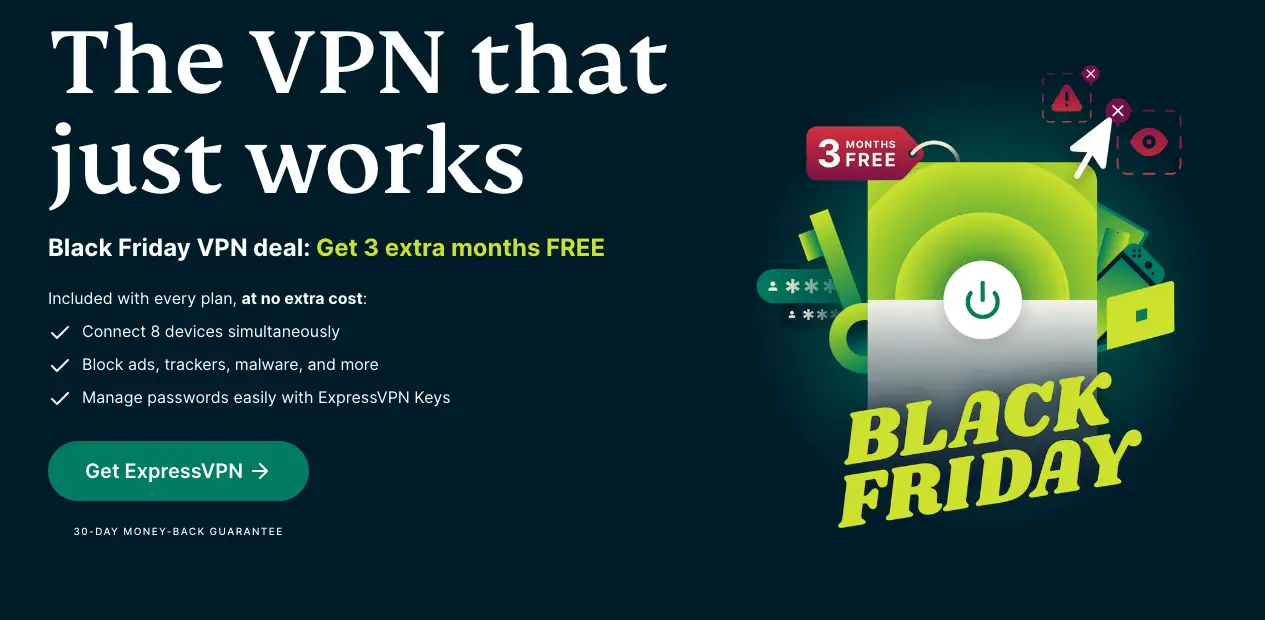 So, basically, ExpressVPN is offering 49% off its subscription. This drops the cost to $6.67 per month if you're opting for its annual plan. Users also benefit from three months free with this offer.
To be honest, there's nothing special about ExpressVPN's deal when it comes to Black Friday. I mean, you can get that offer now without having to wait.
But in the end, users never know when ExpressVPN will revoke this offer. So, if you're looking for a quality VPN, they'd better hurry up and get the offer as it still stands.
BulletVPN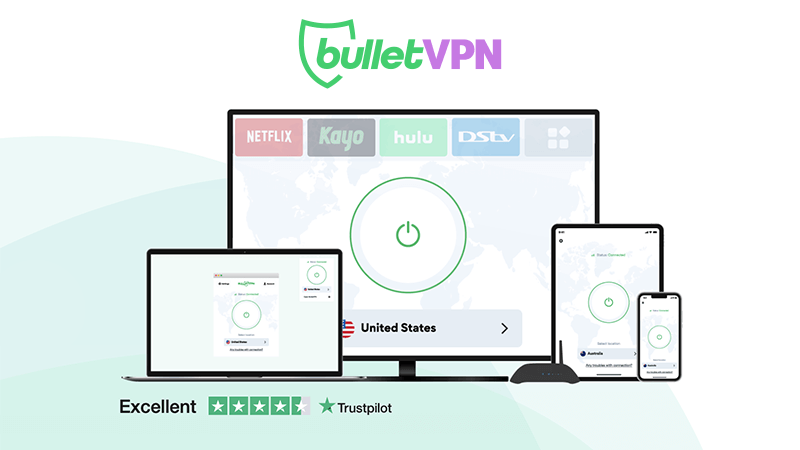 BulletVPN is an Estonian-based provider that was created as a means to maintain the ultimate security and privacy of its customers' browsing activities. Since it's based in Estonia, it doesn't have to comply with any data retention laws, especially those related to the Five Eyes.
The service has been growing a lot ever since it saw the light back in 2017. Now, BulletVPN has more than 150 server locations across 55+ countries.
BulletVPN focuses on protecting its users. It does that by shelling out top advanced features such as a kill switch, military-grade encryption, top security protocols, and its own, Bullet Shield.
This technology alongside the kill switch doesn't allow the user to connect to the internet if a VPN connection is not established, which enhances privacy as the kill switch terminates the connection if a drop occurs.
We didn't expect such a security tool to pass the streaming test, but we were shocked that it faired better than any of the other VPNs on the list. Why? Well, aside from unblocking the regulars (Netflix, Hulu, Prime Video, and BBC iPlayer), BulletVPN managed to access Showmax and DStv, which none of the others were able to get outside South Africa.
As an added plus, BulletVPN has blazing-fast speeds, especially when operated over their UltraHD support servers in several countries, including the US and the UK.
Despite having so much to offer, BulletVPN's Black Friday deal provides the best prices possible for anyone, regardless of their budgets. In 2023, BulletVPN is offering discounts on its already cheap annual plan. So, in other words, what was affordable back then is now almost free.
With 78% off, users get to purchase an annual subscription for $2.49/month. However, the deal doesn't end here. BulletVPN made sure to provide the best deals for an entire cyber week.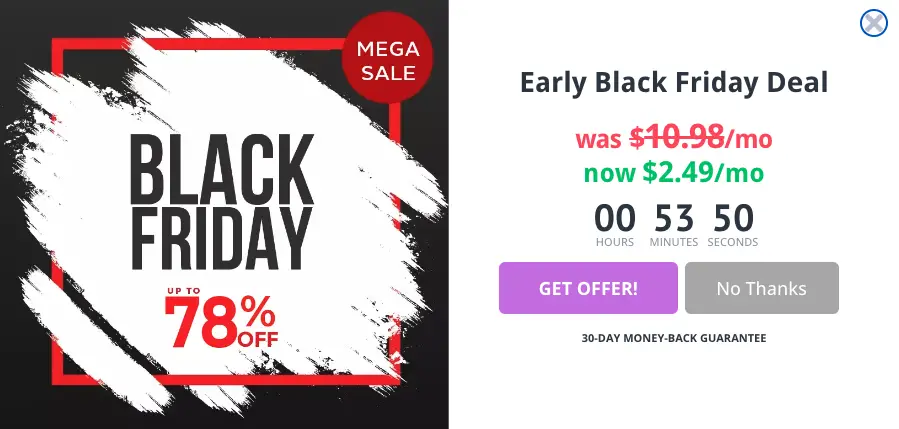 Aside from the cheap price, an annual subscription will get you two extra years for free. Yes, two years, as in 730 days. In other words, you'll be getting 3 years' worth of online security for the price of one.
BulletVPN has a 30-day money-back guarantee and a free trial for those who contact customer support. So, you have a lot of time to figure out whether BulletVPN is the VPN you need or not.
NordVPN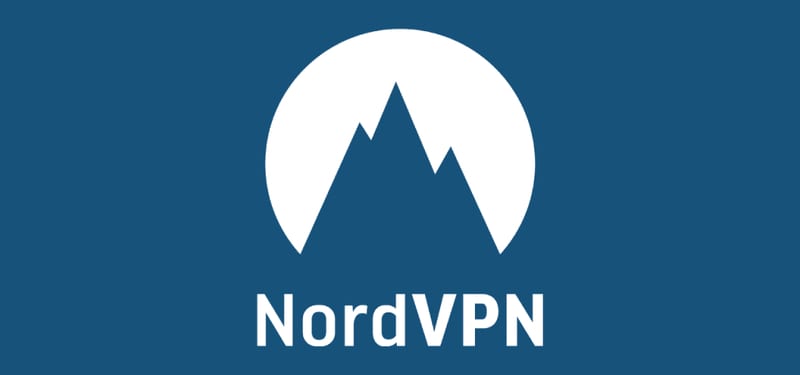 NordVPN has the biggest server network in the VPN industry. It boasts more than 5000 servers across 60+ countries. That is a pretty good number if you wish to unblock streaming services and websites from all over the world.
However, NordVPN also excels in the security department, offering unique features such as a kill switch, CyberSec, Double VPN, and a strict no-logging policy.
Also, NordVPN is a great channel unblocker. During our tests, the service managed to access all the streaming services we tried it with, including DIsney+, Netflix, Hulu, and Amazon Prime.
The speeds weren't that great, but it did maintain excellent ones on some servers. We had some problems with speed while using their Double VPN feature though as the encryption was twice as strong.
As for its deal for Black Friday/Cyber Monday, NordVPN is offering a good one. If you sign up for their 2-year plan, you'll get your subscription for just $4.99/month. It is an outstanding deal if you come to think about it. However, the deal doesn't end here, as NordVPN added an extra interesting surprise this year.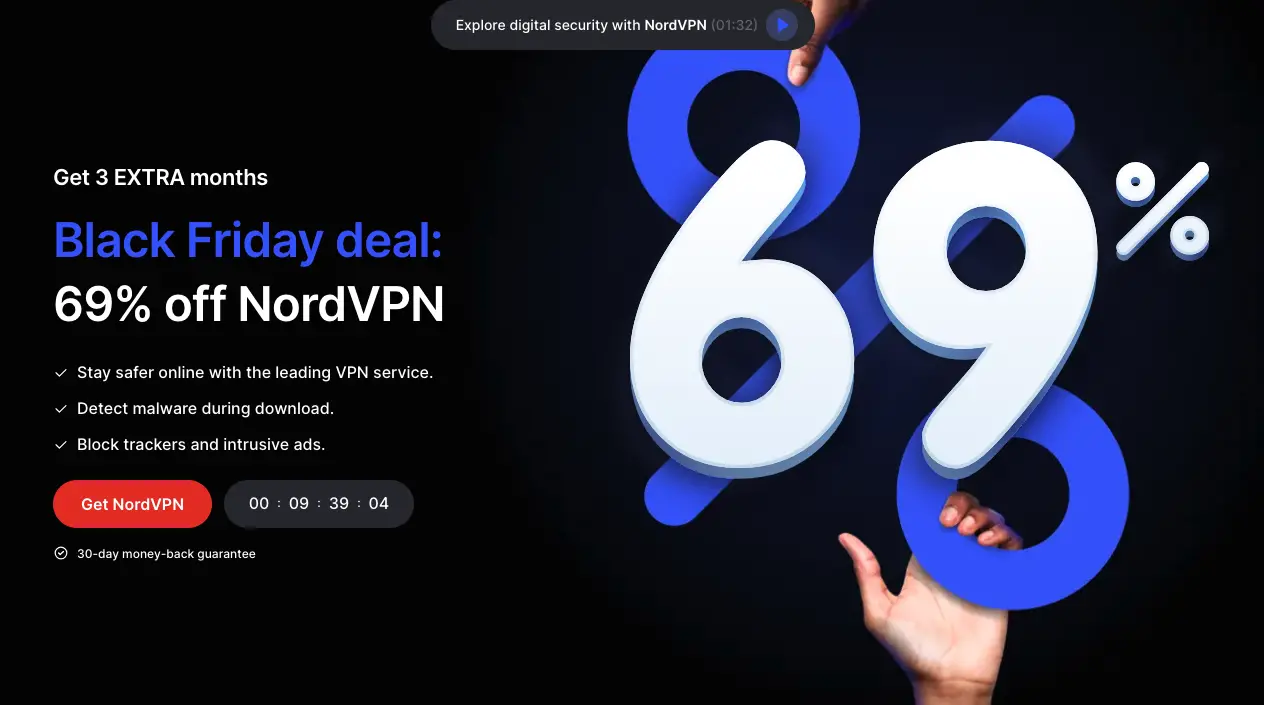 The discount isn't everything users will get when they opt for the 2-year plan. If you look closely at the image above, NordVPN is adding three extra months for free on any of these subscription plans.
NordVPN has a 30-day money-back guarantee in case you want to give their service a test drive. If it doesn't live up to your expectations, you could ask for a full refund within 30 days of purchase, no questions asked.
SurfShark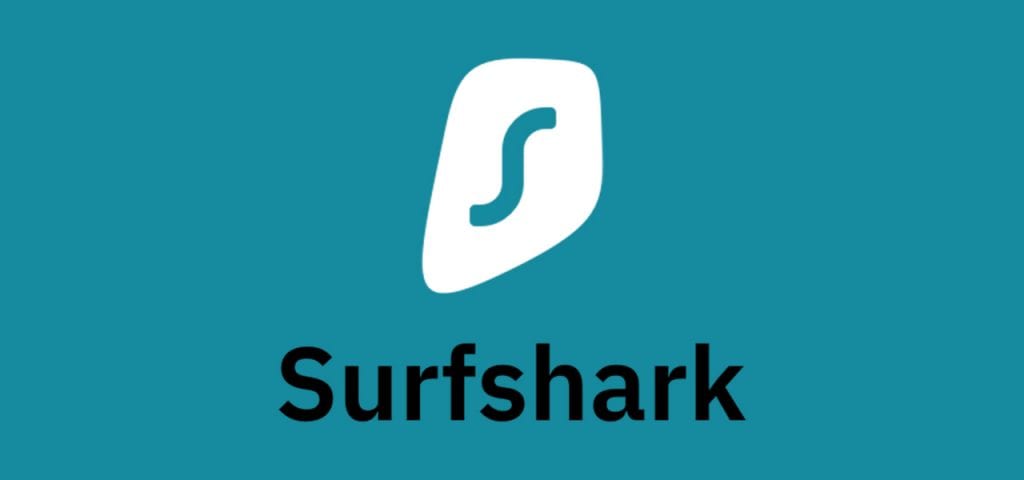 SurfShark took the VPN world by storm the day it launched. It's very new, but you really have no idea what this provider is capable of.
First, it has more than 800 servers in 60+ countries, which is an excellent number for a newcomer. Second, how many VPNs can say that they can unblock American Netflix? Well, this new kid on the block can get it along with other services such as Hulu, DAZN, and HBO Now.
Moreover, SurfShark allows you to connect an unlimited number of devices using the same account. So, in other words, the new cybersecurity tool offers something none of the giants provide – unlimited simultaneous connections.
Moreover, SurfShark provides ultimate security in the form of 256-bit AES encryption, multi-hop (DoubleVPN), and, of course, CleanWeb, which fends off any malware from invading your device while browsing the internet.
The speeds are impressive. During our tests, SurfShark allowed us to stream content in UltraHD, not slowing down our connection by much until we used their multihop feature. Other than that, the VPN offered decent connections.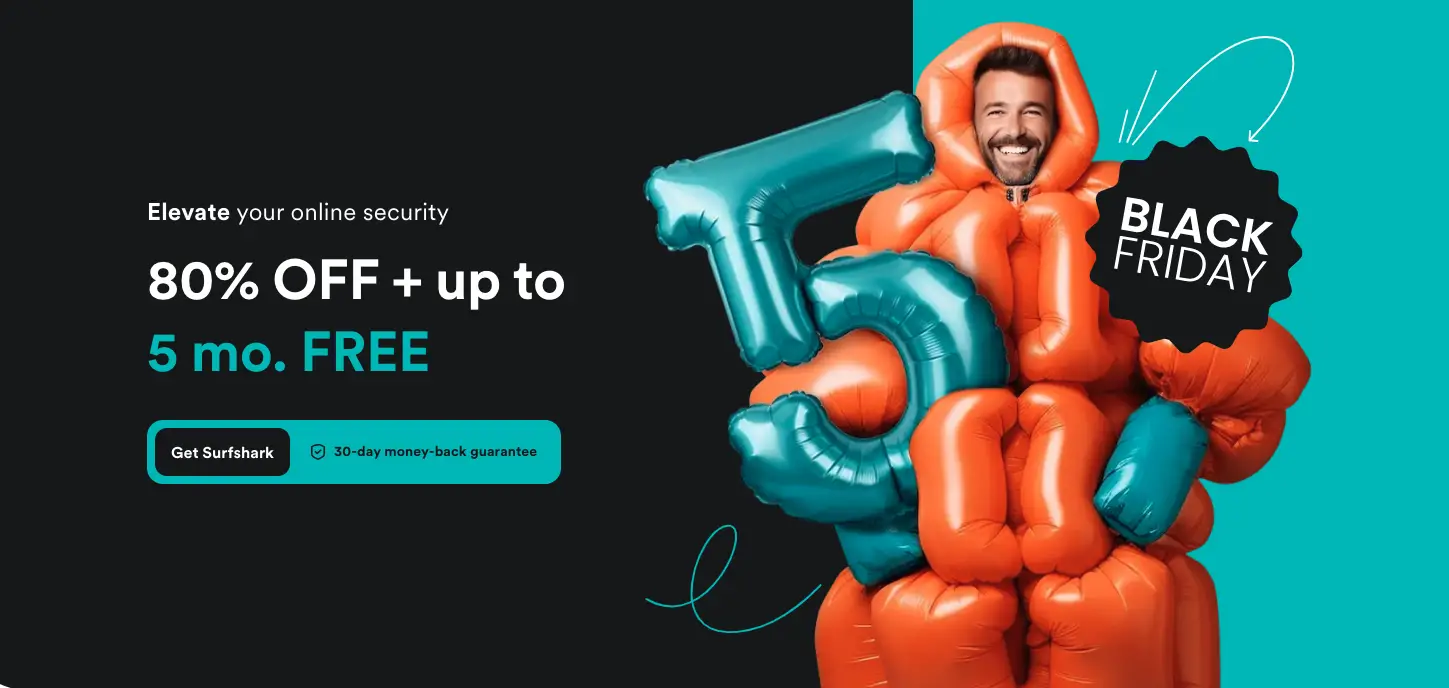 So, SurfShark is kicking it up a notch with a 2-year plan subscription deal. With that, you'll pay $1.99 a month, and you will get three extra months for free on their Starter plan.
If you opt for Surfshark One, you'll get an 85% discount along with four months for free. However, if One+ was your choice, the discount would be 80%, and you get five free months within the deal.
SurfShark is an excellent VPN to invest in. You'll also have a 30-day refund period if you want to test their service.
CyberGhost
CyberGhost is another top VPN provider with a huge server network of 5700 servers in 90+ countries. The service provides blazing-fast speeds and unlimited bandwidth along with top security features that guarantee you the safest internet browsing.
If you're looking for a safe torrenting experience, free from data logging, and unlimited streaming options, you can join this provider's big fan base now.
Cyberghost is also one of those VPNs able to unblock Netflix anywhere despite its VPN blocking mechanism. Once you subscribe to the service, you'll be able to use your account on seven devices at once.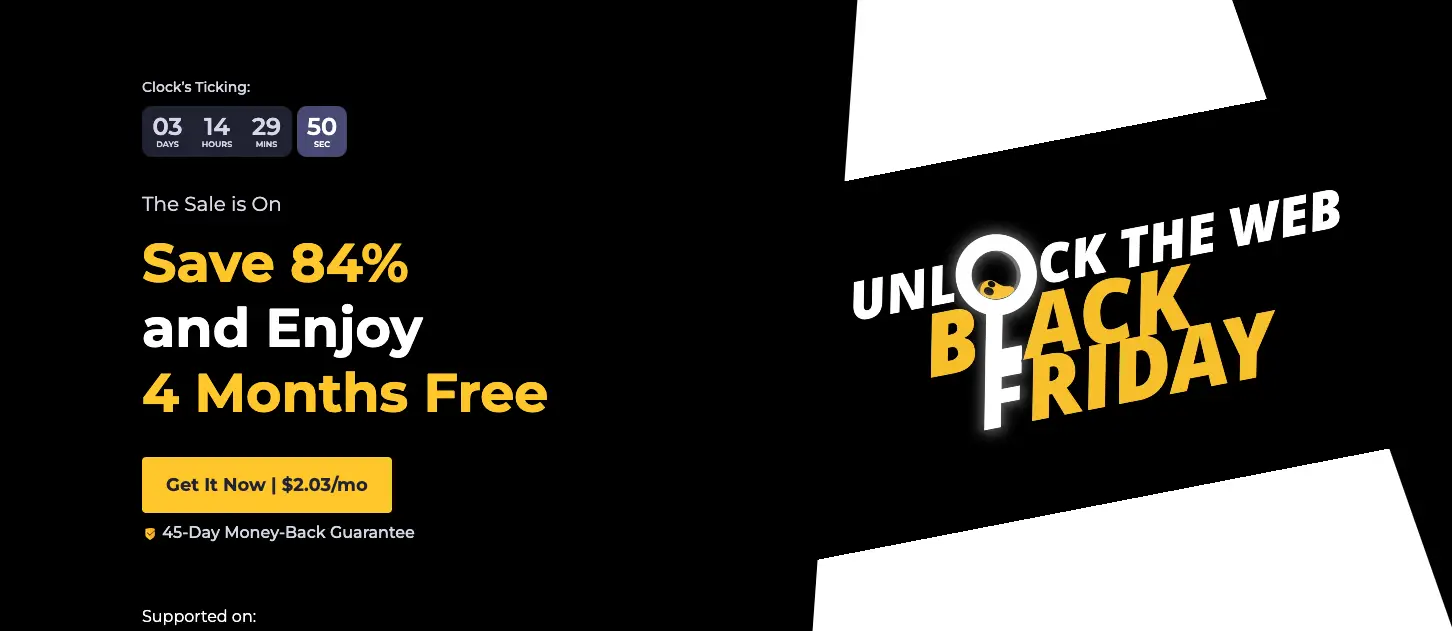 Now let's talk about the deal CyberGhost is offering for the upcoming Black Friday. The provider is offering an 84% discount on the 2-year subscription plan. This is equivalent to $2.03 a month.
But it doesn't there. Aside from the huge discount, CyberGhost is providing you with 4 extra months for free.
In case you're wondering about the efficiency of CyberGhost, the provider allows you to get a refund in case a hitch comes up on the road. You can ask for your money back within 45 days of purchase.
IPVanish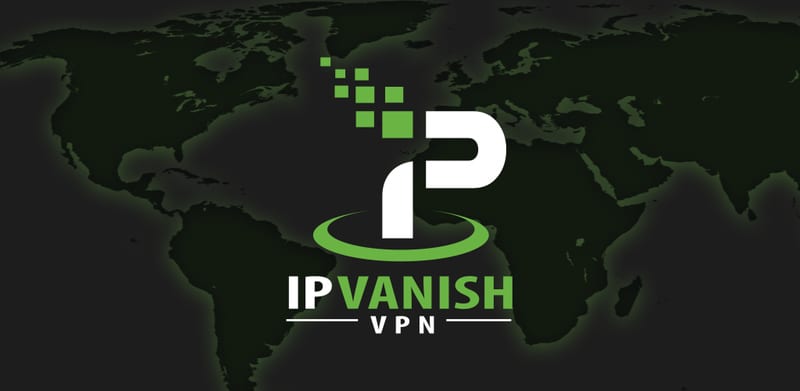 IPVanish claims that it's the fastest VPN out there. According to reviews, they don't just talk the talk; they actually do walk the walk.
The VPN comes with pretty fast servers across 60+ countries. They had their ups and downs in the past when data breaches were discovered, but as of now, it's considered to be one of the best VPNs in the world.
The provider promises fast speeds, and it delivers. Well, most of the time. Some servers did affect our connection and lowered our video quality. However, others were very fast, allowing us to stream some of the streaming services in full HD.
We did mention some channels, as the VPN wasn't able to unblock everything, especially when we're referring to Netflix. The service kept blocking our attempts, giving us a proxy error in the process.
As for Black Friday, the service offers an intriguing deal for new and old customers. You'll end up getting a 76% discount on your annual plan, which rounds up costing you only £2.49/month.
Aside from the annual subscription, this deal also adds three extra free months to your subscription. It doesn't end here. Those who like to opt for longer plans can also benefit from an 82% discount on IPVanish's biennial plan. This also comes with three free months.
In our opinion, that's a pretty good deal, considering IPVanish isn't the cheapest VPN out there. So, in case you like what they have to offer, hurry up and subscribe; you get a 30-day money-back guarantee if you opt for a yearly or 2-year plan.
Top VPN Black Friday Deals – A Quick Summary
What you read above is enough to give you all the info you need about the upcoming deals each and every VPN has in stores for you during the upcoming Black Friday.
I might not have mentioned what all the top premium VPNs are offering, but below, you'll find the missing ones in a more comprehensive look along with the aforementioned providers. Check them out:
PureVPN – Save up to 84% and get a chance to win an iPhone 15. You also get five extra months for free.
Surfshark – Get an 85% discount and get extra free months for free, depending on the subscription plan you've chosen.
BulletVPN – Benefit from a 78% discount on your annual plan and get two extra years for free with your subscription.
Ivacy – Witness a massive 90% price cut on Ivacy's 5-year plan.
ExpressVPN – Benefit from 49% off on ExpressVPN, pay only $6.67/month, and get 3 months for free.
CyberGhost – Get an outstanding 84% discount to pay only $2.03/month for the 2-year deal. You'll also get 4 months for free.
NordVPN – Grab the 2-year plan with a sold 69% discount. You'll also get 3 extra months for free.
Goose VPN – Pay $139 (10 Devices) just once and get access to GooseVPN for a lifetime.
PIA – Cut down prices with an 83% discount and pay just $1.98/month for the 3-year deal. You'll also get 4 extra months for free.
VPN Black Friday/Cyber Monday 2023 – Summing Up
It's Black Friday season, everybody, and VPNs are topping the charts with amazing deals. Online security and privacy need to be cheaper for every internet user out there, and now it is.
Check out the deals I've listed above, and pick the best VPN that suits your needs. If there's any question you need to ask, drop it in the comments below.