How to Watch Santos Tour Down Under 2023 Live Streaming
|
People all around the world wait for the UCI World Tour on a yearly basis. And what better way to kick off 2023 than with the 23rd Tour Down Under? The stage race will take place between 14 and 22 January 2023 in Victoria Square/Tarntanyangga, Adelaide. Such a popular race has top broadcasters all over the world. However, each one of them is restricted to its respective country.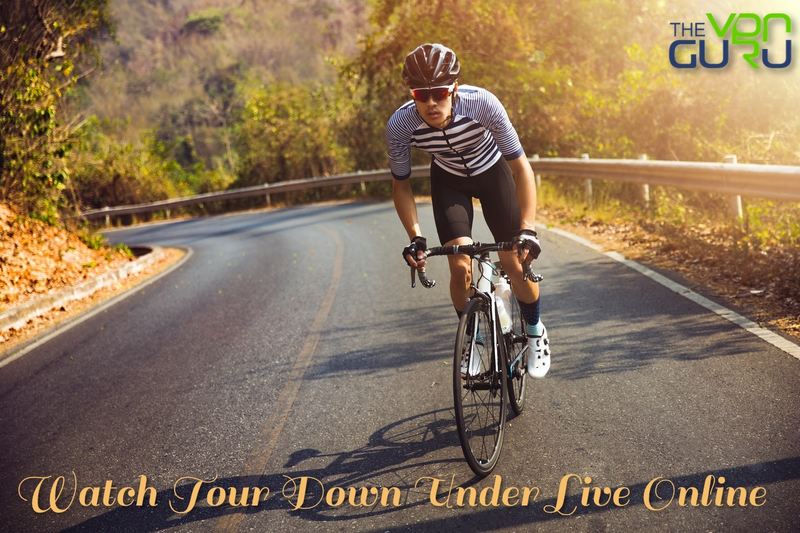 Yes. Various streaming services are broadcasting the event around the world. But not everyone can tune in as geo-blocking applies. Well, we're here to change that.
What are the channels, and how can you stream the Santos Tour Down Under 2023 live online? Everything you need is in this guide.
Watch Tour Down Under Live – Quick Steps
Time needed: 4 minutes
To stream the legendary race come January 14th, 2023, here are the steps you should follow:
Sign up with a VPN service.

Make sure it has a wide variety of server locations. We recommend ExpressVPN.

Get the VPN client.

Download and install the VPN app on your device.

Activate the VPN software.

Sign in with your username and password.

Connect to a VPN server.

Choose a server in your selected channel's country.

Launch your channel's app or website.

Sign in with your account if required.

Stream the 2023 Tour Down Under anywhere.

Enjoy a week of cycling action wherever you may be.
Tour Down Under Live – The Full Walkthrough
We have a lot to cover, and we've included everything you need to know in the following comprehensive guide:
What You Need
To unblock your chosen channel and watch the 2023 Tour Down Under, you first need everything on the list below:
A VPN subscription.
An account with any of the broadcasting channels.
A compatible streaming device.
Tour Down Under 2023 Live Streaming Channels
While you may find some websites/channels that bring you results, reports, photos, interviews, and features, there's nothing better than joining in on the live action.
The 2023 Tour Down Under made sure it spread its live broadcasting to several channels around the world. However, each channel only operates in its own country.
You see, a channel can determine your location by examining your IP address. If you're not within its country (don't have a valid IP address), you'll be instantly blocked.
This comes as very bad news considering a lot of you are in regions where no broadcasting partner is available. But that's a problem we're going to be solving later on in this article.
As for the time being, here's a list of all major Santos Tour Down Under TV broadcasters from around the world.
The problem has been addressed, and it's all in your IP address. Now, the solution lies in changing your IP to another. How? Follow the steps presented above.
Geo-Blocking Applies: VPN to the Rescue
As we mentioned, streaming services rely on your IP address to pinpoint your physical location. If you're not within their coverage zone, an instant block will befall you.
Here's an example. 7Plus is only able to show live and on-demand content in Australia and does not have international streaming rights.
Meaning that you need an Australian IP address to access what it has to offer. If you're abroad, that's exactly what you lack, and this can only result in a geo-error message that looks like this:
"Sorry, video is only available within Australia due to licensing restrictions. Error Code: MEDIA_GEO_BLOCKED."
If you want to see the Tour Down Under on 7Plus outside Australia, you need to spoof your location online. In other words, you have to trick Channel 7 into thinking you are located in Australia.
To do so, you need an Australian IP address. In fact, getting one isn't as difficult as you might think, now that we have Virtual Private Networks.
A VPN is a cybersecurity tool that safeguards your online traffic and alters your online location upon connecting to one of its servers. You get to choose where the server is, and you'll obtain an IP address according to the server's location.
For example, if the server is in Australia, you get an Australian IP address. As a result, you get access to everything Australian-restricted, including Channel Seven (7Plus).
We have reviewed quite a lot of VPN services as we follow a strict evaluation process to determine whether a VPN is credible enough or not. So far, ExpressVPN is the best when it comes to unblocking streaming channels abroad.
However, during our test, three other VPNs also made our top list. You can check them out in the table below:
A VPN Alternative – Smart DNS Proxy
Smart DNS proxies are a great alternative for those who are just looking to unblock geo-restricted content. In case you didn't know, a VPN encryption might tamper with your internet speed.
Some of you wouldn't want that when they're streaming their content in HD or UHD. You see, Smart DNS only reroutes the chunks in your internet traffic that showcase your location, resulting in unblocking dozens of channels around the world. Here's how Smart DNS works:
It doesn't encrypt your data, which allows you to stream content with minimal speed loss. However, you'll be losing the added security a VPN offers.
Smart DNS doesn't change your IP address in the process. You can navigate between your local channels and unblocked ones without losing access to any of them.
A VPN is compatible with the likes of Android, iOS, PC, Mac, and FireStick only. Smart DNS expands that device compatibility to cover platforms such as PlayStation, Xbox, Chromecast, Apple TV, Smart TVs, and Android TV.
The table above represents the top VPNs in the industry. But one factor that ensured them a place on our list is the fact that they offer Smart DNS proxies as well. It's included in their subscription.
On the other hand, there's Unlocator, which offers Smart DNS as a single package. You don't have to opt for their VPN service to get it. It's a great option for those who are looking to bypass regional restrictions and save some pennies in the process. Not to mention that Unlocator offers a 7-day free trial for you to test their service.
Santos Tour Down Under 2023 – What's Going On
The race kicks off on January 14th, 2023, and you'll expect all UCI World Teams as they're all invited automatically and obliged to enter a team into the race. Let's not forget that the Australian National Team is also in the race. For more information, check the FAQ section below:
When Will the Tour Down Under Commence?
The race begins on January 14th, 2023, with the Women's Schwalbe Classic.
Can I Watch the Race for Free?
Yes. Once you have a VPN, you can connect to an Australian server, unblock 7Plus in your region, and stream the 2023 Tour Down Under free of charge.
What Routes is the Race Taking Place in?
How Many Teams Are Participating in the Men's Race?
Aside from Australia's national team, there are 19 international ones, making it a total of 20 teams.
Santos Tour Down Under 2023 Live Stream – Wrap Up
That's all you need to know about the 2023 Tour Down Under schedule, stages, and TV channels. This year's Santos Tour Down Under is going to be as exciting as ever in its 23rd edition.
You have everything you need to stream the race live online. If you need a helping hand setting up Smart DNS or VPN, make sure to contact us in the comment section below.