Best VPN for Call of Duty Modern Warfare 2020
|
Call of Duty: Modern Warfare isn't just another yearly release for Call of Duty. In fact, the new game brings ideas to the table along with new ways to play. But you know what would make this video game a lot more enjoyable? A VPN service provider. A lot of you may ask how would a software make a game better? Well, it's an online game and it's susceptible to many online problems we face on a daily basis. That includes lagging, glitches, and of course, DDoS attacks. Well, in simple terms, a VPN helps you avoid that. But the question is, which one to use? What are the best VPNs for Call of Duty Modern Warfare? Find out in the guide below.
Best VPN for Call of Duty: Modern Warfare – Content Index
In this guide, I'll explain everything you need to know about Modern Warfare, the problems you'll encounter, what a VPN does to solve them, and what VPN to use for the process. Read on as this is the full review of the best VPN for CoD: Modern Warfare.
Call of Duty – How Modern Is the Warfare in 2020?
To be honest, some of the previous games turned to be a cliche. However, Modern Warfare puts the franchise back where it needs to be. You get a wonderful campaign, team-oriented spec ops, and a variety of multiplayer options that cater to those who love large and small scale warfare.
Although the game maintains some of the characters and locations we're familiar with, this is a completely new experience. When the announcement was made, I was excited and skeptical at the same time, eager to see how this new vision of Modern Warfare would shape up.
Based on what I saw, It's going to be epic. We got a beta took on all three platforms. Therefore, we were able to test out a variety of modes, maps, and equipment.
The best part about the new game is that whatever console you're using, you'll be able to tag along with others with different ones. However, control methods are separated so that those with a mouse and keyboard don't have an unfair advantage against Xbox and PlayStation users.
More than 33 million people saw a glimpse of the game before its release on October 25th, 2019. Now, you too can do so. Here's the first preview of Call of Duty: Modern Warfare:
Why Need a VPN for Call of Duty: Modern Warfare?
A VPN for gaming? You're darn right. VPNs can help you unlock the full potential of video games such as Call of Duty: Modern Warfare so that you take full advantage of it and enjoy it to the maximum. I'll just list them below so that you get a comprehensive look at what a VPN is capable of in terms of gaming:
Unlimited Access
Your Virtual Private Network will unblock features like side missions, extra quests, and sometimes weapons that are geo-restricted and unavailable in your region.
Geo-restrictions and blocks aren't only applied to in-game material. The game itself might be blocked in certain countries. In Russia, for example, the game won't be available digitally on PlayStation as Sony refuses to sell the game. Also, some previous "Call of Duty" games were banned in Germany for being too violent.
Technically, you can circumvent all these bans and get the games even if your country doesn't allow them. VPNs reroute your traffic to another server, encrypt it, and change your IP address. This means you'll be playing anonymously and your ISP won't know your real identity and location (IP address), which means it can't block you.
Online Security
Most of you would ask, what's might be so dangerous while playing an online game? Well, ever heard DDoS attacks? Short for Distributed Denial-of-Service, it is a malicious attempt to disrupt normal traffic of a targeted server, service or network by overwhelming it with a flood of Internet traffic.
That's where a VPN comes in. It prevents that with complete ease. That's not all. Call of Duty has been targeted before by hackers. Remember, you can use your credit card to purchase items. With a VPN, all of that can be private and protected.
Faster Gaming
Lagging is a problem any player can face if their ISP is throttling their connection. Well, you can use a VPN, hide your identity, and avoid your ISPs meddling habits once and for all.
Also, you can lower your ping time and increase download/upload speeds, thus improving the overall performance of the video game. You can now play the game without being an easy target courtesy of lags and glitches.
Best VPN for Call of Duty: Modern Warfare
Virtual Private Networks are a great way to encrypt your data and hide your online activity from prying eyes. Before we head over to the best VPN review, there's one thing I need to explain. VPNs are compatible with almost every major operating system. You can find clients for the likes of Android, PC, Mac, and iOS.
However, Call of Duty: Modern Warfare is not limited to these platforms. Most of you will get it on PlayStation 4 and Xbox One, which are not compatible with VPNs. If you want a VPN connection on these devices, you'll need to install the VPN on your router.
Now, with that out of the way, I need to answer this question: Which is the best VPN? Scroll a bit further to the south and get your answer.
ExpressVPN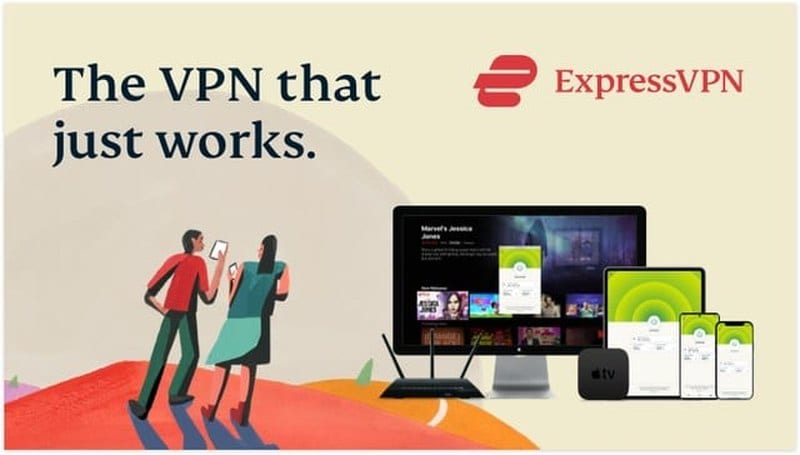 ExpressVPN has over 3,000 servers in 94 countries, allowing you to connect to any region you want and take on the best gamers. Also, you'll be able to unlock geo-restricted features from all over the world. It is compatible with the majority of devices, including iOS and Android.
Furthermore, the speed rates on offer are simply excellent, which is perfect for gamers who don't want to die when playing Call of Duty because of lag time.
This is the VPN service I use whenever I play Call of Duty: Modern Warfare or other video games like Grand Theft Auto V. It allows me to play with people from all over the world and unlock special features.
In case you're worried about DDoS attacks and hacking attempts, ExpressVPN has all the safety measures you need. It comes with a strong AES 256-bit encryption along with top-notch security protocols. So, whenever you're connected to it, you're completely safe.
Finally, ExpressVPN always offers new customers a way out in case the service did not live up to their expectations. You can ask for a full refund within 30 days of purchase. That's quite enough for you to test out what they're all about.
Pros
Large server network.
Top speed rates.
Round-the-clock customer support.
DDoS protection on every server.
Strong encryption protocol (AES 256-bit).
Five simultaneous connections.
Netflix compatibility.
Torrenting and P2P allowance.
30-day refund policy.
Cons
Expensive fees compared to other providers.
Would you like to know more about ExpressVPN? check out this review.
BulletVPN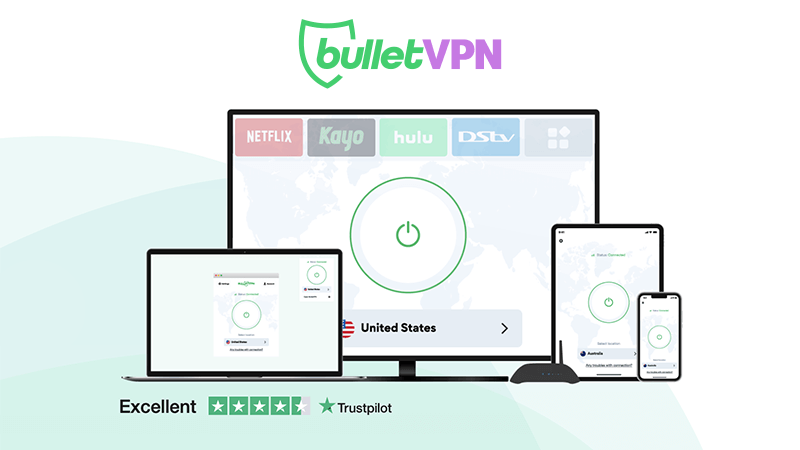 If it's good speed you're looking for, then look no further than BulletVPN. This service has quite the reputation of being a premium service, but it is mostly known for providing fast speed levels.
And with over 150 servers in 55 countries, you can use it to access any region you want. In my tests, I found this service to be up to five times faster than some rivals, with excellent download speeds all-round. That's pretty essential when it comes to online gaming, don't you think?
That's not all. If you're gathering with your friends, you can share your account with 5 other devices excluding yourself. That makes it a total of five concurrent connections per account.
Pros
A Kill Switch.
Excellent speed rates.
Allows 5 devices at the same time with a single account.
Zero-logs policy.
High compatibility with major operating systems.
Allows P2P activity.
30-day refund policy.
For the full analysis, read the BulletVPN review
NordVPN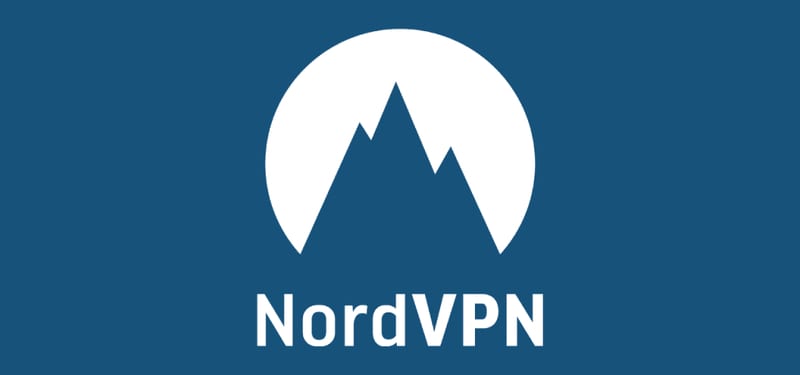 NordVPN is based in Panama, which may mean little to you until you realize that the country does not have data retention laws. This means that no one can have records of what you do online after you connect to a VPN. Not that it matters anyway, because NordVPN does not log your traffic.
This provider has one of the largest server networks in the industry, with over 5,000 servers available across 62 countries. And when it comes to security, it operates a double VPN feature that encrypts your internet activity twice, which means no one can monitor your online movements.
However, I don't recommend you use the double VPN feature while playing Call of Duty. It will cause a drop in your connection for the sake of extra security. As a result, your game might lag a bit. 
NordVPN lets you connect up to six devices per account and offers a 30-day money-back guarantee in case you want to take the service for a test drive.
Pros
Protects against DNS leaks.
Double VPN
More than 5,000 servers in over 60 countries.
Six simultaneous devices.
Free Smart DNS proxy service named SmartPlay.
30-day refund policy.
User-friendly apps for all platforms.
Cons
Certain servers are too slow.
Read the full verdict in the NordVPN review.
Best VPN for Call of Duty: Modern Warfare – Final Thoughts
Before I conclude, here are a few things you should look out for when choosing a VPN for Call of Duty: Modern Warfare or gaming in general. The more servers the company has, the better.
That will increase your chances of finding a fast connection. Speedy performance levels are also important so is having a secure and reliable connection. Finally, keep looking for handy bonus features like DDoS protection and dedicated gaming servers.
The above VPNs are all more than capable to provide with the best gaming experience, especially ExpressVPN. If you know another brand that is just as good, let us know in the comment section.
Best VPN for Call of Duty: Modern Warfare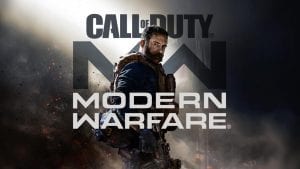 Name: ExpressVPN
Description: The fast nature of ExpressVPN's vast network ensures that console gamers from whatever region are able to enjoy good ping times and low lag, especially when connecting to servers located far away.
VPN apps

Access blocked content

Speed

Support

Refund Policy