Etisalat has remained the backbone of UAE's telecommunication infrastructure for close to forty years. The company has undergone a lot of expansion over time and has also been able to establish itself in a number of emerging markets all around the world. Despite this wide reach, the service is based in a region that has some of the toughest Internet regulation policies on earth. Even VoIP services like Skype are blocked in the UAE. This poses a huge strain not only for local users who would wish to surf the Internet without any restrictions but also to the millions of tourists who flock into the country for holiday.
These geo-restrictions also make it very difficult for expatriates who relocate to countries where the company is the leading telecommunications provider since they get forced to look for an alternative that'll allow them to surf the net without as many limits. To help counter this problem, we'd like to suggest that users look to a solution that'll cover their tracks online. We're going to have a look at what a VPN service can do for you, as well as the best VPNs to subscribe to if you're on the Etisalat network.
Best Etisalat VPN
We put plenty of VPNs to the test while browsing the web in UAE. Here are our best VPNs for Etisalat:
What A VPN Service Can Do For You
VPN stands for Virtual Private Network, and its a simple form of technology that allows you to log on to whatever site or channel you'd wish to, having worked around any restrictions that may have been set up by your ISP, governments or the sites that you'd want to access. A VPN service makes it easier to connect to these sites as a result of encryption. Once you connect to a remote server, your connection then becomes encrypted, and all the information that may make it easy to identify you or your connection gets scrapped or exchanged. With this being done, the geo-restrictive sites won't be able to figure out where exactly you're connecting from, so they'll grant you access thinking that you're based within their whitelisted regions.
Staying anonymous online has its own set of advantages. One of them is avoiding any form of cyber attacks or identity theft from hackers and spammers. A VPN will keep your personal data and connection secure, so anyone with malicious intent won't know exactly how to get to your device. A VPN service will also grant you access to sites that you normally wouldn't have been able to access based on your location. This means you'll have access to a wider variety of content than you normally would.
The Best VPNs for Etisalat
There are probably over 700 providers in the VPN market today, and a good number of them don't offer the kind of service you'd be willing to pay for. That's why we here at thevpn.guru went ahead and curated a list of the best services you could possibly go for so that you don't spend too much of your time going through them. Here's what we came up with:
1. ExpressVPN
We're really sure that a good number of Virgin Islanders are familiar with ExpressVPN, seeing that the service is headquartered in their home turf, the British Virgin Islands. The founders chose a good spot to base their company since there are really no data regulation policies that they'd be fighting against from there.
ExpressVPN provides adequate security through their 256 bit AES encryption technology, and also offers several VPN protocols, with their advice to users being that they should focus on OpenVPN. The service allows for up to 5 simultaneous connections, and with a network of 2000+ servers, users should be able to connect to a decent range of options.
ExpressVPN's service also has a customer care team that's available 24/7 and can be reached through email or direct messaging. You can sample their quality of service through their 30-day money-back guarantee trial offer. Read our full ExpressVPN review for more info.
2. BulletVPN
BulletVPN has one of the fastest servers in the industry. The provider is known for its unique service-centered and stripped-down approach to online security. You won't find a lot of the bells and whistles that make up a good number of other providers with BulletVPN.
Their network has about 150 servers in 55 countries. BulletVPN also allows up to 6 other devices to connect to their service under one username, making them one of the highest multiple devices VPNs.
With the capacity to support all those devices, BulletVPN assures its customers of security courtesy of its military-grade 256-bit AES encryption, and also openly supports users that want to use the service for torrenting. 
Finally, BulletVPN offers round-the-clock customer care support and a 30-day trial money-back guarantee. We've published an in-depth analysis of BulletVPN.
3. NordVPN
NordVPN also features on this list, and this is mainly because of its vast 4000 server network. Such a large network provides subscribers with a large pool of options, as well as a list of features that they can't find with other providers. Some of these features include double encryption, where a user's traffic gets twice as much protection compared with other providers.
The service also offers up to 6 simultaneous connections and is a multi-platform service that allows subscribers using devices based on Windows, Linux, Mac OS, iOS, and Android to connect.
With the service offering dedicated servers, users are able to choose specialized servers depending on the work they're doing online.  The NordVPN app is also quite easy to use and can be relied upon by even beginner users to navigate through. Security is standard, thanks to their 256 bit AES encryption. Take a look at all of NordVPN's features.
Final Words On The Best VPNs for Etisalat
As soon as you get either your ExpressVPN, Bullet, or NordVPN subscription, you should be able to surf the Internet without any regulations. The four providers are, in our opinion, the best VPNs for Etisalat.
Best VPN for Etisalat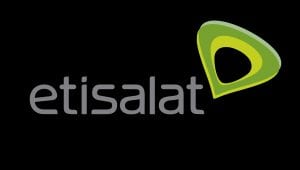 Name: ExpressVPN
Description: Not all VPNs work with Etisalat. Actually finding a reliable VPN for UAE can be like searching for a needle in a haystack. ExpressVPN is one of the few VPNs that live up to their promise.
VPN Apps

Access Geo-Restricted Content

Speed

Customer Support

Refund Policy