The Best 5 VPNs on App Store
|
Apple products are considered to be as the most stable and secure in the industry. However, even the almighty App Store isn't devoid of some dodgy apps which may lead to severe consequences once downloaded. Moreover, in today's climate of hacking and security breaches, the present security measures might not be enough. Therefore, if you want to protect your digital privacy while also accessing geo-restricted content, you must make use of a VPN.
How to Find a Reputable VPN on the App Store
There's no shortage of providers you can locate on the iTunes Store. Many providers offer dedicated iOS applications which are definitely what we're looking for here. You need to take into consideration to what features the VPN has to offer. From an easy to use software to enough options that secure your online privacy. All these features should be available in a top VPN for Mac or iOS. With that said, here's what you should look for in a credible VPN:
Latest military grade encryptions.
High-level security protocols.
Thousands of IP address that can anonymize your internet approach.
Servers around the world to unblock geo-restricted content.
Doesn't keep tabs on users.
Last Updated Yesterday


30-Day Money-back Guarantee
Unlimited Bandwidth
Apps For All Your Devices
24/7 Live Support
Visit ExpressVPN
Top VPNs on App Store
Before we begin, here's a list of the VPNs we're going to cover later on. Give them a hasty gander and read on:
Best VPNs on Apple Store
Before we begin, I need to shed some light on the VPNs included in our list. First, they're all premium. You might find other VPNs that offer their services for free, but I'd stay away from those if I were you. I'm not saying they're that bad, they just can be good for temporary use of occasional browsing. Other than that, they're not always safe to use.
We're arguing about what free VPNs can do and forgot to mention that not all VPNs are compatible with iPhone, iPad, or MacOS. However, to save you some research time, I reviewed the top 5 VPNs that you can find on the App Store. Let's go.
ExpressVPN
ExpressVPN is an all-around VPN service that can grant you all the benefits you need. It's not free and definitely not cheap, but it does come with a 30-day money-back guarantee. This is perfect for people who would like temporary free internet access. According to the App Store, this VPN has a 4.7 rating, which is considered to be over the top. If you want to see what exactly this VPN can do for you, then check below:
Up to three simultaneous connections.
P2P torrenting.
Over 136+ VPN locations.
30-day Money-back guarantee.
Optimized apps for iPhone,iPad, Mac.
Accesses Netflix with ease.
NordVPN
NordVPN is another supporter of zero-log policies. This is quite suited for anyone who uses iOS or MacOS. Ok… It's not as fast as other VPNs, but you can use its privileges on 6 devices simultaneously. Moreover, the VPN has excellent customer care through live chat, email, and even social media. It certainly deserves the 4.5 stars it gained on the App Store's ratings. More about NordVPN:
Very strong security.
Zero-log policy.
Thousands of servers.
Flexible payment options including Bitcoin.
Six simultaneous connections.
Shared IPs (both static and dynamic).
Unlimited bandwidth.
Supports P2P and BitTorrent.
IPVanish
IPVanish is ideal as it doesn't restrict BitTorrenting to just a few servers. It gained so much success that users rated it at 4.5 on the Apple Store. The VPN has over 40,000 IP addresses to switch to. Not to mention the unlimited bandwidth you get upon subscribing. The best thing I may add is that this VPN grants 10 devices access under 1 single account. How cool is that? Here more:
Seven-day Money-back Guarantee.
40,000+ shared IPs.
Maintains a zero-log policy.
256-bit Advanced Encryption.
Unlimited server switching.
Allows BitTorrenting.
Unmetered bandwidth.
Connect 10 devices simultaneously.
Multiple payment options including Bitcoin.
VyprVPN
VyprVPN is a great VPN provider that offers their customers access to the top of the line security features, a vast server park, Netflix compatibility, and decent customer service. It's simple to use and has a great software interface. VyprVPN has a lot to offer. You can tell how satisfied the users are by just looking at the 4.2 star rating. It also has the following features:
High level of speed and security.
Fast speeds.
3-Day free trial.
70+ worldwide server locations
Easy-to-use apps for iOS and Mac.
BulletVPN
BulletVPN also has apps for iPhone, iPad, and Mac. You can find their client on the App Store and use 3 devices under one subscription at the same time. Their application is efficient and simple for non-tech savvy individuals. You may worry about the ratings though as it's only 2.3, but I assure you, this one is worth your money. More about BulletVPN:
Blazing fast speeds.
Up to 3 simultaneous connections.
Military-grade encryption.
Servers in over 22 countries.
30-Day money-back guarantee.
WHY YOU NEED VPN?
Don't be too comfy just because you're using an Apple device. You high-security features won't be enough if a hacker has set his eyes on your private data. There have been incidents where security breaches and cyber attacks occurred. Most of them, of course, happened in coffee shops and restaurants where people tend to connect to public networks.
In order to protect yourself from such attempts, you'll need a credible VPN to guard your data. Once you connect to a VPN server, your traffic will be encrypted. This makes it next to impossible for anyone to try to harvest your private info. Not only that, but you'll be able to browse the web, post comments, and blog all you want without being monitored by outside parties.
On the other hand, there are a plethora of streaming applications that you can find on the App Store. You'll be able to watch the likes of Netflix, Hulu, and so many more if you get to know how to use them. By that, I mean that they're geo-restricted to their own countries. However, with a VPN, you can spoof your online location and appear to be browsing in a different country. Therefore, once you connect, you'll be able to tap into their wide range of content despite being outside their area of coverage.
Note: To be able to download the application while living outside the US for example, you need to change your App Store's region. After that, a VPN will do all the work.
Best 5 VPNs on App Store – The Sum Up
Most people go for Apple products relying on their well-known security measures. Nevertheless, that's not enough in our daily cyber struggles. Even your iOS and Mac need an extra layer of protection while connected to the internet. Therefore, I covered the top VPNs you can find on your App Store in order to elevate your security. Read what I had to say pretty well, pick your best VPN, and enjoy internet freedom to the max.
Best 5 VPNs of App Store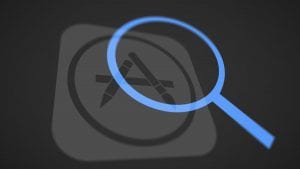 Name: ExpressVPN
Description: ExpressVPN is an all-around VPN service that can grant you all the benefits you need
VPN Apps

Access Blocked Content

Speed

Support

Refund Policy