ExpressVPN is one of the most established VPN providers on the scene. However, lately, a newcomer in the form of Surfshark has been knocking on its door. Surfshark is gaining huge prominence in the industry. But how does it fare against one of the greats? Well, according to what we've seen, SurfShark can hold its own. How? What services do these two offer? Which one will take the lead in the end? Find out in this ExpressVPN vs SurfShark comparison review.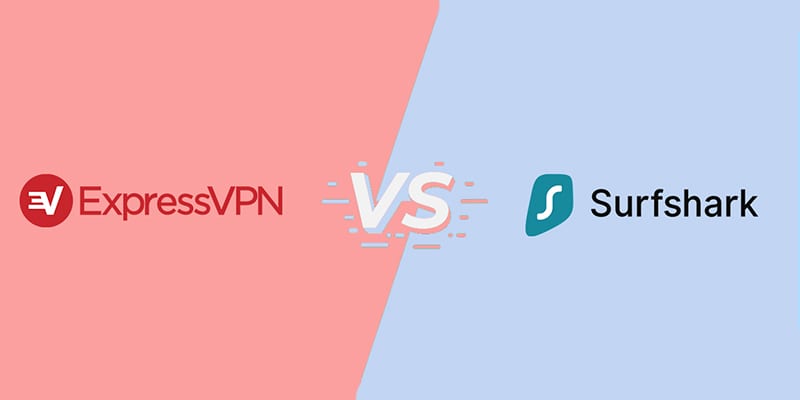 ExpressVPN vs SurfShark – Content Index
We've done a lot of comparison guides before, but none of the providers came to a tied-conclusion the way these two did. According to our evaluation process, these services offer top-notch features, along with the best security and privacy in the industry. So, with that said, here's what this comparison guide includes:
The Pros and Cons of the Two Providers
Before we dive into the full comparison review, we have to state a few features we liked and disliked about the two. However, readers will find that there are very few cons in each provider as per our research, they proved to be excellent VPNs to use. Here we go:
ExpressVPN
ExpressVPN does have a lot of advantages, but still, there are two disadvantages that we have to state:
Pros
160 server locations in 94 countries.
Torrenting/P2P support.
Military-grade encryption.
5 simultaneous connections.
Unblocks major streaming channels
30-day refund policy.
User-friendly interface
Smart DNS feature (MediaStreamer).
Browser extension.
Split-tunneling.
Cons
Slightly more expensive than SurfShark.
No free trial.
SurfShark
This VPN launched in 2017, which means its practically new. However, it turned out to be a worthy opponent to the VPN giant. Check out what we liked and didn't like about the service:
Pros
Servers in 60+ countries.
Torrenting/P2P available.
Military-grade encryption.
Unlimited simultaneous connections.
Supports major streaming channels
30-day money-back guarantee.
Easy-to-use apps.
Smart DNS proxies.
Browser extensions.
Split-tunneling (Whitelister).
Double Hop feature.
7-day free trial.
CleanWeb.
NoBorders option.
Warrant Canary.
Cons
Expensive monthly plan.
It has a lower number of servers than ExpressVPN.
Free trial requires credit card info.
ExpressVPN vs SurfShark – Apps and Interface
Both of these providers have dedicated applications for all popular platforms, including PC, Mac, iPhones, iPads, and Android. However, what really intrigued us is that Surfshark has an app for Amazon Fire Stick, which has been a major advantage in ExpressVPN's arsenal for quite some time.
Also, ExpressVPN and SurfShark offer browser extensions for Google Chrome and Mozilla Firefox, which you don't really see among other providers that often.
We went ahead and assessed both of these providers' Mac applications. First, we have ExpressVPN. When we first signed in, it was pretty clear how easy the client is to navigate through.
The connection process didn't take more than a few seconds to establish. Also, in the settings section, we were able to activate their kill switch feature, which we'll be talking about later on in the article. Not to mention the split tunneling option. This is how ExpressVPN's macOS client looks like: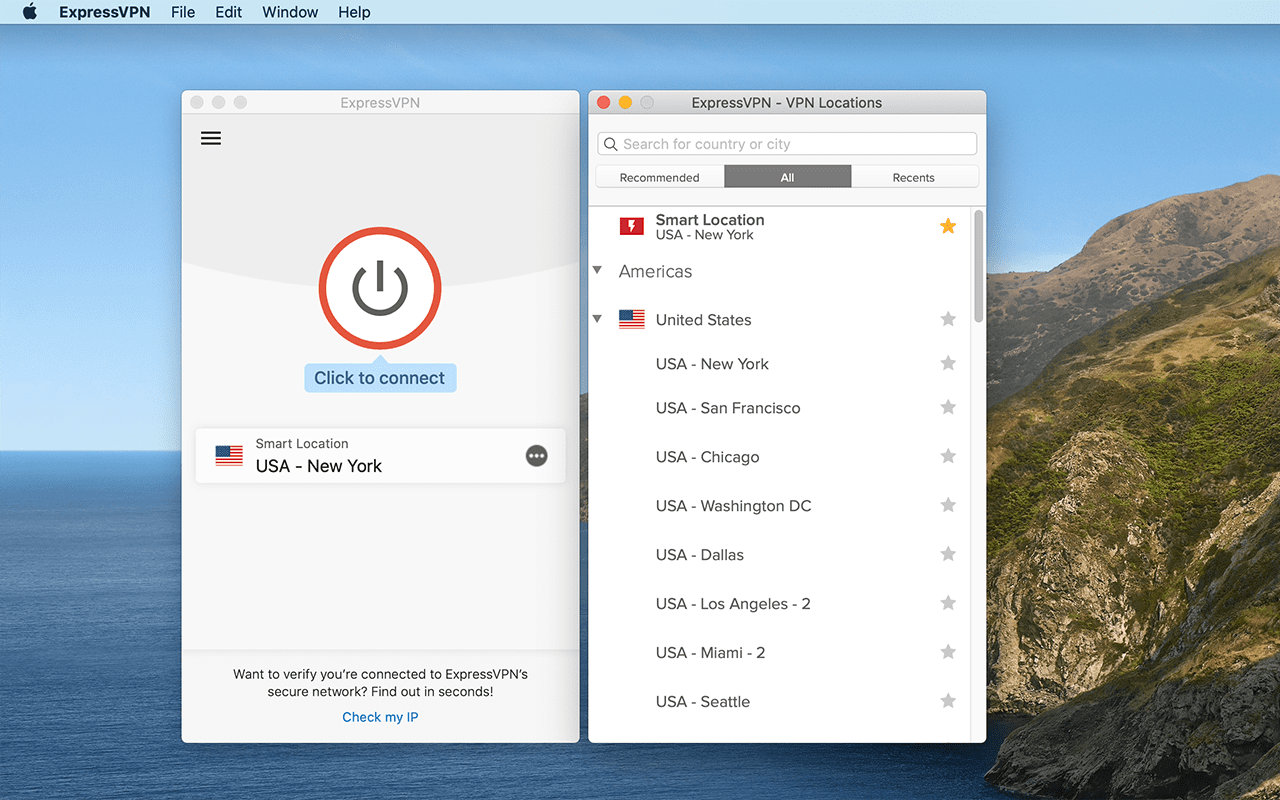 On the other hand, we have SurfShark's application that's also very easy to use. It also took us a few seconds to establish a connection, which compares well to the time it took ExpressVPN to do so.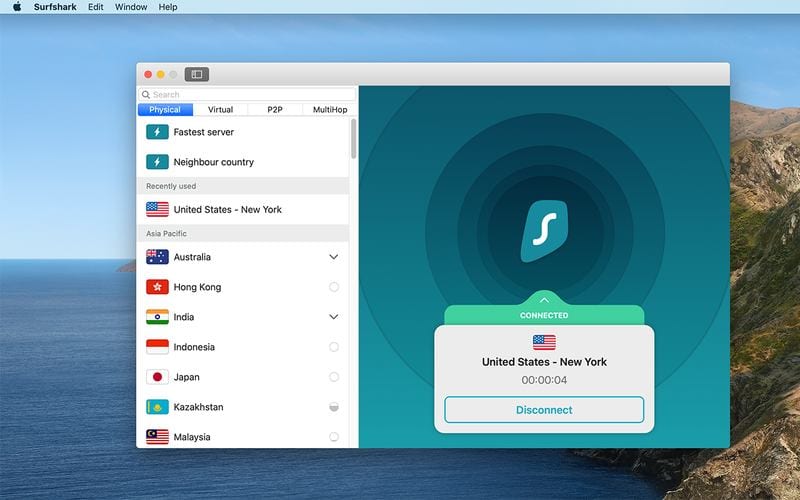 There is one thing that we were disappointed with. Despite both having amazing clients on all the major platforms, ExpressVPN fell short in one. The Android app, to be exact.
Privacy is everything and a kill switch is one heck of a tool to maintain that. However, in their Android client, it's missing, while in SurfShark, it's fully functional.
Other than that, both services provide very good/easy-to-use applications for anyone.
Simultaneous Connections
This is a question anyone should ask before opting for a VPN service. The number of concurrent connections allowed is very important if you want to share your account with other members of your family or friends.
ExpressVPN used to allow three of them, but now, five devices can connect using the same account. However, this is where it goes south for the VPN giant as the newcomer excels in this department.
Despite being new, SurfShark offers what none of the other VPNs (that we know of) offer. With a single SurfShark account, no matter your subscription, you can connect an unlimited number of devices. This gives SurfShark the win here.
ExpressVPN vs SurfShark – Server Distribution
VPNs are all about servers, and the wider the spread, the better. We took a look at how both of these VPNs compare in that territory, and what we found was pretty satisfying.
Both ExpressVPN and Surfshark have an outstanding server distribution covering most parts of the globe. But which one has more? Let's find out:
ExpressVPN
ExpressVPN has always been known for hosting one of the biggest server networks in the world. In fact, it has over 2000 servers across 94 countries. So, we can say that users won't be running out of options when it comes to server selection. Below is the full ExpressVPN server list: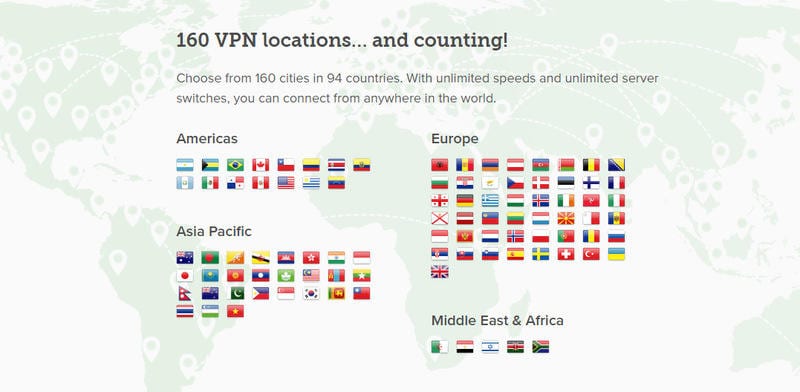 Europe
Germany
United Kingdom
France
Netherlands
Sweden Norway
Italy
Czech Republic
Luxembourg
Portugal
Bulgaria
Spain
Serbia
Switzerland
Hungary
Romania
Denmark
Moldova
Slovakia
Ireland
Slovenia
Finland
Poland
Albania
Austria
Iceland
Greece
Latvia
Ukraine
Estonia
Cyprus
Belgium
The Americas
United States
Canada
Mexico
Costa Rica
Brazil
Colombia
Chile
Argentina
Asia
South Korea
Japan
Singapore
Hong Kong
Israel
India
Malaysia
Philippines
Taiwan
UAE
Oceania
Africa
SurfShark
SurfShark has more than 1000 servers across 61 countries. The most popular destinations are in North America and Europe. However, users can find a few servers in Africa and the Middle East as well. Here's how their server list looks like: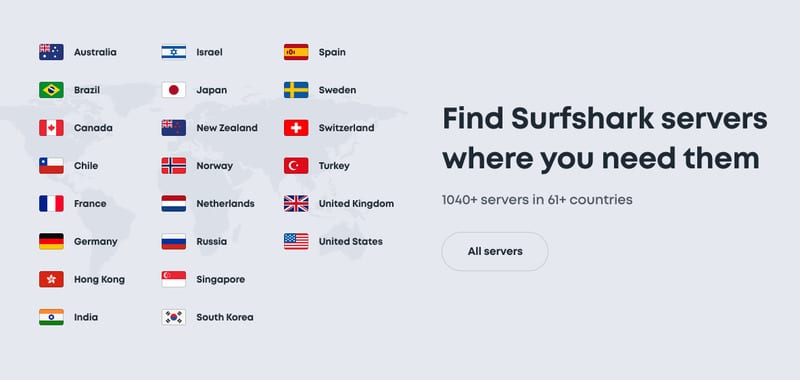 Europe
Albania
Austria
Belgium
Bosnia and Herzegovina
Bulgaria
Croatia
Cyprus
Czech Republic
Denmark
Estonia
Finland
France
Germany
Greece
Hungary
Iceland
Ireland
Italy
Latvia
Luxembourg
Moldova
Netherlands
North Macedonia
Norway
Poland
Portugal
Romania
Russia
Serbia
Slovakia
Slovenia
Spain
Sweden
Switzerland
Ukraine
United Kingdom
The Americas
Brazil
Canada
Chile
Colombia
Costa Rica
Paraguay
United States
The Middle East and Africa
Israel
Libya
Nigeria
South Africa
Turkey
United Arab Emirates
Asia Pacific
Australia
Azerbaijan
Hong Kong
India
Indonesia
Japan
Kazakhstan
Malaysia
New Zealand
Philippines
Singapore
South Korea
Taiwan
Thailand
Vietnam
We can definitely see the difference between the two in terms of server distribution. SurfShark put a really good fight. However, since it is a numbers game in this department, we have to give this round to ExpressVPN.
ExpressVPN vs SurfShark – Speed Performance
A VPN's speed is a key feature to consider. If it's not fast, it should probably be avoided. A VPN's encryption will tamper with a user's internet connection, which may ruin the browsing/streaming experience.
Both of these services were fast enough to grab our attention. However, SurfShark proved to be quite speedy, especially when we used nearby servers.
We performed a few tests to see how these two providers compare, here's what we got:
ExpressVPN
ExpressVPN is known for its fast speeds. In fact, we did not witness any buffering issues while streaming HD videos. The video quality remained the same on every server we connected to.
This doesn't give users the proof they need, but we're sure that the following test would do the job just right:
First, we tried the test without connecting to a VPN server.
As a second step, we connected to a nearby server and the results were very good. Our internet connection showed only a 7% drop. That's good considering the high-level of encryption ExpressVPN applies.
Finally, we used a distant server. We saw a 23% drop, which is considered to be a lot, but it's still very good.
SurfShark
When we started to test SurfShark's speeds, our connection was a bit down. However, that didn't affect the results. We recorded some pretty good speeds when we connected to SurfShark's servers. Here's what we got:
The first screenshot represents our connection without connecting to SurfShark.
Next, we connected to a nearby server. The closer the server is to our physical location, the better the speeds. And that's exactly what we got as we only witnessed a 2% drop.
Finally, we used a distant server to see what SurfShark's encryption would do to our speed. It did take a bigger hit, but the connection was still good. The snapshot below shows a 17% drop, which is considered to be excellent for HD streaming.
We can conclude that both services offer excellent speeds suitable for HD and UHD streaming. So, in our opinion, both ExpressVPN and SurfShark are winners in this department.
ExpressVPN vs SurfShark – Unblocking Streaming Channels
We all know that the main reason why a VPN exists is to enhance the security and privacy of users. However, based on reports, that's not actually the case.
As a matter of fact, most VPN subscribers operate with a VPN for entertainment purposes, i,e, unblocking geo-restricted channels abroad. We're talking about the likes of US Netflix, Hulu, BBC iPlayer, and the likes.
These channels examine a user's IP address to determine their location. If they're not within their area of coverage, the service terminates their access instantly.
A VPN is the perfect way to circumvent that, provided it has the ability to. Such major channels can now block VPN access, and a few VPNs manage to bypass that. So, based on a few tests, we're going to show you how ExpressVPN and SurfShark fare compared to such VPN blocks.
Netflix
First, we have to start with the most demanded channel in the world, Netflix. In this case, we're focusing on the popular US library that requires an American IP address.
Before we begin, we have to shed some light at the proxy error users will receive if they're using a not so credible VPN provider. It looks like the following: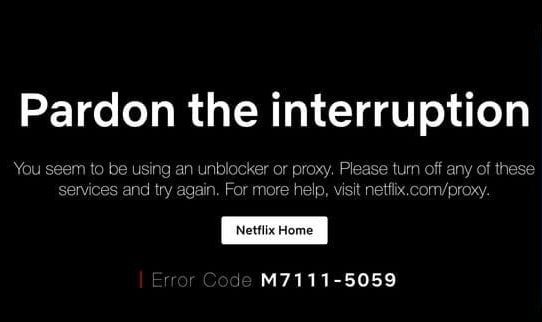 Now let's see if these two VPN providers can bypass such a restriction and access US Netflix abroad.
First, we tried an American server provider by ExpressVPN. It established a connection within seconds, and as we selected Star-Crossed (A US-only title), the video started streaming immediately.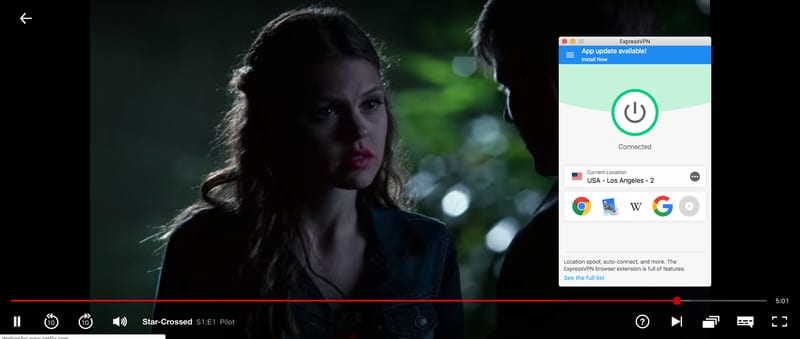 Next, we used an American server from SurfShark's list. We got the same results without even trying multiple servers. Star-Crossed was streamed without any problems in our region.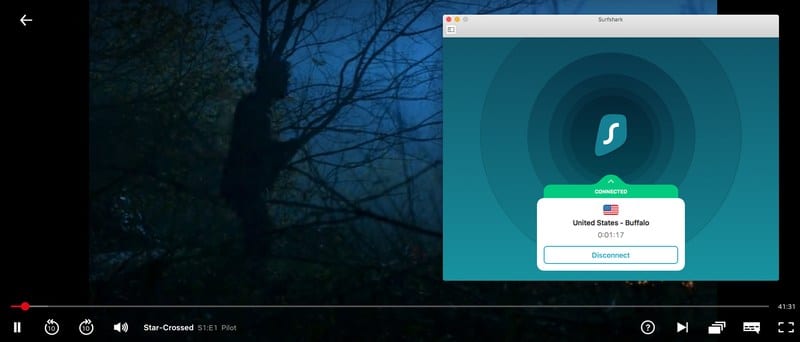 As seen above, both Surfshark and ExpressVPN have what it takes to unblock US Netflix anywhere in the world.
Other Streaming Platforms
BBC iPlayer is another top streaming service users look to unblock outside the United Kingdom. The thing is, if the streamer does not hold a British IP address, he/she is not accessing the channel's content.
We tried ExpressVPN's UK servers, and the channel gave us no problem. From our first try, ExpressVPN was able to unblock BBC iPlayer in our region.
The same goes for SurfShark as the UK server we connected to managed to get the channel to work abroad as well. In the screenshot below, you can see what we got instead of that frustrating geo-error message.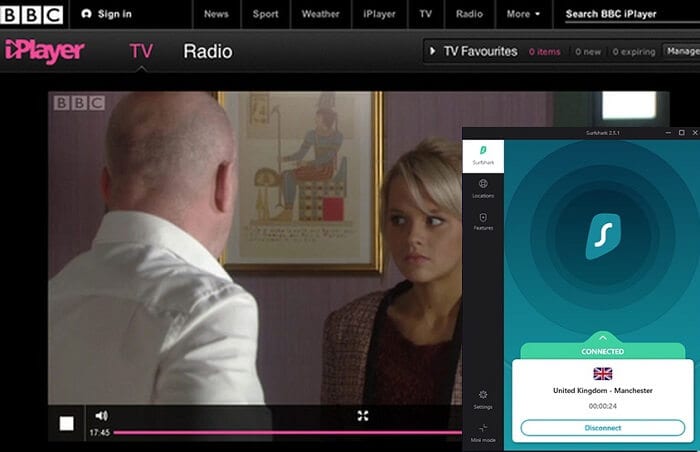 We also tested the services on other top platforms, including Hulu and Amazon Prime. While ExpressVPN shocked us with Amazon, it later unblocked it on a different server.
However, what we witnessed was excellent. Both services are able to get us all these streaming services abroad, and they're both considered as winners in this department.
Smart DNS
As you may know, a VPN encrypts your data to provide better security. But that doesn't come without a price and we're not talking about the subscription fee.
When a VPN establishes a connection, your connection speed will suffer a drastic drop, depending on how well their servers are optimized. Regardless, the drop will occur as seen in the speed test above.
If users are only looking to bypass regional restrictions, they tend to find an alternative, which is provided by some providers. It goes by the name of Smart DNS, a technology that reroutes a chunk of the online traffic that's responsible for showcasing a user's true location.
No encryption will be present during the process. As a result, they'll be streaming restricted content with minimal speed loss. Smart DNS isn't very common among VPNs, but both ExpressVPN and Surfshark offer the service within their subscription. No extra fee is required.
If you decide to use ExpressVPN, you'll find something called MediaStreamer – their own Smart DNS technology. SurfShark on the other hand, just calls it Smart DNS, so you won't have to look much.
The best thing about this is that you can configure it on almost every streaming device available, including ones that are not natively supported by VPN clients. We're talking about the likes of PlayStation, Xbox, Chromecast, Apple TV, and Smart TVs.
P2P Support
Torrenting is becoming a daily habit for most internet users nowadays. However, some countries still work against it and prevent such acts in their regions.
Also, when users download a torrent file, any other person sharing the same file can see their IP address, which compromises their identity and location.
With a VPN, users can download torrent files anonymously. Both ExpressVPN and SurfShark have P2P friendly servers. In fact, every single server users connect to within their lists, supports P2P action.
Now, we have to note that Surfshark was a bit more specific about using their P2P friendly servers. They listed a couple of servers that they consider best for torrenting speed:
The United States,(US)
The United Kingdom, (UK)
Canada,(CA)
Germany, (DE)
Italy, (IT)
Poland, (PL)
Spain, (IS)
Norway, (NO)
Denmark, (DK)
Luxembourg, (LU)
Hong Kong, (HK)
Singapore(SG)
Netherlands (NL)
Bulgaria (BG)
Belgium (BE)
Switzerland (CH)
Slovakia (SK)
Serbia (RS)
Finland (FI)
But they also added: "You may also use P2P on any other server, but you will be rerouted to our servers located in Netherlands Canada or the United States depending on your physical location."
So, in general, you can connect to any server from ExpressVPN and SurfShark and download torrents freely and anonymously.
ExpressVPN vs SurfShark – Do They Work in China?
The simple answer is yes. Both of these services do exceptionally well when it comes to bypassing the Great Firewall of China. ExpressVPN and SurfShark use their "obfuscation" technology to maximize their cloaking ability.
ExpressVPN markets it through its RAM-infrastructure servers. However, SurfShark has a special name for it – NoBorders Mode. In other words, residents in the country can instantly bypass all geographical limitations.
ExpressVPN vs SurfShark – Security
It's called a cybersecurity tool, so the basic focus is to provide the highest level of protection to customers. A VPN uses military-grade encryption to shield your data.
ExpressVPN uses AES (Advanced Encryption Standard) with 256-bit keys — also known as AES-256, which is the same level of encryption used by the US government and security experts around the world.
Also, the provider supports three protocols: PPTP, L2TP, and OpenVPN (TCP and UDP). Surfshark, on the other hand, guards your personal data by using industry-leading AES-256-GCM encryption.
Moreover, it's a big fan of the IKEv2 protocol and uses it as "default" across its iOS clients. Other apps use the same "OpenVPN (UDP)" protocol as a default. Not to mention that the newly released WireGuard is available as well.
Both of these services offer what we call split-tunneling – a technology that allows users to choose which applications can be shielded with a VPN connection. In SurfShark's case, it's called Whitelister.
Despite being very secure, there's a couple of features that Surfshark offers, giving it the win here. First, there's Double Hop, a service that reroutes user traffic through two different servers instead of one, doubling the encryption and security.
They're both great, but SurfShark, despite being new, is offering more options and features in this department.
ExpressVPN vs SurfShark – Privacy
VPNs should consider the country they wish to set up their headquarters in. Some countries have strict laws when it comes to the internet, and provides are forced to collect and submit user data to law enforcement and the government.
Coincidently, both of these services are located in the privacy-friendly shores of the British Virgin Islands, which has nothing to do with any major intelligence-sharing arrangement, i.e The Five Eyes.
Privacy is one of the main features a VPN should offer. If it cannot maintain that, it's not doing its job. When it comes to this department, both of these services conduct their businesses in a zero-logs fashion.
In other words, they don't collect users' online activities, browsing histories, or network traffic. That means there's no way any outside entity can identify whoever is using the service.
Moreover, ExpressVPN and SurfShark provide a tough kill switch that cuts off a user's internet if a sudden drop in the VPN connection occurs.
Now, all these features are important to consider opting for a specific VPN. But since they both have them, we had to dig a little deeper and perform a few extra tests on these services. That includes:
Virus Scan
In this section, we're not just targeting VPN apps. Users should always be careful about what they install on their devices. Any app can have embedded malware within it, which may compromise the device's security and data.
Even if users got it from the official App Store, hackers now have the means to disguise themselves as legit apps and take over your device once you install them.
That's why it's very crucial to test the app via a virus scanning tool in order to figure out whether it's safe to use or not. We did that with both ExpressVPN and SurfShark's applications. This is what we got:
ExpressVPN's macOS client showed green results. According to 63 credible sources, the software has nothing embedded and showed no signs of infection.
As for SurfShark, their Mac client also scored excellent results. And bases on 60 sources, the client has no malware, virus, or malicious software present.

Based on the tests we performed, we can say that both of their apps could not be any safer. The two work a lot on their products and they manage to maintain the safest tools for their customers to use.
DNS Leak Test
According to our expertise, it's always advisable to check if the VPN users are using might be leaking. There are tests performed to check for DNS and IP leaks, where users can see if their original IP address will show.
If it does, this means that the app cannot be trusted to keep the user anonymous. We tested both VPNs to see if their clients would leak any of our hidden details.
First, we gave ExpressVPN a try. Apparently, it's not leaking any of our data. In fact, the IP address that you see in the image below is the one that was assigned to us by the VPN app after we connected to a UK server, which means that no one can see out our original IP address.

SurfShark is no different. The service also showed great results when we ran the same test while connected to one of its servers in Singapore.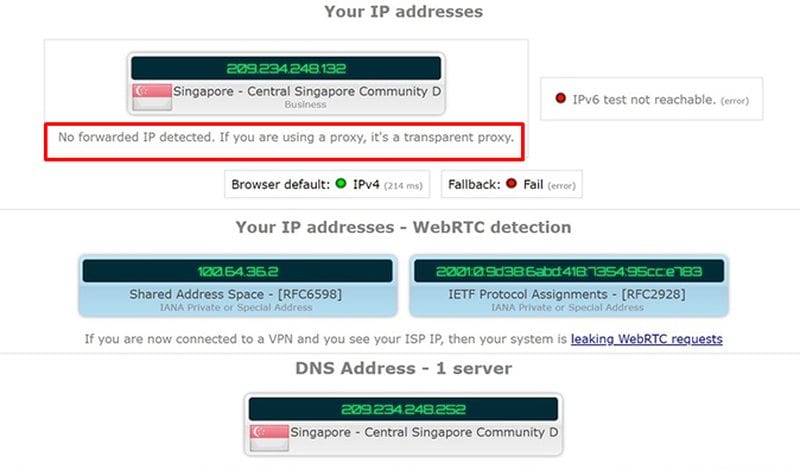 As seen above, both of these VPNs are more than capable of protecting your privacy and concealing your identity online.
Independent Third-Pary Auditing
Independent third-party auditing is one of the best ways to determine the credibility of a certain VPN. We take what security experts have to say into consideration while assessing a certain VPN provider.
When a VPN allows auditors to evaluate their service, it gives a thumbs up in terms of transparency towards their customers. Now, this part won't be long since both of these services have gone through the same tests done by the same security firm, Cure53.
Cure53 assessed ExpressVPN and SurfShark's browser extensions, giving them very good reviews. According to ExpressVPN's test, 8 issues were recorded – three were marked as "medium," two "low," and three "informational."
This is very good as none of the issues exceed the medium alert. As for SurfShark's assessment, Cure53 had to say the following:
"Cure53 is highly satisfied to see such a strong security posture on the Surfshark VPN extensions, especially given the common vulnerability of similar products to privacy issues."
Both of these services passed their independent auditing with excellent colors. So, it's safe to say that their browsing extensions couldn't be any more secure or private.
Warrant Canary
If the provider is transparent enough with its customers, this part isn't that important. However, it still comes in handy if the service received a subpoena ordering it to submit user data.
It's even illegal to inform the customers of such gag orders, which puts their privacy in harm's way. When it comes to ExpressVPN, they don't include a Warrant Canary on their website. But what they do have is full transparency regarding their no-logging policy.
In fact, a while ago, one of their Turkish servers was raided by law enforcement. Well, they found nothing as ExpressVPN does not keep logs of their users' activities.
The same applies to SurfShark since their zero-log policy is as legit as they can get. But to give customers the best of both worlds, the service offers a Warrant Canary, updated regularly on their website.
Here's what their Canary Program states by the time of writing:
"We, Surfshark, are committed to be transparent and take full control of our service. Private information of our users has never been disclosed or seized, nor have we been compromised or suffered a data breach."
As of March 12th, 2020, the service has received none of the following:
National Security letters;
Gag orders;
Warrants from a government organization.
So, rest assured, none of these services will jeopardize user privacy and identity in any way.
ExpressVPN vs SurfShark – Customer Support
Hoving around the clock customer support is one of the top ways of becoming a reputable provider. With such a service, users can always have their problems resolved whenever they reach a stumbling issue.
Both ExpressVPN and SurfShark have a noteworthy 24/7 customer support system. We contacted both services and their reply was very fast and efficient.
Their agents are very professional, solved our problems within seconds. Let us show you how the conversation went. First, we'll kick it off with ExpressVPN.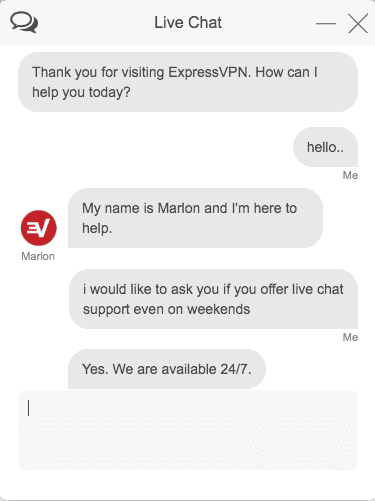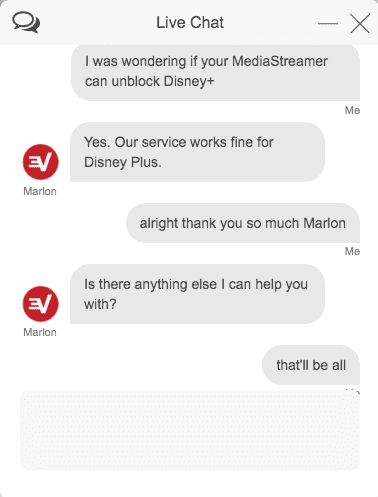 We asked them two questions: The first one considering their live-chat support and the other about their Smart DNS' compatibility with Disney+. As seen above, the answers were on point, aiding us with everything we wanted to know.
The same goes for SurfShark as their support was also excellent. Take a look at the following screenshots so that you'll have an idea about how they work:
There you have it, we found out all about their live-chat customer service and the number of simultaneous connections they offer within almost a minute.
Basically, both services excel in the customer support department, so it's very difficult to impossible to choose which one of them is the best. So, by our standards, both ExpressVPN and SurfShark are winners here.
ExpressVPN vs SurfShark – Pricing
A VPN's pricing is what most people look at before opting for the service. Some users are on a budget, so they prefer cheap subscriptions. However, no matter how low the budget is, under no circumstance, users should use a free VPN.
We compared the two services, and to cut it short, ExpressVPN is way more expensive. The provider has three different plans: monthly, six months, and 1-year.
On a monthly basis, users are required to pay a high cost of $12.95. However, if they resort for an extended subscription, they can get better discounts and gain better value from ExpressVPN.
Their 6-months plan costs $9.99/month, totaling to $59.95. And, for the best value, subscribers can opt for ExpressVPN's yearly subscription, which makes their total $8.32/month, a total of $99.95 for 12-months. However, the yearly plan also includes 3 extra months for free, marking it as a very good option.
Surfshark also offers three subscription plans, but they're definitely cheaper. There's the monthly subscription, which goes for $11.95. It is an expensive option, but still, cheaper than ExpressVPN.
There is also an annual plan (12 months) that stands at $5.99 per month. Finally, those who seek long-term plans with an 83% save-up, they can opt for their 2-year plan, which sells at $1.99 per month.

In the end, you get what you pay for. But if you can get it at a cheaper price, it's better. SurfShark offers a lot of features at a low cost, while ExpressVPN is slightly more expensive. It's based on the user's budget, think well before subscribing.
Payment Methods
SurfShark is also quite flexible with its payment methods. They have a partnership with Checkout.com and Norton Security to accept some major credit/ debit cards and none other than the PayPal option.
However, what's best here is that they also accept Cryptocurrency, which is what we advise, considering anonymity is very important nowadays.

On the other hand, we have ExpressVPN, which also offers a wide variety of payment options for users to subscribe through. They can use PayPal, Bitcoins and major credit card brands. This rivals SurfShark in terms of diversity of payment methods.
ExpressVPN has a bigger variety of options to choose from. So, in the payment department, we give the win to ExpressVPN.
Refund Policy
Before signing up for a service, users should check everything about their refund policy. Some offer a 7-day money-back guarantee, which is considered very short.
ExpressVPN and SurfShark offer a 30-day money-back guarantee for all their subscribers. Of course, that is always considered to be a good enough period to take the services for a drive before opting for any subscription plan.
If anything did not live up to the customer's expectation, he/she could ask for a full refund within 30 days of purchase – no questions asked.
Free Trial
This part is kind of tricky. Free trials are offered as a test for the service without paying a dime. However, some users started to abuse the feature and created several email addresses, resulting in its cancelation.
ExpressVPN used to have one, but apparently now, they don't. While using their Android application, the home page states that a free trial is available. But when we selected the option, it turned us down.
SurfShark, on the other hand, does have one, but with a catch. You're not allowed to use their service for free unless you submit your credit card options.
It's somehow fair, considering what we mentioned above. But if a free trial is really free, credit card information should not be asked for.
ExpressVPN vs. SurfShark – Final Thoughts
We used this article to tackle the two popular VPNs and determine which one's better. However, each of them seemed to offer excellent services.
The only difference is that Surfshark is for users who are on a budget. But if it comes to comparing what the two have to offer, we have to give ExpressVPN the win just because it has a bigger server network.
If SurfShark expands its reach a bit more, this whole verdict will change immediately. You now know everything about the two top providers. Check everything out and make your decision accordingly. If you have more questions, please drop them in the comments below.