2023 has been a blast for cricket fans with the amazing matches it's offering. Fortunately, there's more to come. The 2023 Cricket World Cup is on its way, as it hits our calendars from October 5th to November 19th, 2023.
Streaming services all over the world will take on the broadcasting role of the event. However, geo-restrictions still apply, prohibiting a lot of fans from tuning in to see the action.
Well, that's all in the past. In this guide, we'll show you how to bypass geo-restrictions and watch the 2023 ICC Cricket World Cup live anywhere.
Watch ICC World Cup Anywhere – Quick Steps
Time needed: 5 minutes
To stream the 2023 Cricket World Cup, here's what you need to do:
Subscribe to a VPN service.

We highly recommend ExpressVPN for the job.

Get the VPN application.

Download and install the VPN app on your device.

Activate the VPN client.

Sign in with your username and password.

Connect to a VPN server.

Select a server in the country where your chosen channel is available.

Launch the channel's app or website.

Sign in with your credentials.

Watch the Cricket World Cup anywhere.

Enjoy top cricket matches wherever you are.
ICC Cricket World Cup 2023 Official Broadcasters
When it comes to cricket, there's no competition that we can compare to the ICC World Cup. Not only is it one of the biggest cricket tournaments in the world, but it's also the most popular one.
Back in 2019, when the 12th edition of the championship was held, Hotstar surpassed 100 million daily users when India and Pakistan went head to head during the group stage.
Not only that, but it also harnessed 25.3 million concurrent viewers when India took on New Zealand in the semi-final.
The numbers speak for themselves, and we assume that this year's edition will do as fine as the previous one – if not better.
However, none of these numbers could've been achieved if it wasn't for the global broadcasters. Before we dive deeper into what geo-restrictions are, here are the official ICC Cricket World Cup broadcasters:
Users can also access some of the matches on 9Now (Australia) for free. Emphasis on some, as the entire competition is not available on Channel 9.
Geo-Blocking Applies
Now, let's talk about how every channel is restricted to its own country. Every time you try to access a streaming channel, it looks at your IP address before it allows you to tap into its content.
The channels listed above only work within their country's borders. So, if you don't hold a valid IP address in their respective region, you won't be able to stream the World Cup.
For example, if you want to watch the competition on Sky Go, you need a UK IP address. That's not possible for those living outside the United Kingdom, resulting in the following error message:
"The video you are trying to watch cannot be viewed from your current country or location."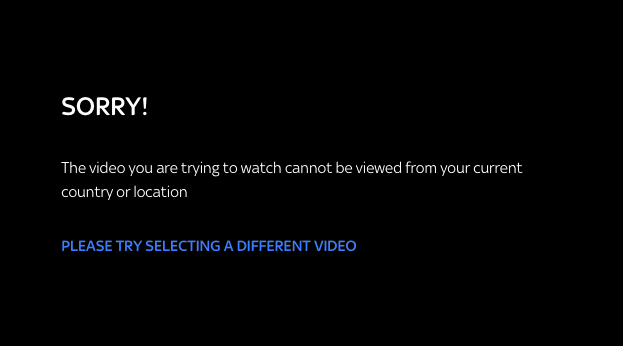 Bypassing geo-restrictions is an easy task. All you have to do is follow the steps above and you'll be watching the ICC Cricket World Cup live wherever you may be.
A VPN's Benefits
A VPN is a tool that elevates your security with military-grade encryption and privacy by hiding your IP address. It helps you change your current online whereabouts to a specific territory based on the server you connect to.
For example, if you connect to a US server, you'll obtain an IP address. That will give you full access to the likes of Willow TV and so much more US-restricted content.
The same goes for every channel mentioned depending on the server you choose. Please note that not every VPN can get the job done.
If geo-blocking is an issue you're facing, ExpressVPN can solve that in seconds. The VPN has servers all around the world, covering around 94 countries.
Not only that but when we tested its speed, we were able to watch videos without any quality loss. Everything was perfect from start to finish.
However, opinions vary among internet users. So, if you're looking for ExpressVPN alternatives, check out the table below.
How to Watch ICC Cricket World Cup in the US
Willow TV is a pay television channel that's devoted to broadcasting overseas cricket events. Willow offers 24/7 live cricket matches in the USA.
You can find the likes of the International Cricket Council (ICC), Indian Premier League (IPL), England Cricket Board, Cricket Australia, Cricket South Africa, West Indies Cricket Board, Sri Lanka Cricket, Bangladesh Cricket Board, Pakistan Cricket Board, Zimbabwe Cricket, Pakistan Super League and others.
If you want to access the channel, you'll need a cable subscription to dish, FiOS, Sling, Spectrum, Optimum, and more.
You can watch Willow TV on PC, Mac, and web-connected devices like Roku, PS3, and PS4. A dedicated Willow TV application is available on Apple TV.
How to Wach the 2023 CWC in the UK
Sky Go gives subscribers access to a greater degree of Sky channels on the go. You can watch channels like Sky 1, Sky Atlantic, Sky News, and so many more.
Sky Go has exclusive rights to the 2023 Cricket World Cup. Therefore, if you live in the UK, Sky Go is what you need.
You can stream Sky Go on iOS, PC, Mac, Android, and Xbox.
Stream Cricket World Cup in India
Disney+ Hotstar is one of the top streaming services in India. It provides live streaming and video-on-demand services available on PC, Mac, Android, iOS, FireTV, and Apple TV platforms.
For a small subscription fee, not only do you get to enjoy the best that cricket has to offer, but also thousands of titles on any of your devices.
What About South Africa?
If you're in South Africa, you should be using SuperSports. It's one of the leading channels in that region that's completely dedicated to sports events, whether live or on demand.
The channel broadcasts most of the major sporting events and leagues of association football, rugby, cricket, tennis, golf, motorsport, cycling, boxing, wrestling, and more.
It was the biggest broadcaster of rugby and cricket, but it was overtaken by Sky Sports. To be able to access SuperSports, you need to be a DStv Premium subscriber with an active PVR.
How to Watch ICC Cricket World Cup 2023 Live – Summing Up
You still have time to figure out which channel suits your needs best. Once you make up your mind, invest in a reputable VPN service provider to unblock the streaming service wherever you are.
Until October comes, there's a lot you can skim through via the channels on our list. Enjoy streaming cricket without any geo-limitations.