Do you want to Watch Optus Sport Abroad? Optus Sport is an Australian online streaming channel and the only broadcaster of the Premier League in the Land Down Under. Unfortunately, this Sport Gem is only available in Australia.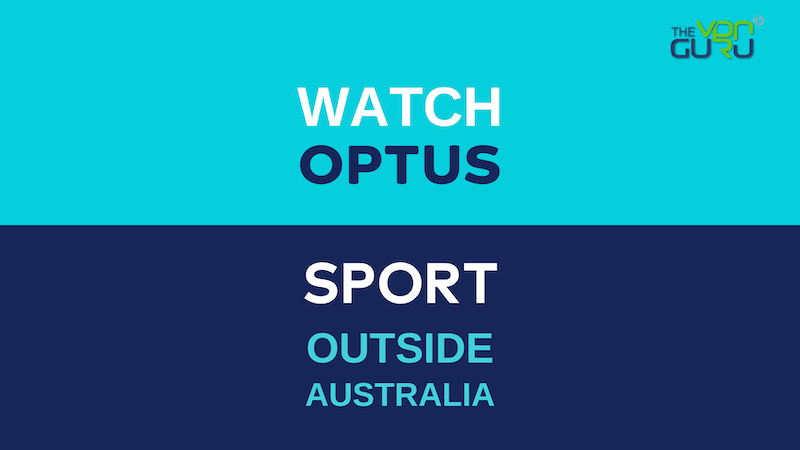 If you are an Australian ex-pat living in New Zealand, UK, Canada, or the USA, you will not be able to watch anything via Optus Sport because the channel is geoblocked abroad.
Well, that won't be the case for long. Read the following guide and learn how to watch Optus Sport anywhere outside Australia.
Stream Optus Sport Overseas – Quick Steps
Time needed: 4 minutes
We won't keep you waiting. This is how you can stream Optus Sport anywhere in the world:
Subscribe to a premium VPN service.

Not all VPNs can unblock Optus Sport. We tested a lot of providers and ExpressVPN managed to get Optus Sport to work abroad.

Download and install the VPN app on your streaming device.

You can get the app from the provider's website or directly through your native App Store.

Activate the VPN software and sign in with your account.

Once you're in, head over to the VPN server list.

Connect to an Australian server.

You'll receive an Australian IP address in the process.

Launch Optus Sport's website or application.

If you don't know how to access Optus Sport on your device, follow the comprehensive guide below.

Sign in with your Optus Sport account.

Either use your Optus ID (If you're an Optus Customer) or Optus account if you're an Optus Sport subscriber.

Watch Optus Sport wherever you are.

Enjoy top football leagues anywhere.
Unblock Optus Sport – The Full Walkthrough
But wait! There's a lot more. Check out this full guide as we have a lot more to talk about when it comes to unblocking Optus Sport.
What You Need
To get Optus Sport outside Australia, here's what you need:
A VPN subscription.
Optus Sport subscription or Optus membership.
An Optus Sport compatible device.
Is Optus Sport Available in My Country?
Optus broadcasts the Premier League exclusively in Australia and offers match-day highlights of all the games. That's why the channel has become very popular in the country.
However, the channel is not available for streaming outside of Australia, which is a problem for Australian ex-pats. The service examines your IP address to determine your location.
If it's not in Australia (Foreign IP address), you'll be blocked on the spot. In fact, these are the error messages you'll encounter while trying to access Optus Sport overseas:
"Optus Sport is unavailable in your location. We noticed that you're attempting to view Optus Sport content. Access is restricted to viewers within Australia only."
"Sorry, there was an error. Please try again."
"Sorry, the content you are trying to view is not available to users outside of Australia."
"Playback error; please reload the stream and try again."
"Geolocation Error. Unfortunately Optus Sport can not be used outside of Australia. #A05."
"Server Error Encountered."
"Unfortunately, something's gone wrong while trying to play this video. You can try again, or return home to start over. #A02."
In order to bypass regional restrictions, you have to change your IP address to an Australian one. To do so, a Virtual Private Network must be used, along with following the steps above.
VPN – A Solution to Your Online Browsing
Using a VPN has become very popular among streamers as it helps them unblock channels from all over the world. The cybersecurity tool grants you an IP address in the country where the server you connected to is located.
During the process, it hides your real IP, which anonymizes your internet browsing. And with a new IP, you get to access restricted websites/content in the selected region.
For example, if you connect to an Australian server, you'll receive an Australian IP address. As a result, you'll be able to access not only Optus Sport but the likes of SBS, ABC iView, TenPlay, Channel 7, and Channel 9 as well.
Luckily, it doesn't stop here. A VPN is so much more than a content unblocker. It's a cybersecurity tool for a reason and it has a lot of benefits:
Encrypts your data and enhances your online security.
Hides your IP address and allows you to surf the web anonymously.
Bypasses ISP throttling, guaranteeing better speeds.
Unblocks streaming services all over the world.
We tested ExpressVPN to watch Optus Sport outside Australia. The provider has several servers in Australia, and they're all blazing-fast.
Moreover, ExpressVPN has a 30-day refund policy. If the service doesn't live up to your expectations, you can always ask for your money back within the first 30 days of purchase.
Of course, there are other VPN providers you can also use to unblock geo-restricted Australian channels overseas. Take a look at the table below.
Access Denied – Your VPN is Unreliable
We're recommended 4 VPNs in the table above for a reason and we'll explain why. For quite some time now, streaming services have been blocking VPN providers from aiding users in accessing their content in unsupported countries.
The likes of Netflix, Hulu, Amazon Prime, Binge, Showmax, and, of course, Optus Sport can detect that you're using a Virtual Private Network and block your access almost instantly.
Free VPNs are the top victims of such VPN bans as they're not credible enough to bypass them. They offer below-average servers, low speeds, and not as many IP addresses as there should be.
We've tested dozens of VPNs before rounding up the top 4 in the list above. Even top reputable VPNs failed to access Optus Sport abroad.
Instead of getting our live stream to work, we got this message instead:
"Oops! Unfortunately, you are unable to access this content. This may be because you are using a VPN or trying to access the video from overseas. If you believe this is an error, please contact Optus Sport Support."
As mentioned, the VPNs recommended above have been tested to guarantee seamless Optus Sport streaming outside of Australia.
You can choose any one of them to get the job done, so all you have to do is check which one of them delivers what you need and subscribe.
How to Subscribe to Optus Sport Outside Australia (No Membership Needed)
We already acknowledged that there are two ways to get access to Optus Sport. If you're an Optus customer, you'll be able to watch the channel for free by just entering your credentials.
However, this might be a very hard task to those living abroad, so subscribing to Optus Sport is their best option. Therefore, here's how you can opt for Optus Sport without having to be an Optus customer:
First, use your VPN to connect to an Australian server.
Next, head over to https://sport.optus.com.au/
On the top right of the corner, click on Sign Up.
Now, you'll have two options. You can either use an Optus Plan or Sign Up with Optus Sport. Choose Sign Up.
Enter the necessary details, including an Australian number that you can use to verify your account.
Confirm your details, pick a payment option, and checkout. Optus Sport costs $14.99.
You now have an Optus Sport account.
Please note that you'll need to contact any relative/friend in Australia to provide a valid phone number in order to receive a verification code.
If that's not possible, there are several Australian SMS verification services like TextPlus to use. This service allows you to receive verification codes on your mobile in exchange for a certain fee.
How to Watch Optus Sport on Any Device Outside Australia
With a VPN subscription and a valid Optus Sport account, you can now proceed to watching the channel on your device. Don't know how to get it? We'll help you out:
If you happen to be using an Android movile, tablet, or Android TV such as Nvidia Shield or Sony TV, Optus Sport can be obtain by following these steps:
Open your VPN's app and connect to an Australian server.
Switch your Play Store's region to Australia and get the Optus Sport app.
Launch the Optus Sport app and sign in with your account.
Stream live sports wherever you may be.
To get Optus Sport on your iPhone or iPad, all you have to do is this:
Connect to a VPN sever in Australia.
Change your Apple Store country to Australia and download the Optus Sport app.
Activate Optus Spot and sign in.
Enjoy!
Are you using your Mac or PC to stream live sports? Then this is what you need to do in order to watch Optus Sport outside Australia:
Connect to a VPN service in Australia.
Head over to https://sport.optus.com.au/
Click on Login on the top right of your screen.
Enter your credentials.
Start watching.
Smart TVs do have an Optus Sport client and to get it, these steps are required:
Install the VPN on your router and establish an Australian VPN connection.
Switch your Smart TV store's region to Australia:
Download and install the Optus Sport app.
Launch the channel, sign in with your credentails, and enjoy.
Optus Sport made its client available on FireStick as well. To get it, this is what you need to do:
Install the VPN on your Fire TV device and connect to an Australian server.
Switch your Amazon account to Australia and download Optus Sport.
You can also sideload Optus Sport directly to your Fire Stick.
Launch the channel and sign in.
Start streaming anywhere.
Finally, Chromecast users can follow the steps below to get Optus Sport up and running on their TV:
Install your VPN on your router and connect to an Australian server.
Download and install the Optus Sport app on your iOS or Android mobile.
Launch the app and sign in with your account.
Activate your preferred video and hit the cast button.
Watch seamlessly on your TV via Chromecast.
Optus Sport Anywhere – FAQ
More questions? This is exactly what this section is for. Check out these frequently asked questions. The answers you're seeking should be below:
If you're an Optus customer, you'll be able to access Optus Sport for free as part of your package.
Do I Have to Be An Optus Customer to Watch Optus Sport?
Not at all. Non-Optus customers can subscribe to Optus Sport for $14.99. All they have to do is download the app and sign up.
Can Every VPN Unblock Optus Sport?
This is a big No. Not all VPNs are credible enough to access Optus Sport as the channel applies tough VPN banning technologies.
What Devices Can I Stream Optus Sport On?
You can stream Optus Sport on the following devices:
iOS
Android
PC
Mac
Apple TV
Smart TV
Android TV
Chromecast
Xbox
Fire Stick
What Sports Do I Get to Watch on Optus Sport?
When it comes to Football, Optus Sport is the place to go. Here is what you can watch on the channel:
Euro2020
Premier League
UEFA Nations League
Copa America
J.League
Barclays Women's Super League
Does Optus Sport Require an Australian Phone Number?
Yes. To sign up for the service, you'll need to submit an Australian Mobile Number in order to receive a verification code.
How to Unblock Optus Sport Outside Austalia – Watch Live Online with VPN
Football is probably the most-watched sports competition, not just in Australia, but around the world.
Now, with the guide provided above, you can unblock Optus Sport outside Australia and watch the football season live online. Let us know if everything worked out for you in the comment section below.