Wimbledon 2023 is due to begin on Monday, July 3rd, 2023, and finish on Sunday, July 16th, 2023, at the All England Lawn Tennis & Croquet Club. The legendary tournament is on its 136th edition, and every tennis fan is excited to see Novak Djokovic and Elena Rybakina as the defending champions. One problem, though: Not everyone can stream the event due to geo-restrictions.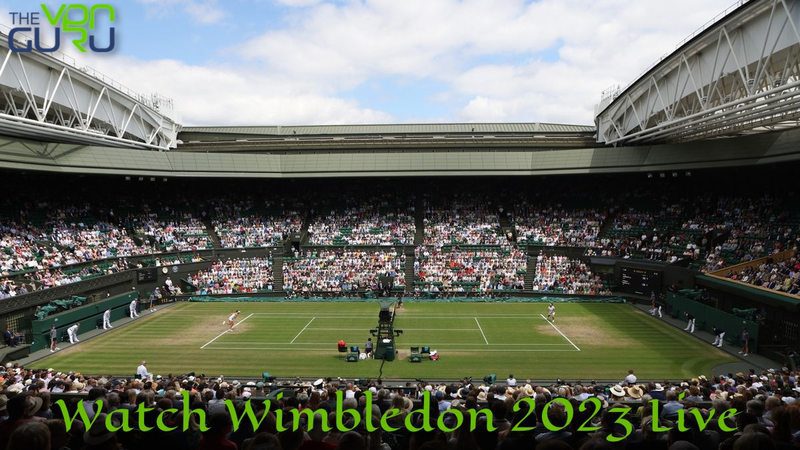 In other words, despite having dozens of official broadcasters around the world, a lot of users won't be able to access them due to their location and copyright agreements.
Well, we beg to differ. In this guide, we'll show you everything you need to watch Wimbledon 2023 live anywhere. So, get your grunts ready, and scroll down.
Watch Wimbledon 2023 Live – Quick Guide
Time needed: 4 minutes
Streaming the upcoming Wimbledon Championship is an easy task. All you need to do is follow the steps below:
Subscribe to a VPN service.

For a wide variety of server locations, make sure to check ExpressVPN.

Get the VPN application.

Download and install the VPN client on your Android, iOS, PC, or Mac.

Open the app and sign in.

Enter your username and password.

Connect to a VPN server.

Choose a server in a country where your selected channel is available.

Launch the channel's app or website.

Sign in with your account if any login process is required.

Watch Wimbledon 2023 Live.

Enjoy one of the biggest Grand Slams wherever you are.
Watch Wimbledon 2023 – Full Guide
We have more. For additional information about Wimbledon and geo-restrictions, make sure you go through this comprehensive walkthrough:
What You Need
If you want to watch the 2023 Wimbledon, you must first have all of the following:
A VON subscription.
An account with any of the channels (Subscription may be required).
A compatible streaming device.
Wimbledon 2023 Streaming Channels
Back in 2019, Wimbledon Championships on ESPN averaged 877,000 viewers, which is a huge number and an increase from previous years.
This shows how popular the sport is in the United States. However, users all around the world can stream the event, as many countries have official Wimbledon 2023 streaming services. The full list is below:
Did we miss a channel in your country? You can check the full list of Wimbledon 2023's official broadcasters by visiting the event's main website.
Global yet Restricted
Please note that the aforementioned channels cannot be streamed outside their respective countries due to licensing agreements that forbid unauthorized streaming. Unless these countries have bought rights to stream these channels, they will remain blocked overseas.
Alright, so basically, you're dealing with what we call geo-blocking. Services and channels use such a defense mechanism to protect their content (copyright reasons).
Channels won't allow you to access their content if you don't reside within their coverage area. But the question is: How do they know where you are? Easy, by examining your IP address.
The following error represents what BBC iPlayer shows you if you try to watch Wimbledon from outside the UK:
Before we get to the unblocking process, we have to show you what geo-blocking is. We tried to watch the 2017 edition just to catch up on the tennis action, and this geo-error message popped up:
"BBC iPlayer only works in the UK. Sorry, it's due to rights issues."
Please note that we're not in the United Kingdom, which is why BBC iPlayer blocked our access. However, with a Virtual Private Network, such geo-issues (See what we did there?) won't exist anymore.
All you have to do is follow the steps provided above, and you'll be watching the 2023 Wimbledon Championship wherever you may be residing.
Watch Wimbledon 2023 – The VPN Solution
A VPN reroutes your traffic to make it appear as if it's coming from a different location. That, of course, depends on the server you connect to.
Once the connection is established, the VPN enhances your security with military-grade encryption and gives you an IP address in the country where the server is.
As a result, along with complete security and anonymity, you get to access exclusive online content in that region no matter where you are.
Back in 2015, the BBC began blacklisting VPN IP addresses. Even when connected to a VPN server in a different country, you could potentially encounter an error message that informs you of your inability to access the channel.
This explains why you should always seek a reputable VPN that's a history of unblocking the channel you are after, especially BBC iPlayer.
After testing out a couple of VPN providers, I have come to the conclusion that ExpressVPN is at the top of the game.
You don't have to worry about geo-restrictions with this VPN subscription. ExpressVPN is well-known for its strong unblocking abilities, including removing the restrictions imposed on UK's BBC iPlayer.
How to Stream Wimbledon 2023 Online using Smart DNS
A Smart DNS enables users to access services, websites, and channels that are regularly blocked as a result of regional blocks. Essentially, a Smart DNS is way quicker than a VPN. So, you might enjoy this tool's streaming speeds a whole lot faster.
However, a Smart DNS provides neither encryptions nor data protection. A Smart DNS is a great alternative to unblock geo-restricted sites. It's not as secure as a VPN, but it does the unblocking job perfectly. This is what you need to do in order to watch Wimbledon 2023.
Obtain a free 7-day trial once you sign up with Unlocator.
Now, all you have to do is follow these videos/setup tutorials.
Configure your Smart DNS on the device you're using for streaming content.
Visit the BBC website or head on over to the BBC IPlayer app.
Having done all that, you can now watch Wimbledon 2023 free live online.
Unlocator is this innovative technology that was originally designed to bypass geo-restrictions and help users to content that is not available to them.
It worked invisibly for me; BBC iPlayer was magically unblocked for me. The price is also very affordable, and budget-tight clients would appreciate an unblocking tool of this sort.
The Wimbledon 2023 – FAQ
We have more to discuss, considering several inquiries presented by our readers. Make sure to give the next section a quick read:
When Will The Wimbledon Begin?
The championship kicks off on Monday 6 July 2023 and rounds up on Sunday 16 July 2023
Who Are the Defending Champions?
Novak Djokovic and Elena Rybakina are the defending champions in the Men's and Women's singles, respectively.
Can I Watch Wimbledon 2023 for Free?
Yes, you can. Multiple streaming services are broadcasting the event for free, including BBC iPlayer.
Can I Watch Wimbledon 2023 on Kodi?
Yes, you can. If you're a Kodi user, you can install the iPlayer add-on and stream the Wimbledon live for free.
Does BBC iPlayer Have an App I Can Watch on?
BBC iPlayer has a dedicated app on any device you wish to stream its content on. Those include:
PC
Mac
PS3
PS4
Xbox
Amazon Fire TV
Samsung Smart TV
Sony Smart TV
LG Smart TV
Android
Roku
Now TV
iPhone
iPad
Apple TV 4
Chromecast
Stream Wimbledon 2023 Free Live Online – The Bottom Line
This year's edition of Wimbledon promises to be full of excitement. Thanks to Smart DNS and VPN, there are many ways to watch Wimbledon 2023 live online for free. Which one are you going to pick? Let us know in the comment section below.