Watch TVNZ outside New Zealand – Unblock in Australia
|
TVNZ is a free streaming channel based in New Zealand. It offers on-demand and live shows such as My Kitchen Rules, Grey's Anatomy, MasterChef, and more.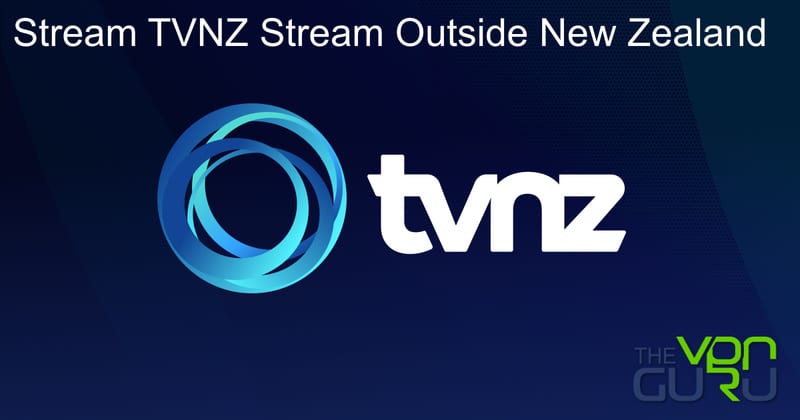 However, TVNZ is geo-blocked outside New Zealand. In other words, you can't stream its content in countries such as Australia, South Africa, UAE, USA, UK, Canada, or Germany.
Geo-blocking has been an issue for quite some time now, but we're here to help. In this help guide, you can find instructions on how to watch TVNZ outside New Zealand.
Unblock TVNZ Anywhere – Quick Guide
Time needed: 5 minutes
Despite having one of the toughest VPN bans in the industry, we managed to unblock TVNZ with ease using BulletVPN. This is what you need to do:
Subscribe to BulletVPN.

You can do so through their website or directly from the app.

Download and install the BulletVPN app on your device.

There are clients for Mac, iOS, PC, Android, as well as Fire Stick.

Open the BulletVPN App.

Sign in with your BulletVPN credentials, and connect to a server in New Zealand.

Launch TVNZ's website or app.

If you don't already have the TVNZ app, we've included a step-by-step guide on how to do so.

Start streaming top shows, series, and sports wherever you are.
An In-Depth Walkthrough
Despite being able to unblock TVNZ using the steps above, there's a lot more to learn about the channel in terms of content, compatibility, and unblocking alternatives.
What You Need
Before you proceed, make sure you have everything in the list below:
TVNZ account.

BulletVPN subscription.
A TVNZ-compatible device.
Good internet connection.
How to Create a TVNZ Account?
Creating a TVNZ account is a very easy process, and it's totally free. Here's what you need to do:
Connect to a VPN server in New Zealand. (If you don't have a VPN subscription, follow these steps).
Head over to https://www.tvnz.co.nz/.
On the top right of the screen, click on Log In.
Next, choose Sign Up.
Fill in the required information, check the "I Agree to the House Rules" box, and click on Sign Up.
You've successfully created a TVNZ account. Now, choose the titles you like so that TVNZ can recommend some others.
TVNZ – NZ for a Reason
The NZ part in the name refers to New Zealand, which gives users an idea of where the channel is only available. Yes, TVNZ is only available to those who reside in the country.
In other words, no one living abroad can access its content. This is called geo-blocking, a defense mechanism applied by streaming channels for copyright reasons.
Streaming services examine a user's IP address to determine his/her location. If it's within their area of coverage, the user is not getting in. The service requires an IP address in New Zealand, which only residents in the region hold.
Any attempt from outside New Zealand will result in the following error message:
"Whoops! Seems like you're trying to watch from outside of New Zealand. Our videos are only available to watch within New Zealand due to rights issues."
Another error pops up when you try to sign up or log in from abroad. This is what it looks like:
Looks like you are trying to access our site from outside of New Zealand. We only allow login and sign up from within New Zealand.
Thanks to today's technology advancement, obtaining a New Zealand IP address overseas has never been easier. With a Virtual Private Network, the channel will be accessible within seconds. Scroll a bit further to the south and find out how you can do so.
What a VPN Can Do
By using a VPN, you can change your streaming device's IP address to one that is of New Zealand. The VPN allows you to connect to a wide variety of servers around the world.
Once you establish a connection, the VPN encrypts your data (Enhanced security) and hides your IP address (Extra anonymity), replacing it with one in the country where the server is based.
As a result, you'll be able to access any restricted website/channel in the area. For example, if you connect to a server in New Zealand, you'll receive an NZ IP address.
With that, you'll be able to watch the service's content no matter where you physically reside. Now, aside from unblocking content, a VPN has a lot more to offer:
Cloaks your IP address, which anonymizes your browsing activities from any prying eyes.
A credible VPN provides user-friendly apps

that can be installed on

PC, Mac, iPhone, iPad, Fire Stick, and Android.
VPN provides you with additional security and privacy while browsing the Internet by encrypting all of your traffic.
Bypassing your ISP's throttling, allowing you to stream content without having to suffer from speed losses.
According to our thorough tests, BulletVPN is the only VPN provider we were successfully able to use in order to watch TVNZ outside New Zealand.
It's not that easy, and most VPNs we tried failed. If you want to check other top providers for New Zealand, take a look at the table below.
An Alternative – Smart DNS
While a VPN is an easy way to unblock TVNZ overseas, it still has some cons we have to address. The software might cause speed loss as the traffic takes a longer route to reach its destination.
However, BulletVPN optimizes its servers to prevent that from happening. Based on our tests, they do deliver excellent speeds.
Still, some devices don't support VPN apps, which requires an alternative. Enter Smart DNS – a technology that reroutes some of the traffic without applying encryption.
Also, it doesn't change your IP address, which allows you to navigate between your local channels and unblocked ones simultaneously.
Configuring Smart DNS on your device might be harder than using a VPN, but BulletVPN made it very simple. Here's what you need to do:
Sign up with BulletVPN.
On their website, follow the setup guides based on the platform you're using.
Restart your device.
Launch TVNZ's application and start watching.
BulletVPN has a 1-day free trial if you wish to try their service out. However, once the trial is over, you can also benefit from a 30-day refund policy.
In other words, you have enough time to test what this provider has to offer before committing to any of their subscription plans.
How to Install TVNZ on Demand App on Any Device Overseas
Now that you have created your TVNZ account and got yourself a BulletVPN subscription, let us show you how to stream the channel's content on any device you may be operating:
VPN Compatible Devices
Viewing TVNZ's content on Android-based devices is very easy. If you have an Android mobile, this is what you need to do:
Open the BulletVPN application.
Sign in with your credentials and connect to an NZ server.
Change your Google Play region to New Zealand and download the TVNZ app.
Launch TVNZ and sign in with your account.
Start streaming top content in NZ wherever you are.
When it comes to desktop devices, things become a bit easier:
Activate the BulletVPN application and sign in.
Connect to a New Zealand server.
Open your preferred browser and head over to https://www.tvnz.co.nz/.
Log in with your TVNZ account.
Start binging.
If you have an iPhone or an iPad, the following steps should be taken:
First, activate your App Store and change your region to New Zealand.
Download the TVNZ application.
Open BulletVPN's app and connect to an NZ server.
Launch TVNZ, log in with your credentials and start watching.
If you have a TV that belongs to the Sony, TCL, Philips, and Toshiba Smart TV's families, follow these steps:
Launch BulletVPN's app and connect to a server in New Zealand.
Switch your Google Play region to New Zealand and download TVNZ.
Open the TVNZ app and sign in with your credentials.
You can start watching now.
Smart DNS Compatible Devices
TVNZ Anywhere – FAQ Department
The guide above has everything you need to watch TVNZ abroad. But there are more questions that we need to shed some light on, especially if you're new to TVNZ.
Can I Watch TVNZ in Australia?
TVNZ only operates in New Zealand. If you want to stream its content in Australia, you should use either VPN or Smart DNS provided by BulletVPN.
Can I Watch TVNZ in the USA?
No, the channel is not available in the US due to licensing rights. However, with VPN or Smart DNS, you'll most definitely be able to get TVNZ in the US.
Is TVNZ a Free Streaming Service?
Yes, it is. All the content on TVNZ can be streamed for free.
Do I Need a TVNZ Account to Stream Content?
Yes. You can't stream on-demand or live content if you don't have an account.
Can I Watch TVNZ on Amazon Fire Stick?
Unfortunately no. There's no official TVNZ application on FireStick, nor can it be sideloaded.
TVNZ outside New Zealand – Final Words
This guide is the ticket that will allow you to bypass geographic restrictions and watch TVNZ outside New Zealand.
All the steps are easy to follow. However, if you need any help with anything, don't hesitate to drop us a line or two in the comment section below.