2020 has been a very unexpected year so far, and it has a couple more weeks yet to surprise us. Speaking of unexpected, Anthony Joshua is returning to the ring after a year away in a title defense against Kubrat Pulev. This weekend (December 12th, 2020), the fight will go down at Wembley's SSE Arena in London, UK. Joshua's title defense was delayed due to the Pandemic, but now, it's happening. Now, the question is, where to watch it? Leave that to us. Here's how you can watch Anthony Joshua vs. Kubrat Pulev live online.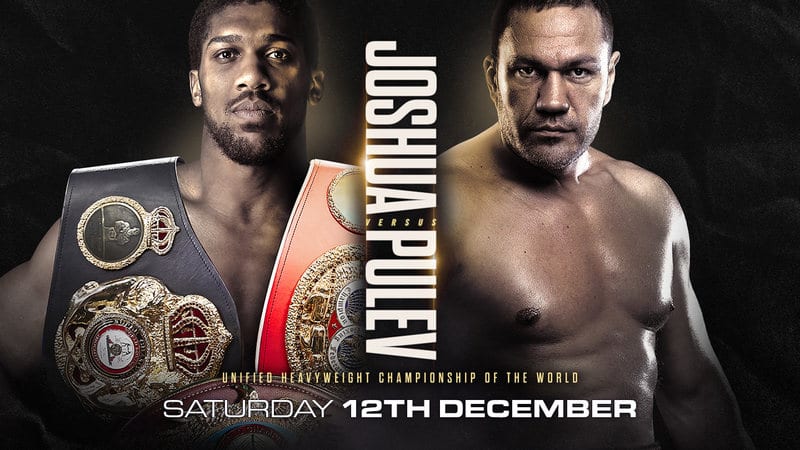 Anthony Joshua vs. Kubrat Pulev – Streaming Channels
Streaming boxing matches can be very daunting as so many channels around the world broadcast specific matches in their region. With that much of a variety, fans around the world might not be able to figure out where to follow up with their favorite boxers.
Anthony Joshua's return is going to be epic, especially since he's facing a fierce boxer in the form of Kubrat. Now, you already know that, but we had to state it in order to show how important it is to stream the match live and not miss a single jab.
With that said, here are the channels broadcasting Saturday's Joshua vs. Pulev fight, live online:
Sky Sports Box Office
This is not new. In fact, every single Joshua fight has been broadcasted through Sky Sports Box Office in the United Kingdom.
Sky has been dominating the streaming industry for quite some time now. The channel agreed to show 20 fights each year until 2021 from Matchroom Boxing, including ones featuring James DeGale, Kell Brook, and, of course, Anthony Joshua.
If you're a Sky subscriber, you instantly get access to Sky Go, which alone eats up about 0.5% of the entire world's traffic. That's totally understandable, considering Sky has more than 12 million subscribers in the UK and Ireland alone.
However, watching the fight defers here as a different app should be downloaded instead. Users should download the Sky Go Box Office application in order to stream Joshua vs. Pulev on their devices.
The best part about this is that anyone can watch this event, provided they live in the UK or Republic of Ireland. No Sky or Virgin subscription is needed. Users can simply visit the Sky Sports Box Office's website and purchase the event directly for £24.95.
Yet again, a Sky Sports Box Office account is needed to complete the process. It's very easy to create, and once done, you'll be able to stream Joshua vs. Pulev live via your PC, Mac, NOW TV Box, NOW TV Smart Stick, iPhone, iPad, Android phone, and tablet.
DAZN
DAZN is the second broadcaster on the list for today, which might be the most convenient in this situation. The channel (pronounced Da-Zone) is growing like no other sports service around the world, harnessing over 8 million subscribers around the world ever since its launch back in 2018.
Boxing is popular in European countries, but it's very rare to find a channel that covers that. With DAZN, it's now possible and with complete ease. Even in the US, residents had HBO and Showtime to watch huge fight cards along the way.
There's also ESPN – the channel that is the sole broadcaster of UFC in the United States. But now, with HBO out of the way, DAZN has all the potential to compete in the country.
Alright, let's talk about what the channel has to offer in terms of boxing. DAZN provides more than 100 fight cards per year, including bouts featuring Canelo Alvarez and Anthony Joshua.
The best advantage DAZN subscribers get is the fact that it costs nothing extra to watch such bouts. If you have a subscription, you get to watch the match – period: no PPVs and no long-term cable contracts.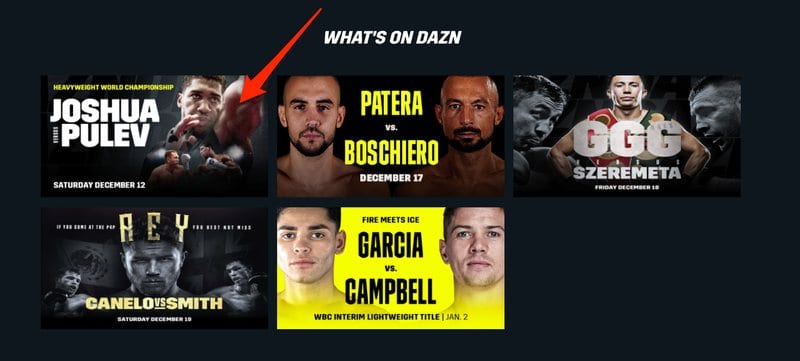 Basically, DAZN is available in 9 countries, where each one gets its own subscription price and content. Luckily for Matchroom Boxing fans, the fight is available in all supported countries.
Here's where DAZN is available and the cost of its subscription:
The United States: ($99.99/Year, $19.99/Month).
Canada: ($150/Year, $20/Month)
Japan: (¥1,750/Month)
Spain: (9.9999€/Year, 9,99€/Month)
Italy: (€9,99/Month)
Austria: (119,99€/Year, €11,99/Month)
Switzerland: (12.90CHF/Month)
Brazil: (R$37,90/Month)
Germany: (119,99€/Year, 11,99€/Month)
If you're a new subscriber, you get a 30-day free trial, allowing you to watch Joshua vs. Pulev live for free on your iOS, Android TV, Apple TV, Xbox, Chromecast, Roku, PC, Mac, FireStick, PlayStation, and Android.
One Problem Though – Geo-Restrictions
We have so many options to watch the fight. However, what we have is limited to our physical location. In other words, our current whereabouts dictate what we get to access online.
It's what we call geo-blocking, a defense mechanism used by streaming services to restrict user access based on their location. That's primarily for copyright and licensing reasons.
When we speak of Sky Sports Box Office, we're referring to residents of the UK and select EU countries. When visitors from abroad try to purchase the event, they'll notice that they're not able to.
The channel examines their IP address to pinpoint their location, blocking them almost instantly if it doesn't match the ones within its area of coverage.
The same goes for DAZN, which has a wider expansion in terms of countries. But still, anyone outside the 9 supported countries will not be able to access the channel from the start. All they'll get an error message similar to this: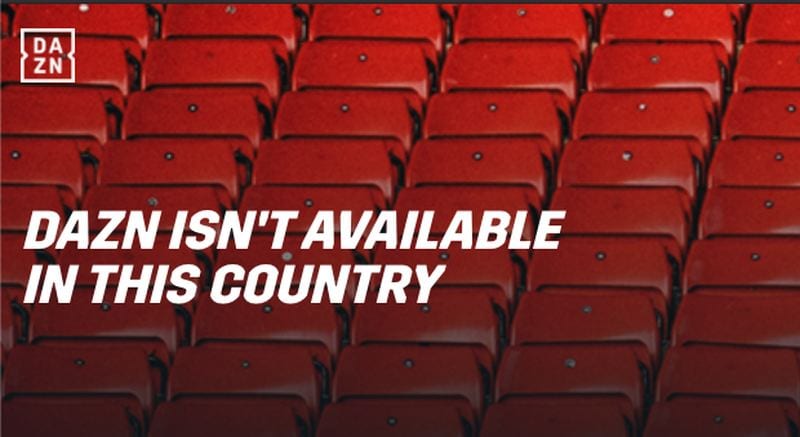 A GPS spoofing application will have no effect on the outcome above. It's all in your IP address, and we'll show you how to change that later on in this article.
Stream Joshua vs. Pulev Live Anywhere
Geo-restrictions might be ruining your access to a spectacular Saturday clash, but we're here to help you overcome that. All you need is a location spoofing tool, not a GPS, but a Virtual Private Network.
A VPN is a cybersecurity tool used to enhance a user's security using military-grade encryption and the latest identity masking techniques. When a connection is established, users' data gets encrypted, making it next to impossible for any hacker to get a hold of their private information.
On the other hand, a VPN hides the users' IP address and replaces it with a temporary one based on the country where the connected-to server is located. For example, if the server is in the United States, you'll receive an American IP address, granting you full access to whatever is restricted to that region – DAZN included.
The same goes for Sky Sports box office, provided you connect to a server in the United Kingdom. so, let's sum it up with a simple phrase. Just connect to a server where the channel is available, and you'll be watching Joshua vs. Pulev wherever you may be.
The Steps
The task is simple, and we're going to list everything you need to do below:
First, subscribe to a VPN service. We highly recommend ExpressVPN (A huge server network with blazing fast speeds).
Download and install the VPN application on your device. You'll find compatible apps on Android, iOS, PC, Mac, as well as FireStick (Some providers).
Next, activate the app, sign in with your credentials, and open the server list.
Select a server based on the channel you wish to watch the fight on:

UK server for Sky Sports.
US server for DAZN (You can select any server in the 9 supported countries).

Wait a few seconds for the connection to take place and check your IP address using this tool.
Now, launch the selected channel's application or website.
Watch Joshua vs. Pulev live anywhere in the world.
That's it. Just follow the steps above, and you're there. You don't have a lot to do, and the task is pretty simple.
VPN Recommendations?
VPNs are all over the app stores, but we have to note that not all of them are worth investing in. First of all, stay away from free ones, they're not safe, and they deliver very poor performances, especially when it comes to speed and server network.
Second, a lot of premium VPNs aren't credible enough to unblock the likes of DAZN due to the newly developed VPN banning mechanism. According to our strict evaluation process, we found that ExpressVPN, along with a couple of others, is exactly the provider you need for the task.
They deliver fast speeds, provide huge server networks, and enhance security/privacy to the max. Not to mention that they were able to unblock almost every single channel we tested them with. It's up to you to check, and here's a list of the top providers to help you out even more.
Are You Using Kodi?
If you're a Kodi user, you can also watch the fight on the popular platform effortlessly. All you need to do is install the DAZN add-on, subscribe to the channel (If not already subscribed), and watch the Joshua vs. Pulev bout.
Here's how you do it:
Activate the Kodi App.
Head over to Kodi Add-ons.
Select My Add-Ons followed by Install from Repository.
Next, click on Kodi Add-on Repository.
Choose Video Add-ons.
Tap on the DAZN Add-on and hit install.
Return to the Kodi Home Screen. Activate the DAZN channel.
Sign in with your username and password. If you're not subscribed, you'll have to do it first.
Stream Joshua vs. Kubrat live on your Kodi app.
Please note that a DAZN add-on works the same way the actual app and website do. It applies geo-blocking, so a VPN must be used as well. Just connect to a server in one of the nine supported countries, and you'll be able to watch Joshua vs. Pulev live wherever you may be.
Anthony Joshua vs. Kubrat Pulev
On December 12th, 2020, Anthony Joshua will defend his WBA, IBF, and WBO heavyweight titles when he faces off against Kubrat Pulev in an outstanding homecoming clash.
The best part about this is that, despite the pandemic, there are going to be fans inside the SSE Arena in London, England. The return of fans to boxing in the UK for the first time since lockdown is quite exciting, harnessing over 1,000 tickets in sales.
There's a lot on the line here. If Pulev wins, he'll take the heavyweight titles from Joshua. However, if Anthony wins, he doesn't just get the bragging rights, but such a convincing win for the unified champion could set up a series of money-spinning bouts with Tyson Fury in either London or Las Vegas.
That's not all. While the fight itself is enough to fill your weekend with some boxing action, what's on the card will give a better taste of what we already have.
Anthony Joshua vs. Kubrat Pulev
Lawrence Okolie vs. Nikodem Jezewski
Martin Bakole vs. Sergey Kuzmin
Macaulay McGowan vs. Kieron Conway
Qais Ashfaq vs. Ashley Lane
Florian Marku vs. Jamie Stewart
Again, this is going to be an exciting match, considering the odds. In case you didn't know, Pulev has only lost once, 28-1, to another victim of Joshua: Wladimir Klitschko.
So, the question is: Will Pulev has the same fate as the man who defeated him back in the day? We don't know yet. We have to tune into the fight on December 12th, 2020. There's a lot to catch on, including the undercard within the heavyweight division
How to Watch Joshua vs. Pulev Live Anywhere – Final Words
The fight between Joshua and Pulev at the SSE Arena in Wembley on Saturday night is going to be epic. With so much at stake, you have to make sure you're able to stream it live online.
We gave you everything you need. Now, you know where you can find get the match on your screen and how exactly can you stream it in any country. Just don't forget to tune in on December 12th, 2020, to see Joshua and Pulev in this ultimate clash of titans.
Who do you think will win this fight? Share your predictions in the comment section below.