How to Watch NBA on Apple TV Live – All You Need to Know
|
I'm a basketball fan who owns an Apple TV. At first, I had some problems finding a streaming service to watch the upcoming NBA season. That's not all when I did find one, it turned out to be available in the US only. I got blocked instantly – the audacity. Don't worry, it didn't take long before I got around it. Guys, with a VPN, you can bypass all these restrictions. That's why I want to share my experience with you, avid NBA streamers. Take a look at this guide, find out what services offer NBA live on Apple TV and how to get them outside the US.
Channels Streaming NBA on Apple TV
If you plan on watching the NBA season on your Apple TV, then you're in luck. You might not be aware of this, but the quality of streaming services on your Apple TV puts the cable to shame. Thankfully, basketball fans are well catered for in terms of the abundance of channels streaming the NBA games. With that being said, here's some of them:
NBA League Pass
Well, we're talking about NBA no? Then what better way to stream it than the sport's official streaming service?
NBA League Pass is considered the best option to stream live and on-demand matches on a plethora of devices. You can literally watch any game in the on-going season, in full, with both home and away commentary.
If you're not an avid NBA fan and just looking for highlights, that's also provided 30 minutes after a match is over. You can benefit from their condensed game rewatch feature. It is an amazing way to watch entire games in about 12 minutes.
You might ask if it's worth your money. Well, I'd say it is if you're really a fan of the sports. You have two types of subscriptions, League Pass and Premium League Pass. If it's not obvious already, the Premium subscriptions offer more features including classic games and condensed game options.
League Pass can be purchased for USD$32.99/month while a Premium plan goes for USD$38.99/month.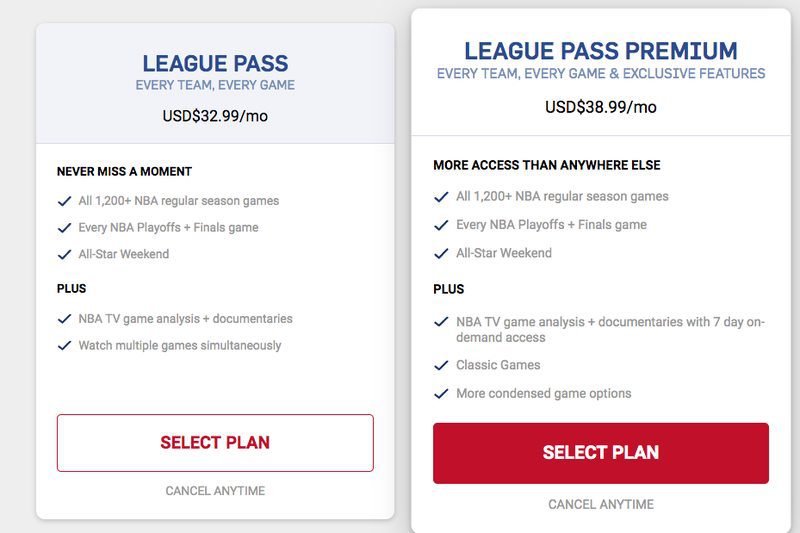 If you wish to stream specific matches, you can always subscribe to their
1-day plan
. It'll cost you
USD$6.99
.

One more thing you should consider. If a cable provider has the rights to broadcast a game, NBA Game Pass will be subject to blackouts. Luckily, you can get around NBA blackouts with ease with the use of a VPN. After that, you'll be able to stream live matches on Apple TV.
Sling TV
With Sling TV, you can get most (if not all) of your favorite channels for a very cheap price. If you subscribe to either their Orange Plan or Blue one, you get access to the likes of ESPN and NBC Sports. These channels are mostly the main broadcasters of NBA games in the United States.
However, if you want the best of both worlds, you can choose the Orange+Blue plan for a less monthly fee and get access to all their channels combined. As I mentioned, the prices are very cheap, check them out:
Orange: 25$/month.
Blue: 25$/month.
Orange+Blue: 40$/month.
One more thing, this is very important to NBA fans, if you pay an extra 5$, you'll be able to access NBA TV on whatever device you're using. That's great don't you think. Get all the games you desire for only an extra 5$ a month.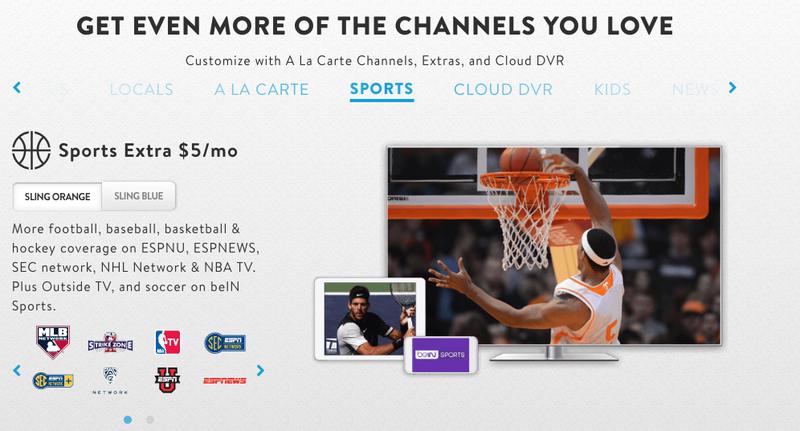 Once you make up your mind and choose a subscription, you'll be able to stream any NBA game live on your Apple TV.
PlayStation Vue
If you're looking for another robust application on Apple TV to watch your NBA matches, search no more, PlayStation Vue is what you want.
Sony's own streaming platform will elevate your live TV streaming experience. Not trying to be biased or anything, but I got a subscription to PS Vue a while ago. You can't imagine the extent of content you'll be able to get. I mean you can stream local news, live sports and TV channels based on your subscription.
However, if you subscribe to their Access plan, you won't get NBA TV. You need Core or the other plans to access NBA games on PS Vue.
The prices are a bit expensive, but you'll be getting what you pay for in the end. Here's a quick look:
Access: $44.99/month.
Core: $44.99/month.
Elite: $59.99/month.
Ultra: $79.99/month.

Hulu Live TV
With this service, not only do you get access to Hulu's streaming library, but you also can watch your favorite live sports, news, entertainment, and so much more.
Hulu is a streaming giant in the United States. However, it can do better if you upgrade your subscription to Hulu+Live TV. All you have to do is go to your account, change the plan, and pay $44.99/month.
That way, you'll get access to NBA TV and a plethora of other premium channels all in one place. Take a look below and find out what you'll be unlocking with a Hulu Live subscription.
FUBO TV
Let's conclude our list with none other than FuboTV. This service brings you all the sports any fan would need. Forget MLB, NASCAR and the likes, our main focus here is NBA, and basketball is what you shall receive.
With a 54.99$ as a monthly fee, you'll get access to dozens of channels including Fox Sports, beIN Sports, NBC Sports, and of course, NBA TV.
Don't worry about spending your money in vain. The service is very reliable and I personally encourage to make use of it. However, if you're still concerned, I'm happy to tell you that Fubo offers a 7-day free trial. Take its service out for a test drive and give the final verdict before the trial ends.
Now, take a quick gander at what this streaming platform offers in terms of channels straight to your Apple TV.

How to Watch NBA on Apple TV Using a VPN
There's something you need to know before you can sink your teeth in all the basketball games. All the services above are available in the US only. Therefore, you need to use a VPN to circumvent the geo-restrictions imposed on the channels and access their content while abroad.
With a VPN, you can tap into servers based in different countries where the channel you're trying to get is located. It reroutes your connection through the private tunnel it creates. Connecting to that server provides you with an IP address valid in the region where the server is located. As a result, you'll be able to get all the content this specific IP allows you to. Below you'll find the more benefits a VPN has to offer.
Ultimate Anonymity: With a Virtual Private Network, you get to encrypt your data, information, and online activities from prying eyes.
Maintain Connection Speed: VPNs can speed up your Internet connection and prevent ISPs from throttling it.
Bypass Regional Blocks: With VPNs, you get to bypass geo-restrictions imposed on content all over the world.
Avoid Blackout Restrictions: By using a VPN, you can spoof your true location. This will help allow you to get around those annoying blackouts.
The Steps
Out with the benefits and in with how to access the services outside the US. Don't dwell, I'll show you how to unblock US channels abroad in the following:
Picking a credible VPN is the first thing to do. Check ExpressVPN out and sign up to their service.
With a new account ready, download their VPN client and set up the VPN straight on your router. Why you may ask? Because Apple TV is not VPN-compatible.
Once installed, sign in with your VPN account and connect to a US server.
You now have a US IP address and surfing the web as an American resident.
Launch your selected channel on your Apple TV after connecting to the internet of course.
Enjoy NBA Playoffs, on-demand classic matches, and All-Stars live wherever you are.
ExpressVPN offers features that elevate your internet experience. We're talking about security, privacy, great speeds, and more. Not to mention that it keeps no logs of its customers' activities. In my opinion, is a must-have for anyone with an Apple TV who is looking for security, privacy and bypassing geo-restrictions. If you want to know more, make sure you check out the table below.
Watch the NBA on Apple TV
We expect nothing less of an entertaining and intriguing NBA season packed with drama. Now that you know the schedule, and the many ways you can watch the NBA, you can watch NBA games on Apple TV effortlessly. Make sure to tell me which service you set your eyes on and how good it turned out to be in the comment section below.