German television needs no introduction in terms of content. As for German channels, Joyn (previously 7TV) is a gem for local content consumers as they get to stream the best that television has to offer. However, only German residents get to benefit from that privilege.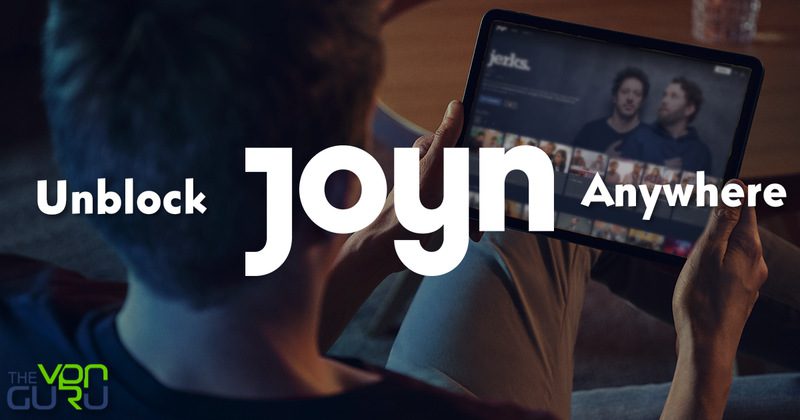 Joyn is a popular channel, but it's geo-restricted to German residents only. Anyone living abroad has no access to any title the channel has within its arsenal.
Well, that's about to change. If you're an avid streamer, here's how you can unblock and watch Joyn anywhere you may be.
Unblock Joyn Anywhere – Quick Steps
Time needed: 4 minutes
In theory, streaming geo-restricted content might seem like a hard task. However, in reality, it's actually pretty simple. All you have to do is follow the steps below:
Sign up with a VPN service.

Choose a VPN with fast German servers. We recommend using ExpressVPN.

Get the VPN application.

Download and install the VPN application on your Android, iOS, PC, and Mac.

Activate the VPN software.

Sign in with your username and password.

Connect to a German server.

Once connected, you'll receive a German IP address.

Launch Joyn's website or application.

Sign in with your account if needed.

Watch Joyn anywhere.

Enjoy top shows and movies wherever you may be.
Get Joyn TV Outside Germany – The Full Process
The channel has it all, but not everything comes for free. If you want to watch all of the channel's content, you have to register for Joyn+.
We did give you the necessary steps, but if you want to dig deeper into how we got there, the entire process is presented in this review:
What You Need
To unblock Joyn outside Germany, you'll need everything on the following list:
A VPN account.
Joyn+ subscription for full access.
A compatible streaming device.
Joyn: Geo-restrictions Apply
Joyn launched back in 2019, offering hundreds of titles to residents in Germany. Throughout the years, the channel saw a huge spike in popularity as it harnessed more than 7 million users.
With incredible shows, excellent documentaries, and blockbuster flicks, the service rose to the top in no time. However, all this gained popularity is strictly among German residents as the service is blocked outside Germany.
Due to copyright agreements, Joyn (previously known as 7TV) cannot provide any type of broadcaster to international consumers. It applies geo-blocking, in which it examines your IP address to determine your location.
Once it figures out that you're located outside its coverage area (Germany), one of these error messages might pop up:
"There's no Joyn here yet. Therefore, unfortunately, you cannot use the media library from here and watch live TV. If you have an account, you can manage it here."
Hoppla! Da ist etwas schief gelaufen. Kannst du andere Videos auch nicht mehr anschauen? Keine Panik, der Kundenservice hilft dir writer.

"Joyn ist im Ausland nicht oder nur begrenzt nutzbar. PLUS+ bietet dir innerhalb der EU und dem EWR mehr Möglichkeiten."

Don't fret. If you follow the steps above, you won't see these error messages at all. Just go through them one by one, and you'll be watching live television anywhere you may be.
A VPN's Benefits
Having a VPN has become a necessity for anyone who surfs the internet regularly. This online tool shields your data the moment you connect to one of its servers.
Using military-grade encryption, the VPN adds an extra layer of security, prohibiting any third party from intercepting what's sent or received.
Aside from that, a Virtual Private Network conceals your online presence by hiding your IP address and replacing it with one based on the server's location.
In other words, you'll receive an IP address in a country of your choosing, allowing you to browse the web anonymously and access geo-restricted content in your region.
For example, if you connect to a server in Germany, you'll receive a German IP address. As a result, you'll be able to watch channels such as Magenta, ARD, as well as Joyn wherever you may be.
When it comes to easy unblocking procedures, you'll need a reputable VPN service. Our top recommendation goes to ExpressVPN, which according to our tests, checks every box in terms of performance and features.
Our evaluation included top names in the VPN industry, which is why we have more options for you to choose from. You can check them out in the table below.
Get Joyn on Any Device, Anywhere
You don't need to subscribe to the channel or create an account to watch its content. Of course, that doesn't include Joyn+.
Once you connect to a VPN server in Germany, you can watch what the service has to offer on any compatible device by following these steps:
Android
Joyn can be accessed on both Android smartphones and TV (Sony). To get the app, however, outside Germany, connect to a VPN server in Germany and switch your Google Play Store's region.
Once that is done, launch the app, sign in if required (Joyn+), and enjoy.
iOS
If you're using an iPhone or iPad, your task is pretty simple. Just connect to a German server and change your Apple Store region to Germany.
Once you do that, download the Joyn application, launch it, sign in (If necessary), and start watching live content wherever you are.
Smart TV
Desktop
The easiest way to stream Joyn is through a PC or Mac. All you need to do is connect to a German VPN server, open your browser, head to Joyn's website, and start streaming.
Unblocking Joyn – FAQ
Do you have more questions regarding Joyn? Make sure you go through the following FAQ section:
Joyn's live streaming feature can be accessed without having to create an account or subscribe to the service. It's completely free. However, not all the channels are available. To access those, you have to subscribe to Joyn+.
What's the Difference Between Joyn and Joyn+?
Joyn allows you to stream select live channels for free with ads. Joyn+ gives you full access to the channel's content (exclusive films and series) as well as an ad-free experience.
What Channels Can I Stream on Joyn?
If you're watching Joyn for free, you get access to the following channels:
MTV
Deluxe Music
TLC
Primetime
N24 Doku
Tagesschau24
ARD-Alpha
CNBC
Bloomberg Television
Deutsche Welle
KiKA
nick
RiC
Welt
WDR
NDR
MDR
BR
SWR
rbb
hr
Radio Bremen TV
SR
ARD – Das Erste
ZDF
ProSieben
Sat.1
kabel eins
ZDFneo
DMAX
ProSieben MAXX
SIXX
Comedy Central
Sat.1 GOLD
ZDFinfo
kabel eins Doku
Tele 5
HGTV
arte
3sat
phoenix
One
ServusTV
Eurosport 1
Sport1
Red Bull TV
Joyn
Now, if you've subscribed to Joyn+, not only do you get to watch all of the aforementioned channels but also the ones below:
ProSieben FUN
Sat.1 Emotions
kabel eins Classics
Discovery Channel
Animal Planet
Eurosport 2
Sport1+
eSports1
Wettercom TV
Can I Watch Joyn in the EU without a VPN?
EU residents can have access to the channel without using a VPN. However, they can only do so by opting for the Joyn+ subscription.
What Devices Can I Watch Joyn on?
You can stream Joyn on Android, iOS, PC, Mac, Android TV, Samsung Smart TV, and Chromecast (Screen Casting).
Mission Accomplished – Joyn Us for Limitless Streaming
Yes, Joyn can be easily unblocked if you follow the steps above carefully. You don't need anything else – just a Virtual Private Network.
However, if you need anything else, including additional information about Joyn, make sure to contact us by dropping a line in the comment section below.