How to access banned apps and torrenting websites in India? This is one of the most asked questions on the internet. Torrenting is considered one of the best ways to download free content and Chinese apps have taken over the app stores.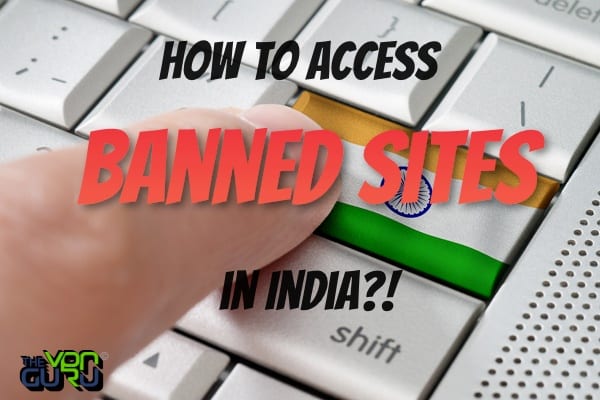 However, in India, popular torrenting sites like The Pirate Bay, Kickass Torrents, and TorrentHound are banned. On the other hand, Chinese apps like TikTok, WeChat, Alibaba's UC Browser, and more ceased to operate in the country.
If you rely on torrenting and such apps a lot, you can still get access to them even if you are in the highly restrictive land of Bharat. Just follow the steps in the guide presented below and you'll have yourself an unrestricted downloading experience in India.
Disclaimer: Neither the owner of this site nor the editor of this article nor any of the linked VPN service providers condone downloading, sharing, seeding, or peering copyright material. International laws prohibit such activities which are illegal. This guide serves educational purposes only.
Access Torrent Sites and Blocked Apps in India – Quick Guide
Time needed: 5 minutes
India has become a highly restrictive country, especially when it comes to websites that go against copyright laws. Also, it has waged war again dozens of Chinese apps in the country.
We're not going to take too much of your time and jump right to the solution. Here's how you can unblock torrenting websites and get banned apps in India:
First, you must subscribe to a VPN service.

This is not a job for a free VPN. So, pick a credible such as ExpressVPN. 

Download and install their VPN application.


Top premium VPN providers have dedicated clients on Android, iOS, PC, and Mac.

Activate the app and connect to any server outside India.


The closer the server is, the faster your connection speed.

Wait a few seconds for the connection to take place.

To ensure you're completely anonymous, visit this IP Verifier and check if you got your new IP address.


Head over to whichever torrent website or launch your respective App Store.

Download any torrent file or app in India, risk-free.
Unblock Torrent Websites and Banned Apps in India – The Full Guide
You now have everything you need to get banned apps and access torrent websites in India. However, when it comes to these two, there's a lot to learn, which is why we made this in-depth guide below:
What You Need
Here's everything you need in order to complete your task:
A reputable VPN provider (Premium).
Your preferred browser.
A torrenting app (uTorrent for example).
iOS or Android device (To get banned apps).
Torrents Are Blocked in India – A Look at the Matter
India is trying to stop piracy, which can hurt the revenue of some concerned companies. Imagine if you can download a show that's available on Hotstar. This way, the company will lose its subscribers who resort to free websites instead of its services.
That's just half of it. The government is working with local ISPs and the directives of the court to ban these websites. Recently, reports state that by just visiting these blocked URLs, you may get a three-year jail sentence. To add a bitter cherry on top, you'll be fined around Rs 3 lakh. In case you're wondering, that's more than 4000$.
If you try to access torrent websites or any other type of blocked URL in India, you'll receive this warning message:
"This URL has been blocked under the instructions of the Competent Government Authority or in compliance with the orders of a Court of competent jurisdiction. Viewing, downloading, exhibiting or duplicating an illicit copy of the contents under this URL is punishable as an offence under the laws of India, including but not limited to under Sections 63, 63-A, 65 and 65-A of the Copyright Act, 1957 which prescribe imprisonment for 3 years and also fine of up to Rs. 3,00,000/-. Any person aggrieved by any such blocking of this URL may contact at [email protected] who will, within 48 hours, provide you the details of relevant proceedings under which you can approach the relevant High Court or Authority for redressal of your grievance."
Be extra careful and take proper precautions before you start downloading torrents in the country. I'm going to help you out for the sake of maintaining internet freedom. Read on and find out.
Chinese Apps – Indian Presence No More
Following a border clash between India and China, India's ministry of electronics and information technology (IT) saw that the apps were "prejudicial to sovereignty and integrity of India, defense of India, security of the state and public order."
The ban includes top Chinese products, including ByteDance's video-sharing app TikTok, Tencent Holdings' WeChat, and Alibaba's UC Browser, along with 50+ more.
India also banned Tencent's popular video game PUBG, which had a huge success in the region. However, in June 2021, the PUBG ban was lifted and everyone in the country could download the game again.
What is a VPN?
A Virtual Private Network is a security tool that hides a user's identity while accessing the internet. This robust internet software creates a safe and encrypted connection over a less secure network, for example, coffee shops, airports, and the likes.
When connected with a VPN, your traffic will be protected through high-level security procedures and tunneling protocols. As a result, whatever you send or receive will be shielded from any possible cyber threat that might target your device.
On the other hand, a VPN also hides the user's identity. It does that by cloaking their IP address and replacing it with a temporary one as long as a connection is in place.
By concealing your online identity, you get to appear to be browsing from any country in the world depending on where the server you're connected to is located.
Hence, you'll be able to access the region's exclusive online content despite being physically abroad. Not only that, but you also avoid your ISP's monitoring habits.
Let me give you an example. If you connect to a server in the US, you get to access US Netflix, Hulu, HBO, and USA Network. If the server is located in the UK, BBC iPlayer, Channel 5, and Sky Go are the content you get. See? It's pretty simple.
Best VPNs to Access Banned Torrent Sites in India
Picking the right VPN for the job is pretty daunting I know. The country has strict laws and any misstep can get you into trouble. That's why you should consider investing in a VPN that works well in India.
There are dozens of VPNs out there that claim to do the job right. However, based on my experience, the "walk the walk" part is missing.
I've seen and reviewed a lot of VPNs in my years and I've come across some pretty robust ones. That's why I keep telling you, you're in good hands. Below, you'll find a table consisting of four of the top VPNs in the world.
These top providers have privacy features that will keep your identity hidden all the time. From a kill switch to a strict no-log policy, your privacy matters. A Zero-log policy guarantees that the company doesn't keep any data on its customers. Luckily, these VPNs have that.
Not to mention the fact that they work in highly-censored countries like China and the UAE. If they manage to circumvent these countries' restrictions, India would be an easy task. Here they are.
What You Get to Unblock
Now that you know your way around and you have the ultimate tool to unblock apps and websites in India, let's show you what you'll be getting at the end of the line:
India has blocked hundreds of Chinese apps in the region. Here's a list of the most popular ones:
TikTok
Clash of Clans
WeChat
UC Browser
WeSync
ES File Explorer
Alipay
AliExpress
WeTV
Tencent Weiyun
InNote
CamCard Business
APUS Security
Weibo
Kwai
The Indian government alongside Indian ISPs such as Airtel, Vodafone, and MTNL work really hard to block torrent websites in the region.
Some of the users who download such content are harmless. All they want to do is get a certain file for free, what's the harm in that. After you're done with this guide, you'll be able to do so with ease. As for now, here are the top websites India blocks you from accessing:
RIsbb
The Pirate Bay
Shush
Softarchive
BitTorrent
Spacemov
Isohunt
KickAss Torrents
TorrentProject
Viooz
Torrent Downloads
Torrentz
H33t
Popcorn Time
FilmyZilla
Banned Apps & Websites in India – FAQ
You have questions, we have the answers. Below, you'll find what our readers frequently ask us when it comes to unblocking torrent sites and getting banned apps in India:
Can I Use Proxies to Unblock Banned Sites in India?
In theory, using proxies could grant you access to some blocked sites. However, a proxy is not safe to use. Additionally, it neither hides your IP address nor encrypts your traffic. Therefore your ISP will still be able to see which sites you are visiting. If you want to access banned sites securely, only use VPN.
Is Torrenting Dangerous without a VPN?
Yes, it is. When you download a file, you enter what's called a Swarm. Within it, every user downloading the same file can see one another's IP address, revealing a lot about them in the process. Hackers can take advantage of that.
Do Torrent Websites Care about the Users' Security?
A lot of top torrenting websites warn their users before they get to download anything. KickAss Torrent, for example, posted this on their website: "Keep your data safe with a VPN! Download Torrents safely and unlock dozens of online contents."
I'm Connected to a VPN and I Still Can't Download My App!
Will The Apps Work Even When I Disconnect from the VPN?
The problem in India is that you can't get the apps. If you got to install it using a VPN, you should have no problem using it without it.
How to Unblock Sites Banned in India – Conclusion.
Internet privacy and security are everything nowadays. Some of us rely heavily on torrenting to access a lot of content. Why be deprived of such a right?
If you live in India and you're sick of the limitations your country enforces on your, follow the guide above and you'll have everything you need.
Trust me, you'll be looking at the internet in a whole different way. Don't forget to let us know if this guide helped you out with your problem. As soon as you get your first torrent file or banned up, give us a shout-out.