The VPN industry is full of providers competing to become the world's best. We create VPN reviews to help our readers out in picking the right VPN for their needs. Today's review will be featuring VPNArea, a Bulgarian-based service that has all the makings of a great VPN service, offering unique features, a decent server network, and some noteworthy speed rates. The service was launched back in 2012 and has been growing ever since. How much has it grown? What does VPNArea have to offer in terms of privacy, security, and unblocking capabilities? Find out in this full VPNArea review.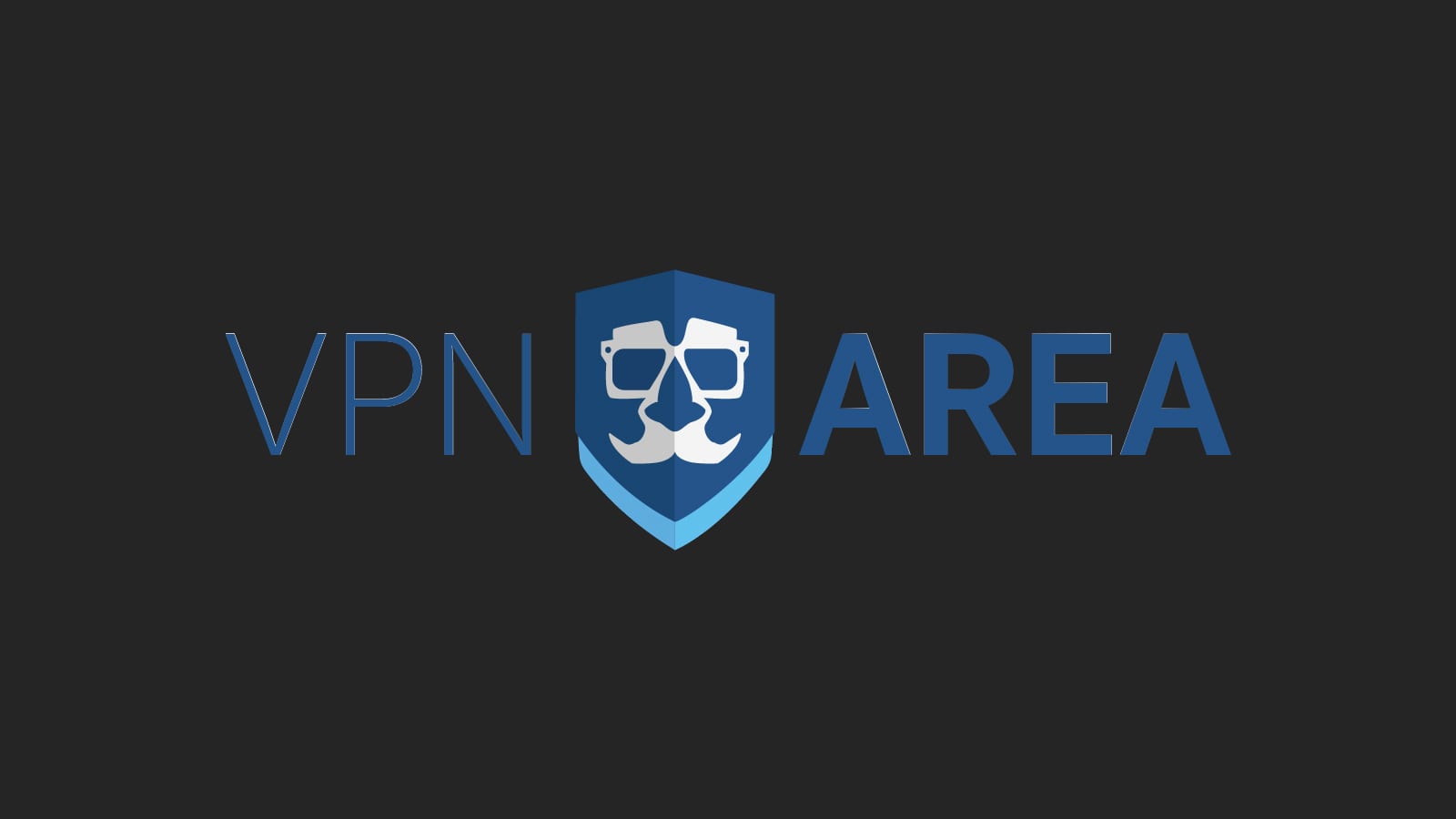 VPNArea Review – Content Index
When it comes to choosing a VPN in order to protect one's online privacy and security, there are a lot of options on the table. However, each VPN offers its own services, features, level of security, and distinguishable clients. That's why we review almost any VPN we come across to help our readers out using our strict evaluation process. VPNArea is indeed a VPN to check, but before you do, go through every single detail in this review and learn more about this Bulgarian giant.
VPNArea – Quick Stats
Money-back guarantee
– 14 Days for Monthly Subscribers
– 30 Days for Annual and Biennial Subscribers
Allowed concurrent connections
8 Concurrent Connections
Supported streaming services
Netflix, Hulu, and BBC iPlayer
No logs policy
Yes
Encryption
AES 256 encryption
Security Protocols
OpenVPN, IKEv2
Special features
Kill Switch, Ad/Malware Blocker, Multi-Hop, DNS Leak Protection, Dedicated IP, IPv6 Leak Protection.
Customer support
Live-chat, Emails, Tickets.
Server locations
55 Countries
Number of servers
100+ servers
Server Switches
Unlimited
Supported devices & web extensions
Android, iOS, PC, Mac, Linux, and FireStick
VPN legal jurisdiction
Bulgaria
Free Trial
None
VPNArea – Pros and Cons
Now, before we dig deeper into what VPNArea is all about, here's a quick look at what the provider is good and bad at:
Pros:
Military-grade encryption
Unblocks Netflix, BBC iPlayer, and Hulu
Unlimited bandwidth
VPN Kill Switch
DNS leak protection
Compatible with Android, macOS, PC, FireStick, and iOS
Stealth servers
Dedicated IP
Works in China
Double VPN
Ad/Malware blocker
No-logs policy
24/7 live chat support
Affordable prices
Automatic IP change option
Cons:
Minor connection issues
The refund policy depends on the subscription
Slow speed rates
Can't unblock Amazon Prime Video
Some Special servers don't work with the targeted channel
Server Network can be bigger
No free trial
No WireGuard Support
Android and iOS apps don't have a kill switch
VPNArea – The Applications
After we signed up for the service, which was very quick, actually, the website redirected us to its user-friendly web dashboard. There, we found the links that allow us to download VPNArea's apps for Windows, Mac, iOS, Android, and Linux.
At first, we got the Mac app and started testing right away. The moment we signed in, the app showed us all the servers we can connect to. To be honest, it was a bit crowded, cramping everything in one place.
If there was a slide page to choose the options, that would've made the app better for the eyes, at least. On the main page (the only one), we were able to choose servers based on what we're looking for.
The app sorts them into categories: All Servers, Recommended, Favorites, P2P-Torrents, Stealth, Special (Streaming), and Dedicated IP.
The connection process was very easy. We picked a server and hit connect, waited a few seconds, and the app made a sound informing us about the success of the connection and a shattering glass sound when disconnected. Here's how the app looks like:
The settings section took us 3 clicks to open – still don't know why. However, when we got there, things turned to the positive side as a kill switch is present.
Not to mention that we rarely find Ad/Malware blockers, and VPNArea does have that. Also, users get to enable anti-DNS leak and IPv6 leak protection. In general, the Mac application is solid, yet needs some kind of organizing.
Android
Android applications are usually everyone's favorites. In fact, the latest VPN usage statistics prove that 35% are desktop users while 42% are mobile users, which shows how popular mobile clients are.
They're so much easier to navigate and the options are just right there. VPNArea also has a neat application on Android, it had great features, yet it missed some.
The connection process at first was seamless. We were able to establish a VPN connection within seconds. The servers are distributed in an organized matter, and the Settings option is right there at the bottom right corner of the app.
While the Mac app shows the speed of the server directly, the mobile one allows us to perform a speed test. We can either test select servers or choose to test them all at the same time. Just like its desktop counterpart, the mobile app has a specific category for streaming (Special).
However, what differs between the two clients is that the Android one doesn't have a kill switch, nor does it include as many security features as the Mac one does. We're referring to ad blockers and the likes.
Finally, our connection seems seamless in the images below, but it wasn't like that the whole time. Some servers did not connect at all after waiting for quite some time.
The timer kept going up and no connection was established eventually. Now we must say that this might have been a one-time hiccup and the app itself is really good and organized. They did a good job here.
App Store Ratings
The ratings of a certain application on app stores help us determine a lot about the app. All kinds of users share their experiences there so that others can know whether to get it or not.
On Google Play Store, the VPNArea application has a 3.9/5 rating, which is considered to be very good. Apparently, Android users are satisfied with what the client has to offer.
The app isn't as popular on Apple's store as it only gained 2.6/5 based on 26 reviews. However, that doesn't mean that the app isn't as good as its Android counterpart.

The Android app has 250 reviews while the iOS one has 26 only. This shows that VPNArea is used on Android devices more than iOS and users like the app more there as well.
Trustpilot Review
Trustpilot is a credible review site that we rely on during our evaluation. It's based on what the users' have experienced and it's unbiased to a point that it doesn't allow fake reviews to be posted.
In the past, a certain VPN provider started inserting positive reviews to increase its rating. Apparently, Trustpilot figured it out and penalized it by demoting its status even further.
Such a reliable website cannot be ignored and when it comes to VPNArea, the 3.1/5 rating cannot be overlooked as well. It's average and there are a lot of negative comments.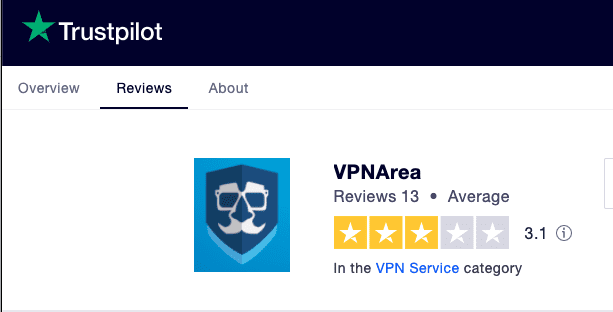 That doesn't mean that there aren't any positive ones. Check this out:
"Great amount of servers, good speeds and a very nice application. It also comes at a great price and is located in a good jurisdiction Bulgaria."
We saw other negative comments bashing the VPN provider, but we don't agree. Everything said about the iOS app is wrong, the user commenting is operating an old app and judging the service upon it.
2.9/5 is still not good enough to compete in the industry and average is a long way to keep up with the likes of ExpressVPN, BulletVPN, or SurfShark.
Server Network
As mentioned above, the app directly represented us with a comprehensive server location list. The provider launched back in 2012, which explains why it covers a lot of countries around the world.
VPNArea now has more than 100 server locations across 55 countries. That's a great number if we were to mention how heated up the VPN rivalry is nowadays.
However, despite having such a wide server spread, VPNArea used to be bigger than this. The service used to provide servers across 65 countries, and up till now, we don't know what the main reason for this kind of shrink is.
With that said, here's the complete VPNArea server network:
United States
Australia
Austria
Belgium
Brazil
Bulgaria
Canada
Chile
China
Colombia
Cyprus
Czech Rep.
Denmark
Estonia
Finland
France
Germany
Greece
HongKong
Hungary
Iceland
India
Indonesia
Iran
Israel
Italy
Japan
Latvia
Lithuania
Luxembourg
Malaysia
Mexico
Moldova
Netherlands
New Zealand
Norway
Philippines
Poland
Portugal
Romania
Russia
Serbia
Singapore
Slovakia
Slovenia
South Africa
South Korea
Spain
Sweden
Switzerland
Taiwan
Turkey
The UK
Ukraine
While checking the app, we were very satisfied with the server layout. Once signed in, the client showed us all the servers available, sorted by country. It doesn't end here. Apparently, VPNArea wants to cover every single aspect any user could look for.
This is why the client presents us with figures for server load, ping time, and an approximate distance from our current location. Note to mention that everything is categorized for specific tasks such as unblocking content, P2P actions, and stealth browsing.
Speed Test
A VPN with good security is good and all, but if it delivers low-speed rates, it's completely useless. The VPN's encryption will inevitably cause a speed drop, but depending on how the VPN optimizes its servers, this drop varies.
We've come across dozens of speedy VPNs before, and we also had our fair share of slow ones. A slow VPN is never recommended as it will ruin a user's browsing experience, especially streaming.
The Test
Now, in VPNArea's case, we ran some tests on several servers. We made sure to pick ones in several locations and key countries where unblocking geo-blocked content is commonly applied. Here's what we got:
First, we recorded our own connection speed without connecting to any VPNArea server.
Next, we connected to a VPN server in the United States, particularly one in New York, dedicated to P2P actions. We expected high speeds since torrenting does require high rates, but the results weren't as we hoped for. In fact, our speed took an 84% drop, which is very bad considering how demanded the servers in the US are.
Speeds in the US weren't good at all, so we tried a different server this time. We used a server located in the UK, due to the popularity of BBC iPlayer, Channel 4, and Sky Go. While the rates were better than those in the US, they were still not good enough and the drop was huge as well. Our connection took a 72.4% hit the moment we connected. That's not enough for streaming, gaming, or torrenting.
Finally, we used an Australian server in hopes of getting better speeds this time around. Well, that didn't work out the way we hoped it would as the speed fell drastically. We got the lowest results while using an Australian server as our connection dropped by 98.68%.
Our verdict is quite obvious in this department. No matter how many features a VPN has, speed such as the one we got in Australia is totally unacceptable. 98% is just too much and it's 2% away from having no connection at all.
When it comes to speed, most VPNs on the market are better than VPNArea. You're better off with any one of them, especially the premium ones such as ExpressVPN or BulletVPN.
VPNArea – Is It a Good Channel Unblocker?
The internet opens up a lot of options when it comes to entertainment. Surfing local channels on TV is practically useless thanks to streaming services being around.
Now, there's a wealth of those that offer all kinds of content online. We're referring to the likes of Netflix, BBC iPlayer, Amazon Prime Video, Hulu, and more.
However, the internet does seem grand, but it's sure limited, especially when it comes to a user's location. The users' physical whereabouts dictate everything they get to access online.
In other words, despite having several streaming channels, not everyone can get a hold of them. This is called geo-blocking – a technology used to restrict access based on location, which is mainly applied for copyright reasons.
For example, Hulu is a channel that only allows US viewers, while BBC iPlayer provides top content for those in the UK. Netflix, on the other hand, is a global streaming service with over 200 million subscribers.
The channel does apply geo-blocking though. It is available everywhere but its content isn't. Netflix assigns specific catalogs of content for each country. For example, viewers in the UK get a lot of different content from those in the United States (and vice versa).
It all depends on the user's IP address, which allows the channel to determine where they physically reside. Now, with a VPN, everything can change and users' can access any channel, provided they connect to the right servers.
Here's where the real issue lies and the main reason for including this section. Top streaming services can now block VPN, and only those credible enough can bypass this new banning technology.
This is why we test every VPN in our reviews with major channels and VPNArea is no different. The Bulgarian VPN's unblocking evaluation begins next:
Netflix
Netflix is focused on protecting its licensing rights, which is why it provides specific catalogs in each country. According to their Term of Use page – section 4:
"You may view the Netflix content primarily within the country in which you have established your account and only in geographic locations where we offer our service and have licensed such content."
Aside from applying geo-blocks, Netflix was one of the first services to ban VPN use. In fact, it probably has the strongest VPN blocking mechanisms in the industry.
You may not know this, but more than 50% of VPN users operate with such services to unblock content. And if the provider is not credible enough to do so, it's practically useless to them.
We tested VPNArea to see how it fares against Netflix's tough VPN ban. Obviously, we used their special servers section to choose a server that is dedicated to unblocking Netflix.
However, despite being solely created and optimized to unblock the channel, the server didn't work. While connected, we searched for a US-only title "The Con is On" and it didn't show up.

We also tried the other server the have "USA-0-NFLX-EU-Hub" and we got the same disappointing result. The problem here is that these two servers are the best and most obvious options to unblock the channel.
With both of them not working, anyone could state that VPNArea doesn't unblock Netflix. However, we kept trying their servers out until we connected to "USA-AZ-Phoenix-P2P". We found the title and started streaming instantly.

Normally, some previously reviewed VPNs do show the title but get a proxy error while playing the video. VPNArea did unblock Netflix and allowed us to stream its US library.
However, it did take a long time to find the right server and the dedicated Netflix ones were practically useless. They have to work on that.
Hulu
Hulu is another worthy adversary for VPN providers as it too has a tough VPN block to bypass. The channel's geo-blocking method differs from that of Netflix as it's only available in one region only – The United States.
However, despite being a US-based channel with over 36.6 million paid subscribers, the service is popular all over the world due to its rich original content, live-streaming (Different subscription, and the fact that it shows Disney content.
With a VPN, users can get an American IP address and access the channel wherever they may be. Unfortunately, it's not that simple anymore. Hulu is a tough channel to get and only a few VPN services can get around its defenses.
At first, we thought that VPNArea is one of the VPNs that failed to unblock Hulu outside the US. Our first try was a bust as the server we used to unblock Netflix wasn't optimized to work with Hulu. We got this proxy error instead:
"It looks like you're using an anonymous proxy or VPN. You'll need to disable it to watch Hulu. Hulu Error Code: P-EDU101."
We didn't directly judge VPNArea's unblocking capabilities and tried several servers in the process. After some trial and error attempts, we finally found a server that unblocks the channel. Once we connected to the Netflix dedicated server "USA-0-NFLX", we were able to stream Hulu's original "PEN15" with ease.


Just like Netflix, Hulu also took some time to unblock, which can be pretty inconvenient for those who are newly using Virtual Private Networks. They won't know that they have to try different servers, the VPN itself should make the task easy for its customers.
Amazon Prime Video
Amazon Prime Video is a global streaming service that has over 142 million subscribers around the world. When it comes to geo-blocking, the service follows in Netflix's footsteps and assigns specific catalogs for each country.
Normally, the US library is the richest, which is why users connect to a US VPN server to access the best content Amazon Prime has to offer. However, the channel is also one of the biggest enemies of VPNs and it applies one of the toughest VPN bans out there.
Even if the VPN managed to unblock Netflix or Hulu, it's not guaranteed to bypass what Amazon Prime has in stores for it. Unfortunately, VPNArea gave us a hard time while testing it with Prime Video and the first 4-5 attempts were completely an epic fail. We got this error message instead of our video:
"Your device is connected to the internet using a VPN or proxy service. Please disable it and try again."
Connecting to the Netflix dedicated server allowed Amazon Prime to determine that our traffic was coming for a VPN. We tried several others and the results were the same. No server seemed to work, so we decided to contact their customer support.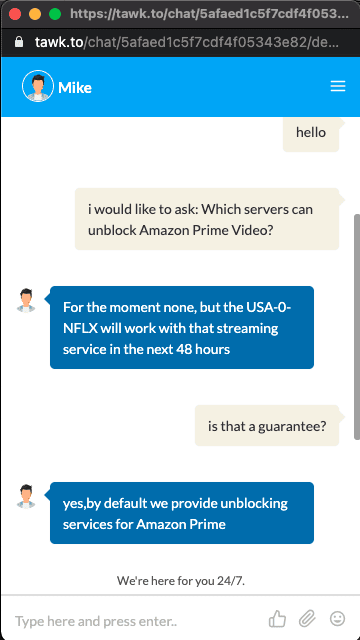 Apparently, the service doesn't support Amazon Prime Video. The agent told us that they'll fix the problem within 48 hours. So far, it's been more two days, and the issue remains.
We'll see if they stand by their claims and manage to unblock Amazon Prime Video in the near future.
BBC iPlayer
BBC iPlayer will be the last streaming channel to test VPNArea with. Technically, there's no one around the world who doesn't know the BBC as a company.
The channel offers its services for free, which means users don't have to pay a dime to watch quality shows and movies on the platform. This makes BBC iPlayer one of the best go-to streaming channels in the United Kingdom.
In fact, it became so popular during the first three months of 2020, harnessing more than 1.4 billion requests, up 34 percent on the same quarter in 2019.
Despite being available only for those residing in the UK (UK IP Address), there's no way those 1.4 billion requests just came from the country. According to BBC iPlayer, a lot of requests come from abroad as people use proxy tools and VPNs to access the channel.
That was an easy task back in the day, but now, everything changed since BBC now applies VPN blocks. Top providers, we've evaluated in the past managed to unblock the channel. However, VPNArea didn't make the list, at least during the first couple of tries. We kept getting the same error message over and over again.
"This content is not currently available."
A few more tries later and we were able to unblock the channel. We used the "UnitedKingdom London2" server, launched Peaky Blinders season 1 episode 1, and everything worked just fine.
Overall, VPNArea is a good tool to unblock geo-restricted channels around the world. However, the process isn't very straightforward, especially for novice users. The provider should mark the servers that work with specific streaming channels.
Otherwise, customers won't get past their 14-days refund policy and would cancel their subscription, especially if global streaming is what they were looking for, in the first place.
P2P Support
Downloading and uploading files through the BitTorrent network has become very popular throughout the years. In fact, more than 28 million users indulge in P2P file-sharing every day.
Torrenting is convenient, fast, and allows users to get any kind of online file for free. They can get books, movies, TV shows, music, and so much more with a push of a button.
However, not everything that shines is gold and that also applies to torrenting. P2P file-sharing itself isn't illegal, it is not the method of download, but the content the users download or circulate can shift the process to being illegal.
Most of the shared files contain copyrighted material, which affects the entertainment industry as it endures financial hits due to everyone turning towards piracy. In a lot of countries, these companies had no choice but to turn to the law, suing anyone who indulges in such practices.
For instance, Japan has strict anti-piracy laws that can land a torrent user in prison for two years if caught downloading illegal files, and for ten years he himself was uploading them.
The United States, Germany, and India are also top countries that impose heavy penalties on those who download/upload copyrighted. Now, we do not encourage illegal practices, neither do VPNs.
However, a lot of users were falsely accused while downloading legal files in the past. With a VPN, they can hide their identity, mask their IP address, and download torrents anonymously. That way, they can rest assured that they won't be penalized for something they didn't even do.
Another Danger!
Also, torrenting can be dangerous and may compromise users' privacy. Anyone downloading or uploading the same file is called a peer, and collectively they are known as a swarm.
Everyone within the swarm can see each others' IP addresses, including hackers who join for malicious intentions. So, using a VPN is the best option to hide your IP since the only thing visible will be the IP address provided by the service itself.
P2P-Friendly Servers
VPNArea is one of the friendliest VPN providers when we speak of torrenting and P2P traffic. Among its 54 servers, users get to use 46 of them in different countries for P2P practices. The full list is as such:
Australia
Austria
Belgium
Brazil
Bulgaria
Canada
Chile
Cyprus
Czech Republic
Denmark
Estonia
Finland
France
Germany
Hong Kong
Hungary
Iceland
India
Indonesia
Ireland
Isle of Man
Israel
Italy
Japan
Lithuania
Luxembourg
Mexico
Moldova
Netherlands
Norway
Philippines
Poland
Portugal
Romania
Russia
Serbia
Singapore
South Africa
South Korea
Spain
Sweden
Switzerland
Taiwan
Turkey
UK
USA
Smart DNS Proxy
We all know how it feels to fall victim to geo-blocking and other content restrictions, which is why a VPN is always a must, especially if users are avid streamers.
A VPN might be the first option, but it's definitely not the only one. A connection to a VPN server will cause a drop in the connection speed – that's inevitable.
No matter how fast and well-optimized the VPN servers are, the encryption, server location, and server load will definitely affect the internet speed rates.
So, when it comes to bypassing location-based blocking, most top VPN providers offer an alternative in the form of Smart DNS proxies. This technology allows users to access restricted content without having to worry about the negative sides of a VPN.
It doesn't encrypt the data nor does it change a user's IP address. It only alters chunks in their URLs that help websites and channels pinpoint their location. As a result, they can stream geo-restricted content without suffering from speed loss.
However, it doesn't protect their data or anonymize their internet browsing. We searched the whole VPNArea website and couldn't find anything of the sort.
After that, we contacted their customer support and they informed us that such a service is not offered.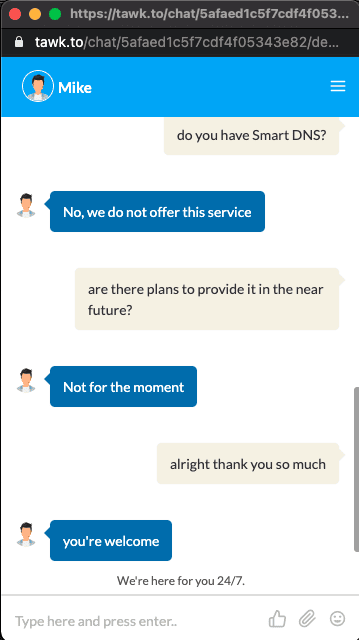 Smart DNS is one of the main features we look for in a VPN. What's worse than not having it is the fact that VPNArea isn't considering adding such a technology in the near future. In other words, with VPNArea, users should forget about watching geo-restricted content on PS4, Xbox, Chromecast, Apple TV, and Smart TVs, unless they install it on their router.
Privacy
When we speak of privacy, the country where the VPN provider is based matters a lot. VPNArea is a European company that hosts its Headquarter servers and emails in Switzerland but are actually based in Bulgaria.
The is great for privacy because both countries are out of the reach of invasive jurisdictions such as the UK and the US. Not to mention that the provider has a strict no-logging policy, meaning that customers' data doesn't get stored, collected, or shared with third parties. How can it disclose such information if it doesn't have it in the first place?
Moreover, the service has a kill switch on both its Mac and Windows clients, enhancing a user's privacy to the max. This technology cuts off the internet if a sudden drop in the VPN connection occurs. In their defense, nothing of the sort happened while trying out their apps.
Having a kill switch present allows users to download torrents anonymously and prevents data from leaking back to the ISP's servers if the VPN connection gets terminated.
Aside from that, VPNArea has Stealth servers in countries like Australia, China, Canada, Japan, Netherlands, South Africa, UK, and the USA. These servers add an extra layer of anonymity, preventing any kind of VPN detection, especially in highly restrictive countries like China.
Users can purchase a dedicated IP, where they'll be the only ones in the world that have access to it. That's good for anonymity, privacy, and speed as well.
Also, desktop applications have ad/malware blockers. These technologies shield a user's devices from malware, scam, and any other malicious website or content they may come across.
Finally, VPNArea has the option to change the IP address/VPN server automatically. The users get to choose the exact duration for this IP shuffle to take place.
VPNArea – Security
Enhancing a user's security is the sole purpose of having a VPN in the first place. If it doesn't do that, then it's not doing what it was created for. Every single VPN in the industry, be it good or bad, apply encryption. Well, some stronger than others, depending on their credibility.
VPNArea uses the latest encryption technology – 256-bit encryption, which exponentially increases the difficulty for decoding information, making it virtually next to impossible for hackers to get a hold of the data being transferred.
Aside from the encryption, we have to talk about the protocols this VPN offers. A VPN protocol determines exactly how data is routed through a connection. Each protocol has different specifications based on the benefits and desired circumstances.
VPNArea uses OpenVPN with all of its clients on every server. This is by far the safest commonly used protocol in the industry. However, the provider also has IKEv2. This protocol is considered to be the most stable one as it provides a strong connection and allows users to switch between networks without risking their security.
The problem is that the IKEv2 configuration is manual and is definitely difficult for non-tech-savvy customers. Sadly, there's no WireGuard support yet, which is considered to be the future of VPN protocols in terms of speed and security.
Finally, VPNArea provides a technology that goes by the name of Double VPN. With this, users' data gets rerouted through two servers instead of one, doubling the encryption (extra security) in the process. Sadly, this technology comes with a price – a double speed drop.
The features mentioned above make a great VPN for security. However, there are a couple more tests to perform before we can reach a final verdict.
Virus Scan
Viruses and malware are everywhere. No matter how credible the source of download is, there's always that 1% chance that your device is at risk. In fact, Google detected around 600-800 malware–infected sites per week back in March 2020.
So, it's obvious how serious this issue is. Luckily, with the right knowledge, users' won't fall into such a predicament when they want to download an app.
Viruses can be easily detected by scanning the installer itself. The app doesn't have to be installed to check for any malicious software. In our regular evaluations, we always scan VPN apps as a lot of them come with malware such as Trojan.
We ran VPNArena's dmg. installer through one of the most credible Virus Scanning tools and the results were all green.

As seen in the image above, VPNArea scored perfect results. According to 60 reliable sources, the VPN application doesn't include any kind of virus, malware, or malicious software.
DNS Leak Test
Whenever we connect to a VPN, it reroutes our data through an encrypted tunnel, hiding all of our internet activity in the process, including the DSN requests.
However, while all VPNs promise privacy and security, some of them don't hold their end of the bargain, be it intentionally or not. The VPN should hide a user's browsing activities from their ISP, government, and any hacker that might have his sight set on their private information.
It happens occasionally when the VPN app doesn't do its job, or if users connect to a misconfigured network – a DNS leak occurs. This is when the DNS requests flow outside the encrypted tunnel and back through the ISP's servers, compromising everything.
No one should wait for that to happen and tests should be done to prevent that the moment it's in place. In every review we create, we test the VPNs for any DNS leak, VPNArea is no different. Here's what we got:
As seen in the image above, there are no signs of a leak. We connected to an American server using VPNArea and everything looks good. But we weren't done there, we still needed to check for WebRTC leaks. We used our own WebRTC Leak tool to test that: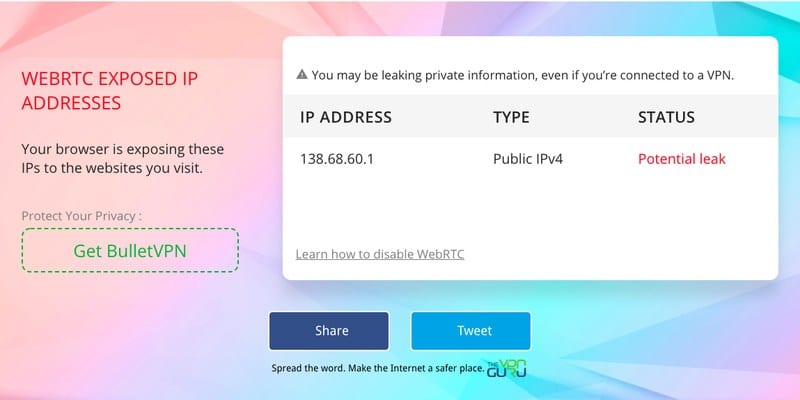 The test shows that there's a potential leak, but since the IP address shown above is the one provided by the VPN, everything is ok. No personal data is being exposed.
Third-Party Auditing
Popularity is important to determine whether a VPN is credible enough and able to keep its promises when it comes to privacy and security. But that was all in the past and even the providers themselves don't think it's enough anymore.
This is why they rely on third-party audits to back up such promises. These audits are described as a different set of eyes that help determine whether a VPN is living up to its intent or not.
Most security audits target privacy, focusing on verifying the company's logging practices, which is a great way to gain customers' trust. A lot of VPNs have gone through security audits to increase the trust of their users, but unfortunately, VPNArea hasn't done that yet.
While VPNArea's headquarters' location doesn't pose a threat and their Privacy Policy does give us all we need, we hope to see them perform a third-party audit in the near future.
Warrant Canary
In some countries, it's completely normal for the government to issue gag orders or subpoenas, forcing a VPN to hand over data about their customers.
A lot of VPNs have suffered such a fate, losing a lot of customers in the process of handing over their data. It's a very big deal and VPN companies are now desperate to protect users' personal data from an unseen undertow of Patriot Act-enabled secret court warrants.
That's an example in the United States. Imagine what a VPN that operates within the 14 Eyes jurisdiction has to go through. So, to avoid such predicaments, VPNs use a Warrant Canary – an indirect way to inform their customers that their service has been compromised by the government.
The Warrant Canary is usually a page on their website that gets updated regularly. If it's not, this means that the provider has received a gag order or subpoena.
Unlike many top VPNs in the industry who have already added a Warrant Canary on their website, VPNArea doesn't have one. Their privacy policy clearly states that they keep no data nor do they collect their customers' browsing history. So, there's nothing to worry about, especially since their headquartered in Bulgaria.
Customer Support
Offering robust support methods is one of the best ways to promote a certain service. If the VPN can help its customers on the spot, they definitely increase their credibility in the industry.
VPNArea's customer support is by far one of the best we encountered. They offer three methods for contact: Emails, Tickets, and Live Chat. They also included a phone number if the problem/issue was legal.
As for live-chat, the first time we contacted them we got a reply directly. By far, according to how many VPNs we reviewed, VPNArea is one of the fastest in terms of wait time.
It took them seconds to answer, and Mike, the agent, was very nice and professional. He helped us out with our question about Smart DNS. Unlike other VPNs, they did not try to promote their VPN service for lacking Smart DNS.
In fact, Mike just stated that they don't have it, and they're not willing to add it in the near future. We also asked if the live-chat service is available all the time (24/7), and the answer was, obviously, yes.
Despite getting fast responses most of the time, there's one instance where the reply took a lot of time. We contacted the support, said our good mornings, and a message informing us that the team is busy popped up.
The response did take around 5 minutes, but we're not going to judge their credibility based on one incident. Every time we contacted them we got an instant reply. Their live chat feature is excellent, their agents are professional, and everything worked out perfectly.
Languages
While the English language is used all over the world, some online users still depend on their native language to navigate through the World Wide Web.
That's why most VPN providers allow them to change the website's language to the one that suits them best. In fact, top VPN providers allow visitors to choose between 10+ languages.
As for VPNArea, the only language we can use is, well, English, be it on the website or applications. We contacted their support to double-check this fact, and they informed us that English is the only language to use.
Moreover, the support agent recommended using Google Chrome Translator if we're looking for any other language. VPNArea should add more languages if they wish to attract people from everywhere in the world.
Pricing and Plans
Let's be honest, the first thing anyone does when trying to purchase a product is to check the prices. Everyone's on a budget and everyone is looking for excellent features with good prices.
VPNArea is very affordable, and as many VPNs do, it rewards subscribers willing to commit for a longer period of time. As of now, this is what VPNArea's pricing looks like:
1 month: $6.93 per month
12 months: $41.30 per year ($3.44/month)
24 months: $77 every two years ($3.21/month)
This is a reasonable price for what the users get in return, especially when it comes to unblocking streaming channels such as Netflix, BBC iPlayer, and Hulu.
Payment Methods
When it comes to the methods you get to subscribe with, VPNArea does a very good job at that by accepting a wide variety of options. The provider allows payment in various ways.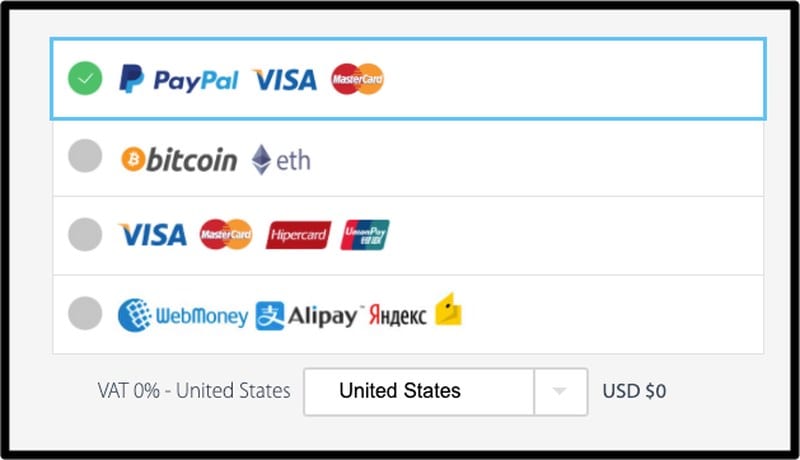 Users can pay via credit cards, AliPay, Bitcoin, Ethereum, or via e-wallets like PayPal and Webmoney. This doesn't just make it so much easier for customers to pay for a subscription, it also gives them the option to be totally anonymous.
Money-Back Guarantee & Free Trial
When it comes to offering a free trial, very few providers do provide that, these days. VPNArea doesn't have a free trial for users to test out their service before opting for it.
However, they do have a 14-day money-back-guarantee if customers are subscribing to its monthly plan. Technically, that might be enough to give the service a try, but it's nowhere near what other providers allow.
On the other hand, VPNArea extends the refund duration to 30 days if the customers are opting for one or two years. That way, users don't have to worry about their money if the VPN doesn't live up to their expectations. They can cancel their subscription anytime and get their money back.
VPNArea Review – Final Words
VPNArea is definitely not the best VPN out there, but it's certainly one of the good ones. It still needs some work to compete in the industry, especially in the streaming department. When you have dedicated servers for unblocking a certain channel, make sure they're functional.
Their applications are fine, but they're all over the place. They need adjusting and some toning down. Speeds aren't that great as well. Aside from that, they do have multi-hop, a kill switch, and a zero-logging policy. Pricing is quite decent compared to what it has to offer and the live-chat feature was outstanding.
In general, VPNArea is good, but there are VPNs out there that are a lot better. You can check it out and benefit from their refund policy. If it wasn't what you're looking for, just cancel. The review is in your hands now, let us know everything you think about VPNArea in the comments below.
VPNArea Review
Security and Privacy

Support

VPN Apps

Unblocking Capabilities

Speed