Best VPN for Xbox Series X and S
|
More processing power, graphics, and storage – that's exactly what Microsoft's Xbox Series promises to online gamers. For the first time ever, Microsoft is released not one but two new consoles: the Xbox Series X and the Xbox Series S. We'll be shedding more light on that later on. We all know that each new generation tends to deliver big changes for console gaming. However, the same issues are present every time, and they always revolve around privacy, security, and the Xbox's accessibility limitations. Again and again, a Virtual Private Network is the ultimate way to fix those problems. Now the question is: As Xbox advances, what is the best VPN for Xbox Series? Find out in this review.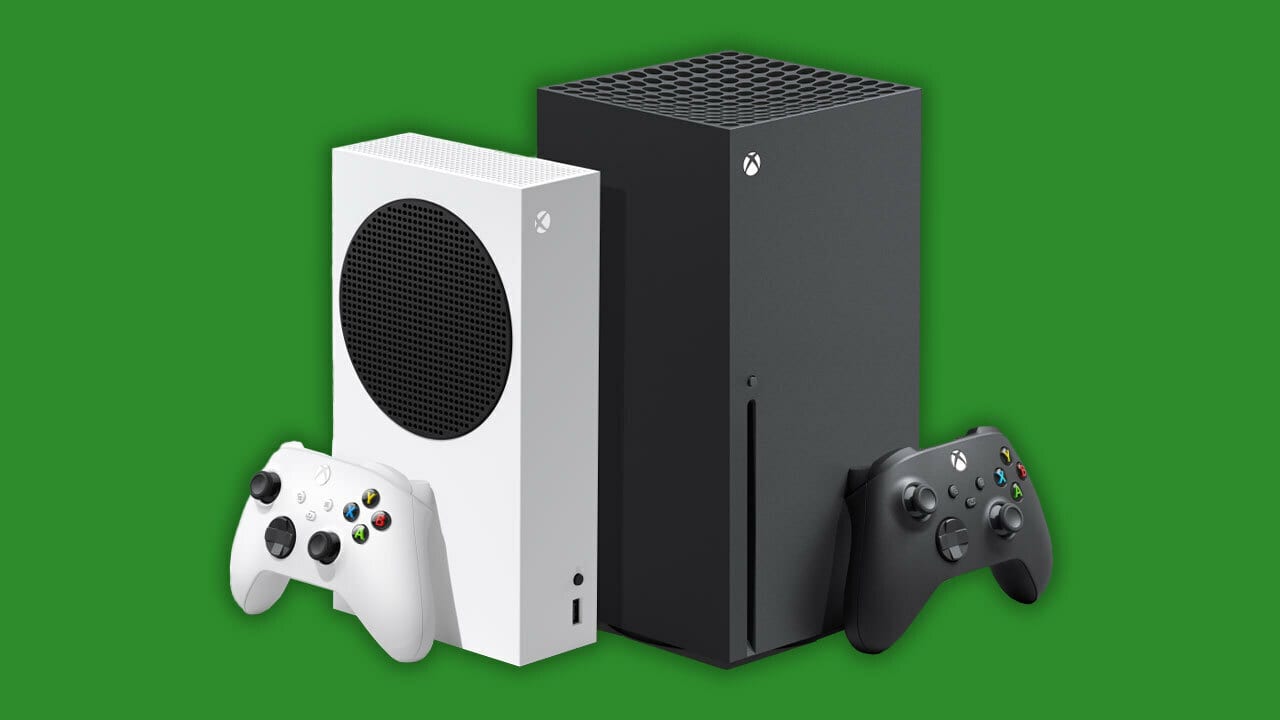 Best VPN for Xbox Series – Content Index
As mentioned, a VPN is a way to unblock everything you find not available on your Xbox. It's a simple tool that allows you to change your location and bypass regional restrictions with a push of a button.
Today, we'll be reviewing the top VPNs that help elevate your Xbox Series experience. Here's what we came up with:
Out with the Old, In with the New – Enter Xbox Series X and S
The battle of the consoles continues with the latest release of Xbox and PlayStation consoles. Both companies have two models for their new gaming device, and both of them have a lot to offer.
Xbox released its Xbox Series X and Xbox Series S on the 10th of November 2020. The X console is the bigger console, which also has a disc drive.
On the other hand, the S console is the smaller version, which only supports digital content, i.e., downloadable games. There is no disc drive, so anyone with discs shouldn't pick this one as their option.
Now, the two are great in terms of specs. Let's see how they differ:
Xbox Series X
Storage: 1TB
Frame Rate: 120 FPS
Processor: 12 Teraflops
Gaming Resolution: True 4K
Optical Disc Drive: 4K UHS Blu-ray Drive
Video: Up to 8K High Dynamic Range
Size: 15.1cm x 15.1cm x 30.1cm (4.45kg)
Xbox Series S
Storage: 512GB
Frame Rate: 120 FPS
Processor: 4 Teraflops
Gaming Resolution: 1440p
Optical Disc Drive: Not included
Video: Capable of 8K High Dynamic Range
Size: 6.5cm x 15.1cm x 27.5cm (1.93kg)
Specs are both good, but let's be honest, Series X is superior in terms of what it has to offer and enhanced features. Now, you may ask yourself, how can a VPN unlock these consoles' potential? Here's what it can do:
Access Geo-Restricted Content
Like any other console or device used for streaming, both of the Xbox Series machines host a great number of streaming applications. In fact, it has a lot more than what PS5 offered at launch.
While there's more to offer, both of these consoles face the same type of issue, geographical limitations. Despite having many options to choose from, the streaming channels on Xbox Series S and X are geo-blocked.
Geo-blocking is a mechanism used to restrict users' access based on their location, which is determined using geolocation techniques, such as examining the user's IP address.
Based on that, a certain streaming channel allows access to its content. For example, Hulu has an application on Xbox but is only available in the US. It requires an American IP address to operate, and without one, an error message will certainly appear. It mostly looks like the following:
"Video not available in this location. This video is not available to watch in your curent location. Please select something else to watch. Error Code: BYA-403-013."
With a VPN, users can change their current location by connecting to a server in the channel's respective country. For instance, if Hulu is what they seek, they have to connect to an American server in order to receive a US IP address.
Once the connection is established, and the channel is launched, it will take on the impression of the user being present within its area of coverage, granting him/her full access to its service. Hulu doesn't work with just any VPN, which is why we included the best of the best in this review.
What Are We Getting on the New Xbox
Aside from that, all the channels supported on Xbox Series X and S can be unblocked with a VPN, provided you connect to a server in their respective countries. What's on Xbox Series X and S? There you have it:
On-Demand Streaming Services
HBO Max
Amazon Prime Video,
Hulu
Peacock
Netflix
Disney+
Apple TV+
Crunchyroll
CBS All Access
Starz
Sky Go
FX Now
FandangoNow
NOW TV
Funimation
Plex
Sports Streaming Services
MLB.TV
NFL Sunday Ticket
NBA App
NHL.TV
Game Streaming Services
Live TV Streaming Services
YouTube TV
Hulu Live TV
Sling TV
fuboTV
Are Digital Games Included?
As we mentioned, the users' location dictates what they get to access. However, that doesn't just apply to streaming channels and apps; it also includes the games they get to download.
Just like any gaming console that allows game downloads, some Xbox games launch in specific regions of the world, usually with no plans to include the rest of the Xbox community.
Although the high-end model of the company's new generation of consoles are region-free, allowing users to use discs from all over the world, digital games remain locked for most countries.
Also, in some countries, the games get released a couple of hours/days earlier than the rest of the world, which can be pretty frustrating for diehard Xbox fans.
But that's not the case with Xbox. It will be region-free in digital format as well. Users will have free access to Microsoft Stores in other territories.
All they have to do is change the Microsoft Store country or region. They can do that by simply going to the system settings -> Language and location -> select Locations -> Restart now.
Online Security and Privacy
Be it a gaming console or any other device; if it connects to the internet, it's susceptible to cyber threats. In fact, Xbox Live accounts get hijacked almost every day, and the results would be devastating if the hacker can get his hands on personal information.
Users can also lose their purchased games in the process, resulting in a total loss of time, money, and effort. Imagine if a hacker gets ahold of your account, your credit card information would be in the wrong hands.
Back in 2015, 2.5 million users on both Xbox and PlayStation were hacked. This incident gave out personal information to the attacker, potentially opening harming every single account they have. Not to mention that 1.2 million Microsoft accounts were compromised in January 2020.
You see, they used the same username and password on various websites and services, resulting in a complete/perfect hacking process. With a VPN, all your data will be encrypted, resulting in an impossible-to-crack algorithm.
As a result, no one could lay their hands on your data, and even if they did, nothing would be readable. Moreover, a VPN hides the users' IP addresses, which gives them total anonymity on the web.
Xbox has supported a web browser for quite some time now, and everything you do there can be seen by your ISP. With a hidden IP address (thanks to the VPN), you'll be able to surf the web without being tracked, monitored, or identified.
Bypass ISP Throttling
Internet speed is probably the most important aspect of online gaming. If the speed is bad, your gaming experience will be ruined, no doubt. While sometimes you get the feeling that your connection is in perfect shape, you notice that a few lags are occurring until the game freezes or you get disconnected.
First of all, you shouldn't blame the console or the network itself (Sometimes). This might be your ISP throttling your connection for a couple of reasons.
First, you might have exceeded your monthly data cap. Second, you also might have streamed a lot of content that the ISP decided to cut down on your consumption.
Finally, which is the most common reason, your ISP might be doing that on purpose to convince you that a more expensive plan is the best way to get excellent speeds.
If Xbox users operate with a VPN, they'll have nothing to worry about in this department. Now, we have to note that VPNs do tamper with the connection speed, but that pales in comparison to what the ISP does to it.
When a VPN conceals your IP address, your ISP won't know which device is doing what – completely in the dark. This will help you bypass all throttling attempts and play whatever game you want, enjoying a lag-less Xbox Series X/S experience.
Setting Up VPN on Xbox Series X and S
The benefits users get from using a VPN on Xbox are limitless. However, up till now, Xbox consoles don't have native VPN support, so playing games online while connected to a VPN isn't exactly a straightforward process.
It's not yet very manageable and easy to do. There are two ways you can share a VPN connection to your Xbox Series X or S. The first one would be configuring the cybersecurity tool on your router, which gives the entire house a protected connection.
As for the second one, users can turn their PC or Mac into virtual routers, sharing their already activated VPN connection with the console itself, adding it to the secure device with no internet limitations. Just follow the guides below, and you're done:
Another way to do so is by using an Ethernet cable after configuring the VPN on the router. You can also connect the cable straight from your laptop to the Xbox console, which might also deliver faster speeds.
A VPN Alternative for Xbox Series – Smart DNS Proxy
Since a VPN has no native apps on Xbox and setting it up might be a bit daunting to non-tech-savvy users, an alternative should be provided, and it is.
However, while this method is easier to configure, it lacks the enhanced security and privacy as no encryption is applied in the process. It's called Smart DNS, a technology that reroutes chunks of the users' internet traffic, allowing them to trick the channel into thinking that they reside within its area of coverage.
You'll need no additional software to set up Smart DNS on Xbox Series X or S. It's way too easy, especially since most providers have setup guides on their websites.
Now, since there's no encryption or IP change, users will enjoy excellent speeds while streaming or gaming, as well as have the ability to navigate between their local and geo-restricted channels simultaneously.
As mentioned, setting up Smart DNS on Xbox Series S or X is very easy. All you have to do is go to Settings > Network > Advanced settings > DNS settings > Manual.
After that, change the DNS to the ones given by the provider, and you're all set to stream whatever channels it supports. Please note that we included this section due to the fact that each and every VPN on our list today has Smart DNS included in their subscription.
Best VPN for Xbox Series X and S – The Review
VPN markets are growing on a daily basis, and VPN providers are almost countless nowadays. The market will keep on expanding exponentially, and it will definitely make it a hard task to find just the right VPN to meet your Xbox needs.
Among the hundreds of VPNs, users will be tempted to opt for a free VPN. Don't do that. These services are not safe since they collect user data and sell them to sister companies.
Moreover, the services they provide are weak, especially when it comes to speed. They have limited servers in limited locations, which makes it easy for a server to overload, especially in key countries like the US.
On the other hand, most free VPNs aren't capable of unblocking major streaming services such as Netflix and Hulu. So, we can say that signing up for one is practically useless and does you more harm than good.
In this review, we've selected 4 of the top premium services in the industry according to a strict evaluation process. We tested each and every aspect in terms of privacy, security, speed, unblocking capabilities, and more.
With that said, here's the best VPN for Xbox Series X and S review.
1. ExpressVPN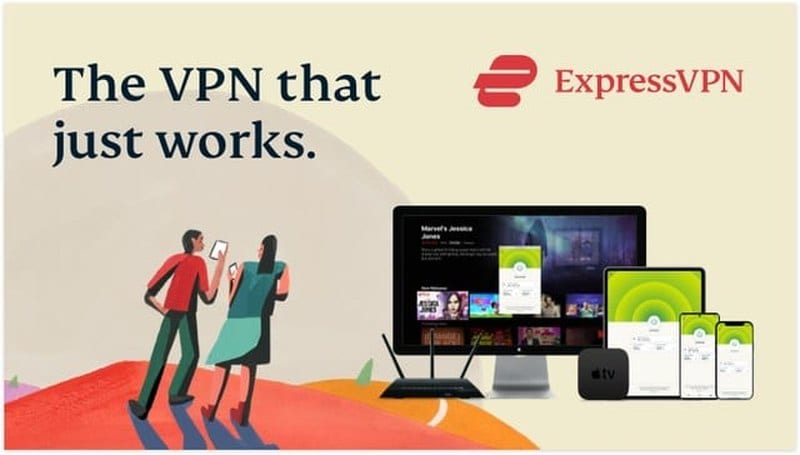 ExpressVPN takes first place as one of the most effective VPN services for Xbox. The provider has great security features and a huge list of servers to connect to.
In fact, ExpressVPN has more than 2000 servers across 94 countries, granting users access to hundreds of geo-blocked channels around the world. Speaking of unblocking, we mentioned that major streaming channels could detect VPN traffic and block it instantly.
ExpressVPN optimizes its servers to bypass that, and the likes of Netflix, Hulu, Amazon Prime, and Disney+ can easily be accessed on your Xbox Series.
Speed-wise, ExpressVPN offers excellent speeds no matter how far the server is. We tested a couple of servers and tried streaming content in UltraHD. The results were positive, the video quality remained the same, and no buffering issues were witnessed.
As for gaming, our PING remained low, which is what we were looking to see from a provider with ExpressVPN's reputation. Now, despite its extremely fast speed rates, ExpressVPN also has Smart DNS (MediaStreamer).
You can easily configure it on your Xbox Series, unblock geo-restricted content, and watch whatever channel you want wherever you may be. Now, ExpressVPN isn't the cheapest VPN out there, but users will definitely get what they pay for.
It also offers a 30-day refund policy in case you change your mind and want to shift to another. You have plenty of time to test the service out and decide whether you want to proceed or not.
Pros
Easy to set up on the router.
Military-grade encryption.
Servers in 94 countries.
Unblocks major streaming services.
Smart DNS (MediaStreamer).
Excellent speed rates.
Strict no-logging policy.
30-day money-back guarantee.
Split-tunneling.
Cons
Expensive monthly plan.
No free trial.
2. BulletVPN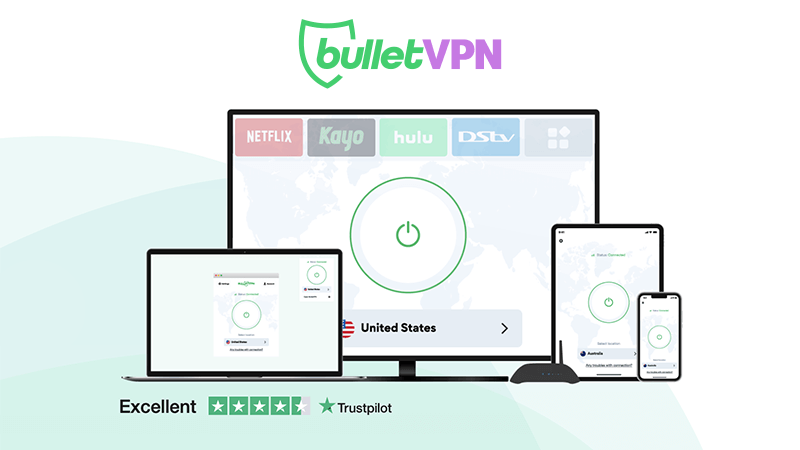 BulletVPN is, by far, the best service for unblocking geo-restricted content. We'll get to that in a moment, but for now, let's take a look at their background.
Being based in Estonia speaks well about the privacy offered by BulletVPN. There are no data retention laws, and the region is nowhere near the Five Eyes.  BulletVPN has 150 server locations across 55+ countries, giving us Xbox users a lot of options in terms of getting geo-restricted channels. Now, let's talk about its unblocking capability.
The service is more than capable of unblocking the likes of Netflix, Hulu, BBC iPlayer, Amazon Prime, and DAZN. Aside from that, whether Xbox will support the likes of DStv, Showmax, TVNZ, or TenPlay, BulletVPN is the only one in this review that can unblock them.
All the other providers failed to do so during our evaluation, which gives BulletVPN an advantage in this department. As for speed, we noticed that BulletVPN doesn't affect users' Internet speed connection speed much.
We only witnessed a 6% drop when we used their UK server. That's more than any internet user could ask for. Also, BulletVPN has dedicated servers for gaming and streaming. They're called UltraHD Support, and they do exactly what the name states.
BulletVPN isn't that expensive. It has plans according to the customers' budget along with a 30-day no-questions-asked refund policy. New customers can also benefit from a 1-day free trial if they subscribe through Android or contact customer support.
Pros
Setup guides for everything.
256-bit AES encryption.
155+ server locations in 55+ countries.
Supports US Netflix, Hulu, and more.
Smart DNS feature.
Kill switch.
Blazing Fast speeds.
Keeps no logs.
30-day refund policy
Bullet Shield.
1-day free trial.
3. Surfshark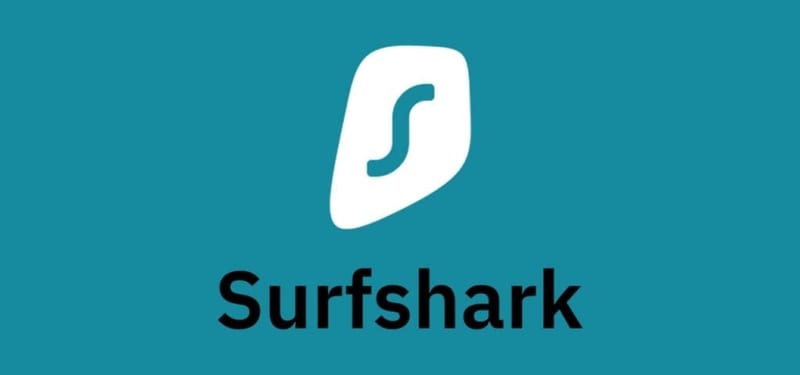 Xbox's new consoles act as both streaming and gaming hubs. With Surfshark, you can enjoy a whole different level of both as it unlocks the device's true potential.
With over 3000 servers in 65 countries, Surfshark users can unblock dozens of streaming apps available on their Xbox. We have to note that they have to set Surfshark up on their router.
If router installation is too much of a hassle, you can easily configure Surfshark's Smart DNS on your Xbox. That way, you'll unblock streaming channels and watch your content without witnessing any drop in speed (no encryption).
Furthermore, Surfshark strives when it comes to protecting its users' privacy. It's based in the British Virgin Islands, which is a region where no data retention laws are applied and definitely outside of the 14 Eyes' reach.
The subscription costs $12.95/month, which can be considered expensive. However, with the features it offers, we can definitely say that it's worth every penny.
Pros
Router setup guides available.
High-level encryption.
Supports major streaming channels.
Smart DNS.
Kill switch.
Strict no-logging policy.
30-day money-back guarantee.
Double VPN.
Excellent speeds.
Huge server network.
4. Unlocator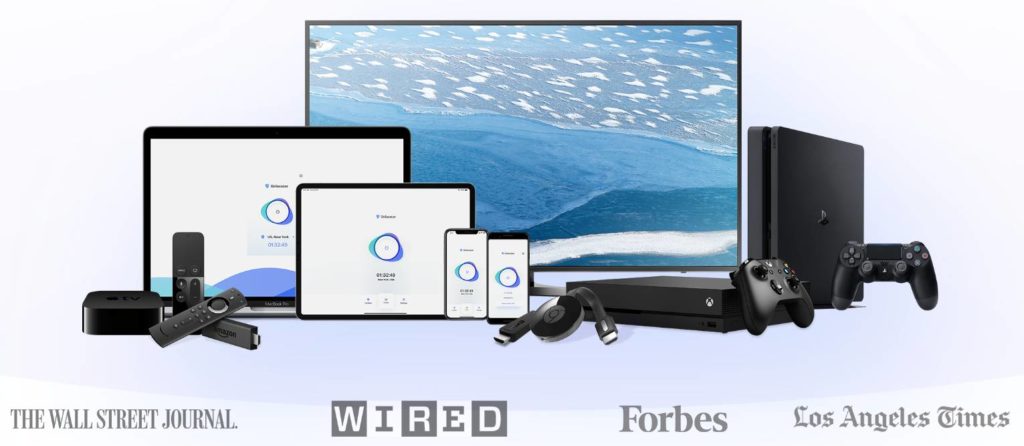 Unlocator had to be on our list due to several facts. First, it's the only provider that initially launched as a Smart DNS service until recently when it started providing a VPN feature.
Second, and despite having a smaller server network than any of the VPNs on our list, it's capable of unblocking more than 200 streaming channels around the world, be it via Smart DNS or VPN.
Security/privacy-wise, Unlocator has a strict no-logs policy, which ensures that none of the users' data is being collected or shared with the government or any other entity, even if it's based in Denmark (14 Eyes).
During our speed tests, Unlocator's servers did affect our internet speed, causing an approximate 55% reduction. However, we came across a couple of servers that maintained good speeds, allowing us to stream content in full HD.
As for gaming, lags did not occur while connected to Unlocator's servers, making it a good option for Xbox. If the speed wasn't what you're looking for, you could use their Smart DNS feature; it's effective and can unblock almost anything.
Unlocator is the only provider that allows customers to purchase the Smart DNS service on its own. You don't have to opt for its VPN if you don't want to.
Moreover, with their 7-day free trial, you get to take the service for a test drive before you enter their 30-day refund period. In other words, you have a lot of time before you come up with a decision.
Pros
Easy to use and set up.
High-level encryption.
Unblocks top streaming channels.
Smart DNS.
Kill switch.
Strict no-logging policy.
30-day money-back guarantee.
7-day free trial.
Unlocator Shield.
Cons
Some slow servers.
No split-tunneling.
Small server network.
5. NordVPN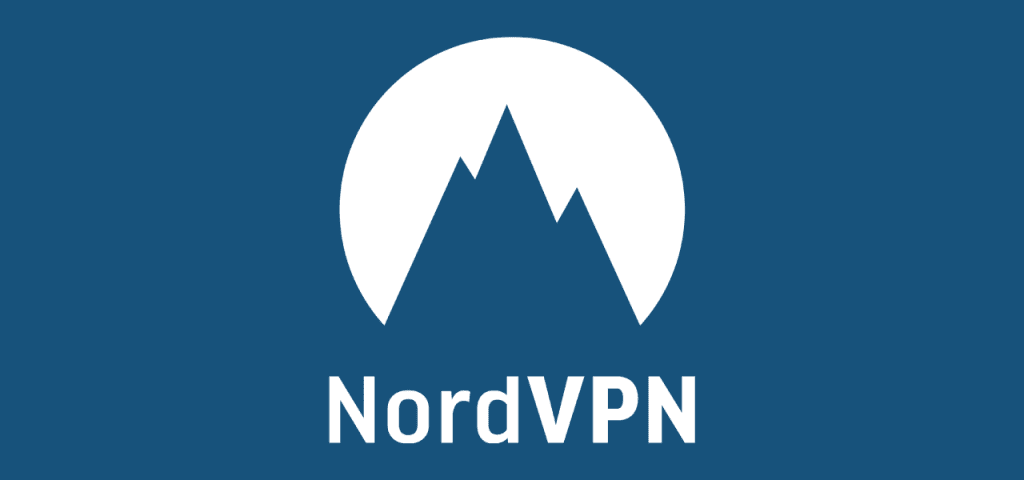 NordVPN has been around for almost 8+ years and has become one of the biggest VPNs in the industry. The VPN respects users' privacy, ensuring a strict no-logs policy, backed up with headquarters based in a country, not within the Five Eyes or Fourteen Eyes associations (Panama). 
NordVPNs has a huge server network, consisting of more than 5000 servers in 59 countries. That's a great server coverage if users are looking to bypass regional restrictions and access channels on their Xbox.
We tested a lot of channels with NordVPN, and it didn't disappoint. The provider managed to unblock the likes of Hulu, Netflix, Amazon Prime, Disney+, and so many more without a hitch.
Speed-wise, NordVPN didn't disappoint all the time. I did cause a 9% drop at first, but some servers were actually very slow. The speed got even worse when we used their Double VPN feature.
Speaking of, security is very strict with NordVPN as Double VPN offers twice the encryption you get with any other. Also, there's CyberSec, a technology used to fend off any malware, virus, or malicious software that may target your device.
If speed was an issue, you could always use their SmartPlay Smart DNS to unblock geo-restricted content on your Xbox Series. It's easy to configure, and the guides will help you out.
NordVPN offers a 30-day refund policy. Therefore, you can give it a try before you make any long time commitments.
Pros
Setups for configuring VPN & Smart DNS.
Military-grade encryption.
Access to top streaming channels.
Smart DNS (SmartPlay).
Kill switch.
Strict no-logging policy.
30-day money-back guarantee.
Double VPN
CyberSec.
Split tunneling.
Cons
Inconsistent speeds.
No free trial.
Best VPN for Xbox Series – Final Thoughts
The new Xbox consoles are taking over the gaming industry. Everyone wants a piece of them, yet they can only access chunks of what they really have to offer.
When using a VPN with Xbox Series, you'll be able to get your hands on some content you never thought was possible to get in your region. However, you have to pick the right VPN for the job, which we technically did in this review.
Check it out and let us know how your chosen VPN has changed your gaming experience on Xbox Series X and S.
Best VPN for Xbox Series X and S
Refund Policy

Speed

Smart DNS Proxies

Unblocking Capabilties

Support