How to Watch Chili TV Anywhere in the World
|
"You Get What You Pay For" is a saying we recently remembered when we came across Chili TV. It's a service that allows users to rent or purchase thousands of films, première, TV series, and even Cinema tickets online without the need for a subscription. However, there's also one more speculation – Chili is only available in select countries.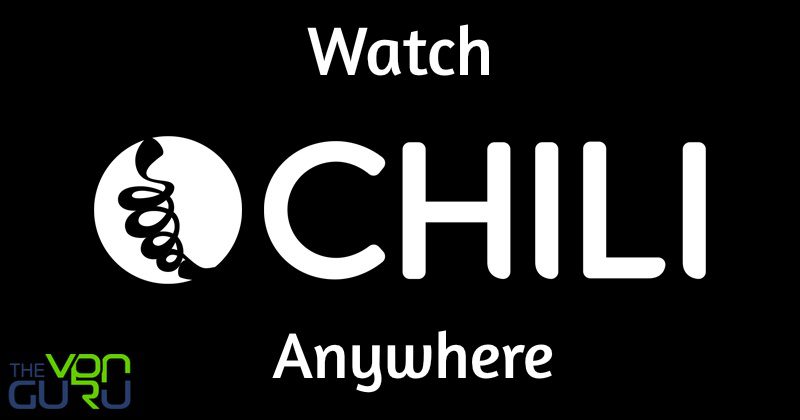 Now, from what we've seen, it's a great service to have no matter where you reside. That's why we came up with this guide. Here's how you can get and watch Chili TV anywhere in the world.
Unblock Chili Anywhere – Quick Steps
Time needed: 4 minutes
Chili TV is easily unblocked. You just need to know your way around. That's exactly why we're here to do – to help you out. This is how you can unblock Chili in your region:
Subscribe to a reputable VPN.

To ensure UK servers' availability, we recommend ExpressVPN.

Get the VPN app on your device.

Download and install the VPN client on your Android, PC, Mac, or iOS.

Sign in with your account.

Enter your username and password then proceed by clicking on Sign in.

Connect to a server in the UK.

This will give you a British IP address.

Launch Chili TV.

Head over to the channel's website or open its dedicated app.

Watch Chili TV wherever you are.

Rent or purchase any title anywhere you may be.
Unblock Chili Anywhere – Full Guide
When it comes to watching Chili in your region, the steps above are more than enough. However, there's more to know about Chili, which is why we created the following in-depth review:
The Requirements
Here's what you need to buy, rent, and watch content on Chili overseas:
A VPN subscription.
Chili-compatible device.
A valid UK payment method.
A Chili TV account.
Chili Cinema – The What, How, and Where
Streaming services now focus on subscriptions to operate. They offer you hundreds of titles within that subscription, regardless of what you're interested in.
CHILI works differently. As we mentioned above, the new streaming service gives you instant access to films and TV shows, entirely subscription-free.
You only pay for what you watch and depending on the title, your access varies between a limited period or forever. You also get to watch the latest movie releases freshly out of the Cinemas.
How? Well, Chili is backed by the biggest companies in the world, including Sony, Paramount Pictures, Warner Bros, Viacom, and 20th Century Fox.
Despite the big streaming war with the presence of BBC iPlayer, ITV, Channel 5, and Netflix, Chili managed to attract more than 2.3 million users, which is great considering how long it has been in the industry.
Purchasing Your Items
The prices vary according to the content you're buying. For example, the price of Agent Carter season 1 differs from that of American Horror Story season 9 or West Side Story.
You get the option to choose the content's quality as you buy it. You might be billed more in some cases depending on the quality. 4k resolution is the highest you pay for.
New users who register with the service get a 50% off on their first rental, which is a good gesture by Chili. The prices are good, the service is smooth, and allows renting both digital films and physical DVDs and Blu-rays.
Availability
The service is available in the UK, Italy, Germany, Poland, and Austria – that's it. It's only there. Chili does not operate outside the aforementioned countries due to geo-restrictions.
Just like Hulu, BBC iPlayer, Netflix, and other streaming services, Chili applies geo-blocks and restricts or limits user access to the select countries. Anyone living outside these regions will be blocked almost instantly.
Actually, the website and the application will work, but the block comes when you try to purchase the movie/series. We tried both the website and the Android application, both came with negative results.
You see, Chili relies on your IP address to determine your location. We'll focus on the UK version for the time being as it probably has the richest library. So, if your IP address is not a UK one, you're getting nothing out of the service. Here are the geo-error messages we got:
Website: "Sorry, you cant' register for the service in your country at the moment."
Android App: "Service not available in your country."
Now that we've addressed the issue, let us show you how you can unblock Chili TV anywhere.
Chili TV – From the UK to the Entire Globe
Your physical location is what's limiting your access to Chili and dozens of other channels around the world. What you need here is a simple tool to spoof your location and appear to be accessing the web from the United Kingdom.
That software comes in the form of a Virtual Private Network – a cybersecurity tool that focuses on enhancing a user's security, anonymity, and bypassing geo-restrictions.
When you connect to a VPN server, it reroutes your traffic through a private tunnel. Next, it encrypts your data (more security) and cloaks your IP address (more privacy), assigning you with a temporary IP according to the server's location.
As a result, you'll be able to access geo-restricted content in that territory despite being physically abroad. For example, if the server is in the United Kingdom, you'll obtain a British IP address. With that, you can use/watch Chili no matter where you are.
The Best VPN for Chili TV
Unblocking a certain channel is one thing, and streaming it at fast speeds is another. That's why we recommended ExpressVPN for the job. Based on the speed tests we performed, the provider showed excellent results no matter how far the server is from our location.
You have dozens of options to choose from as the provider offers more than 128 server locations in 94 countries. So, whatever version of Chili you're aiming at, it's all yours.
When it comes to security, ExpressVPN works with the top 256-AES military-grade encryption along with a kill switch, split-tunneling, and a strict no-log policy for extra privacy.
We truly believe that ExpressVPN is the top provider out there, but we have to state that it's not the only one capable of such a task. In the table below, you'll find 3 other top services we recommend. Check them out and give yourself more options.
Get CHILI Anywhere oun Any Device
With a VPN and your movie/series purchase, you can proceed to get Chili TV on your device. Here's a simple comprehensive installation guide:
Mobile
Getting CHILI on mobile devices is pretty easy. Here's what you need to do:
First, connect to a UK VPN server.
Next, change your Android or iOS App Store region to the UK:
Download and install the Chili TV app.
Purchase your title and start watching.
Desktop
If you're using a PC or Mac, the following steps are required:
Connect to a UK VPN server.
Open your preferred browser and head over to Chili's website.
Sign in with your account and buy your title.
Enjoy.
Samsung TV
Chromecast
When it comes to Chromecast, the following steps are required to get Chili TV:
Install the VPN on your router and connect to a UK server.
Download the CHILI app on your mobile device.
Sign in and purchase your movie/series.
Play the video and hit the cast button.
Enjoy your movie/series on TV via chromecast.
CHILI TV Anywhere – FAQ
We have more information. Make sure to check the following section if you want to know more about Chili TV:
What Devices Are Compatible with CHILI?
There's one thing that we really didn't like about Chili. The service allows five simultaneous devices, but it only allows you to watch the content on one device. You can't stream the same movie/series at the same time on separate platforms.
But for a channel that came out ago, its device compatibility is pretty good. Here's where you can watch Chili TV:
PC
Mac
iPhone
iPad
Android
Chromecast
Samsung Smart TV
Having a supported app on Smart TVs is an excellent way to launch a service. You can enjoy your chosen film on a large screen telly without having to fuss around with dongles or casting.
What Can I Watch on CHILI TV?
You probably would like to have a slight idea of what the channel has to offer. Therefore, here are some titles you're going to get once you unblock the channel in your region:
Movies
Terminator Dark Fate
Maleficent 2
Gemini Man
Joker
Official Secrets
Zombieland
Judy
Giant Little Ones
Hustlers
Goldstone
Half Nelson
A Quiet Place
Papillon
Life of Pi
Baby Driver
Insurgent
Series
Bob's Burgers
Watchmen
Succession
Big Little Lies
American Horror Story
Agent Carter
Divorce
Game of Thrones
Empire
Veep
American Dad
Family Guys
The Resident
The Americans
Ballers
Westworld
Can I Watch Movies for Free?
Yes, you can. Chili has a dedicated section for free titles. You can choose one and watch it without having to pay anything.
Do I Need a Chili Account?
If you want to purchase a title, you must first sign up with the service. Creating an account is free.
Watch Chili TV Anywhere – The Conclusion
Chili TV is a great option for those who don't like subscribing to a service for a long duration. As we mentioned, you only pay for what you want to watch.
Now, with a VPN, Chili can be accessed no matter where you live, be it the US, Canada, Australia, or any other non-supported country. If you need any help setting up a VPN, drop us a line and we'll help you out.