How to watch Xfinity Stream Outside USA Easily
|
Comcast's Xfinity Stream, previously Known as Xfinity TV is an online TV service that gives you access to TV shows and movies from all major US producers such as ESPN, Starz, History, and even Peacock Premium.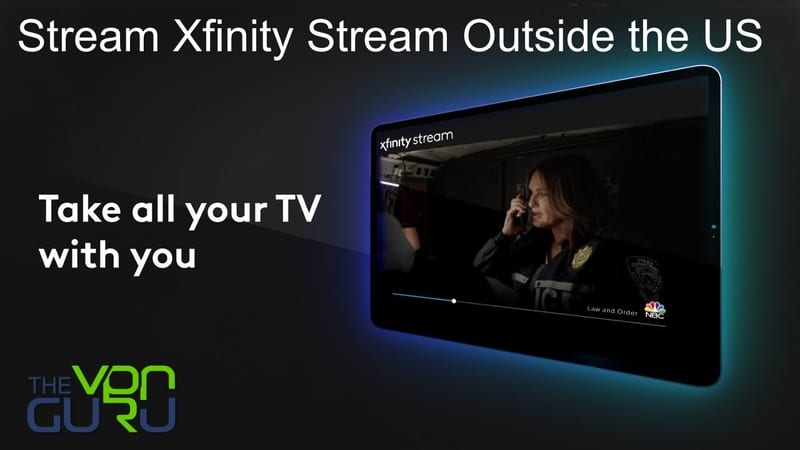 However, Xfinity Stream is only available in the USA, and it blocks any access from countries such as the UK, Australia, New Zealand, or elsewhere overseas.
Geo-blocking has been an issue for quite some time now, but we're here to help. Here's how you can watch Xfinity Stream anywhere in the world.
Access Xfinity Stream – Quick Walkthrough
Time needed: 4 minutes
Unblocking Xfinity Stream outside the US is an easy process. So, to cut it short, this is what you need to do:
First, sign up with a credible VPN provider.


ExpressVPN is highly recommended due to having high-speed servers in the US.

Download and install their VPN application on a compatible device.


You'll find clients for Android, iOS, PC, Mac, as well as Fire Stick.

Sign in with your VPN account.


Once in, connect to an American server.

Wait a few seconds for the connection to take place.


You'll notice a green "Connected" button.

Launch Xfinity Stream.

Watch the best shows from premium channels wherever you are.
Diving Deeper – A Detailed Walkthrough
If you follow the steps above, you'll be able to stream Xfinity seamlessly. However, there's a lot more to it than just that.
There are VPN alternatives, requirements, and other stuff you need to look out for. That's why, if you have the time, navigate through this in-depth guide for more information:
The Requirements:
To unblock Xfinity Stream in your country, you'll need everything on the list below.
A reputable VPN provider.
An Xfinity account.
Good connection speeds.
Android, iOS, LG/Samsung Smart TV, PC, Mac, or Roku.
Xfinity Stream – Only Available in the US
We tried to stream This is Us on the Xfinity Stream a while ago, this is the geo-error message we got since we don't hold an American IP address:
"This video cannot be played."
The channel uses your IP address to determine your location. Once it figures out that you're abroad (No US IP), it'll block your access instantly.
Such geolocation issues are caused by your location and IP address, which is why a VPN is necessary to change that. In fact, this cybersecurity tool can complete the task with a single click.
The VPN's Importance
A virtual private network, better known as VPN, gives you the ability to change your local IP address to a foreign one based on a server connection of your choosing.
This becomes possible because all your traffic gets rechanneled through a server located abroad. By faking your location, VPN will make Xfinity think you're actually located in the USA. We've summed up a VPN's features for you.
A VPN is easy to set up. Sign up, choose a VPN server abroad, and access geo-blocked content from around the world.
A VPN protects your online activity by stopping governments and employers from monitoring and dictating what you do online.
It masks your IP address and lets you go online anonymously.
Even if your ISP does use DNS hijacking or Transparent Proxies, VPN will still work just fine.
Keep in mind that the absence of a VPN client on some devices means that you need to set up a VPN on a VPN-enabled router instead. Xbox, Smart TVs, and PlayStation are all examples of devices that are not VPN compatible.
Advisably, choose a VPN provider such as ExpressVPN that doesn't keep logs of your online activity and has no bandwidth restrictions.
Reliable VPN providers offer VPN applications for iPhone, iPad, Android, Windows and Mac PCs and 24/7 support.
Unblock/Watch Xfinity Stream Go outside the USA using Smart DNS Proxies
We already showed you a recent error message above. However, you might also encounter a message that states:
"Sorry, playback is unavailable. Videos on XFINITY Stream can only be viewed from within the US. (Error 310: This content cannot be accessed outside of the US)".
Smart DNS allows you to get full access to all Xfinity Stream content outside the USA. By configuring DNS settings on your streaming device to those of a Smart DNS service, you can unblock Xfinity in addition to other geo-blocked channels. Smart DNS does have more to offer.
You will experience no slowdown in your Internet speed when using Smart DNS.
Smart DNS is compatible with most streaming devices. Windows/Mac PCs, iPhones/iPads, Android Smartphones/Tablets, Xbox, and Smart TVs.
Smart DNS allows you to watch content from various regions at once. You may stream Xfinity Stream and UK's Now TV, BBC Iplayer simultaneously for example.
Smart DNS makes it possible to retain your local IP address while accessing geo-blocked content from abroad.
Smart DNS's only downside is its ineffectiveness when an ISP uses DNS Hijacking or Transparent Proxies.
There are many Smart DNS service providers on the market. Having tried a handful of them, I prefer Unlocator.
Unlocator provides approximately 120 unblocked online channels. They also have videos/setup guides and a free no-strings-attached 7-day trial you can take advantage of.
Get Xfinity Stream on Any Device Outside the US
By now, we're going to assume that you already signed up for Xfinity. If that's the case, here's how you get the channel on your preferred streaming platform wherever you are:
Windows/Mac
Android
iOS
Smart TVs
Fire Stick
Roku
Frequently Asked Questions
We've answered most of your questions above, but we're here to give you more. Here are some of the questions most of you ask before opting for a service:
What Devices is Xfinity Stream Available On?
Xfinity Stream is available on these streaming platforms: Windows, Mac, Android, iOS, LG/Samsung Smart TVs, Fire Stick, and Roku.
What Channels Do I Get on Xfinity Stream?
As part of your subscription, you'll have access to dozens of channels in the region including the likes of Showtime, ESPN, ABC, CBS, CW, FOX, and PBS. However, Xfinity has also made it possible to get Peacock Premium once you subscribe.
Do I Need an Xfinity Account to Stream?
The answer is yes. Without one, you won't be able to access Xfinity Stream's content.
I Have an Account and I'm Traveling, but I Don't Want to Use a VPN. What can I Watch?
Nothing online can be streamed, be it on-demand or live content. However, if you downloaded some titles in the US, you can stream them overseas.
Xfinity Stream Go outside USA – How to Unblock
All the methods mentioned above will allow you to bypass geographic restrictions and access online services from all over the world, especially Xfinity.
Which method you choose is totally up to you. Please leave a comment below in case you need further assistance.
Save
Save