Are you ready for some back-and-forth hockey action? Well then, you're in luck as the 2023 IIHF Ice Hockey World Championship is kicking off from 12 to 28 May 2023. As usual, the tournament can be streamed on multiple platforms and services. However, these live stream hubs are subject to geo-restrictions.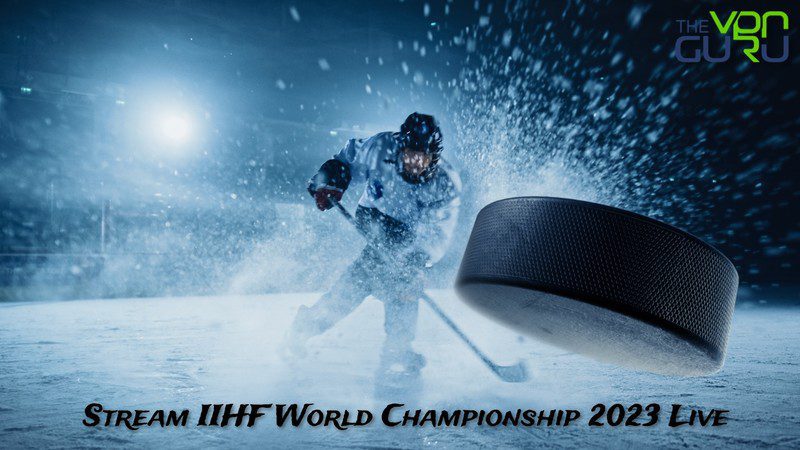 In other words, hockey fans willing to stream the tournament are blocked based on their location. That will change now. Here, you can find easy-to-follow instructions on how to bypass regional restrictions and watch the IIHF Ice Hockey World Championship 2023 anywhere.
IIHF World Championship Live – Quick Guide
Time needed: 4 minutes
We know how excited you are to stream the event, and maybe catch up on what happened last year as well. Therefore, we'll cut to the chase. Here's how you can watch the 2023 IIHF World Championship live anywhere:
Sign up with a VPN service.

Make sure it has several server options. We recommend ExpressVPN.

Get the VPN on your device.

Clients are available on Android, iOS, PC, and Mac.

Activate the VPN app and log in.

Sign in with your username and password.

Connect to a VPN server.

Pick a server in the country where your chosen channel has coverage rights.

Launch the channel's app or website.

Sign in with an account if needed.

Watch the IIHF Hockey World Championship 2023 live.

Enjoy one of the biggest Ice Hockey competitions wherever you are.
The Comprehensive Guide
There's a lot more. We've rounded up all the information you need to know about the IIHF championship in this in-depth guide.
The Requirements
To watch the 2023 IIHF Ice Hockey Championship, you'll need everything on the list below:
A VPN subscription.
An account with a channel (Not all of them).
A compatible streaming device.
IIHF 2023 Streaming Channels
In 2020, the IIHF Ice Hockey Championship was supposed to be hosted from 8 to 24 May 2020 by Switzerland, but the event was canceled due to the COVID-19 pandemic.
Last year, a lot of fans around the world were excited to see the return of the historic championship. The tournament is quite popular and has reached a global state ever since its inception in 1930 as an individual championship.
In fact, the 2019 tournament that was hosted in Slovakia reached a cumulative audience of over 1.6 billion, which shows how big the championship is across the globe.
This popularity is all thanks to the dozens of official broadcasters the sport has. However, each and every single channel is restricted to its own region.
Streaming services/websites apply geo-blocking to protect their content. That's mainly for copyright reasons. We'll take a look at the later on.
For now, check out the channels broadcasting the official live stream of the Ice Hockey World Championship:
As mentioned, your IP address is mainly responsible for the block you're getting when you try to stream IIHF matches from abroad.
But that won't be an issue anymore as we've already given you the solution in the form of a quick guide above.
Aside from that, we'll be shedding more light on what geo-blocking is and how it operates. Scroll a bit further to find out.
The Geo-blocking Predicament
The IIHF World Championship is one of the most popular tournaments in sports history. Back in 2017, the championship broke a viewing record as it generated more than 8,300 hours of TV coverage.
Even its Junior counterpart has millions of viewers across the globe, that's mainly thanks to TV partners in several countries.
Now, despite its global reach, viewing is still limited due to geo-restrictions. You see, these channels apply geo-blocking, where they restrict users' access based on their location.
They can pinpoint their whereabouts by examining their IP address. Once determined to be outside their area of coverage, the users are instantly blocked.
For instance, back in 2019, IIHF's Youtube channel offered live broadcasts globally, except in specific locations. We decided to try and watch a video in one of these regions and the following error popped up:
"Video Unavailable. The uploader has not made this video available in your country."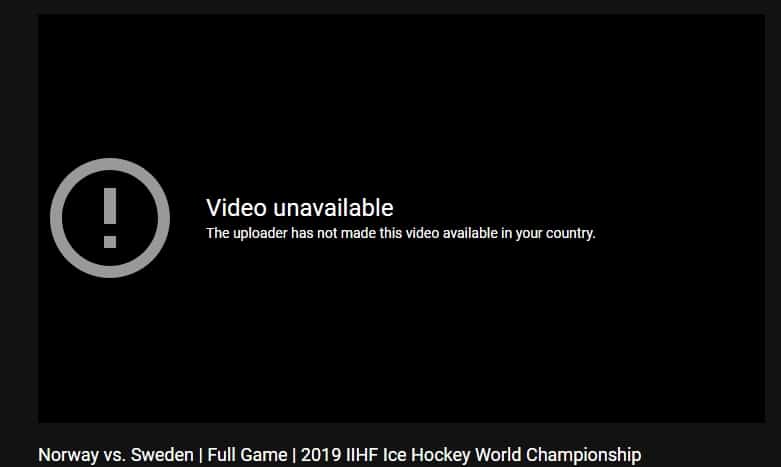 The image above represents the error we got back in 2019 when we tried to watch a match between Norway and Sweden. We wanted to address the issue with examples of several channels, and here's one from the French broadcaster, L'Equipe:
"This video is not available in your region."
This is what geo-blocking looks like, and after you're done with this guide, you don't have to see it again. Not only will you be able to watch the IIHF World Championship, but other top sports wherever you may be.
A VPN's Benefits
A VPN or virtual private network is the best way to bypass the issue. By connecting to a VPN server in a specific country, you get to be treated like a local in that country.
You see, thanks to the VPN, you get to take the IP address of that server. The server in the country you connect to carries the IP address of that country.
After connecting to it, your IP address will change to match that of the server as well. The content providers in that country will be tricked into thinking that you are an actual local (when you're halfway across the globe).
This technique helps you gain access to geo-blocked streaming channels, websites, and services. To watch the 2023 IIHF Ice Hockey World Championship online for free, you'll need to search for the right VPN for the task.
However, if you choose not to go through the trouble of research, you can take our word for it and subscribe to ExpressVPN.
There's a reason why it's at the top of the table below; it's been in the lead for quite some time now. From a large and fast server network to a highly secure encryption system, ExpressVPN is a solid choice for a provider. The other options are also considered to be the best in the industry.
IIHF Ice Hockey World Championships Groups
The 2023 Ice Hockey World Championship will take place from 12 May to 28 May 2023 in Tampere, Finland, and Riga, Latvia. The two groups are all set for competition and we have all the information about them:
Group A
The first Group in the competition consists of Finland, the USA, Sweden, Germany, Denmark, France, Austria, and Hungary. Their schedule is as follows:
12 May 2023
Finland vs. The United States

Sweden vs. Germany
13 May 2023
France vs. Austria
Hungary vs. Denmark
Germany vs. Finland
14 May 2023
The United States vs. Hungary
France vs. Denmark
Sweden vs. Austria
15 May 2023
Germany vs. The United States
Finland vs. Sweden
16 May 2023
Denmark vs. Austria
France vs. Hungary
17 May 2023
The United States vs. Austria
Finland vs. France
18 May 2023
Hungary vs. Sweden
Denmark vs. Germany
19 May 2023
Hungary vs. Finland
Austria vs. Germany
20 May 2023
The United States vs. Denmark
Austria vs. Finland
Sweden vs. France
21 May 2023
Germany vs. Hungary
The United States vs. France
22 May 2023
Denmark vs. Sweden
Austria vs. Hungary
23 May 2023
Germany vs. France
Sweden vs. The United States
Finland vs. Denmark
Group B
Group B's teams are Canada, Czechia, Switzerland, Slovakia, Latvia, Norway, Kazakhstan, and Slovenia. Here's the full group schedule:
12 May 2023
Slovakia vs. Czechia
Latvia vs. Canada
13 May 2023
Switzerland vs. Slovenia
Norway vs. Kazakhstan
Slovakia vs. Latvia
14 May 2023
Slovenia vs. Canada
Norway vs. Switzerland
Czechia vs. Kazakhstan
15 May 2023
Slovakia vs. Canada
Czechia vs. Latvia
16 May 2023
Slovenia vs. Norway
Switzerland vs. Kazakhstan
17 May 2023
Latvia vs. Norway
Canada vs. Kazakhstan
18 May 2023
Czechia vs. Slovenia
Switzerland vs. Slovakia=
19 May 2023
Latvia vs. Slovenia
Kazakhstan vs. Slovakia
20 May 2023
Norway vs. Czechia
Canada vs. Switzerland
Kazakhstan vs. Latvia
21 May 2023
Slovenia vs. Slovakia
Czechia vs. Switzerland
22 May 2023
Canada vs. Norway
Kazakhstan vs. Slovenia
23 May 2023
Slovakia vs. Norway
Canada vs. Czechia
Switzerland vs. Latvia
IIHF World Championship 2023 – FAQ
Is there anything you need to know that we haven't covered above? Alright then, make sure to check the following section as it includes answered inquiries that'll help you out:
When Will the IIHF World Championship Begin?
The tournament is set to take place between May 12th and May 28th, 2023.
What Country is this Year's Host?
The 2023 IIHF World Championship will be co-hosted by Tampere, Finland and Riga, Latvia.
How Many Teams Are Participating in the 2023 IIHF Championship?
18 teams will go head to head across two weeks to determine the new IIHF World champion.
Can I Watch the IIHF Championship for free?
Yes, you can. While a lot of the channels on our list require some sort of subscription, you can always use ORF to stream the championship for free.
Can I Watch the IIHF Championship on Kodi?
Kodi users are in luck. Not only do they get to stream the games on Kodi, but they get to do it completely free. All they have to do is install the ORF add-on and they're good to go.
 IIHF Ice Hockey World Championship 2023 – Conclusion
Every channel on our list created its own perfect platform for live streaming. Just make sure you're using a VPN to watch the 2023 Ice Hockey World Championship free live in any country. Have you thought of how you'll watch the event? If so, let us know in the comments.