Does the Amazon FireStick actually work outside the USA? It's a question we get asked a lot. Amazon's Fire TV Stick is a media streaming player that gives you access to your saved content on any compatible TV. It comes with 1 GB of memory, 8 GB of internal storage, a dedicated VideoCore4 GPU, and Dual-band/Dual-antenna WiFi. All of these features, in addition to the ability to sideload third-party Android apps on it, have made this streaming device one of the most popular around.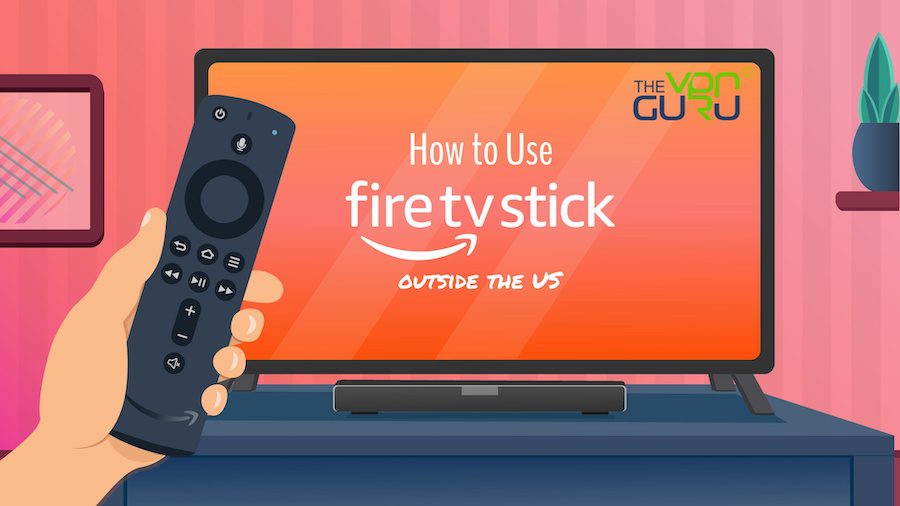 The Fire TV Stick connects to the compatible TV via HDMI port, making it easy to use and highly portable. It connects to your Amazon account and offers full HD streaming with a wide range of content options. The Fire TV Stick is a handy media streaming player to use in the United States. The content, however, will automatically be geo-blocked the moment you leave US soil.
Can I Use Amazon FireStick Abroad?
There's no easy way to answer that question. The Fire Stick itself does work in the UK, Canada, Japan, Germany, Austria, and India.  You would have to change your location on your Amazon account to get the Fire TV Stick to work, but the content and features on your Fire TV Stick will still be subject to geo-restrictions. For instance, you will not be able to use your American Amazon Prime Video subscription abroad. Neither will you have access to the likes of American Netflix, HBO GO, Hulu, or BBC iPlayer on FireStick. So, you might be able to somehow use it abroad, but the FireStick's functionality will be severely limited.
Don't worry, though. You can still access all your content, anywhere in the world, if you install and use a VPN!
How To Install a VPN from the App Store
The first way you could install a VPN onto your FireStick is to use the App store. Make sure that whichever VPN service provider you end up signing up with actually has a VPN app compatible with Amazon Fire TV. ExpressVPN, for instance, do provide their Fire TV Stick users with a ready-to-use application for Fire Stick that makes life that much easier.
Type in your preferred VPN into the Fire TV Stick's App store.
Download the VPN App when it appears.
Click "Open" and launch the VPN App after it downloads.
Sign in to the VPN App.
Select an American server to connect to.
How To Install VPN to a Fire TV Stick Via Download
If you're a Generation 1 Fire TV Stick user or are already subscribed to a VPN that isn't found in the App store, there's a way to install your VPN using an APK file. Make sure to always try to download the APK file from the VPN's site to minimize any malicious threats. Here's how you can sideload IPVanish's VPN app on your FireStick for example.
On your Fire TV, go to 'Settings' -> 'Device' -> 'Developer Options.'
Turn on 'Allow apps from unknown sources.'
From the Amazon Fire Stick main menu, go to 'Search.'
Type 'ES Explorer'.
Click on the ES Explorer app icon to download and install it.
Launch the ES Explorer app.
From the ES Explorer menu, go to 'Tools' -> 'Download Manager' in the left-hand menu.
Click on '+ New' from the bottom menu.
For 'Path', type https://thevpn.guru/ipvanish.apk and click 'OK'.
For 'Name', input 'IPVanish'.
Select 'Download Now'

The  IPVanish installation file will now begin to download.
Once the IPVanish APK file is downloaded, click on 'Open file' to install it on your Amazon Fire TV.
Go back to your Fire TV home screen.
Launch the IPVanish app.
Sign in and connect to a VPN server of your choice.
The Best VPN for Fire TV Stick
If you thought the second method mentioned above seems like a lot of work, you're very right. It is easier to simply download an app so you can get access to your content as soon as possible. Out of the top-tier FireStick VPNs available, ExpressVPN, BulletVPN, and IPVanish all have a dedicated Amazon FireStick VPN app, giving them an edge over other VPN providers.
ExpressVPN's Fire TV Stick app is not the only reason why we're suggesting it, some of its perks include:
Fast connection speeds for easy streaming.
Zero log policy for maximum privacy
Over 2000 servers available in more than 94 countries.
High-grade encryption for maximum data protection.
Don't just take our word for it! ExpressVPN's 30-day money back guarantee goes a long way in proving its superiority to the hesitant new user. Give it a try and let us know what you think in the comments!