Tis the hockey season, and everyone is very excited to see what the NHL has to offer this year. Well, you don't have to wait long as the NHL Stadium Series hits our calendars on February 18th, 2023. To stream the game, fans should tune into ABC or ESPN+. That's the case for US residents, at least.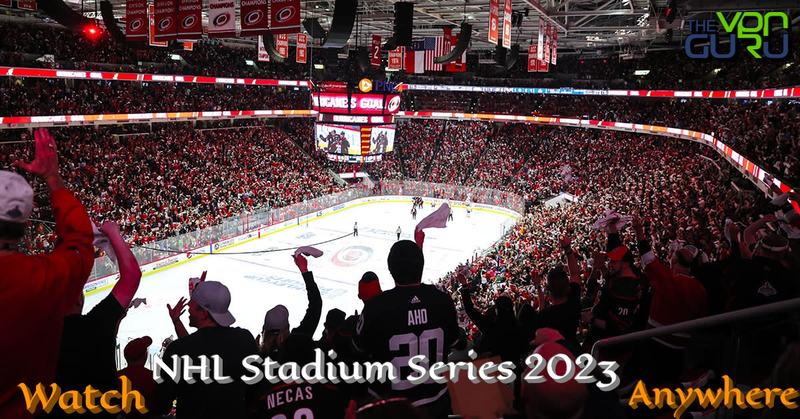 Due to licensing agreements, the two channels only operate in the United States, depriving everyone overseas from joining in on the action.
The NHL season kicked off in October, and we helped you stream it anywhere. Well, we're going to the same now. Here's how you can watch the 2023 NHL Stadium Series live wherever you may be.
Hurricanes vs. Capitals Live – Quick Steps
Time needed: 5 minutes
The Carolina Hurricanes will host the Washington Capitals at the Carter–Finley Stadium. Here's how you can unblock the broadcasting channels and watch the game live:
Sign up with a VPN provider.

Make sure it has American servers. For a seamless process, we recommend ExpressVPN.

Get the VPN application.

Download and install the VPN client on your device.

Sign in with your account.

Submit your username and password.

Connect to an American server.

This process will provide you with a US IP address.

Launch ESPN+ or ABC.

Log in with your account. (Cable provider credentials for ABC).

Watch the 2023 Stadium Series anywhere.

Enjoy Carolina Hurricanes vs. Washington Capitals live.
Stadium Series Live – The Full Walkthrough
There's more to discuss. We're going to take you through every single detail so that you're well equipped to watch the event in your region:
What You Need
To stream Carolina Hurricanes vs. Washington Capitals, make sure you have the following:
A VPN subscription.
An ESPN+ account (Subscription) or a US Cable provider account for ABC.
A compatible streaming device.
Streaming the Game and Geo-Blocking
The NHL Stadium series has grown in popularity over the years, and it doesn't seem to be stopping anytime soon.
Back in 2020, the game stumbled in terms of viewers as the Kings-Avalanche NHL Stadium Series game averaged a 0.6 rating and 1.00 million viewers on NBC.
Now that ESPN+ and ABC got the broadcasting rights, things might turn to the bright side for the outdoor game.
ESPN+ alone has more than 24 million subscribers, so we can assume that the viewership rates will increase drastically. However, these high numbers only represent those in the US, as both ESPN and ABC are geo-blocked overseas.
Just like most streaming services, ESPN and ABC apply geo-blocking, where they restrict/allow your access based on your location.
They examine your IP address to determine your physical whereabouts. If you're not within the United States (No US IP address), they'll block you on the spot. Here's a geo-error message presented by ABC when accessed from abroad:
"You appear to be outside the United States or its territories. Due to international rights agreements, we only offer this video to viewers located within the United States and its territories."


A similar error will appear if ESPN+ is the chosen channel. Fortunately, with the steps above, you can bypass regional restrictions, unblock the channels, and watch the 2023 NHL Stadium Series live anywhere.
What a VPN Does!
Before we dive into the VPN analysis, we have to acknowledge the fact that this task cannot be fulfilled without one. A Virtual Private Network is an online tool that elevates your security and privacy when browsing the web.
When you connect to a VPN server, it'll shield your data using military-grade encryption. This blocks any outside interception attempts from third parties, hackers, as well as your ISP.
Moreover, when the connection is established, the VPN will hide your IP address and replace it with a temporary one based in the country where the server is available.
Not only do you get to access geo-restricted content in that region, but you'll also be able to surf the web with complete anonymity.
For example, if you connect to an American server, you'll obtain a US IP address. As a result, you can watch the likes of ESPN+ and ABC wherever you may be. (Please note that a VPN bypasses restrictions – you can't circumvent any subscription processes).
With dozens of VPNs out there, you might think that finding the right one is easy. It's actually not, especially since free ones tend to get most of the attention.
Free VPNs are not reliable, and most importantly, completely not safe. If you want seamless browsing and streaming, make sure you opt for a premium service like ExpressVPN.
Not only does it provide unmatched security features, but the speeds are excellent regardless of how far the server is from your current location. ExpressVPN is our top recommendation, but it's not the only one. Take a look at the table below:
The 2023 Stadium Series – FAQ
Do you want to know more about this year's Stadium Series Game? Here's everything we know:
When Will the 2023 Stadium Series Take Place?
The Stadium Series will take place on February 18th, 2023.
Can I Watch the Game for Free?
Unfortunately, none of the channels broadcasting the game is free of charge.
Who's Playing in the Game?
This year's game will see the Carolina Hurricanes hosting the Washington Capitals.
Where Will The Stadium Series be Played?
The game will take place at the Carter–Finley Stadium in Raleigh, North Carolina.
Can I Watch NHL Stadium Series in Canada?
Although ESPN+ and ABC are broadcasting the game in the United States, it will also be simulcast in Canada via Sportsnet.
The 2023 Stadium Series – NHL Everywhere
Having a VPN is always necessary regardless of what you're doing on the internet. But when it comes to streaming, it's most definitely the essential factor in bypassing regional restrictions.
The Stadium Series this year promises to bring a lot of excitement and heat – even if it's on ice. Don't miss out on one of the most popular NHL games of the year. If you have more questions, drop a line in the comment section below.