How to Watch ESPN Plus Anywhere (Unblock ESPN+ Outside the US)
|
How to unblock and watch ESPN+ outside the US? ESPN Plus is a stand-alone channel that doesn't require a cable subscription to sign in. This certainly is great news for cord-cutters who are looking for ways to watch their favorite sports events live online.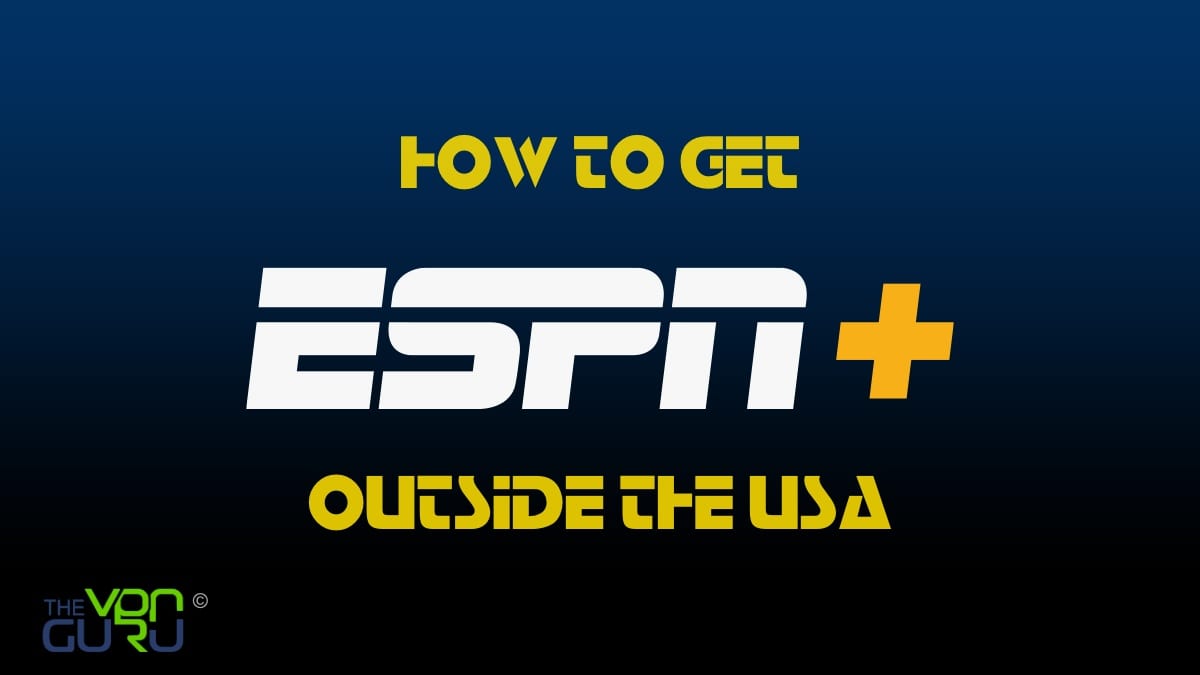 However, ESPN+ is and, most definitely, will not be available abroad. In the guide below, we explain how you can get around geo-blocks and watch ESPN Plus in the UK, Australia, Canada, Germany, and elsewhere outside the US.
Unblock ESPN+ Anywhere – A Quick Walkthrough
Time needed: 5 minutes
We're not going to take much of your time. In order to unblock ESPN+ outside of the US, the following steps are required:
Sign up with a VPN service.

Make sure it has fast US servers. As a recommendation, try ExpressVPN out.

Download and install the VPN app on your device.

VPN clients can be downloaded on Android, PC, iOS, Mac, and Fire Stick.

Activate the software, sign in, and connect to a US server.

This will grant you an American IP address.

Subscribe to ESPN+.

You need to sign up for ESPN+ to be able to view its content. You can learn how to create an account overseas by following the steps below:

Now, launch ESPN+'s website or app.

We've included a step-by-step guide on how to install ESPN+ abroad.

Watch ESPN+ anywhere in the world.

Enjoy top sports wherever you are.
Stream ESPN+ Anywhere – The Full Guide
The following is an in-depth guide showcasing everything about ESPN+, its geo-blocking mechanism, and all you need to know to unblock it abroad.
What You Need
To access ESPN Plus outside the US, you'll need everything on this list:
A credible VPN.
ESPN+ subscription.
An ESPN+ supported device.
Can I Watch ESPN+ Outside the US?
By the end of ESPN Plus' second fiscal quarter of 2021, more than 13 million users have subscribed to the service. This is how popular ESPN+ is.
However, this popularity only covers the United States. Due to regional restrictions, sports fans won't be able to watch ESPN Plus unless they currently live in the USA.
ESPN+ applies geo-blocking to restrict its access to that region. Anyone living abroad won't get the chance to check what it has to offer.
You see, ESPN+ can determine your location by examining your IP address. Once it figures out that you're outside its area of coverage, the following geo-error message will appear, restraining your access almost immediately:
"ESPN+ is not available in your country due to content rights issues."
Unfortunately, it doesn't stop here. If this error does not show up, ESPN+ will greet overseas viewers with either a black screen or one simple word "Undefined."
Not to mention that along with this error: "We're sorry, an unexpected error occurred," the website's URL clearly states that the channel is geo-blocked: "https://plus.espn.com/denied?block=geo"
If you want to unblock ESPN+ anywhere in the world, you need to hide your online location. To do so, you need a virtual private network, better known as a VPN.
VPN Benefits
By connecting to a VPN server, you can encrypt all of your Internet traffic. Thus, keeping it away from potentially prying eyes. But that's not the only benefit you get out of using a VPN.
Unblock Geoblocked Channels: There are many streaming services that can only be accessed from certain countries. With VPN you can bypass regional restrictions and unblock any streaming channel you want anywhere in the world.
Bypass ISP Throttling: Ever noticed that your Internet speed is decent if you are browsing websites but suddenly drops when you are watching videos online? If that is the case, your ISP is probably throttling your Internet speed. Using VPN basically allows you to avoid that from happening.
Ultimate Privacy: Add an extra layer of privacy and security to all your online activities.
VPN Applications: You don't have to be a tech-freak to set up a VPN connection thanks to user-friendly VPN apps for PC, Mac, Android, iPhone, and iPad.
In terms of the best VPN service you can use, ExpressVPN is hands-down the best. They have multiple VPN servers located around the world.
Not to mention the fact they offer a 30-day refund policy. So you can try them out safe in the knowledge that you're not taking any risks. Here are our favorite VPN service providers.
How to Create an ESPN+ Account Outside USA
Before you get to watch anything, you must first create an ESPN+ account. Please note that ESPN+ is a premium channel, which requires a $5.99 monthly fee and $59.99 for a 1-year plan.
With that said, here's how you can subscribe to ESPN+ while living overseas:
First, download and install the VPN app on your device.
Sign in and connect to a US server.
Head over to https://plus.espn.com
Now, if you want Disney+ as well, click on Get the Disney+ Bundle. If not, select Subscribe to ESPN+ only.
Enter the necessary details (Name, Last Name, Email Address, and Password), then hit Sign Up.
Pick your plan and payment option.
Enter a US Zip Code.
Finally, click on Buy ESPN+.
You're done. You now have an ESPN+ subscription.
How to Get the ESPN+ app on Any Device Outside the US
Now that you have a VPN subscription and an active ESPN+ account, let us show you how you can start streaming on any device the channel supports:
Android
If you want to watch ESPN+ on an Android device (Mobile, Tablet, Nvidia Shield, or Sony TV), follow the steps below:
Start by installing the VPN app on your Android device.
Next, connect to a VPN server in the United States.
Now, switch your Google Play Store country to the US and get the ESPN+ app.
Launch ESPN+ and sign in.
Enjoy a whole new world of live sports anywhere.
iOS
If you happen to be using your iPhone or iPad to watch ESPN+, here's what you need to do:
Get the VPN app on your device and connect to a US server.
Change your Apple Store region to the US and download the ESPN+ app.
Launch ESPN+.
Log in and start watching.
Desktop
If you're using a PC or Mac, this is what you need to do:
Download the VPN app and connect to a server in the United States.
Open your preferred browser and head over to https://plus.espn.com/
On the top right of the screen, select Log In.
Enter your credentials and stream away.
Apple TV
Watching on Apple TV isn't as straightforward as the previous devices. To get ESPN+, the following is required:
On your Apple TV, change the Store's region to the US and download ESPN+.
Launch the channel and sign in.
Stream UFC and dozens of other sports live anywhere.
FireStick
Getting ESPN+ on FireStick is kind of a simple task. To do so, follow the steps below:
Install the VPN app on your Fire device and connect to a US server.
Change your Amazon account region to the USA and get the app or sideload the ESPN+ directly.
Launch ESPN+ and sign in.
Enjoy!
Gaming Consoles
To get ESPN+ on Xbox or PlayStation, this is what you need to do:
Change your console's region to the US:
Download the ESPN+ app and sign in.
Start binge-watching.
Samsung TV
Roku
ESPN+ Anywhere – The FAQ Section
You asked, we answered. Here are more questions our readers have been asking and the right answers to them:
Can I Watch ESPN+ for Free?
Unfortunately, no you can't. In the past, ESPN+ used to offer a 7-day free trial to new subscribers. Now, that option no longer exists.
What's the Difference Between ESPN and ESPN+?
To watch ESPN, you need a valid cable subscription in the US. On the other hand, ESPN+ is a subscription-based service that requires no cable deal. You can cancel anytime.
Why Can't I Watch UFC Events on Fight Pass?
UFC live events are blacked out in the US due to ESPN+ holding the rights of broadcasting.
Can I Watch UFC for Free If I Have an ESPN+ Subscription?
No, that's not an option. UFC's major events are offered as PPV. So, even if you're subscribed to ESPN+, you'll have to pay for the fight separately.
What Sports Can I Watch on ESPN+?
Once you subscribe to the service, you'll be able to watch all kinds of sports, such as:
UFC
MLB
NHL
NFL
NBA
PGA Golf
College Football
Tennis
What Devices Can I Stream ESPN+ On?
You can watch ESPN+ on the following devices:
Android
iOS
Android TV
PC
Mac
Apple TV
Amazon Fire Stick
PlayStation
Xbox
Samsung Smart TV
Roku
What Zip Code Do I Use to Sign up with ESPN+?
Use any of the following to complete your ESPN+ registration:
99501
99524
85001
72217
90209
How to Unblock ESPN Plus Anywhere in the World?
ESPN+ mainly targets the ever-growing audience of cord-cutters in the United States. But now, everyone can get a taste of what this channel has to offer.
If you stumble upon any issue while trying to unblock ESPN+ in your country, please let us know in the comment section below.