Have you ever been to one of the countries registered under the Cooperation Council for the Arab States of the Gulf? If you are a resident or planning for a visit there, you'll need to know about how heavily internet censorship is being practiced in those regions. However, such surveillance and invasion of privacy can be circumvented with a robust technology known as a VPN service. Find out which one is the best VPN for GCC countries in this review.
Internet in the GCC States
In these territories, the internet is filtered by both the ISPs and the Ministry of communications. Any website deemed immoral, politically sensitive, supporting terrorism, or criticizes the governing Gulf monarchies will be blocked on the spot.
The main thing you should focus on is that many websites and services are inaccessible. In order to circumvent this issue, you'll need a proper VPN. Quick note that these countries have been working really hard to block VPN use in their districts. Therefore, not all VPNs can be trusted. Luckily I went ahead and did a bit of research to ease your job. I tested dozens of VPN providers and came up with the top 4. In the following table, you'll find the names I'm going to cover later on in this review. For now, get a quick glimpse and read on to find out more.
The CCASG Countries
There are six member states of the Cooperation Council for the Arab States of the Gulf (CCASG) or the Gulf Cooperation Council (GCC). Check them out:
Best VPN for GCC Countries
It's quite tempting to opt for a free product right? Well, no, that's too dangerous especially when you're looking in the VPN industry. Avoiding signing up with a credit card is a relief indeed, but at what cost? These VPNs are not reliable and are well known to leak data even if it's unintentional. What's intentional though is the fact that they sell your data to sister companies and get revenue for it. So, be careful.
With that out of the way, here's the full review of the best VPN for GCC Countries.
ExpressVPN
ExpressVPN is a speedy, easy-to-use VPN, and completely reliable. You will always find this VPN on the top services in this industry. Their design is nice and it's very user-friendly in case non-tech-savvy users tried it out. Moreover, the VPN doesn't compromise on encryption protocols, either, which are among the toughest in the industry. Here are some of the key features of ExpressVPN:
256-bit encryption.
Unlimited bandwidth.
5 simultaneous connections.
30-day money back.
More than 128 server locations.
BulletVPN
BulletVPN is the newest to the business amongst the previous ones. But don't underestimate this newcomer as it's one of the best when it comes to security. Although it doesn't have that many server locations, it does cover the most important countries around the world. Plus, these servers are incredibly fast. So, if your a streamer or a gamer, this VPN is recommended. Here's more:
5 security protocols.
Around-the-clock support.
Kill switch.
Smart DNS.
High-level encryptions.
154 servers in 55 countries.
30-day cashback.
NordVPN
NordVPN has thousands of servers and unmatched security features. The best thing about this VPN is that it allows you to pass your connection through two different encryptions. Double the encryption, double the security. If you're looking for the perfect mix of performance and privacy, this one is a clear favorite.
Unlimited bandwidth
4000+ servers, well dispersed around the world.
6 devices with one account.
30-day money-back guarantee.
Double-VPN. Two servers instead of one.
Kill switch.
Why a VPN in the GCC Regions
The government in these countries employs invasive surveillance and censorship tactics to control what you access online. Not to mention that if you're traveling there, you'll lose all access to your home streaming services due to geo-restrictions. Furthermore, these regions prohibit the use of free VoIP services that might affect the revenue of major telecommunication companies. In other words, services like Skype, WhatsApp Calling, Viber, and many more are blocked within these districts.
Fortunately, a VPN can help you overcome these odds. Here's what you can do with a VPN in GCC countries.
1. Access Blocked Websites
Human rights are very low for many classes of people in GCC regions, including women, LGBTs, and other points of views that the government sees as immoral and blasphemous. But you should consider that everyone has the right to speak their mind, with limits of course. Therefore, the use of a VPN in such situations is highly recommended.
A Virtual Private Network encrypts your online traffic and anonymizes your internet approach. When you connect to a server, your original IP will be cloaked. That makes it pretty easy to access blocked websites no matter what blocking method the government has imposed.
The VPNs on our list are also the perfect way to access torrenting websites. Download any torrent file you want without having to look over your shoulders.
2. Bypass Regional Restrictions
The online streaming industry has dominated the world nowadays. Mega channels like Netflix, Hulu, BBC iPlayer, and so many more are on the rise. However, these services are restricted to the use of residents in their own region. This means that anyone living outside its area of coverage will have no access to its streaming catalog.
With a VPN, you'll be able to change your current whereabouts and appear in the desired location. For example, if you connect to a US server, you'll be able to watch American Netflix, Hulu, Amazon Prime, HBO Go, and many more. Same goes to every channel around the world when you connect to a respective server in their region.
3. Protect Your Privacy
The internet landscape in the country is "not free", with authorities constantly striving to stifle online commentary as well as access to content. It is crucial to guard what you post and say in these regions. Even the slightest comment or opinion could land you in trouble. The government there is always monitoring what you say and do all the time. From emails, chats, and social media accounts, all are under strict surveillance.
To avoid being tracked all the time, you need to pass your connection through a secure server provided by your VPN. Once you do that, you won't be recognized anymore due to your now masked IP address. Just use an anonymous name if you want to post a point a view while connected and you're good to go. But guys please, this guide is to help you express what you can't. Don't go and post immoral stuff over the internet just because you can.
4. Operate VoIP Services
These countries ban almost every online chat, voice, or video calling service you can ever think of. The reason for that is to protect the profits of the state-owned telecom companies.
You may notice that they don't block the websites related to social media. But any related chat system is banned. This includes the likes of WhatsApp, Hangouts, Line, Telegram, Snapchat, FaceTime, Team Speak, Skype, and Viber.
A VPN's encryption is everything you need when it comes to free internet use. Not only will you be blocking hackers from harvesting your data, but you can also call the ones back home using these blocked services. Well, not so blocked with a VPN, but you get the point. Don't limit yourself to what a region offers you. Get a VPN and go big.
Best VPN for GCC Countries – Final Thoughts
Unfortunately, locals in the GCC regions can only access a mere fraction of the web. This is a bummer since these countries are well known for their fast internet speeds. Nevertheless, you now have the solution to all your online problems. All you need to do is read the review well, pick the VPN that suits your needs best, and enjoy internet freedom to the maximum.
Best VPN for GCC Countries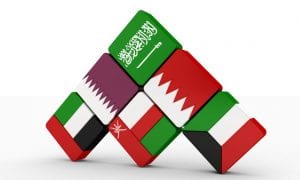 Name: ExpressVPN
Description: ExpressVPN is a speedy, easy-to-use VPN, and completely reliable.
VPN Apps

Access Blocked Content

Speed

Support

Refund Policty