Best VPN for Chromecast with Google TV (CCWGTV)
|
It's quite amazing how a small flat pebble-shaped device that connects to users' TVs can elevate their streaming experience. Google launched its first Chromecast device back on July 24, 2013. This platform allowed customers to play internet-streamed audio-visual content from dozens of streaming services on their TVs while controlling it through their mobile or laptop. However, despite its popularity and convenience, Chromecast was still limited as it doesn't provide a remote and its channels are susceptible to geo-restrictions. Now, Google fixed one of those issues with the launch of Chromecast with Google TV (Available October 15th, 2020). The newly designed device has everything a streamer needs including a remote. But what about the second issue? That's for us to fix, and we'll be doing so with a VPN. But the question lies here: What is the best VPN for Chromecast with Google TV? Find out in this review.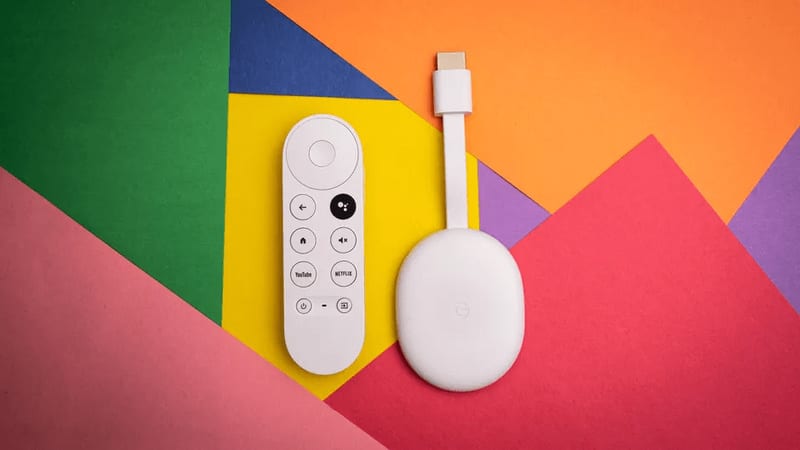 Best VPN for Chromecast with Google TV – Content Index
Google's major leap into the future of streaming is something to look forward to. The new CCWGTV is the new "IT Factor" in the streaming industry and there are tons of reasons why.
However, no one can benefit from the device's full potential unless a VPN is present, which is why we made this review of the best VPNs for Chromecast with Google TV.
CCWGTV – The Next Generation
Google's attempts to make TVs smart have resulted in one of the best streaming devices in the world. Chromecast provides a range of connected skills by just plugging it into the TV's HDMI port.
By now, most Chromecast users have the recent versions – the Chromecast Ultra and Chromecast third-gen, which were announced in 2016 and 2018 respectively.
However, these new generations did not offer anything new – they pretty much delivered what the original premise did. However, now, everything changed. Chromecast's sales were always behind those of Roku, especially in the US.
The image below represents the number of devices used in the US per company up to 2019.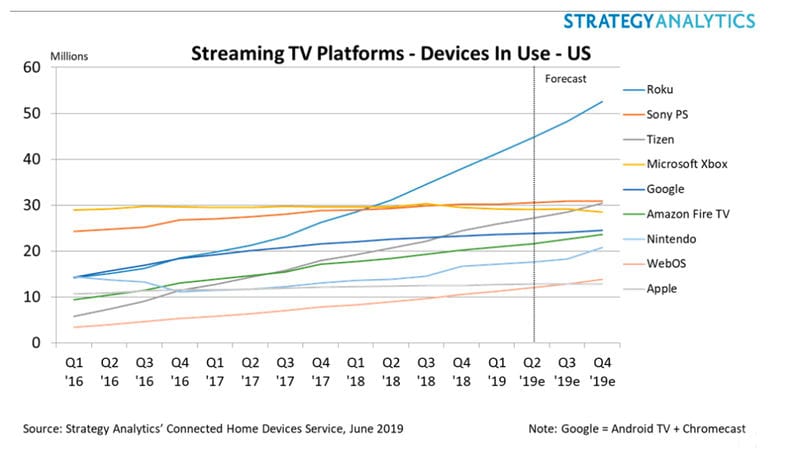 So, Roku was winning recently, mainly because the platform isn't affiliated with a content provider like Google (YouTube) and Amazon (Amazon video). It can easily set app deals with a broader range of content partners. Oh, let's not forget the fact that Roku has a remote.
What Does it Have to Offer?
But that's all about to change with Chromecast with Google TV. The latest model runs the Android TV operating system. However, it's the new interface that matters to us.
As the name states, Chromecast is coming with an interactive, on-screen user interface branded "Google TV," that allows users to finally navigate their device with an included Bluetooth remote control.
What's common between both Roku's remote and the new Chromecast's is the Netflix button. And of course, there will be a Youtube button for easier navigation. The Chromecast and its remote will be available in three different colors: Snow, Sky, and Sunrise.

Now, despite the remodeling, Chromecast with Google TV will still allow casting content from other devices. It supports 4K resolution and HDR through Dolby Vision. As for Google's Stadia Cloud Gaming, this service won't be available at launch.
Instead, Google postponed the support to the first half of 2021. Another new feature will be that the device won't be powered by the TV's USB port. It will come with a power adapter that should be plugged into the dongle via USB-C.
The device is coming strong as it was announced on 30 September, with pre-orders opening immediately. However, deliveries and in-store sales won't be available until October 15th, 2020.
The Chromecast with Google TV will cost £59.99 in the UK and $49.99 in the US. But it doesn't stop here – take a look at the image below:

For an extra $40, Chromecast users will benefit from, well, having the device for sure, and 6 months of Netflix. Whatever Netflix plan they decide to choose without the provided bundle will cost them way more than that. In other words, that's a great deal to consider.
Why a VPN for Chromecast with Google TV?
As mentioned, Google Chromecast has been around for quite some time now, offering top streaming services from all around the world in one place.
However, this one place does not include all the desired channels as its quite limited to the user's location. Despite the massive upgrade that the new Chromecast got, these limitations are still present.
Also, since the device connects to the internet, users should always be careful as cyber-attacks are all over the World Wide Web. This brings us to why a VPN has become a necessity no matter what device users are operating. Let us shed more light on the matter:
A VPN Enhances Chromecast's Security
Any device that connects to the internet is susceptible to cyber attacks no matter how harmless it may seem. Chromecast is a streaming device, which may seem unnecessary to protect.
However, that's not the case at all. It can easily be hacked, users accounts might be compromised, and let's not forget that all of us use our credit card to opt for services.
In fact, Chromecast has been hacked before. Despite being an attempt to show the flaws in the device, this showed us that such devices can be easy targets for cybercriminals out there.
Two hackers, known as Hacker Giraffe and J3ws3r, hacked into thousands of exposed Chromecast streaming devices and displayed a pop-up notice on the targets' connected TVs.
This was a warning from the hackers that their misconfigured router is exposing their Chromecast and Smart TV to outside entities. They also sent a notice to subscribe to PewDiePie's Youtube page while they're at it.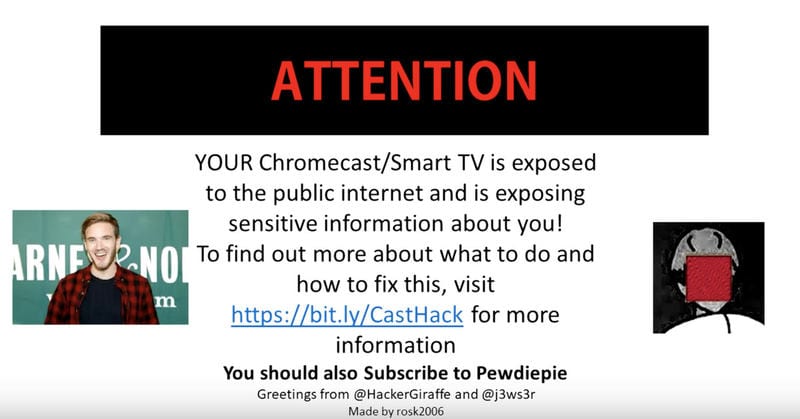 Now, Chromecast itself is not the problem, but that doesn't address the underlying issue. In general, Chromecast and other streaming devices can be tricked into allowing an unauthenticated attacker to hack them and display whatever he/she wants.
With a VPN, users can protect their connection and encrypt their data with a push of a button. All they have to do is set it up on their router and connect to any server they want.
As a result, they'll be enhancing their security and anonymizing their connection, shielding themselves from such incidents in the process.
The Basic Restrictions
Chromecast is one of the best streaming devices in the world. It offers instant access to most of the major streaming services, including Disney Plus, Netflix, Hulu, and HBO Max. Surprisingly, Chromecast with Google TV even has a streaming app for its biggest competitor, Amazon Prime Video.
Users can toggle which apps they pay for, and which they don't. This helps Google determine what content it pushes on them. But in some instances, users will see content from other channels, regardless of whether it's unchecked or not.
However, what Chromecast users see isn't always what they get. Well, at least in some parts of the globe. Streaming services, despite being a part of a single device, apply geo-blocking.
Users might face two problems in the process. First, their application might not work as it's restricted to a certain country. Second, they might not find the app to begin with as their local Play Store doesn't have it.
Both issues are related to geo-restrictions, which dictate what a user gets based on his/her location. Streaming services examine a user's IP address to determine his/her location. If they're not within their area of coverage, the users get blocked instantly. Here's what Hulu's geo-blocking mechanism looks like:
"Video not available in this location. This video is not available to watch in your current location. Please select something else to watch."
With a VPN, this won't be an issue anymore. It allows users to change their location and appear in any part of the world, depending on the server they connect to. For example, if they connect to a US server, they'll receive an American IP address.
As a result, they'll be able to unblock Hulu anywhere. But before they get to that, they might have to get the app first if it's not pre-installed, which requires a couple more steps. We'll be covering that next.
Chromecast With Google TV – Restricted No More
A VPN or a Virtual Private Network makes it possible for Chromecast users to work around all the obstacles that are a result of their location. As mentioned, using a VPN allows users to hide their location, and encrypt their connection. 
Once a connection to a remote server is established, a number of details encoded in a user's IP changes. These details include the location from which a user is browsing from.
All they have to do is route their connection through a specific server based on the channel they wish to get or unblock. When they do this, the service will recognize you as being within the channel's region, and therefore grant unrestricted access.
Not only that, but they'll also be able to redeem Gift Cards anywhere. Now, having said that, let's first show our readers how to get an app that's not available in their region.
Sign up with a VPN provider. We have reviewed top providers for the task below.
Install the VPN application on your router as Chromecast is not natively compatible with VPN clients.
Connect to a server based on the channel's country.
Download the restricted channel's app and you're done.
You're halfway there. You have to go a few more steps to complete the process. Just because you have the app now doesn't mean that you can use it freely. Geo-restrictions still apply and a VPN connection has to be present for this to work.
If you wish to use the channel, you have to remain connected to the VPN server you used to download it. For example, if the channel is in the US, you have to be connected to an American server. Then and only then can you stream its content from abroad.
A reputable VPN is required to get the job done, and below is a table that will highlight the top four that we'll be including in our review. Check it out and scroll a bit further for an in-depth explanation.
Best VPNs for CCWGTV
Users can gain more advantages by employing a VPN service to manage their connection. But, sometimes, the sheer number of services available makes choosing one difficult.
To help our readers out with this, we've put together a shortlist of providers that we've tested using a strict evaluation process. We made sure to round up the top providers that can guarantee top security, speed, and the best streaming experience on Chromecast with Google TV.
1. ExpressVPN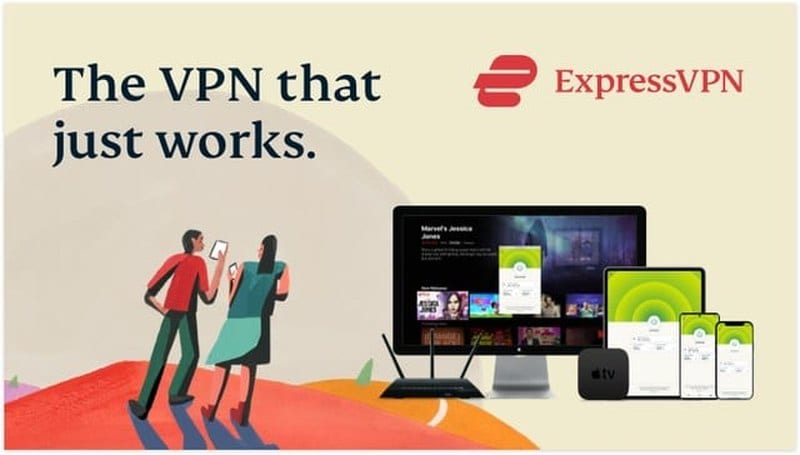 Laying claim to the number one spot is ExpressVPN, a reputable service that has more than 2000 servers around the world to its name. The service is based in the British Virgin Islands, and for very good reason too.
That area is not subject to any data restriction policies by any authorities whatsoever. So, you can be sure your data will never be handed over or recorded by the service. Its zero-logging policy is a testament to that. In terms of security, ExpressVPN offers 256 bit AES encryption, with a special focus on OpenVPN as the preferred VPN protocol.
ExpressVPN also allows for up to five simultaneous connections and works quite well with Tor over VPN for complete anonymity. The service also has a batch of stealth servers that users can connect to if they're based in a highly censored region.
The service is also has a split tunneling feature, where users can choose which parts of its traffic they want to encrypt. There's also a zero-knowledge DNS feature that the provider's Smart DNS users will find to be quite useful.
Security features are essential especially when they're installed on the router as they protect every connected device at home. However, ExpressVPN's Media Streamer is the more convenient way to unblock content on Chromecast.
With just a few configuration steps, users can watch every single unblocked channel simultaneously without losing access to the other. Remember, it doesn't change the IP address in the process.
Finally, ExpressVPN has a 30-day refund policy. This feature is very important, especially since the service isn't that cheap. Users can have an idea about what the VPN offers, and ask for a refund if it doesn't live up to their expectations.
Pros
256-AES encryption.
Easy router setup.
Over 160 VPN locations.
Unblocks American Netflix, Hulu, and more
Smart DNS feature (MediaStreamer).
30-day refund policy.
Browser extension
Split-tunneling.
Cons
Quite expensive.
No free trial.
2. BulletVPN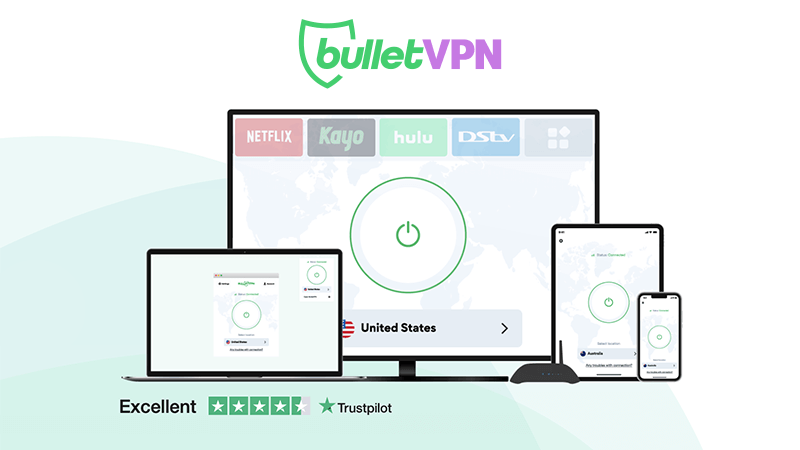 BulletVPN is an Estonian-based provider that promises ultimate security, anonymity, and of course, as the name states, blazing-fast speeds. The service has more than 150 server locations across 54+ countries, which gives Chromecast users dozens of options to choose from.
Security-wise, BulletVPN lacks nothing to protect its customers while online, especially if hackers are targeting their devices. It applies the industry-standard 256-bit AES encryption and supports five different security protocols, including OpenVPN.
For extra privacy, the company provides a kill switch, which terminates internet access if the VPN drops. However, during our tests, nothing of the sort occurred, the VPN worked seamlessly.
Another added feature would be its Shield technology. This one doesn't allow users to connect to the internet if there's no VPN connection established. Security and privacy from the start.
Now, Chromecast users cannot install VPN clients on their devices, which means they have to resort to the router setup. BulletVPN's website is full of guides that walk customers through every detail, regardless of the brand they're using.
Once set up, BulletVPN customers can benefit from "UltraHD Support" servers that guarantee perfect speeds. We evaluated the VPN's performance in this department and got nothing but bufferless streams and perfect video quality.
Not to mention that its Smart DNS proxy can be configured with complete ease on the Chromecast device itself, making bypassing geo-restrictions a walk in the park for non-tech-savvy users.
BulletVPN has a 30-day refund policy. So, technically, users have 30 days to determine whether BulletVPN is the provider they're looking for or not. If not, which is highly unlikely, they can ask for a full refund (No questions asked).
Pros
Military-grade encryption.
Comprehensive router setup guides.
Over 150 VPN locations.
Unblocks major streaming services.
Dedicated Kill Switch.
Smart DNS.
UltraHD Support servers.
30-day refund policy.
1-day free trial.
3. Surfshark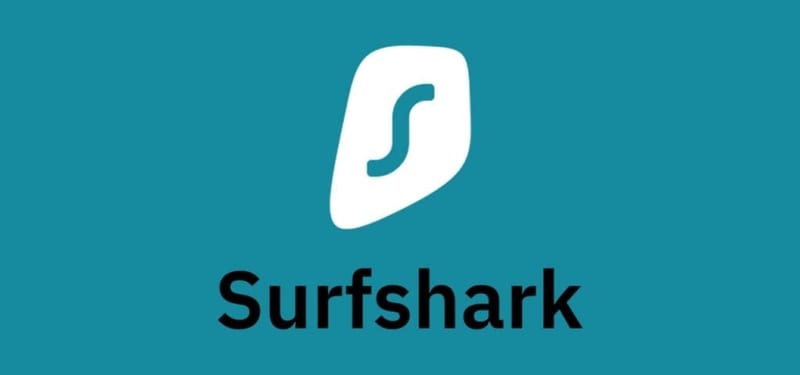 Next, we have Surfshark, the VPN that took the VPN industry by storm the day it launched back in 2018. Surfshark knows how to satisfy its customers' needs. That's why it was able to become one of the best VPNs ins the world today.
The provider has a huge server network, consisting of more than 2000 servers across 65 countries. If you're looking to unlock geo-restricted channels on Chromecast, such a variety of server options is perfect.
Not only that, but Surfshark excels in providing the best speeds possible, regardless of the encryption's toughness. We recorded a 1.8% drop only, which allowed us to stream content in full HD without any buffering issues.
Another way to stream your favorite content is by using Surfshark's Smart DNS. It can easily be set up on your router and allows you access to your channels, and doesn't tamper with your speed.
Surfshark is not the cheapest option out there, but it certainly is one of the best. You can benefit from their 30-day refund policy if you want to make sure that this VPN is the right one for you.
su_row]
Pros
256-bit AES encryption.
Servers in 65 countries.
Supports major streaming services.
Adblocker.
Kill switch.
Smart DNS.
30-day refund policy.
Double VPN.
Easy-to-follow guides.
[/su_row]
4. Unlocator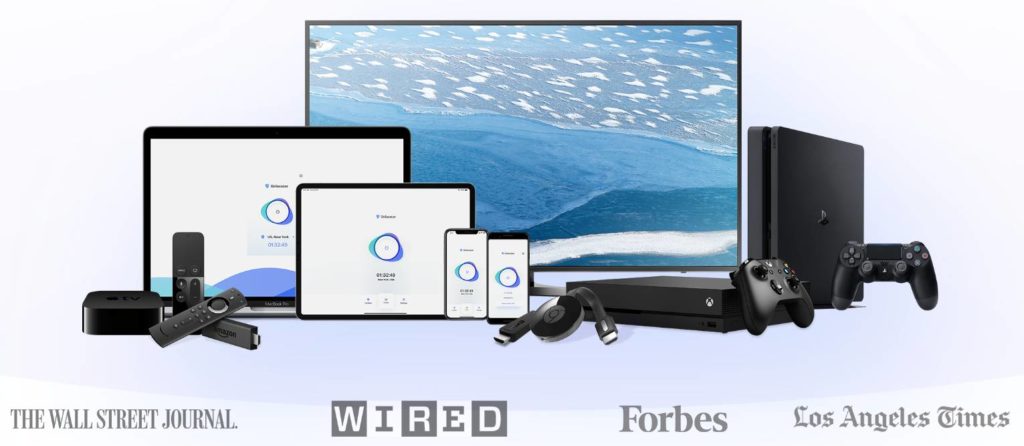 Unlocator launched back in 2013 as a Smart DNS proxy service, which is perfect for Chromecast users. However, being a pure Smart DNS provider doesn't help users in enhancing their security and privacy.
Therefore, Unlocator decided to add a VPN option to its subscription plans, granting users the option of choosing to opt for either Smart DNS (on its own) or both.
Security-wise, Unlocator applies the industry-standard 256-AES encryption and offers a kill switch. There's also Unlocator Shield, which doesn't allow internet access without an established VPN connection first.
Unlocator has servers in around 39 countries. It doesn't look much, but the provider made sure to spread them in key countries where major streaming services are available.
As for speed, Unlocator gave us a bit of a hard time while using some of its servers. However, we tested other servers in the US and the UK, and the performance was decent. We didn't witness any buffering notices or loss in video quality.
As a previously known pure Smart DNS service, Unlocator is probably the best Smart DNS provider in the world. Their technology is able to unblock more than 230 streaming channels all over the world.
Finally, Unlocator has a 30-day money-back guarantee. But before their new customers get to that, they can benefit from the service's 7-day free trial.
Pros
256-bit AES encryption.
Comprehensive setup guides.
Servers in 39 countries.
Unblocks Hulu, Amazon Prime, and US Netflix.
Kill Switch.
Smart DNS feature.
30-day refund policy.
Unlocator Shield.
7-day free trial.
Cons
Inconsistent speeds.
no split tunneling.
5. NordVPN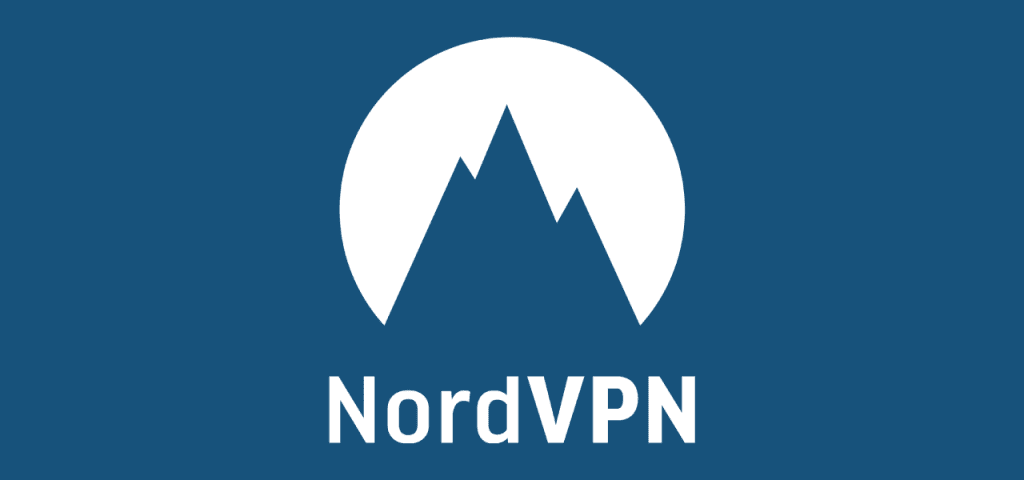 Concluding our list is a provider that is simply all-rounded in terms of features, and is sure to cover all your bases whenever you're online. NordVPN is a top-tier provider based in Panama that has a string of over 4000 servers under management, in more than 59 countries.
The service has achieved this in under a decade, and the standard of quality delivered is only comparable to a few. NordVPN also employs the industry-standard 256-bit AES encryption, but it does have a few more tools and features that make this even more effective.
First among these is its double VPN encryption feature. This feature reroutes data from a NordVPN client's device through two servers instead of one. It certainly makes things even more secure than initially intended.
The service also uses its leverage over the number of servers in its network to specialize in order to serve its customers better. This means that NordVPN optimizes its servers to perform certain duties better than others.
This, of course, depends on what a subscriber intends to do online. Subscribers also get to benefit from a list of dedicated IPs if they would wish to, as well as complete support for the Tor over VPN protocol for complete online anonymity.
Aside from security and privacy, let's talk about the speed performance we encountered. NordVPN wasn't the fastest, but this wasn't the case all the time. Some servers did cause a huge drop in our connection, while others maintain excellent ones.
Moreover, when we used their SmartPlay technology, all the major streaming services were easily unblocked. The streaming speed was great –  no buffering issues, or video quality loss.
NordVPN used to offer a free trial but terminated that feature as users started to take advantage of it. This damaged their service in so many ways as the provider stated. However, as an alternative, there's their 30-day refund policy, which guarantees full features and a refund in case it doesn't live up to their customers' expectations.
Pros
Top-level encryption.
Easy-to-follow setup guides
Servers in 59+ countries.
Supports major streaming services.
Kill Switch.
Smart DNS (Smart Play).
CyberSec.
30-day refund policy.
Split tunneling.
Browser extensions.
Cons
Some speed issues.
No free trial.
Conclusion on The Best VPN for CCWGTV
As Google continues to release more products and services for use, there's no doubt that using a VPN in conjunction with these services will only help ensure your data remains private even in the face of continuous integration.
The four VPNs we've listed above are more than capable of protecting your data and maintaining your complete freedom from locations or restrictions whenever you're online.
The top VPNs in our review are capable of not only getting you the channels you desire, but they'll also bypass their VPN bans. You have all the information you need. All you have to do is pick one and let us know everything about your experience in the comment section below.
Best VPN for Chromecast with Google TV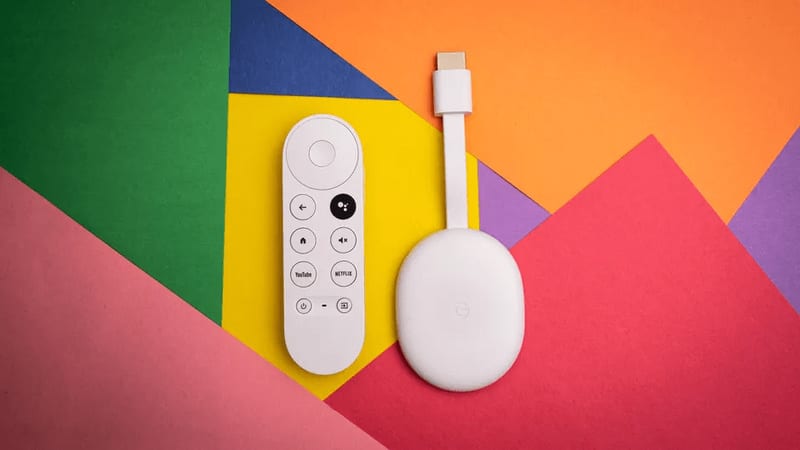 Name: ExpressVPN
Description: ExpressVPN is a reliable provider that bypasses restrictions and ensures security.
VPN Apps

Access Blocked Content

Speed

Support

Refund Policy