How to Watch AMC outside the US
|
How to unblock AMC outside the USA? AMC has been around for quite some time now, offering the best in series and movies for American residents. Emphasis on American as the service is only available in the US.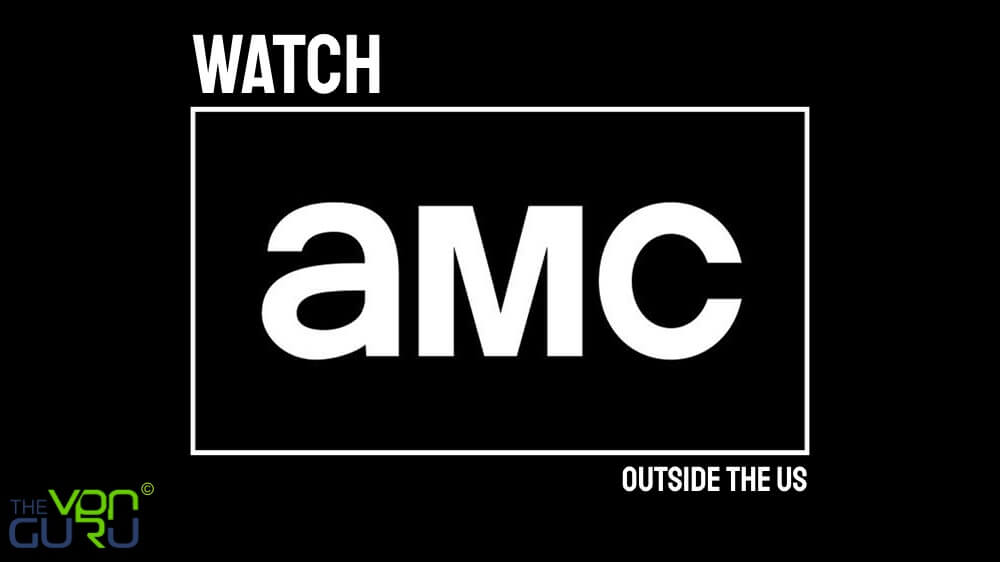 In other words, viewers and US ex-pats living in the UK, Australia, Germany, Russia, or elsewhere abroad cannot watch AMC or AMC+ in their region.
Bypassing geo-restrictions is what we do best, and we're here to help. So, with that said, here's how you can watch AMC anywhere outside the US.
Stream AMC Anywhere – Quick Guide
Time needed: 4 minutes
AMC is the ultimate streaming destination for the greatest series, films, and live channels. It's a must-have channel, which is why we're cutting right down to business:
Subscribe to a credible VPN service.

We highly recommend ExpressVPN due to its diverse server network and fast speeds.

Download and install the VPN application on your device.

VPNs have dedicated clients on major operating systems such as Android, iOS, PC, or Mac.

Activate the software and sign in with your account.

Once in, head over to the server list.

Connect to an American server.

This will provide you with a US IP address.

Launch AMC's application or website.

We've included a step-by-step guide on how to get the channel on any device.

Sign in to AMC.

We'll teach you how to create an account later on if you don't already have one.

Watch AMC shows, movies, and live channels anywhere.

Enjoy the best American content wherever you are.
Get AMC Anywhere – Full Walkthrough
When it comes to unblocking AMC outside the US, there's a lot more to know than the steps needed to fulfill the task. You can find everything you need in this full guide below:
What You Need
To get AMC/AMC+ in your region, you'll need everything on the list below:
A credible VPN service.
US Cable or AMC+ subscription.
AMC-compatible device.
Is AMC Available Outside the US?
AMC is a very popular channel in the United States. Back in 2020, an average of 594 thousand viewers watched the channel thanks to the premium content it offers.
Let's not forget that it has produced one of the best series in the world – The Walking Dead. However, while AMC's content is well-known internationally, the channel itself is only available to those residing in the US.
You see, AMC applies geo-blocking, which prohibits anyone from outside of the USA from accessing the channel's content. To determine your location, the channel examines your IP address.
Once it figures out that you're overseas, it'll block your access almost instantly. In other words, if you try to view AMC from abroad, the following error messages might appear:
"The Page You Requested Could Not Be Loaded. CONTENT NOT FOUND."
"Media error: Format(s) not supported or source(s) not found."
"Error. A Network error has occurred. Please check your connectivity and try again."
"This content is currently unavailable."
"Unfortunately, this content is not available in your location."
"Geographic Restriction. This content is not available in your location."
In the past bypassing geo-restrictions might have been a hard task. But now, we can guarantee that you'll be able to watch AMC anywhere in the world if you make use of a VPN and follow the steps above.
Watch AMC outside USA with VPN
As mentioned, you can use a virtual private network, or VPN, to get an American IP address in UK, Canada, Australia, or elsewhere abroad. Hence, you will be able to unblock all geo-restricted US streaming channels.
It doesn't stop here. If you use a VPN, there's a lot of benefits to gain – check them out below:
Based on the server you connect to, you can unblock channels from all over the world.

As long as you are using VPN, all your Internet traffic is encrypted.

You can easily install VPN applications on your PC, Mac, Android, iPhone, or iPad.
Speed can be improved as a VPN is the ultimate tool to bypass ISP throttling.
When it comes to bypassing geo-blocks imposed on US channels, ExpressVPN works exceptionally well. It has more than 15 servers in the USA along with hundreds of others across the globe.
Not only that, but aside from the ultimate security and anonymity you'll be getting, ExpressVPN provides the best speeds in the industry. This guarantees seamless streaming no matter how far the server is from your current location.
If ExpressVPN did not live up to your expectations, you can use any of the following top VPN providers as alternatives in order to watch AMC overseas.
How to Unblock AMC outside USA with Smart DNS
Another way to bypass these regional restrictions is none other than Smart DNS. In this case, you will not get an American IP address.
Smart DNS only partially redirects your Internet traffic i.e. most websites you usually use will not be affected. When you visit any geoblocked website, certain URLs check your IP address to determine whether you are allowed to access the site or not. Smart DNS only redirects those URLs. All of your Internet traffic remains untouched.
This approach allows you to use one Smart DNS configuration to unblock streaming channels from different regions simultaneously.
Of course, you can only unblock those channels which the Smart DNS proxy service you are using supports.
You only have to configure the primary and secondary DNS server addresses via your streaming device's network settings to get it to work. That means that Smart DNS is compatible with all devices that allow you to configure their network settings. (Apple TV, Xbox, Amazon Fire TV, PC, Mac, iOS, Android, Smart TV, PS3, PS4, etc.)
Your Internet speed will not be be reduced.
Please note that Smart DNS does not provide security. If you want an extra layer of privacy, and want your IP address hidden at all times, use VPN instead of Smart DNS.
The services above all support unblocking AMC on PC, Mac, Android, iPhone, and iPad. You can sign up and benefit from a 30-day refund policy.
How to Create an AMC+ Account Outside the US
AMC has two ways to stream its content. The first one is through the AMC website or app, where you are prompted to use a US cable provider to sign in.
This can be a bit of a hassle for those living abroad as signing up with a TV Provider requires a billing address and a lot of information they can't provide.
As an alternative, there's AMC+ – a subscription-based service that grants you full access to AMC without having to opt for a long-term cable deal.
So, since you now have a VPN account, this is how you can subscribe to AMC+:
First, use your VPN and connect to an American server.
Open your browser and head over to https://www.amcplus.com/
On the top right of the corner, click on Try 7 Days Free.
Enter your email and password then click Create Account.
On the next page, select your preferred plan, submit your credit card info, and hit Start Free Trial.
You now have an AMC+ account and can watch the channel anywhere in the world.
Before you proceed, we have some stuff to clear out. First, even if you have a cable subscription, a lot of AMC's titles require you to upgrade to AMC+.
Second, if you don't have a US payment method, you can always create your virtual credit card. With that, you'll be able to subscribe to US channels no matter where you are.
How to Get AMC on Any Device Outside the US
By now, you should have everything you need to watch AMC anywhere in the world. All that's left is getting the channel itself on your device. Here's what you need to do:
Mobile
If you want to watch AMC on your mobile device, download the VPN app, and follow the steps below:
Open the VPN app on your iOS or Android and connect to a US server.
Change your native app store to the US and download the AMC app:
Launch AMC and sign in.
Start watching top content wherever you may be.
Desktop
When it comes to streaming on PC or Mac, things tend to get a lot easier. All you have to do is the following:
Connect to a US server.
Open your browser and head to AMC's official website.
Sign in with your account.
Play a video and enjoy.
Apple TV
Fire TV
If you're using an Amazon Fire Stick, make sure to follow the steps below in order to get the AMC app:
Download and install the VPN app on your Fire TV.
Connect to an American server.
Change your Amazon Account region to the US and get the app.
If that's too much of a hassle, you can sideload the channel directly to your device.
Launch AMC and sign in.
Stream AMC no matter where you reside.
Roku
Get AMC Anywhere – FAQ
Do you have more questions? We're quite sure this section has all you need to know:
Do I Need a US Cable Subscription to Watch AMC?
Yes. If you want to stream content on AMC's website or application, you must sign in with your cable TV credentials.
How Can I Watch AMC without Cable?
AMC recently launched its standalone service AMC+. All you need is a subscription and you can watch it without having a cable subscription.
What Devices Can I Watch AMC on?
You can stream AMC on the following devices:
Android
iOS
PC
Mac
Roku
Fire Stick
Apple TV
Why Can't I Watch Everything on AMC?
A lot of AMC titles are not available unless you upgrade to AMC+.
AMC is well known for producing the best TV shows in the world. That includes:
The Walking Dead
Breaking Bad
Better Call Saul
Into the Badlands
Discovery of Witches
The North Water
The Broken and the Bad
Fear of the Walking Dead
The Prisoner
Ultra City Smiths
Kin
The Beast Must Die
Creepshow
Can I Watch AMC for Free?
AMC+ offers a 7-day free trial. You can watch anything on the channel for free and cancel anytime.
Stream Free AMC Episodes outside USA with VPN or Smart DNS
AMC is a must-have channel that boasts hundreds of premium titles in the US. With the guide above, you can now enjoy a huge library of what AMC has to offer anywhere.
The steps are easy, but we're still here to help. If you face any problems, don't hesitate to contact us in the comment section below.