How Can I Unblock MYTF1 Outside France? If you're looking for a channel in France that is known for market leadership and pulling power across all genres and among all audiences, it's definitely TF1. The channel is without a doubt a leading free service in the country.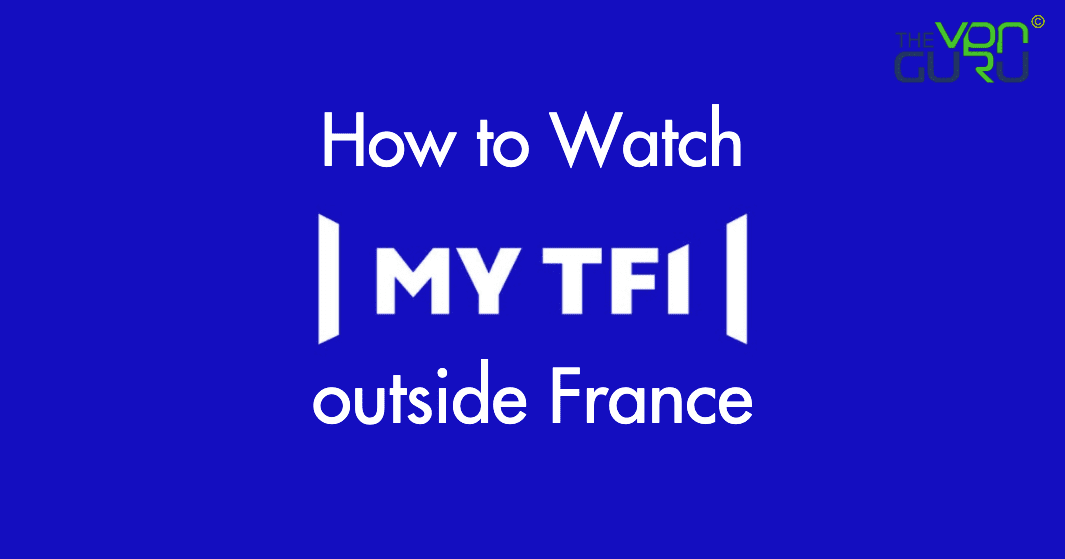 However, as MYTF1 grows bigger, it still limits access to those in its own country. This is why you're here today. Here's how you can watch MYTF1 anywhere in the world.
Get TF1 Anywhere – Quick Guide
Time needed: 4 minutes
The unblocking process is easy, so we'll keep it simple and quick. Here's how you can unblock MYTF1 anywhere outside France
First, sign up with a VPN service.

Based on the strict evaluation we perform, so far, ExpressVPN tops the charts in terms of speed, security, and unblocking capabilities.

Next, download and install the VPN application on your preferred device.

You'll find clients on Android, iOS, PC, Mac, as well as FireStick.

Activate the app and sign in with your username and password.

In ExpressVPN's case, you might be asked to submit a "code" on your first sign-in. You'll find it in your inbox.

Now, navigate through the server list and connect to a French server.

You'll receive a French IP address in the process. Check your new IP address using this Verifier.

Go to TF1's website and create a free account if you don't already have one.

We'll show you how you can create one in a comprehensive walkthrough below.

Launch the channel and sign in with your account.

A step-by-step process is available on how to get MYTF1 on any of your devices.

Stream MYTF1 anywhere.

Enjoy live and on-demand content wherever you may be.
Watch MYTF1 Anywhere – Full Guide
To learn more about how MYTF1 operates, what devices it supports, and other methods to unblock it, check this in-depth walkthrough below:
What You'll Need
To unblock MYTF1 in your region, make sure you have everything on the list below:
Android, iOS, PC, or Mac.
A VPN subscription.
A MYTF1 account.
MYTF1 – Not Mine At All
TF1 is one of the biggest channels in France. It's rumored that the service (founded in 1975) is the most-watched TV channel in the country.
The channel joined the online revolution by introducing MYTF!, its live and on-demand online service. By the end of 2019, TF1 scored big when it comes to its audience ratings. Here's what the report states:
32.6% share of W<50PDM1
29.4% of 25-49 year-olds
32.9% of 15-24 year-olds
30.2% of 15-34 year-olds
27.1% of ABC1s
TF1 also excels in the sports department as it has the rights to several major events, including FIFA World Cup, Davis Cup, Formula One, and more.
However, this wide variety of content is restricted to one region only, France. You see, MYTF1 applies what we call geo-blocks. It is a technique that makes it impossible for people located outside France to watch any of its content.
The channel relies on users' IP addresses to determine their location. If it's not French, they're not getting in. The following is what streamers get when they try to access MYTF1 from abroad:
"Ce contenu est indisponible dans votre région."
"Cette vidéo n'est pas disponible depuis votre zone géographique."
"500 Oh nooon… Il semblerait qu'il y ait un problème de diffusion. La page que vous essayez d'atteindre ne fonctionne pas correctement."
So, the whole problem lies in the streamer's IP address. To bypass that, you should change your IP to a French one. How? Read on and find out.
MYTF1 – Mine, Yours, and Everyone's
Internet users with MYTF1 access can tune into different channels such as TF1, TMC, and TFX. But those abroad would have to go through an alternate route to reach that.
That route comes in the form of the cybersecurity tool, Virtual Private Network. Commonly known as a VPN, this software reroutes your traffic through a specific server in a country of your choosing.
As soon as you connect, the VPN encrypts your data (extra security) and hides your IP address (extra anonymity), replacing it with a temporary one according to the server's location.
With this new IP, you get to access any channel/website restricted to that country despite being physically abroad. For example, if you connect to a French server, you'll receive a French IP address. As a result, you get to stream MYTF1 along with any French TV channel no matter where you are.
As mentioned, unblocking MYTF1 in the US, UK, Canada, Australia, and anywhere else outside France is an easy task.
Why ExpressVPN?
As we mentioned, we highly recommend ExpressVPN as it's proven over time to be at the top of the industry in terms of quality services. The subscription is a bit expensive compared to the others, but apparently, users get what they pay for in the end.
Plus, we're talking about streaming, and according to our speed tests, ExpressVPN is more than capable of maintaining your video quality, be it standard or UHD. Moreover, you get to use its Smart DNS service in case you don't want your speed to be tampered with.
On the other hand, we can't say that ExpressVPN is the only provider capable of getting the job done. There are 3 more worth mentioning, and they're listed in the table below.
A VPN Substitute – Smart DNS Proxies
I mentioned above that ExpressVPN offers a Smart DNS service that helps you unblock geo-restricted content without having to lose your internet speed due to encryption.
But that's not what Smart DNS is all about. There's a lot more to it and more pros and cons to talk about. We'll be addressing that in seconds, but we have to note that all the VPNs in the table above offer Smart DNS proxies.
With that said, here's what Smart DNS is all about:
You can unblock geo-restricted content without losing access to your local channels. Smart DNS does not alter your IP address, which you can navigate between restricted channels and local ones at will.
Smart DNS has no encryption present. This will take away your extra protection and might leave you susceptible to online threats. However, if you're just looking to unblock and stream content, it's a perfect tool to maintain maximum speeds.
Finally, Smart DNS allows you to bypass regional restrictions on almost every device out there. Unlike VPNs, DNS codes can be set up on PlayStation, Xbox, Chromecast, Apple TV, Smart TVs, and Android TVs, as well as the VPN compatible platforms mentioned above.
You'll find a lot of providers with a Smart DNS feature, including the ones in the table. However, this service comes within their VPN subscription.
The only provider to offer it individually is Unlocator. This makes your monthly payment way cheaper if you're not that interested in the VPN's security. Try it out; they do offer a 7-day free trial to test their service out.
How to Create a TF1 Account Outside France
Before you get to watch any of MYTF1's titles, you must create an account. That's totally doable outside France if you follow the steps below:
First, connect to a French server using your VPN.
Next, head over to https://www.tf1.fr/
On the top right of your screen, click on Créer un Compte.
Submit the necessary information, including your email and password.
Enter a valid Zip Code in France. You can use 69009 if you want.
Select Valider et Continuer.
Now, open your email and verify your account.
You're now a TF1 member and can stream content for free wherever you are.
How to Get MYTF1 on any Device Outside France
A VPN subscription, check. A TF1 account, also check. Now, all that's left is getting you the MYTF1 app on your device outside of the French region. Let's go.
Android
To get MYTF1 on your Android device, follow the steps below:
First, get the VPN on your device and sign in with your account.
Connect to a French server.
Change your Google Play Store's region to France and download MYTF1.
Launch MYTF1 and sign in with your account.
Stream live and on-demand content live anywhere.
iOS
On iOS, the following steps are required to get MYTF1:
Download the VPN app on your iPhone/iPad and connect to a French server.
Switch your Apple Store region to France and get the MYTF1 app.
Launch MYTF1, sign in, and start watching.
Desktop
Mac and PC require no MYTF1 app. All you have to do is this:
Install a VPN and connect to a French server.
Visit https://www.tf1.fr/
Click on Se Connecter on the top right of the screen.
Sign in with your TF1 account.
Stream MYTF1 anywhere.
MYTF1 Outside France – FAQ
More questions? We've got you covered. Here are more inquiries we get from our readers – they might help you even more:
What Devices Can I Watch MyTF1 on?
Once you get a French IP address using a VPN, you can stream the MYTF1 on the following:
What Shows Can I Watch on MYTF1?
MYTF1 includes content from different channels such as TF1, TMC, and TFX. Here are a few titles:
Tomorrow is Ours
Danse Aves Les Stars
The Voice France
Anything Goes
Le Bazar de la Charité
Research Unit
La Vie Devant Nous
Téléfoot
The Masked Singer
The Voice Kids
No Limit
MasterChef France
Vive la Colo!
Yes. The channel is a free-to-air service in the French region.
Do I Need an Account to Watch MYTF1?
While you might find some titles to watch without an account, most of MYTF1's content requires you to sign in, especially live streaming.
How to Watch MYTF1 Outside France – Final Words
When you make use of a VPN, MYTF1 comes all the way From Paris with Love. Now, you get to enjoy top French television no matter where you are across the globe.
Even ex-pats who wish to keep in touch with their local TV can now virtually appear in France. Just connect to a French server and MYTF1 is all yours for the taking. Remember, if you need any help, give us a shout-out in the comments below.