Turner Broadcasting System – a hugely popular TV channel in the United States, which mainly focuses on American sitcoms and huge sporting events. Bad news though, TBS is geo-blocked outside the USA.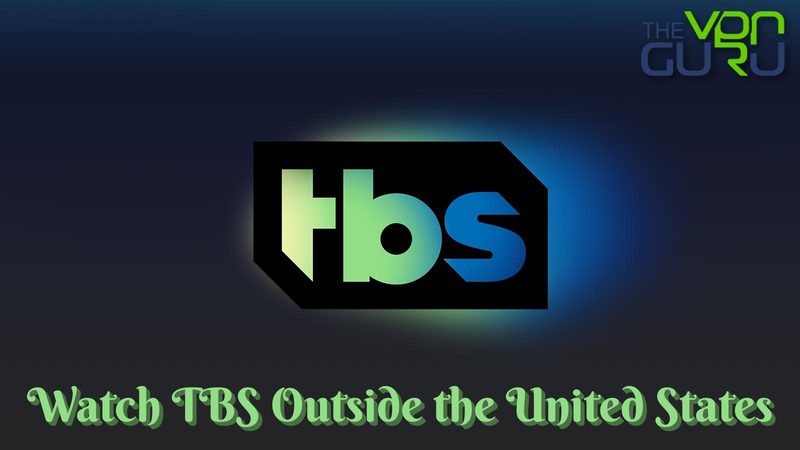 This means that American ex-pats living abroad in Canada, the UK, Australia, won't be able to watch TBS due to geo-restrictions. Such issues are all over the world, but we can easily fix them. If you want to watch TBS in your region, make sure you go through the comprehensive guide provided below.
Unblock TBS Anywhere – Quick Guide
Time needed: 5 minutes
It's easier than you think. All you have to do is follow the steps below and you'll be watching TBS anywhere you may be:
Sign up with a VPN service provider.

Not all VPNs can unblock TBS, so we recommend ExpressVPN.

Get the VPN app on your device.

You can find several compatible clients on Android, iOS, PC, or Mac.

Open the VPN client and sign in with your account.

A verification code might be asked upon logging in.

Connect to an American server.

This will grant you a US IP address.

Launch TBS' application or website.

We'll show you a step-by-step process on how to get TBS on your device.

Sign in with your TV provider's credentials.

You need a US cable subscription to watch TBS' content.

Enjoy TBS wherever you are.

Watch top TV Shows, programs, and live sports anywhere.
TBS Anywhere – The Full Walkthrough
When it comes to getting TBS to operate outside the US, the steps above are more than enough. However, there's a lot more to learn about the channel itself, its blocking mechanism, VPN detection techniques, and the best VPNs for the job.
To get the best experience with TBS, we highly advise you to check the following comprehensive guide. It'll shed more light on the matter.
The Requirements
To watch TBS overseas, the following list is mandatory:
A premium VPN subscription.
An American cable subscription.
TBS-compatible streaming device.
TBS – American to the Core
TBS is one of the major channels in the United States. Back in 2018, it was available in approximately 90.391 million households that subscribe to a pay television service throughout the United States.
The numbers don't lie and they do solidify how popular the channel is. However, another factor that consists of numbers can ruin the viewers' experience if their abroad – their IP address.
You see, just like many streaming services, TBS applies geo-blocking, which is a technique used to restrict your access based on your physical location.
To determine that, the channel examines your IP address. If it's not American (You living overseas), your access will be terminated almost instantly. Your video won't launch. Instead, you'll receive one of these error messages:
Playback error: [handleDRMTokenAuth] Token service response failed.

Error. Sorry, something went wrong! Please try again.


"OOPS. Sorry, the TBS app isn't availble in your current location. :'("

Your location dictates everything you get to access online. However, by following the steps above, you get to change that with a push of a button and enjoy countless streaming content wherever you may physically reside.
Geo-Blocked and Hard to Unblock
Aside from being unavailable, TBS is very difficult to get outside of the US. Let's elaborate. The steps above are more than enough to get you the channel, but only with the recommended VPN service.
Just like steaming giants such as Netflix, BBC iPlayer, Hulu, and Prime Video, TBS can detect VPN traffic. In other words, it can determine if you're using a VPN or not.
Once it figures out that you actually are, it'll block your access almost instantly. All you'll be getting is the following error message:
"We Can't Find Your Location. To watch this, please disable your VPN, proxy, or either service that hides your location."
We already mentioned ExpressVPN in the steps above. However, there are more recommendations up ahead if you continue reading this in-depth guide.
A VPN's Benefits
The letters VPN stand for Virtual Private Network. This technology was created to secure users' internet connection as well as grant them online freedom.
Through a VPN connection, you get to encrypt all of your data and online traffic so that no one can access them. However, security is not the only thing VPNs have to offer.
Complete Online Privacy: Your online activities are now safe and secure once you connect to a server in another country.
Unblock Content: With the help of a VPN subscription, you get to bypass geo-restrictions from all over the world.
Bypass ISP Throttling: Your Internet speed is subject to throttling by your ISP. However, a VPN connection can prevent that from happening.
VPN Applications: User-friendly VPN apps on PC, Mac, Android, iOS, and FireStick make using a VPN enjoyable.
ExpressVPN is an exceptionally decent provider that can unblock US channels overseas. The company owns a large server network with thousands of servers in over 94 countries.
Don't forget their 30-day refund policy that doesn't rush you into making a commitment. So, why not? Give it a shot and rest assured that it's a risk-free experience.
Aside from ExpressVPN, we tested several providers to check their efficiency. A lot have failed due to TBS detecting their traffic (as mentioned above). However, the ones on the table proved to be perfect unblockers for the channel.
Smart DNS – A Perfect Streaming Alternative
If you are not that excited about getting a VPN subscription, you can check out the smart DNS alternative. You get to unblock channels using a Smart DNS abroad at FAST SPEEDs.
That's the main difference between a VPN and smart DNS. Instead of encrypting users' data – which takes a lot of time – a Smart DNS reroutes the traffic that is responsible for determining your geo-location through one of its servers.
Security-conscious users are at a disadvantage because a Smart DNS neither encrypts traffic nor hides IP addresses. if you really value your online privacy, a Smart DNS might not be for you.
What you get to unblock depends on the Smart DNS service you are using.
Smart DNS proxies do not work with transparent proxies or DNS hijacking.
Manually choosing your new virtual location is not possible.
Smart DNS proxy's compatibility is high. You can set up Smart DNS on multiple devices
I personally suggest that you take Smart DNS for a free 7-day trial. Head on over to Unlocator where you can sign up without a credit card.
It's a Smart DNS worth investing in as it unblocks over 220 different channels from all over the world. Furthermore, its setup process is really easy, and its services are top-notch, just like you would want them to be.
Please note that every VPN on the list above offers Smart DNS services. However, Unlocator is the only one that provides it as a stand-alone subscription, along with a 7-day free trial.
Get TBS on Any Device Outside the US
Before we dive into the part where you get TBS, we should note that it cannot be streamed without a cable subscription.
This means that you need a valid cable deal with the likes of Spectrum, Verizon, Cox, DirecTV, AT&T U-Verse, Xfinity, among others.
If you don't have one, it can be pretty daunting to subscribe, so your best option would be to contact anyone you know in the States to give your their credentials.
With that out of the way, here's how you can get TBS outside of the United States on any device you might be operating:
Android
If you happen to use your Android mobile or TV, you can easily switch your Google Play Store region to the US and get the TBS app.
Now, with a VPN connection to a US server, you can launch the TBS client, sign in with your credentials, and start watching.
iOS
Desktop
On PC or Mac, get the VPN application and connect to an American server. Once the connection is established, visit TBS' official website, log in with your provider's username and password, and start watching.
Xbox
Xbox isn't compatible with VPN clients, so to get an active connection, you need to install the VPN on your router or configure Smart DNS on the console itself.
Aside from that, you can get TBS by simply changing your Xbox region to America. Then and only then, you can start watching content anywhere.
Roku
Fire Stick
Finally, we have FireStick. TBS can be easily obtained by changing your Amazon account's region to the United States.
Next, launch your VPN client, connect to a US server, and watch your favorite content wherever you are.
Unblocking TBS Overseas – FAQ
TBS has millions of users in the US, and more to come overseas once unblocked. That's why there's a lot more to know about the channel, which we included in the following section:
No. The channel requires a paid cable subscription in the United States to operate.
With TBS, there's no shortage of content you get to access once it's unlocked in your region. It's also the sole broadcaster of AEW Dynamite in the United States. Aside from that, you get to watch the following titles:
Conan
MLB
AEW Dynamite
Wrecked
Seinfeld
The Last O.G
People of Eartch
The Detour
Friends
Brooklyn Nine-Nine
Young Sheldon
2 Broke Girls
Wipe Out
Wrecked
Lost Resort
TBS is able to detect VPN traffic if the provider isn't credible enough. So, the answer is: No.
Can I Watch TBS Live Without a Cable Subscription?
If you subscribe to a service such as Sling TV in the US, you can access TBS without having a cable subscription.
Why Can't I Find TBS on Fubo TV?
When it comes to Fubo TV, some local channels and regional sports networks may not be available, including WarnerMedia-owned networks like TNT and TBS.
How to Watch TBS Anywhere in the World
Regardless of which channels you wish to unblock abroad, switch between these two tools. Both methods will allow you to unblock the likes of TBS, TNT, ABC, and CBS overseas.
When you get to the streaming phase, you'll enjoy every single moment of it courtesy of what TBS has to offer. If you need any further assistance, make sure you drop us a line in the comment section below.