Bally Sports is an American regional sports network. It was first launched in March 2021; replacing Fox Sports Go in the process. Given the popularity of sports in the US, the channel's popularity quickly rose since then.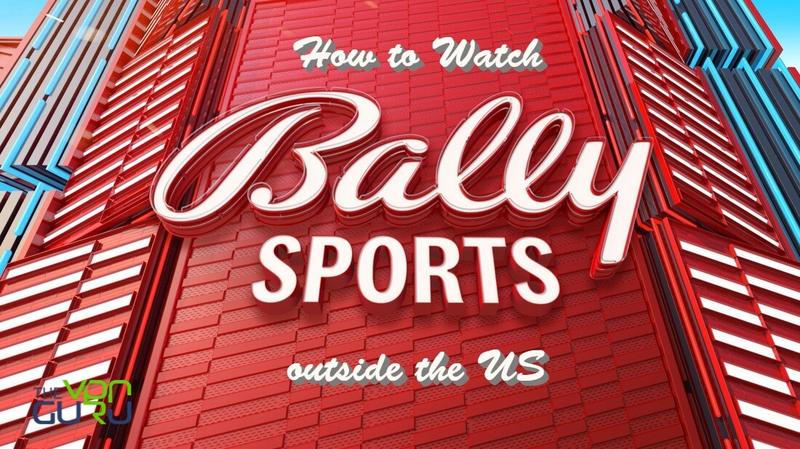 If you've ever tried accessing US streaming services from abroad, you're probably aware of the regional restrictions that prevent you from doing so.
In the case of Bally Sports, the geo-error "We're sorry. There is no channel stream available for you at the moment." pops up whenever you try watching the channel while outside the US.
5 Minute Guide
Time needed: 5 minutes
To bypass geographic restrictions such as these, you first need to hide your online location. It's pretty easy too. Just follow this tutorial:
First Step: Get a VPN subscription.

Simply sign up with a VPN provider such as ExpressVPN.

Second Step: Download the VPN app.

You can install VPN applications on your Android, iOS, Mac, and PC.

Third Step: Connect to an American VPN server.

Launch the VPN app, sign in, and choose a US VPN location.

Fourth Step: Head over to Bally Sports

You're now browsing the web as if you're in the States.
The same procedure will help you unblock any other US streaming service from anywhere in the world. This includes the likes of Disney Plus, American Netflix, HBO Max, Hulu, and many more.
Keep in mind that using a VPN does not negate the need for a valid subscription to the streaming channel you're trying to access.
Watch Bally Sports from Anywhere
Those of you who reckon the guide above is oversimplified can get more info by reading the rest of this guide. We'll try to break down each and every item you need in order to stream Bally Sports outside the US.
The Requirements
A VPN subscription
A valid American cable subscription
Your Streaming device
Where is Bally Sports Currently Available?
At the moment, Bally Sports is available in about 45 states with plans to expand to the remaining ones. Given that the streaming service has launched less than a year ago, we'd say this is pretty impressive.
Still, you can turn to VPNs as explained above in case Bally Sports isn't currently being offered in your area. A VPN can also help you bypass any blackout restrictions imposed on Bally Sports.
VPNs 101
You've probably heard about VPNs at work or even in some Reddit thread. Due to their multi-functions, the popularity of VPNs is continuously rising.
It's all easier than you might think to set up. First off, you need to sign up with a VPN service provider. This provider will allow you to connect to a network of VPN servers. Premium VPNs offer easy-to-use applications. They streamline the whole setup process.
By connecting to a VPN server, you are practically applying a layer of encryption to all your online dealings. Not only that; your public IP address will no longer be visible to the apps you use or sites you visit.
The most important function of a VPN though, especially for US expats living in Canada, the UK, Australia, or anywhere else overseas, is its ability to bypass any and all geographic blocks.
This is the sole reason why VPNs have become mainstream.
Which VPN is Best?
New VPN service providers are regularly popping up. We're not saying that new VPNs are bad, but we much rather use established ones instead. ExpressVPN, for instance, is a VPN that has been around for more than a decade. They're what we like to label "tried and tested."
Here are other VPNs that come in clutch when the sports stream you want to access isn't available in your region.
How to Get An American Cable Subscription outside the US?
This definitely is the hardest part of watching Bally Sports abroad. There is no way to sign up with a US cable provider while you're traveling outside the US.
Your best bet is either to get one while you're back home or get in touch with a relative or friend who currently resides in the US.
How to Download the Bally Sports App on Any Device?
You probably want to access your favorite streaming channels on your preferred streaming device. Here's how you can install the Bally Sports app on any device, even if you're currently living abroad.
Bally Sports FAQ Sections
You can find more information about Bally below.
While the app in itself is free, you do need a cable subscription to access the live stream. A cable subscription usually costs around 85$ per month.
How to bypass Bally Sports blackouts?
You can use a VPN to avoid blackout restrictions. Connect to a VPN server located in a state where the game you want to watch is available.
Which devices are compatible with Bally Sports?
Bally is available in browsers, iOS, Android, Roku, Amazon Fire TV, Apple TV, Android TVs, and Chromecast.
Can I access Bally without a cable subscription?
No, that is not possible. There currently is no OTT option.
Where is Bally Sports available?
Unless you use a VPN, you can only access Bally Sports in the United States.
Is Bally Sports the same as Fox Sports Go?
That is correct, Bally has replaced the Fox Sports Go app in the US.
Last Thoughts
When it comes to sports, there certainly is no shortage of streaming choices in the US. Many former Fox Sports Go users prefer the old app over Bally Sports. We do believe that with time, Bally can offer an even better sports streaming experience.
Do you like the new sports app or do you wish you could go back to Fox Sports Go? In either case, let us know why.