Best VPN for Cord Cutters
|
What is the best VPN for cord cutting? Since the high-speed Internet revolution took off, a lot of Cable TV viewers are now switching to the much better options availed through Internet-based streaming services. This has left most of the Cable TV broadcasters in a frenzy about what to do since it'll be very difficult for them to match with both the variety and features that are offered through their new competitors. As they consolidate amongst themselves on their next move will be, new cord cutters will have to take some time to get acquainted with this world of 'streaming' and 'video on demand', saying goodbye to long-term contracts and unjustified high cable subscription prices in the process.  VPN apps have also become an essential part of any cord cutter's toolbox when dropping Cable TV. In the review below, we will take a look at the best VPN service providers for cordcutters in the United States.
Streaming Services Have Their Cons Too
There's no doubt that the rise of new stand-alone streaming services has given us all a viable option to watch TV without cable on streaming devices such as Apple TV, Roku, Smart TVs, Amazon Fire TV Stick, and even gaming consoles like Nintendo Switch, Xbox One, and PS4. Among the many things that new cord-cutters will have to learn how to work around is the many licenses and restrictions that govern which shows are broadcasted in what regions.
These laws are normally stipulated when a service acquires the broadcasting rights to stream a certain show within its service. This means not every region will get to enjoy the same kind of content as every other region. The best example to illustrate this would be how the Netflix streaming service has different websites for different viewers based on their location. There is Netflix UK, Netflix US, Netflix Canada, and so on and so forth. 
Of all these channels, American Netflix is the one with the latest movies, series, documentaries, or shows. Most TV shows air through this channel before they're uploaded onto other regions, meaning the American audience will always get the latest of almost everything. As a new cord cutter, it's important to realize as early as now that it doesn't have to be this way.
There is a solution that you can turn to that will help you hide your location, and make it possible to access any Netflix region you'd like. We've also covered a list of the best cable TV alternatives for cord-cutters. 
Additionally, if you are a sports fan, you might run into certain blackouts when trying to watch your favorite MLB, NFL, NBA, or NHL team online. Blackout restrictions were initially implemented to protect cable providers. Although the concept has become pretty outdated, blackouts are still being implemented across the United States and Canada to this day.
How A VPN Can Help Cord Cutters
A Virtual Private Network, abbreviated as VPN, is the only solution you'll require to get access to not only other versions of Netflix but to hundreds of other streaming services that might not even allow you to stream from them courtesy of your location. A credible VPN service facilitates all this by providing the network of remote servers you might need to connect to. Once you connect to any of these servers, you'll be able to access geo-restricted channels that wouldn't even have an idea about where you'd be accessing them from. Through a VPN service, you'll have tricked them into 'thinking' that you're within a region that's on their whitelist.
The same process enables cord cutters to bypass blackout restrictions imposed on sports streaming channels including MLB.tv, ESPN, NBC Sports, NHL.tv, NBA League Pass, and NFL Game Pass.
With that said, a VPN service also has a number of features that most people find very useful. You see, the main purpose of a VPN network is to encrypt a user's connection. This means protecting all the data that is transmitted from a VPN user's device. A VPN also hides out not only the location of a user but also his or her personal details. This prevents any ill-intentioned cyber criminal from getting hold of your data to blackmail or extort from you.
The Best VPN for Cord Cutters
There are about 800 providers in today's VPN industry. Some of them even offer their services for free, and since this is no way they'd be able to sustain themselves in doing so, they go on to sell your browsing history to third parties. This beats the whole point of signing up with a VPN service, and that is why we're offering a word of caution to anyone thinking of signing up to these dubious providers. Instead, we suggest signing up to any of these highly reviewed providers that we've listed below.
1. ExpressVPN
ExpressVPN was founded in the British Virgin Islands back in 2009, and it has grown to be a top-tier VPN provider that has proven that their service is one you can fully rely on.
The service has about 2000 servers around the world, that are all well protected through ExpressVPN's 256 bit AES encryption. The server assures anyone that signs up of their strict adherence to their zero logging policy, and also offers the opportunity for them to connect up to 5 simultaneous devices onto their connection.
ExpressVPN has also won awards praising its exceptional customer care service, so you can be sure that their team will always have your back whenever you come across a problem. ExpressVPN also has stealth servers that can be relied upon by users based in very restrictive areas such as China to still work around their restrictions and access whatever streaming sites and channels they want.
Customers are also encouraged to bring in other subscribers through the free month of service that is offered to both the referral and the referee whenever a new user signs up. The provider's app is also easy to navigate through, making it well suited for absolute VPN newbies.
The apps are also sure to work with any mobile device that's running Windows, iOS, Mac OS or Android as the operating system. If you're interested in this service, take a look at our ExpressVPN review to learn all there is to know about it.
2. BulletVPN
We would not have done justice to this list if we did not include BulletVPN. This very able provider has about 150 servers registered under its network, with plans to continue expanding very much underway. These servers offer hundreds of IPs, that can be used to establish protected connections regardless of wherever the user may be.
The service stands tall among other providers simply due to the fact that its servers are very fast, and they're all well monitored and controlled from their base in Estonia.
BulletVPN also offers well-built out, easy-to-use VPN apps that are available in versions that can run on Mac, Android, iOS, and Windows. With BulletVPN, cord-cutters couldn't be any happier.
Unlike other providers, and according to our tests, the service is the only one that constantly unblocked channels with tough VPN bans. We're referring to the likes of DStv, Showmax, Binge, HBO Max, Kayo Sports, TVNZ, TenPlay, and the likes.
We've explained in finer detail what this provider has in store for you on our BulletVPN review, so if you are interested, take a minute or two and go through it.
3. NordVPN
NordVPN is another industry veteran whose team has taken the time to learn what customers really want and figured out a way to deliver it to them. This Panama based provider has around 4000 servers to its network, and this provides access to an array of sites larger than what other established sites are able to.
The provider also has some unique features that make it stand out from the rest, with the most notable one being their double encryption service. This feature makes use of the large network of servers the provider has access to by allowing the use of two servers instead of one. This means two times the level of 256 bit AES encryption you'd get from other providers, and this still comes with the option to connect upto 6 more devices under the same account.
Added benefits such as an automatic kill switch, DNS leak protection, and Tor over VPN also come included with the package, all so that you can be sure of both your online security and anonymity when using NordVPN.
In addition to all this, users also get to enjoy a better browsing experience thanks to NordVPN's very own CyberSec feature, which is responsible for keeping all the unwanted adverts and malware away as you browse. There's a very well done NordVPN review here that we'd recommend you go through if you'd like to have NordVPN as your chosen provider.
Best CordCutters VPN Summed Up
We've tested quite a few VPN service providers over the years. Here are our best picks when it comes to top VPNs for cord cutting:
The Best VPN for Cord Cutters – Final Words
The number of channels or shows you'll find through streaming services far outnumbers what Cable TV viewers are able to access, but once you add a credible VPN service into the whole equation, what you get is a world of channels that you wouldn't even be able to quantify. Get a VPN, and unleash the true potential of Internet TV.
Best VPN for Cord Cutters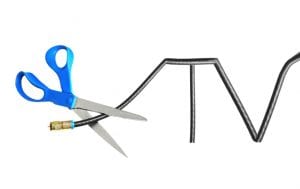 Name: ExpressVPN
Description: ExpressVPN jas become an essential part of any cord cutter's toolbox when dropping Cable TV.
VPN Apps

Access Geoblocked Content

Bypass Blackout Restrictions

Speed

Support

Refund Policy